Lake Oconee: Lake Life
Three counties look for prosperity at the water's edge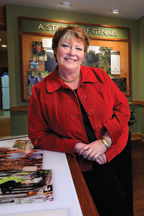 It's late on a still and sweltering afternoon at Lake Oconee, but a small sailboat has found just enough breeze to move it slowly toward shore and into the lengthening shadows.
Nearby, a handful of Jet Ski riders are crisscrossing the lake, making their own cooling wind and kicking up rooster tails of water. At the Lick Creek boat landing, fishermen are hauling their boat out of the water, pausing to lift their catch for a quick photo.
Just another day on Lake Oconee, a 19,000-acre reservoir surrounded by three counties that are finding recuperative powers for their local economies in its waters. The counties, Greene, Morgan and Putnam, also share a fierce devotion to historic preservation in the downtowns of their county seats, as well as bucolic landscapes of rolling hills and lush forests. The area is being marketed as "Georgia's Lake Country," a brand that implies the truth: This region offers fishing, hunting, boating, swimming, skiing, golfing, hiking, biking and all of the activities associated with the high-end resort lifestyle of the leisure class.
The promise of that lifestyle is something the area's economic developers are taking full advantage of.
Making Greene Greener
Phil Mellor likes to tell the story about the time two years ago when incredulous executives at the National Association of Homebuilders sent their statistician down from Washington to see with his own eyes proof of data he had received from Greene County's building permit office.
"In 2007 we had 263 building permits out in the unincorporated area of the county for homes valued at an average $750,000 each, and they were each on a $200,000 piece of dirt," recalls Mellor, director of the Greene County Develop-ment Authority. "Those numbers were so off-the-wall that their statistician had to come down here and see for himself what was going on."
What was going on was a local housing boom far up the scale in the upscale housing market out on Lake Oconee, led by developments such as Reynolds Plantation, where such home prices are common.
"In fact, 75 percent of our county tax digest comes off that lake in developments like Reynolds Plantation and Reynolds Landing," Mellor says. "That gives you an idea of the value of the lake to our local community."
Data supplied by the Greene County Chamber of Commerce show 25,000 homes along the 374 miles of shoreline that winds through the three counties.
For Greene County, development on the lake and in commercial areas near it is helping soften the blows delivered by a national home construction slump, tight credit and the recession.
Between 2007 and 2008, the county saw building permits drop 50 percent, but this May was the best month since early 2008 for the issuance of new construction permits.
The good news continued into the next month. "Through the middle of June this year we had equaled May's total of new building permits," Mellor says.
In addition, Greene County is set to welcome a new hospital in a commercial area known as the Lake Village. The $50 million St. Joseph's Greene County facility will offer 25 beds and a nearby emergency room, replacing the county's longtime hospital that went bankrupt six years ago.
The hospital location was chosen to take advantage of the human capital attracted to Lake Oconee. "A lot of very prominent doctors come here [to second homes] one or two days a week, they play golf and do a little medical practice at Cowle's Clinic [near the lake]," Mellor says. "And for the hospital to function effectively, it has to have a base of good quality physicians, and that was the attraction for the hospital."
A $17.5-million charter school is under construction on a site between Lake Oconee and Greensboro, the county seat. "That, too, is driven by the lake," Mellor says.
The lake's influence also is flowing into downtown Greensboro where a $2.5-million renovation project is turning the old high school gymnasium into a performing arts center. The effort gained momentum when a $500,000 donation arrived from Linger Longer Development Company, creators of Lake Oconee's high-end Reynolds projects.
"The bottom line story is that the donations from south of I-20, the lake community, really helped get that project of the ground," says Cail Hammons, director of Greensboro's Better Hometown program. "And that is exciting for downtown because it is really the first time we've seen the lake community invest in downtown in a significant manner."
While Lake Oconee's gated communities are fueling significant growth in commercial development nearby, they aren't the only source generating new shopping centers and eateries in the Lake Village. The lake and its inland properties are owned and managed by the Georgia Power Company, and that includes three parks, a dozen boat landings and camping areas open to the public.
"On average over the last 15 years we've had 150,000 to 200,000 visitors a year," says Mark Gordy, senior land management specialist for Georgia Power. "And we get a lot of them from surrounding counties."
Gordy refers to a unique recreation asset touted by economic developers in the three counties that share Lake Oconee's shoreline and its recreational activities.
Putnam's Population
For Roddie Ann Blackwell, Lake Oconee is a key contributor to recent population growth in Putnam County, with the promise of even more in the next census.
"We expect to pick up several thousand more new residents in the census of 2010," says Blackwell, president of the Eatonton-Putnam Chamber of Commerce and project manager for the Putnam Development Authority.
"The driving force behind that growth will be a rise in the number of retirees to the Lake Oconee area," Blackwell says. "And we have lots of commuters to Athens, Covington, Macon and Atlanta."
There is evidence Putnam County shares with Greene County a lifestyle that attracts doctors. In the decade ending in 2006, Putnam County's physician population grew by 114 percent, according to data published by the University of Georgia's Center for Agribusiness and Economic Development.
When Lowell White first built his home on the lake 20 years ago, the area was rural in the extreme. "When I first moved out on the lake, you had to go 12 miles to get a gallon of milk," says White, a developer and homebuilder whose projects are changing the landscape.
"I've built homes all over the lake," White says. "And most of the folks we build for are from out of state."
That phenomenon began with the marketing of Putnam County's Great Waters, a golfing community built by the Reynolds Plantation group back in the early '90s. (The name Oconee is a corruption of o-ko-no, the Indian word for great waters.)
"They hired Jack Nicklaus to design the course," White recalls. "And a marketing firm convinced Reynolds to advertise out of state at a time when the development around the lake was being pitched to mostly Georgians only. Well, the grand opening for Great Waters was in '92 or '93 and 450 people showed up and bought $18 million worth of property … that was a lot of money back then."
To make sure none of the growing numbers of lake dwellers has to drive 12 miles for a gallon of milk, or anything else, White has developed the first phase of Harmony Crossing, a shopping district one-half mile from Lake Oconee. Originally planned for 50,000 square feet of retail space, Harmony Crossing grew to 110,000 square feet as White began to sign up tenants for his buildings while they were still under construction.
White's daughter is one of his tenants, the owner and operator of Harmony Pet Resort, an upscale canine and feline hotel with a wide array of amenities. "She's had 3,000 different dogs board with her in the last three years," White says.
As a county commissioner from 2005-08 and a Lake Oconee homeowner, Bob Landau has enjoyed a firsthand look at the lake's impact on Putnam County. "We saw a significant amount of land being converted from agriculture to residential, primarily in subdivisions," Landau says of his four years in office.
A consultant for banks and the securities industry, Landau also noted Georgia's rapidly growing population of Florida refugees. "And we've had a lot of people move in from the Midwest," he says. "And I think we overlook the fact that the state of Georgia has spent an enormous amount of money promoting tourism. People come here as tourists and fall in love with the place and they want to live here. Baby boomers in particular are starting to move in here and are acquiring property."
From 2004 to 2006, the value of privately owned residential construction projects in Putnam County, as reflected in building permit data, went from $44 million to $85 million, an easily explained spike in the housing market.
"Developers saw an opportunity to make some money because the demand was there," Landau says. "And they're not making any more lakefront property."
Morgan's Connection
Monica Callahan has been known to prowl the parking lots of downtown Madison, a little evening ritual she enjoys on her way home from work as the city's planner. "I like to read the car tags to [see] where people are coming from," she says. "I am finding at least half are not from Morgan County, and I do see a lot of Atlanta [area] plates."
She believes the early evening out-of-town crowd is in Madison (pop. 3,036) to sample the fare at the little town's 13 restaurants. But it's likely the size and nature of the local population is about to change, thanks in large part to a growing demand for residences in the city.
"The city of Madison has not grown more than 1 percent per year since the 1930s," Callahan says. "I think when the decennial census comes out in 2010 we're going to see much different numbers. Since 2004, we've had 2,200 units proposed inside the city or in annexation."
But Madison's elected officials refused to annex 890 residences into the city, continuing a practice of protecting the historic downtown from overcrowding and an increased strain on its infrastructure.
"Our growth has been slow and steady and that's the way we like it," says Marguerite Copelan, president of the Madison-Morgan County Chamber of Commerce and director of the chamber's convention and visitors bureau. "But now we have that development on Lake Oconee and that will fit nicely into our slow and steady growth plan."
The development is Kingston on Lake Oconee, a 1,600-residence community on 1,200 acres with lots priced from $80,000 to $600,000, plus a Gary Player-designed golf course, a tennis pavilion, hiking trails, dining facilities, a pool and a fitness center. Kingston on Lake Oconee is Morgan's first residential development right on the lake, and local leaders are welcoming it.
"It gives the county vibrancy and those other recreational aspects it didn't have before," Copelan says. "We participated in a Georgia Tech study several years ago that revealed that tourism was going to be a big part of our economic development on the lake. We don't have the gated golfing communities on the lake like Greene and Putnam Counties; but we're getting ready to. Kingston is our most visible economic development project on the lake. "
The high lot prices and expensive homes at Kingston aren't drawing many comments from locals who have their own brand of upscale housing in the heart of the town.
"We have new second-story downtown dwellings in Madison and they're selling for a million dollars … in little ol' Madison. It's amazing," she says.
The charm and history of Madison's downtown continues to make it a popular tourist stop and an attractive home for new businesses. "The community was always looking for small businesses and not the kind of large industry that would make it dependent on one big dog in the show," Copelan says. "That would be very compatible with the lifestyle people here are looking for. I think the conscientious decision to go in that direction was made back in the 1980s."
Community Snapshot
Local Leaders
Phil Mellor
Director
Greene County
Development Authority
706.453.7592
devauth@greeneccoc.org
Roddie Ann Blackwell
President
Eatonton-Putnam Chamber
706.485.7701
epchamber@eatonton.com
Marguerite Copelan
President
Madison-Morgan County Chamber
706.342.4454
marguerite@madisonga.org
Population
(2007)
Greene County, 15,662; Morgan County, 9,080; Putnam County, 20,251
Unemployment
(June 2009)
Greene County, 11.4 percent; Morgan County, 9.7 percent; Putnam County, 11.1 percent; Georgia, 10.1 percent
Per Capita Income
(2006)
Greene County, $29,741; Morgan County, $30,727; Putnam County, $29,617; Georgia, $32,095
Sources
Georgia Department of Labor, U.S. Census Bureau