Gwinnett County: Lightning Strikes Twice
Welcoming two high-profile relocations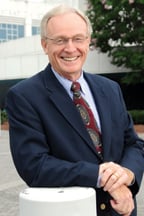 Even as county leaders are wrestling with a tax situation that's standing in the way of a balanced budget, economic developers are celebrating the relocation of not one but two Fortune 500 companies – NCR and Asbury Automotive – to the area in a year.
Such an accomplishment, says Nick Masino, vice president of Partnership Gwinnett, the Gwinnett Chamber's economic development arm, which helped bring the deals to fruition, is almost unheard of – not just in Georgia or the United States, but anywhere in the world.
"It's never happened in Georgia, but I would indisputably say that within the last 12 months no community in the world can say two Fortune 500 companies moved to their community."
In June, NCR, which makes automated teller machines and retail self-checkouts, announced that it would relocate its global headquarters to Gwinnett from Dayton, Ohio, bringing a total of 1,570 corporate, office and professional engineering jobs to Duluth, Masino says. That's in addition to 800 jobs in Columbus and 600 in Peachtree City.
Asbury Automotive, an automotive dealer group formerly headquartered in New York, announced its headquarters relocation in July 2008.
And while incentives did play a major role, Masino says NCR CEO Bill Nuti listed incentives fourth on his list of reasons to relocate.
First was the company's existing presence in Georgia, second was an inability to find talent willing to relocate to Ohio, and third was international access via Hartsfield-Jackson.
That second qualifier, the ability to recruit talent, is playing a major role in Partnership Gwinnett's Rust Belt Initia-tive. Inspired by a Forbes magazine list of America's 10 Fastest Dying Cities, the effort seeks to identify and court companies located in the nation's former manufacturing belt that might want to relocate to the Atlanta area.
"What we heard from NCR and Fischbein, another company that's relocating from Ohio, is that they are simply struggling to find talent," Masino says. And if the Rust Belt is suffering a brain drain, Atlanta is still a magnet for the nation's young professionals. Masino points to himself as a prime example. "I graduated from Ohio State in Columbus, Ohio, and moved down to Atlanta four weeks later," he says. "It's simply where people are going."
Although Masino's primary goal is to promote Gwinnett County, he – and the entire chamber staff – are taking a more regional approach. "If they're already thinking about relocating, we want them to think about Atlanta, and if the space works for them we'd like them to think about Gwinnett," he says. "But when we're recruiting outside of Georgia, we're just trying to get people to Georgia. If they're a type of company that needs more of a high skill talent, we actually sell Atlanta. And if we have inventory that works for them, then we bring them to Gwinnett. But if they need to be in an office building, 20-story tower, that's not Gwinnett. That's Perimeter, that's downtown. If they need to be next to a research institution, like Emory, Georgia Tech or UGA, I call my friends and partners in the Innovation Crescent in Athens, downtown Atlanta or DeKalb and we get them in a good space near those places. We really are doing regional economic development."
"On the chamber front," says Gwinnett Chamber President Kerry Armstrong, "you see a lot of involvement in entrepreneurial pursuits; support for entrepreneurs, small business affairs, a lot of the entrepreneurial networking programs that we've started. There are a lot of people now that are entrepreneurs that didn't think they were going to be. And there are a lot of people that already were entrepreneurs who need to bolster their business. So we've been very, very proactive there.
"We're really seeing some vitality among our small businesses, technology companies, professional services companies. They're weathering the downturn and even growing a little bit through it all and positioning themselves for the upswing."
Looking East
Masino, who has traveled to China and Korea this year on economic development business – the most recent an 18-day tour with Gwinnett Chamber President Jim Maran and County Commission Chair Charles Bannister, says Partnership Gwinnett is doing its best to recruit more Asian firms to the area. Those efforts are bearing fruit as well; this summer Gwinnett announced that Ningbo Self Electronics and Hisense Company Ltd. will establish a presence in Gwinnett.
Ningbo, Masino says, supplies LED lighting, including Christmas tree lights and lights for home use, to retailers such as Home Depot and Walmart. Gwinnett will house the firm's North American Sales office.
Hisense, meanwhile, is a division of one of China's top-10 manufacturers, Hisense Corp., which produces everything from home appliances to point of sale systems and even HVAC units. Back in China, the firm has a contract with Whirlpool to manufacture washers and dryers, which will be sold in the United States under the Whirlpool name – for now. Masino believes Hisense "will be a household name in the United States in the next 10 years, like LG and Samsung and Sony."
For now, however, Georgia will house the North American headquarters for the company's flat screen TV division, which has already contracted with Walmart and Sears to provide each retailer 250,000 TVs apiece. In addition to the headquarters, the company plans for a showroom, distribution and repair centers, as well as an R&D facility.
A Taxing Time
If only things were working out as smoothly for Gwinnett County's government.
The most pressing issue has been the county's budget. The county commission usually adopts that budget in January. This year the county passed an interim budget of $1.38 billion in January, then approved a $1.7 billion budget in March. It contained $63 million in anticipated revenues from property taxes, based on a millage rate increase.
In May, when the commission floated a plan to raise property taxes by 28 percent, citizens turned out in droves to register their disapproval. The commission voted the tax increase down. In June and July, the commission removed some $60 million in current and future spending from the budget – quashing plans to expand its police force and make capital improvements. In July, the county adopted a plan to cut more than $225 million over five years; some 250 jobs will be cut.
County Commission Chair Charles Bannister sums up the situation: "Throughout the last two budgets, we've known, the board has known, all of us have known, that we didn't have enough money in reserves and budget to get through '09," he says. "So we all thought, discussed and put together the tax plan, and of course that got scuttled. And in the process we picked up a legal situation, a mandate from the state on service delivery strategies that we have to work with the cities, and all that has become entangled and both of them are legal issues, more or less."
By Georgia law, cities and counties can't provide the same service to the same area without an agreement. "It's like hiring a contractor," Bannister says. "I don't think any of us want to double the service because it costs more to provide the service twice. I think we're all in agreement, but working out the details and getting to the point as it relates to the millage rate is the problem of making that agreement."
Bannister uses police services, which the county provides, to explain the situation. Nine of Gwinnett's 15 cities have their own police force, yet all cities use the county police services to some degree. The trick is assigning a price to those services, then subtracting the price for services not used.
"For the cities that have police … that's the most tangible issue," says Duluth Mayor Nancy Harris. "And then the issue of roads and transportation is a little bit more cloudy because it comes to the point where state and county roads run into a city. So we're talking about who would maintain those roads once they go into the city limits. So that's a little harder to understand."
The county also wants to assess residents of unincorporated areas for services at a different rate than those in cities.
At press time, it appeared that the tax matters would be resolved by a superior court judge.
Quality Of Life
Gwinnett – once the fastest growing county in America – is, to many in the Atlanta metro area, a great place to live. But sadly, for some, the county is planning to raze the unsightly, if iconic, yellow water towers visible from I-85 just north of Jimmy Carter Boulevard that proclaim, "Gwinnett is Great" and "Success Lives Here." The towers have been rendered unnecessary by up-grades to the Norcross Pump Station.
Coming in at number 35 on the recent biannual listing of the Best Places to Live small towns edition at CNNMoney.com (a joint venture of CNN with Fortune and Money magazines), is Suwanee. (Other Georgia towns recognized include Peachtree City, 8th, and Martinez, 63rd.)
Though Suwanee has fallen several notches from the last count, when it was in the top 10, Mayor Dave Williams blames the slip more on a recalibration of criteria than a drop in the quality of life for Suwanee's citizens.
The city is duly proud of its Towne Center complex, now anchored by a LEED certified city hall that opened in February. Williams says the city also is opening a community garden. Local residents will be able to sign up for plots within the seven-acre site, which will eventually house walking trails, a play area and possibly even chickens, rabbits and bees.
Another factor contributing to Gwinnett's quality of life is its schools. North Gwinnett High School, located in Suwanee, is rated second in the state by Newsweek, primarily because of its focus on Advanced Placement courses, says Gwinnett School Superintendent Alvin Wilbanks.
The school system is one of five nationwide up for The Broad Foun-dation Prize, provided by Eli and Edythe Broad to promote education in urban environments. Seniors in the winning school district receive a share of $1 million in prize money, designated for scholarships.
In Duluth, residents are plotting a new course for a bit of civic history. Mayor Nancy Harris favors renovating the few blocks that are home to the original city hall; others hope to bring a more modern, mixed-use development to town.
In Norcross, the Gwinnett Village Community Improvement District is keeping the exits between Jimmy Carter Boulevard and Pleasant Hill Road along I-85 spruced up with plantings and plans to add a planted median along Indian Trail Road, similar to one already on Beaver Ruin Road.
One big change coming over the next few years for the area is the expansion of the Jimmy Carter Boule-vard bridge over I-85. The bridge, says CID Executive Director Chuck Warbington, will be given a signature look so it can serve as the visible gateway to Gwinnett for motorists on the interstate. Cost estimates are in the $50-$60 million range; some $12 million has already been committed.
The Atlanta Regional Commission just authorized funding to study a light rail system running from the Doraville MARTA station to Gwinnett Center. The line, which Warbington says was inspired by those in cities such as Charlotte, Denver and Minneapolis, will cost $60 million – $80 million per mile, far less than the $200 million per mile for heavy rail.
Gwinnett Place CID Executive Director Joe Allen says that between SPLOST and CID funding, the CID has 20 percent of the funds for replacing the Pleasant Hill Bridge over I-85 and a request for proposals is out for the engineering work.
Georgia's Congressional team is at work raising the remainder of the $58.5 million cost, he says. Another $9 million will reconfigure the intersection at Venture Drive and Pleasant Hill Road.
On a smaller scale, Allen says, retiming the lights at the 45 intersections within, or slightly outside, the CID's boundaries (along Pleasant Hill Road from Club Drive east of I-85 to Old Norcross Road on the west) has resulted in "significant reductions in traffic congestion and delay times for motorists up and down Pleasant Hill Road."
Gwinnett Place Mall itself will welcome M Marketplace early next year; the Korean retailer will take over the old Macy's space with a gourmet food area on the main floor and more traditional department store offerings (apparel, home furnishings electronics) upstairs. Gwinnett Tech opened its International Education Center at the mall in October.
The two CIDs working together have seen double-digit crime reduction in the area. "People say areas on this end of the county are not as safe as they used to be," Allen says, "but if you look at the statistics, that's not the reality."
Community Snapshot
Local Leaders
Charles Bannister
Chairman
Gwinnett County Commission
770.822.7010
charles.bannister@gwinnettcounty.com
Nick Masino
Vice President
EconomicDevelopment/
Partnership Gwinnett
Gwinnett Chamber of Commerce
nick@gwinnettchamber.org
770.232.8802
Chuck Warbington
Executive Director
Gwinnett Village CID
770.449.6515
Population
(2008)
789,499
Unemployment
(June 2009)
Gwinnett County, 9.1 percent; Georgia, 10.1 percent
Per Capita Income
(2007)
$33,163
Top Employers
Gwinnett County Public Schools, Gwinnett County Government, Gwinnett Medical Center, Walmart, Publix, United
States Postal Service, State of Georgia, Kroger, Scientific Atlanta/Cisco, Primerica
Sources
Georgia Department of Labor, Gwinnett Chamber of Commerce, Gwinnett County Department of Financial Services, U.S. Bureau of Economic Analysis, U.S. Census Bureau