A Firm Foundation
Georgia colleges and universities marry real estate with fund-raising efforts, as campus foundations become a keycomponent of higher education finances.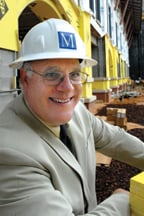 John Crawford and Traycee Martin were conducting a tour of the new athletic facility on the campus of Valdosta State University (VSU) when their visitor asked the formal name of the 42,000-square-foot building.
Crawford, CEO of the VSU Foun-dation, smiled and told his visitor, "It could be named for you if you just make a seven-figure contribution to our foun-dation."
Martin, a board member of the institution's Auxiliary Real Estate Foun-dation, jumped in with, "Yes, just write us a check."
That's the name game played at colleges and universities across the nation, promoted and managed by campus foundations that have become a critical part of higher education finances.
Valdosta State will see a $150-million building program completed within the next four months; it will add two new residence halls, two new parking decks, a student health center and a student center, as well as the still-unnamed athletic facility.
"Without those projects we wouldn't have been able to accommodate new students," says Martin, also interim vice president of Finance and Administration at VSU. "The foundations have allowed us to move forward."
For Crawford, foundation donations play an important role in tuition assistance. "In 2008, approximately $1.8 million of all gifts raised were for academic support, including student scholarships," he says. "And $550,000 was to support athletic programs."
Simply put, Georgia colleges and universities use their foundations to support mission-important projects that legally cannot be funded by the state. That can include everything from buying a meal for a visiting dignitary to building a new stadium.
VSU's Auxiliary Real Estate Foun-dation, created two years ago, uses self-imposed student fees to finance its land acquisition and construction costs while the university's older foundation uses donations to support academic scholarships and athletic team programs. The real estate foundation uses student fees to service bond debt attached to building projects.
Real estate foundations also remove certain risks, which help keep the cost of bonds down. "If the universities could willy-nilly incur debt, then that would affect the state's bond rating and [the state] would have no control over that," says VSU President Dr. Patrick Schloss, also a real estate foundation board member. "Residence halls in the country, not just in Georgia, are very, very risky projects. So states that are building a lot of dorm rooms are seeing their bond rating go down, down, down. In Georgia, we've taken such risks off the books by assigning the risks to the foundations."
Crawford says his VSU Foundation, begun in 1963, has had to be more imaginative in raising money in the current economic crunch, employing methods far beyond the traditional direct mail pieces, golf tournaments and one-on-one contacts with likely individual and corporate contributors. To that end, Crawford says, the pursuit of heavy-hitter donors interested in securing the naming rights to buildings, rooms, fields and other athletic related assets will play an increasingly greater role in the school's fund-raising effort.
In calendar year 2008, despite the economic downturn that began in the fall, the VSU Foundation raised more than $2.2 million, an increase of 19 percent over the previous year. The current fee schedule has the university's 11,800 students paying $20 each per semester to service the bond debt on their new facilities.
Robust Activity
The University of West Georgia's football team – the Grizzlies – plays its first game this month in the school's new $36 million yet-to-be-named stadium. The field they play on, however, will be known as Ra-Lin Field, named for the Carroll County construction company, Ra-Lin & Associates, that donated $1.5 million back in 2005 to jump-start fund-raising efforts for the athletic facility.
Already eight of the stadium's 12 VIP suites have been sold for $250,000 each, and individually named seats in the 9,000-fan facility are being offered at $2,500 apiece.
The sale of naming rights will have a domino effect on academic programs at the school. The entire athletic program is to be moved to the new stadium and adjoining buildings and playing fields, says Dr. Michael Ruffner, vice president of university advancement, who manages several departments, as well as the UWG Foundation and the school's Campus Center, LLC, the university's real estate finance and management arm.
"That will free up other buildings on campus to be used for other purposes," he adds.
Even with the robust construction activity at West Georgia, the current economy has thrown the foundation for a loss. "Right now the University of West Georgia [Foundation] endowment stands at about $12 million," Ruffner says. "That's down from about $17.9 million a year ago and that's directly related to the economic downturn."
The university's approach to raising dollars for scholarships and building programs is being overhauled to find new sources of revenue. "For the first time ever, West Georgia is participating in the federal appropriations process," Ruffner says. "We were up [in Washington] last winter to apply for a number of earmarks. We've applied in the stimulus package and we're looking at a lot of competitive grants."
Land and buildings donated to a university or college are staples of foundation endowments, but with such gifts can come liabilities. "One key part of accepting gifts is making sure the donor and the university are on the same page as to the tax consequences of the gift," Ruffner says.
Also, the university has to be sure the gift can be useful to its mission. In his career as a fund-raiser, Ruffner has been offered gifts of boats, cars, real estate and even animals – live and stuffed. Once, while working at another institution, he accepted a llama, a notoriously cantankerous animal. "If I had that to do again I would not have accepted it," he says, laughing.
Starting From Scratch
Georgia's newest campus foundation began life in 2006 with no assets, no students and precious few donor possibilities. Just three years later, however, Georgia Gwinnett College (GGC) is in the midst of a $140 million building boom. At the moment the GGC Foundation has what has to be a record for receiving gifts from its graduates.
"We've had three formal graduations and every [graduate] has chosen to show their support with a [cash] gift," says Perry Roberts, director of annual giving for GGC. "That's 100 percent of our seniors."
With such student support for the Lawrenceville-based college, major donors can't be far behind.
"We have a seven-figure gift and a number of six-figure gifts," says Gordon Harrison, president of the Georgia Gwinnett College Foundation. With just 1,700 students as 2009 began, GGC is forecasting enrollment for the fall at 2,500 to 3,000 students.
"And we expect that to grow by at least 2,000 students each year," he says. "By the year 2012 we expect there to be 9,000 students."
With that kind of predicted growth, it is no wonder the GGC Foundation is fund-raising on the fly for the construction of residences and other campus amenities. The first residence hall, expected to be open in the fall of 2010, will house 1,000 students and at least two more such halls are expected to begin going up by then. The residences are being constructed using bonds to be retired by rent fees, all managed by the school's real estate foundation.
When Georgia Gwinnett College opened its doors, the school had no accreditation and students could not qualify for the Pell Grant, a popular federal source of tuition assistance. To make sure students seeking Pell Grants would not turn away from GGC, the foundation found a novel use for its money.
"The foundation went about raising the funds to come up with what we called 'The In Lieu of Pell Grant,'" Harrison says. "I wrote checks for several hundred thousand dollars for our incoming students that would have qualified for Pell Grants, and all of that was community-based funds."
Historic Projects
Not all colleges and universities seek foundation funds for the construction of new buildings. At Fort Valley State University (FVSU), an historic building, Huntington Hall, has been targeted for restoration by the university's foundation.
"That building was erected in 1908 with the help of student labor," says Dr. Melody Carter, the vice president for external affairs and executive director of the 37-year-old Fort Valley State Uni-versity Foundation, Inc. "Huntington Hall has been offline for 20 years now and we are working through the foundation to restore it as an administration building."
Older alumni returning to campus are drawn to the building and the memories it holds. The restoration is expected to cost more than $5 million when completed; about half that amount has been raised. "However, we have other amenities that we need to support, such as a student activities center and we are getting a good portion of that funding through federal and state initiatives," Carter says.
The FVSU Foundation had about $4 million on hand just before the end of the fiscal year; but the economy has slowed the flow of gifts there as it has at other institutions in Georgia and throughout the country. "At our highest point ever we were at $5.3 million," Carter says.
Still, she has seen beams of hope during the current year. "What we found was that more of our alumni were giving, but they were giving fewer dollars. And we found that in this tough economy grants and contracts are up, not counting stimulus funds, which we haven't seen as yet."
After consulting with a private firm during an assessment of fund-raising activities, the campus gift-seeking executives launched a new effort called the Imagine Fort Valley State University Drive. The Imagine drive is focusing more on corporate and willed gifts, as well as closer ties with established donors.
With a record enrollment of 4,000 expected this fall at FVSU, and many applicants hoping for tuition assistance, the institution's foundation is gearing for a tight squeeze on available funds.
"Our funds from the foundation are primarily for scholarships," Carter says. "That is always the institution's first priority no matter what the economy is doing."