Houston County: Going Strong
Bolstered by the state's largest employer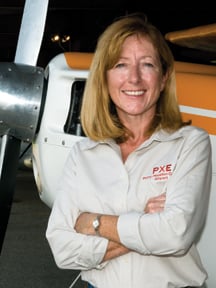 In the middle of the largest surplus of new homes in the nation's history, Patti Goff is facing a housing shortage. And she has a waiting list of customers lined up, cash in hand, ready to lease some space.
Goff isn't a real estate professional; she wants to sign leasing agreements with pilots who are clamoring for a place to house their planes. "But there is no hangar space to lease," says Goff, manager of the Perry-Houston County Airport. "We have local pilots and aircraft owners who are parking their planes in Macon and who want to come to Perry but can't, because every single one of my hangars is full."
Goff has begun looking for private investors interested in adding a few hangars at her facility, owned and managed by the Perry-Houston County Airport Authority since 2008, when a private operator went out of business.
"That had to do with the times," she says. "General aviation, just like everything else in this economy, is suffering." But at the Perry airport, not so much.
Goff says aviation fuel sales are up 22 percent in the past year, while industry studies show them down 26 percent nationwide during the same period.
"We don't have to make a lot of money," she says. "We have to break even and make sure we can pay our insurance and meet our payroll, so we can keep our fuel costs a lot lower."
Getting more pilots to house their planes would create more fuel purchases and more taxes to fund operations, she says.
The installation of $1.5 million worth of new navigational technology paid for by Houston County's Special Purpose Local Option Sales Taxes (SPLOSTs) has widened the customer base, and an enthusiastic marketing campaign is landing even nonflyers on the airport runway.
"The Georgia Barbecue Association sponsored the Pigs and Wings cook-off and we gave out $5,000 in prizes," Goff says. "We had a huge turnout for that. And we have a wedding coming up. We're planning on having a big yard sale coming out here soon. That will get people to fly in and at the same time it will attract local people here so they can see what we have."
In nearby Warner Robins, Mary Therese Tebbe has her own plans to attract local workers to a new development in the world of aviation.
"We have [new] weapons systems coming down the pike and we absolutely must have a workforce in place before they ever get here," says Tebbe, executive director of the 21st Century Partnership (21CP), a liaison organization composed of regional communities, Robins Air Force Base and the Air Force.
"And we have enjoyed strong support from our Middle Georgia congressional delegation in every facet of our work."
After receiving a $500,000 Work Ready grant from the state in 2008, Tebbe's 21CP began a "cradle to the base" recruitment program reaching down into the local school systems as far as kindergartens in an effort to interest tots and teens in a career in aerospace technology.
"We have to perpetually have a qualified workforce as weapons systems [specialists] age and retire," Tebbe says. "How do you grow that workforce? If we don't start in kindergarten, we're missing the boat."
Added to the loss of technology specialists to retirement is the arrival of new missions at Robins. "The F-22 [fighter's] software facility is going to be here," Tebbe says. "We're going to have a huge need for engineers, hundreds of engineers. It's not just about flying that massive airplane. You have people who are going to have to work on the modifications to it; you have people who have to work in financing for contracting. There are so many aspects of that one plane that thousands and thousands of people have to be involved in, and they have to be qualified."
To build that workforce, Tebbe's organization is working with a regional coalition of community leaders, industries, school systems, Air Force representatives and the Department of Defense in an effort called the Middle Georgia Work Ready Aerospace Partnership (mgWRAP), a program to identify, encourage and recruit the next generation of skilled technicians re-quired by the base and its contractors.
By The Numbers
To understand Tebbe's passion for landing skilled workers at the giant Air Force base, you have only to look at the numbers. Robins Air Force Base is the state's largest industrial complex, with 14 million square feet of buildings on 8,800 acres. The base's 26,000 workers make it the state's largest employer. Robins' statewide economic impact is $4 billion. To locals, the base's value is greatly magnified in these troubled economic times.
In 2007, according to data from the base's Air Logistics Center, $220 million in government contracts at Robins went to Houston County firms, and $270 million worth of retirement checks were sent to Houston County residents. At the moment, $219 million in recently completed or ongoing construction projects on base are providing the kind of local contracting jobs that are so scarce across the nation.
James Worrall is sitting in his office ticking off a list of new restaurants that opened around Perry, Houston County's seat of government.
"McDonald's, Subway, a new Mexican restaurant and there are more," says Worrall, Perry's mayor. "It's amazing to me that we're still building restaurants like they're going out of style. And we're seeing a bit of an increase in new housing starts. We went for almost three months and didn't issue a [new home] building permit, and now I think we issued 13 in the last 30 or 40 days. Having that Air Force base and all those employees is a real hedge against economic downturns."
Worrall was preparing to go into a meeting with county officials to look over the most recent sales tax figures, revenues that help fund city services and infrastructure improvements and maintenance.
"I believe when the numbers are out we're going to see an increase in sales taxes," he says. That, he adds, will allow for some long awaited work on the city's water and sewer lines.
"Perry is an old town and we've been trying to gradually replace some of those lines in our older neighborhoods that were built during World War II," Worrall says. "We hope to get that started in the fall."
Tourist Traffic
Megan Smith puts her index finger to her lips, shushes her visitor and asks, "Can you hear that?" And then the continuous sound of passing traffic on nearby I-75 is obvious. To Smith, president and CEO of the Perry Area Chamber of Commerce, the noise of cars and trucks on the interstate is a symphony, the music of commerce and opportunity made by travelers who zip by in seconds.
Her job is to lure them off the busy highway to spend time and money in her community. "About 46,000 cars a day go by here, and this is an easy place to get on and off the interstate; not too crowded," Smith says.
She points out that about 900,000 of those travelers visited the Georgia National Fairgrounds and Agricenter to attend a schedule of events capped by the annual Georgia National Fair in October.
"We feel very comfortable saying we have a million visitors a year [in Perry]," she says.
That kind of tourist traffic, coupled with the city's recently received state designation as an Opportunity Zone (OZ), Smith believes, gives her the strong incentives she needs to attract new retailers. The OZ allows new retailers to receive $3,500 per employee in tax credits, the kind of bottom line booster employers covet.
"And they only have to create two jobs to start earning those credits," Smith says. "Normally it takes 25 jobs to earn those credits and when you drop it down to two, then you're talking retail. And that can make the difference to somebody who is trying to decide between two different communities."
Smith should see retail opportunities expand with the opening of the $23 million Go Fish Center now under construction at the Fairgrounds. The center, projected to open in 2010, is part of a pet project promoted by Gov. Sonny Perdue to attract anglers and fishing tournaments to Georgia and leave tourist dollars in their wake.
Retail growth continues unabated just up the interstate in Warner Robins. "We have had 32 ribbon cuttings, 25 in the first three months of 2009, so we're set to get about 100 this year; and that's about what we did last year and the year before," says Ed Rodriguez, president and CEO of the Warner Robins Area Chamber of Commerce. "Chain stores, niche stores, mom and pop stores – it's all a sign of a healthy and diverse retail base. The Toyota dealership that opened up here less than a year ago is the largest Toyota dealership in the state."
The May groundbreaking in War-ner Robins for the $5.5 million Little League Southeastern Region (LLSR) headquarters and tournament stadium was a home run for local boosters, including Gov. Perdue, the ceremony's leader. He was a member of the local Little League All-Star team of 1959.
The new facility will house Little League regional staffers and host sanctioned tournaments whose winners may eventually compete for the national championship. The 26-acre complex will be ready in time for those regionals next summer.
Strong Foundation
More concrete evidence of Houston County's continued economic growth came this year with the announcement of a $200 million capital investment in a new manufacturing facility by Houston American Cement.
"That will be the second operational cement manufacturing plant in the county," says Morgan Law, executive director of the Houston County Development Authority.
"There is currently only one other active cement manufacturing facility in Georgia and it is in Houston County. We have the cement manufacturing market cornered."
Law says Houston American Ce-ment will add 80 jobs to the local payroll when it begins production early in 2011. The announcement was a welcome event for the county's economic developers, given the current national economic crisis that has slowed industry growth across the spectrum.
Even lulls can be used productively. "We've seen a slowdown in our industrial sector, and what we've done is take the opportunity to sharpen the sword a little bit," Law says. "We have made a pretty substantial acquisition of industrial property, about 670 acres. We're in the site certification process and getting all the environmental assessments completed."
The new industrial park site is just off I-75, close to the airport and bordered by U.S. Highway 341, better known as the Golden Isles Parkway, which connects the interstate to the Port of Brunswick. "And that makes logistics a key target for us," Law says.
The parkway's presence has generated a loosely formed group of economic developers – the 341 Alliance – in eight counties along its route.
"We have banded together to promote the parkway for industrial development, with Houston County being the point of origin for the alliance," he says. The idea is to grow jobs, and with them new tax-paying residents for the region.
Ned Sanders has focused more specifically on new residents. Sanders, chairman of the Houston County Board of Commissioners, tracks population trends in his county because, he says, they forecast the need for government services and infrastructure in the future.
"We're somewhere around two percent [population] growth annually, even in this economy," Sanders says. "And we're presently at about 135,000 population now."
Projections from the Governor's Office of Planning and Budget put Houston County's 2010 population at 143,000 and its 2015 population at 160,000, showing a real need to be ready for thousands of new school-aged children over the next six years.
A SPLOST issue passed two years ago is projected to raise $135 million, Sanders says. "There is roughly $93 million in that … SPLOST. We're right in the middle of that being used to provide transportation enhancements."
Chief among those road enhancements are the corridors in and around schools.
"Nine of the 12 major roads programmed in the new SPLOST are in direct support of existing schools and schools that are under construction," Sanders says.
For several years the county's school systems had been receiving about 700 new students annually. "That's a new school [needed] every year," Sanders says. "But that slowed last year, I think as a result of the downturn in the economy."
Community Snapshot
Local Leaders
Ned Sanders
Chairman
Houston County Commission
478.542.2115
nsanders@houstoncountyga.org
Morgan Law
Executive Director
Houston County
Development Authority
478.923.5470
law@houstoncountyga.net
Ed Rodriguez
President/CEO
Warner Robins Area
Chamber of Commerce
478.922.8585
erodriguez@warner-robins.com
Population
(2007)
Houston County, 131,016; Warner Robins, 60,608; Perry (county seat), 12,555; Centerville, 7,106;
Byron (Houston portion), 14
Per Capita Income
(2006)
Houston County, $29,825; Georgia, $32,299
Unemployment
(May 2009)
Houston County, 6.8 percent; Georgia, 9.5 percent
Top Five Employers
U.S. Air Force, Houston
County Board of Education, Houston County Healthcare, Perdue Farms, Frito Lay
Sources
Houston County Development Authority; Georgia Department of Labor; U.S. Census Bureau, U.S. Bureau
of Economic Analysis