Cash Crop
Georgia agribusiness weathered a tough year – and then the heavy spring rains came. Here's a look at some key sectors and how they fared.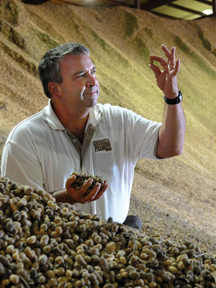 After several years of on and off drought conditions, Georgia farm-ers saw 2009 unfold with seemingly unending rains that kept them out of the fields during the critical spring planting season. The warm, wet weather that followed created ideal conditions for bugs and fungi to spread their attacks on sprouting plants.
More threats to a profitable year for important cash-generating commodities such as peanuts, poultry and, in one case, tomatoes, came far from the fields and were credited to the global economy and health scares. Still, some sectors of the ag economy continued to grow, even prosper, providing a bit of balance for the agribusiness profit and loss sheet.
The back-story here is the change in the nature of the state's farming operations. Big farmers are getting bigger and the number of small farms is growing, particularly in north Georgia. The state's organic farmers are becoming modest players among the giants of the land. Here's a look at several agricultural sectors and a few noteworthy trends in the industry that is the state's largest revenue producer.
Small Farms
"Who would have thought Carroll County has the most farms of any county in the state?" asks John McKissick, director of the University of Georgia's Center for Agribusiness and Economic Development. Growth in the number of small farms on expensive land has been generated by people "who would like to live away from the city," McKissick says. "But they are not dependent on that farm for their primary income."
The U.S. Department of Agriculture's most recent census indicates that the number of small farmers whose primary income is earned away from the farm rose by 9 percent between 2002 and 2007.
Some farm owners may use the land to raise and enjoy horses, but there are small farmers who use their north Georgia land strictly for profit. "When you are on high-value land and you don't have a lot of land, say, like north Georgia, if you want to make a significant income from that land you have to have a high-value product per acre," McKissick says.
For many in north Georgia, that high-value product is tied to landscaping. "A part of the growth in the number of new, smaller farms has been the ornamental horticulture industry," he says. "Fruits and vegetables are high-value products, as well as organics."
In fact, Georgia's fledgling organic farms are just beginning to flex their muscles and have begun ambitious programs to put more of their members at the table and more of their crops on it.
"Organic farming was growing by about 20 percent over the past few years but, like everything else, slowed a little last year," says Alice Rolls, executive director of Georgia Organics, Inc., a membership supported advocacy group. "We don't actually have a lot of acreage in Georgia, only about 3,000 acres out of about 170,000 acres of vegetable farms in the state. Our place at the table is small, but the opportunities are huge."
Rolls cites increases in the use of organic fruits and vegetables in upscale restaurants and a growing consumer demand for the chemical-free products at fresh markets around the state as evidence of those opportunities. She believes the cost burden of petroleum-based products used in conventional farming will nudge more and more farmers toward organic farming.
"We are partnering with the University of Georgia and Fort Valley State University in a training program to teach organic farming to about 12 of UGA's county extension agents," she says. "Our end game is to help those big farmers transition [to organics] but also to put more biodiversity on our farms, where you're not just growing soybeans and peanuts but also growing cantaloupes, lettuce, carrots and the other things we eat right here in Georgia. In Georgia, we spend $20 billion a year in food purchases and $16 billion of that goes to support producers out of state."
Pecans
Mac Abel stands at the edge of his pecan orchard watching dark clouds gather over the western horizon and ruefully shakes his head. "What we certainly don't need is more rain," says Abel, the third generation in his family to operate Mockingbird Hill Farms, 700 acres of pecan trees in Dougherty County.
Abel's trees have been drenched by steady spring rains. The wet weather combined with the warm days of late spring and summer creates ideal conditions for the spread of scab, a fungus that attacks the leaves and fruit of his pecan trees, and that, he says, will hurt his bottom line.
"We're putting a lot of fungicide out to prevent this disease," he says. "And that means more fuel and chemical costs, and more labor costs and wear and tear on our equipment."
After a long drought, it seems odd for a grower to complain about rain, but, "I'll take a drought over all this rain anytime," he says.
Georgia's pecan industry recorded $158 million in farm gate value in 2007 to those, such as Abel, who harvested the nut. About 80 percent of the world's pecan production is in the United States; Georgia is the nation's largest producer.
Abel's orchards sit in the middle of the industry's most productive counties. Even without the rain, pecan trees can be fickle nut bearers, producing bumper crops every other year at best. "Pecans are probably the hardest crop to produce in the state of Georgia, and probably the most expensive crop to produce," Abel says.
Yet Abel is optimistic about the future for pecan growers, thanks to a growing taste for the nut in Asia. "China has become a big market for us," he says. "And as more and more research comes out every year on how nutritious and healthy pecans are for you, the more promising this nut is for the growers."
While Abel was speaking, Hilton Segler was packing his bags for a trip to Atlanta to meet with a delegation from Vietnam interested in importing pecans to that country. Segler is a former grower who now serves as president of the Georgia Pecan Growers Association, and he has meetings scheduled later in the year with delegations from India, South Korea and Brazil, all looking to put the nuts in the kitchens and stores of their countries.
Pecans could be called the "quiet crop" because they seldom get media attention, and their sales value, when weighed against other Peach State crops, is relatively small – only about $220 million in 2007 when the industry recorded a record harvest of more than 150 million pounds.
"We had a record crop," Segler says. "But so did every other state from North Carolina to New Mexico." Unfortunately, the flooded market kept prices down.
Peanuts
The state's other shelled crop, the peanut, had a banner year in 2008, despite a salmonella scare at a processing facility. The plentiful supply of goobers forced prices down and left a national surplus of 500,000 tons needing buyers. 2009 contract options offered by peanut buyers were almost insulting to the growers and many farmers just said, "Thanks, but no thanks."
The peanut outlook was made cloudier by persistent spring and summer rains just as planting had begun, says Don Koehler, executive director of the Georgia Peanut Commodity Commission.
"We were only about a fourth of the way into planting when we were hit by all this rain," Koehler says. "We're behind in the fieldwork and what we're going to have is a pretty serious reduction [in planting], probably 28 percent to a third of the [2008] acreage."
In the economics of farming, a reduction in production is just the right prescription for the ills caused by the previous year's oversupply. "We had a phenomenal year last year and so we needed to trim back a little bit to get the market back in equilibrium," Koehler says. In other words, the heavy rains earlier this year that kept the farmers out of the fields were good for the market value of their peanuts in the long run.
Koehler says the salmonella scare emanating from foul conditions at a southwest Georgia processing plant was but a momentary distraction. "That company handled only about 2.5 percent of all the peanuts in America in their three plants," Koehler says. "We're getting over this thing with the salmonella because folks are aware of the fact that this thing has come to an end."
Peanut butter has resumed its position as a steady riser in the marketplace, Koehler says. "About two-thirds of all Georgia peanuts go into peanut butter, and so that is a good thing for us."
Pork
Not so good for another Georgia agricultural product are continued headlines trumpeting the threat of "swine flu."
"That is a total misnomer," says Charles Griffin, executive director of the Georgia Pork Producers Association. "People heard 'swine flu' and some people were putting out that you would get sick around pigs or you get sick from eating pork and, of course, none of that was true."
One effect of the misnamed flu scare was a diversion of marketing dollars into a defensive stand by the National Pork Board, an industry promotional group.
"For three weeks, they had to change all their advertising into a "Pork is Safe" campaign," says Griffin, and that had an effect on Georgia's at-the-farm annual pork sales of $90.4 million.
"It had a tremendous effect on the industry overall, as far as hog prices were concerned," he says. "We are starting to recover, but we have not gotten back to the level they [pork sales] were before it happened."
Produce
Another Georgia commodity took a hit in 2008, again generated by the fear of disease that in turn sent sales into a free fall. This time it was tomatoes in salsa identified as the source of a salmonella outbreak in 17 states. Though initial reports from the Federal Drug Administration (FDA) and the Centers for Disease Control and Prevention (CDC) cautioned that not all tomatoes posed a threat, the panic button had been hit and fast food chains quickly took tomatoes off their menus and buffet lines, while tomato sales in supermarkets plunged.
When tomatoes became taboo, Georgia tomato growers and related businesses lost $25 million, says Gary Black, president of the Georgia Agribusiness Council.
"I personally know of one of my members who lost more than $1 million," Black says. "They began to trace [market] activities back to Georgia and Florida trying to locate where the [tainted tomatoes] were coming from. All of this went on for weeks and consumer confidence was severely damaged. Tomatoes rotted on the vine in south Georgia because the market was just eliminated."
The event led Black to write an angry op-ed column denouncing officials at the FDA and CDC for what he said were premature comments.
"I'd like to see government officials act on science-based information rather than speculation," Black says. "When the government speculates, the farmers lose."
The cause of the salmonella was eventually linked to contaminated irrigation water in Mexico.
Poultry
Georgia's poultry producers were stunned by the closing of several chicken processing plants this year, a severe blow to the $5.6 billion annual farm gate revenues produced by the industry, the state's largest agriculture sector. Most dramatic was the shuttering of the Pilgrim's Pride processing plant in Douglas, where 900 workers lost their jobs.
"As I understand it, between all the growers who supplied Pilgrim's Pride and employees who worked at that plant there were 1,500 people and all that income was stopped immediately," says Lucius Adkins, a Baker County grower and president of the United Poultry Growers Association. "That was very, very devastating to the region and the industry as a whole."
Adkins says the plant where he sells his chickens is still operating and that, in a perverse way, the rising cost of fertilizer was helpful to poultry producers who sell their chicken litter, the droppings, on the open market.
The nutrient-rich litter, normally fetching about $25 a ton, increased dramatically in value. "I sold mine for $38 a ton," he says. "And to those of us who attempt to market litter properly, that was a bright spot."
Still, poultry products marked a milestone in 2008 when the commodity was named the number one agriculture export out of Georgia ports. Exports of Georgia products continue to be an important part of the state's ag economy, thanks to an aggressive marketing program overseas anchored by a savvy sales office.
Georgia has agriculture trade missions in Asia, Europe and the Middle East and the state's top ag man, Tommy Irvin, is looking for other foreign markets.
"I have been on several trade missions to Cuba and they are interested in doing business with us," says Irvin, Georgia's Commissioner of Agriculture, in a prepared statement. "It's not going to be easy to begin trade with Cuba; there are some banking and monetary hurdles that need to be negotiated, but I am hopeful that soon the people of Cuba will be sampling and consuming Georgia products on a large scale."
Cotton
Few Georgians study foreign trade trends more intently than the state's cotton farmers, who ship about 70 percent of their crop overseas. "China is our biggest customer, but they have not bought as much as in past years," says Colquitt County cotton grower Louie Perry, chairman of the Georgia Cotton Commission.
Plans announced by the Chinese to reduce cotton plantings by 30 percent this year should be good news for the cotton states. "China will still be a big user of cotton, as will India," Perry says. "The growing middle class economies of those countries have them using more cotton and I think that will continue to help our market here."