Peach County: A Focus On Industry
Joining community and university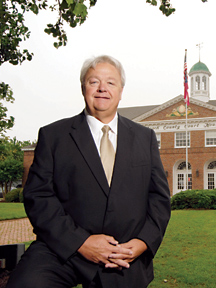 In recent times, Peach County has been most notable to travelers on I-75 for two things – a cadre of RV dealers at the Byron exit (149) and a certain very well advertised dance club at exit 146 with highly visible billboards peppering several miles of interstate in either direction.
Despite rising gas prices and a tanking economy, the RV dealers, save one, are still there. The dance club isn't – the owner passed away and his heirs sold the land. Locals were so happy to see it go, says Peach County Chamber of Commerce President Perry Swanson, they threw a Grand Closing party in December and cheered when the bulldozer knocked the walls down.
"We've gotten rid of [Cafe Erotica] and we're improving that interchange and hoping it will spur a little better class of development," says County Commission Chair Martin Moseley.
The chamber's tourism committee wasted no time coming up with a new logo and slogan designed to put the focus back where it was when the county was created in 1924 – squarely on the peaches. That would be "Peach County – we put the Peach in Georgia," says Swanson, adding that the chamber will be investing in a billboard of its own to tout the new slogan.
The county's peachy prominence is evidence of a unique union of agriculture and industry – orchards with ripe fruit surrounding railroad towns where the fruit could be packed and shipped, mostly to points north. As many as 18 peach packing houses lined the streets of Fort Valley; Byron, the county's only other city, located some 12 miles north on the rail line, had as many as 14. One local grower moved his house several thousand yards so he could watch his peaches being loaded into rail cars (that structure, the Troutman Home, currently houses the chamber and Fort Valley's Main Street offices).
Today there are just two major growing and packing operations (plus several family spreads), and only one of them, Lane Packing Company, is headquartered in Peach County (see story page 39).
Industrial Shift
Like most of its counterparts, Peach County began adding industry to its agricultural economy in the early 20th century. It all started when local Ford dealer Albert Luce sold a wooden bus to a local farmer. The vehicle fell apart before the owner paid off the loan, says Fort Valley Mayor John Stumbo, who's married to Luce's granddaughter, and Luce decided he could do a better job building buses himself – out of steel.
Luce's Blue Bird Bus No. 1 hit the streets in 1927 and by 1935 a dedicated bus plant had opened in Fort Valley. The company prospered, thanks to many innovations in bus design, expanding to Canada and Latin America and spawning an RV offshoot called the Wanderlodge, before being sold to Merrill Lynch in 1982. Blue Bird bounced around among owners (and towns – moving to Macon then back to Fort Valley) until 2006, when it was snapped up by the Traxis Financial Group, a division of Cerberus Capital.
Today the company is again expanding. Blue Bird and the city of Fort Valley have worked out a deal for an industrial building formerly occupied by Dan River. Blue Bird bought the property and renovated it; Fort Valley will issue bonds and buy it from Blue Bird, which will rent it back over 10 years. "The city conveys it to Blue Bird for $1 at the end of the lease, then it goes on the tax rolls and we're getting property taxes," Stumbo says. The 300,000-square-foot facility, now a fabrication plant, came online earlier this year, adding 100 more jobs to the 1,500-plus Blue Bird already provides.
Step 2, an Ohio-based plastic extrusion company that makes children's playsets and play houses, took advantage of Peach County's first foray into spec buildings, and acquired its 200,000-square-foot space in South Peach Industrial Park. A new 100,000-square-foot spec building is currently available.
A recently developed frontage road at the Russell Parkway exit is pegged as a potential industrial zone. The road parallels the interstate joining two east-west corridors that tie GA Hwy 49, the county's north-south backbone, to nearby Warner Robins in neighboring Houston County. "We're looking for that to develop over time, Moseley says, "as soon as the economy turns." The project is a joint effort between Warner Robins and Peach County.
As for the kind of enterprise the county would like to attract in the future, that's tied to Warner Robins as well. Swanson says his views are clearly in line with Georgia's Work Ready program, which has pegged this portion of middle Georgia as the aerospace corridor.
"With companies like Boeing, Lock-heed-Martin and Northrop Grumman and, of course, Robins Air Force Base all here in Middle Georgia, it would only stand to reason that Peach County would like to, and should be, ready to welcome those industries and try to bring them into our county as well. Any of the support industries that will help aerospace, because there's a huge future in aerospace and we certainly want to have a hand in that."
Though Peach County – Georgia's newest, and one of its smallest, at just 150 square miles – is roughly equidistant from Macon and Warner Robins, the latter is edging slowly but surely across the Houston County line.
Typical suburban neighborhoods are cropping up primarily in the mid to northern part of the county, says Moseley, adding that Byron, where he lives, "has experienced the most growth over the last five to 10 years because of its proximity to both Macon and Warner Robins." Home prices average from the mid to high $100s and up.
Communiversity
The not-so-secret weapon in Peach County's future development plans is likely to be Fort Valley State University (FVSU), and the strong relationship it is forging with its namesake town, an effort FVSU President Larry Rivers refers to as "communiversity" – a coming together of Peach County, Middle Georgia and FVSU "for the good of all parties."
FVSU, originally a land grant institution, traces its history back more than a century. Today it offers bachelor's degrees in some 50 subjects and sprawls over 1,300 acres just south of downtown Fort Valley.
FVSU's enrollment – currently around 3,100 – has spiked 20 percent or more annually since Rivers, a FVSU alum, took the helm three years ago. During that time he has brought in some $125 million in construction projects, including a $65 million housing complex called Wildcat Commons. A new student center, football stadium and science building are under construction and plans call for renovation of several more structures.
The school is making inroads downtown as well and has purchased 15-20 structures along State University Drive, which Rivers says will become rentals and businesses for students to manage. Stumbo talked local developers into rehabbing existing properties and tearing down subpar housing to build new structures. Many of the resulting duplexes were sold to parents of FVSU students who allotted one side for their offspring and rented out the other.
Two former storefronts are now in university hands; one will become an art gallery/studio; a coffee shop will help draw visitors and students alike. Loraine Khoury, Fort Valley Main Street executive director, says the gallery was inspired by the enhanced presence Columbus State's art department has in that city's downtown. Across the street, another building is home to FVSU's business incubator and English classes for a growing Hispanic population, many of whom first come to the area as peach pickers.
Perhaps the biggest plans to date are for the former Fort Valley High School, which dates to the early 20th century and has been more or less vacant since the school system was integrated in the 1970s. The downtown development authority will purchase the school, which will house FVSU's business school, and lease it back to the Board of Regents. The plan is awaiting Regents' approval. The new facility should allow the business school to double in size from 600 students to more than 1,000, Stumbo says.
"With a business school in the heart of the city of Fort Valley, the university and citizens can work together to provide business opportunities that could employ hundreds, if not thousands of citizens," Rivers says.
Downtown Fort Valley also possesses its three original railroad buildings – a passenger terminal, freight depot and switching station. Thanks to some $850,000 from the DCA (the city is matching 20 percent), they will be transformed into a railroad/peach museum. The city is taking its cue from neighboring Byron, where the restored circa 1870 depot serves as a civic/railroad museum. The Byron Convention & Visitors Bureau and Welcome Center are lodged in a circa-1910 pharmacy.
When it comes to boosting retail, the hope is that growing student traffic in downtown will trickle down to local merchants. Still, Stumbo points out, with both Warner Robins and Macon an easy drive away, the days of a booming downtown retail zone are long gone.
Instead, leaders are pinning their retail dreams on 250 acres about eight miles from the center of downtown. The land, currently a sod farm, lies at the intersection of GA Hwy. 96 and I-75 and its owner, Patton Seed Company, has paired with a development company known for building shopping centers. The overarching hope, Stumbo and Swanson concur, is for a development along the lines of The Shoppes at River Crossing, an upscale open-air shopping center in Macon. Stumbo says the city is extending sewer lines to tie the site to the city's water treatment plant, which just underwent a $10 million overhaul. The mayor put annexation covenants in place on property between Fort Valley and the sod farm and will enact them when the land begins to shift from rural to commercial or residential.
"The total assessed valuation will double the valuation of Fort Valley as it presently is," he says, "to say nothing of the tax dollars, population growth and everything else."
Byron already is noting retail growth, Swanson says, including a Freshway supermarket, an Ace Hardware, a Barber Peaches retail outlet and a new Yamaha dealer. On the down side, MidState RV did do some downsizing and Wanderlodge, which split off from Blue Bird several years ago, closed its 200,000-square-foot, 32-acre facility in December. The property went up for auction in the $2- to $3-milion range, he says, but the deal isn't finalized.
Community Snapshot
Local Leaders
Martin Moseley
Chairman
Peach County Commission
478.956.5031
martin-moseley@peachcounty.net
Dr. Larry E. Rivers
President
Fort Valley State University
478.825.6315/6316
riversl@fvsu.edu
John Stumbo
Mayor
Fort Valley
478.825.8567
jstumbo@fortvalleyusa.com
Population
Peach County, 26,736; Byron, 2,887; Fort Valley (county seat), 8,005
Unemployment
(April 2009)
Peach County, 8.9 percent; Georgia, 9.3 percent
Per Capita Income
(2006)
Peach County, $24,769; Georgia, $32,299
Major Employers
Blue Bird Bus Co., Fort Valley State University, Mid-State RV, Jerry Barker Chevrolet, Peach County Ford, Peach Outlet Mall, Peach Regional Medical Center, Step 2, Southern Perfection Steel Fabrication
Sources
Georgia Department of Labor, Peach County Commission, U.S. Bureau of Economic Analysis