Effingham County: Signs Of Growth
A new manufacturing facility and a power upgrade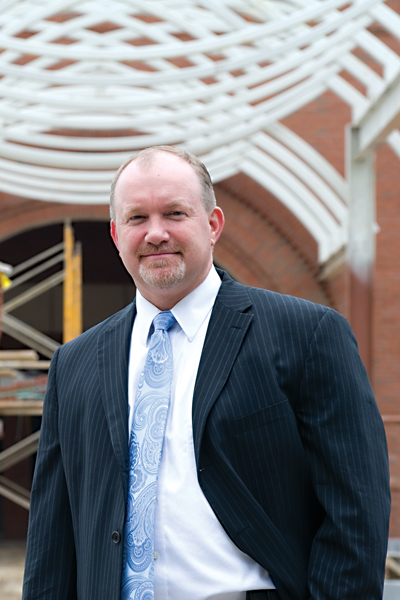 John Henry admits it's a bit unusual for him to be conducting a tour of all the new fire hydrants along the Effingham County portion of Georgia Highway 21, known here as the Savannah River Parkway, but he says he has a point to make. "These fire hydrants are marking the sites of future growth," says Henry, CEO of the Effingham Industrial Development Authority.
The fire hydrants represent a five-mile stretch of water main along the county's premier commercial and industrial corridor. Property owners along the route have placed "For Sale" signs on the pastures and woodlands they own. "Several months ago when you drove by this land you would have seen notices of rezoning signs," Henry says. "All of this is going to be commercial. And right now we're putting things in and on the ground to back that up."
Right on cue, a tall crane appears on the horizon and in a moment construction workers toting the implements of their trade crisscross a building site like ants. This is the home of the new EFECEC (pronounced Eff-Eh-Sek) manufacturing facility, whose presence is reverberating throughout the community, creating jobs and, in an uncertain economy, lifting residents' spirits.
"Seeing the EFECEC facility rise out of the ground certainly improved the morale here," Henry says. "The Georgia Power Company put in a power station on the site and sent a power line from the industrial park to the power generating facility at Plant McIntosh, so we got that power upgrade as a result of the arrival of EFECEC."
In October the Portugal-headquartered EFECEC will begin manufacturing huge power transformers, the kind that are found in substations and which can weigh 60 tons or more. The company will start out with 289 employees and expects to quickly grow to 700 workers, many of whom are being trained across the street at the new Effingham campus of Savannah Technical College (STC).
"They would love to see 80 to 90 percent of their employees come directly from the community," Henry says. "They are willing to work with the community, get into the high schools and set up programs where we can train our own and they can grow their own employees right here in Effingham County."
A new $6 million career academy is going up adjacent to the STC campus and will feature specialized programs for students seeking employment at EFECEC, Georgia Power and other energy-related companies. There's a definite theme here built around the generation of power.
"We have Georgia Power's Plant McIntosh right up the road," Henry says. "We have Effingham Power, which is a Mackinaw Power project. We have these power line easements coming from Plant Vogtle, with power lines and natural gas lines crisscrossing the county. The county's official tree is the electric power pole."
And that, Henry says, is the kind of power needed to generate economic power.
Healthy Signs
Sitting in her office on the Savannah River Parkway just a few miles from the construction activity at the EFECEC site, Alice DeForest is expressing interest in building projects that will house people. She says she's seeing signs that Effingham County is emerging from the new home sales crisis that struck the nation.
DeForest is the broker at Inter-coastal Realty, a Coldwell Banker franchise, and the incoming president of the Effingham County Chamber of Commerce. She's been carefully eyeing a subdivision called Ridgecrest, where her company's agents were set to close a number of newly built homes back in August 2007, about the time home loans dried up across the country.
"We had buyers in the process of going to purchase homes [at Ridge-crest] and all of a sudden they could not get financing," DeForest recalls. "That was a heartbreaking thing for those families."
Six or seven homes in the $200,000 to $250,000 range in Ridgecrest were built and sold, but never closed and occupied. DeForest saw the small neighborhood as perhaps a good place to measure recovery in the local housing market. It took a while, she says, but Ridgecrest appears to be bouncing back.
"Hopefully, next week I will be closing the last of those new homes that were built but never occupied," she says. "So we've cleared out that inventory."
There are other signs of promise in her industry, she says, ticking off a list of new businesses that have opened along the busy highway in front of her office. "A Dairy Queen opened recently; we have a new pizza buffet; a Walgreen's opened; the CVS relocated and built a new store," she says.
A new apartment complex on the Savannah River Parkway at the Chatham County line has been completed, a significant event. "I've been working here on this road since it was a two-lane road, and that's the first apartment complex we've had since about 1988," she says. "And in this office we are very busy. See my parking lot?" she asks, pointing out the window of her office to the nearly full lot. "That's a good sign."
Scott Hinson's business is up, and he wishes it wasn't. Hinson is the Judge of the Effingham County Magistrate Court, where he handles civil matters such as dispossessions and small claims, as well as criminal matters including arrest warrants and the setting of bonds.
"Business here is too good," he says. "My business is up probably about 18 percent. I bet about 80 percent of the people I see in jail are unemployed, and that might stem from the slow economy. We get a lot more domestic problems. People just don't have anything to do and get aggravated and they're taking it out on each other."
Hinson understands the frustrations that come with the present economic conditions. Before being elected to his judgeship last November, he was a small business owner, operating a gourmet meat market. He closed his business in September.
"People were not willing to splurge, I guess," he says. "We sold mainly meats, some local jellies and jams, gift type things. We had pretty much decided to close up about the time of qualifying for this position."
Hinson's experience as a small business owner spurred him to take the chairmanship of the local chamber of commerce's Entrepreneurial Task Force (ETF), a group dedicated to helping startups through the often difficult early periods of launching a commercial enterprise.
"I've been able to go through the hard knocks and difficulty in opening a business – the licensing, permitting, borrowing the money and even the initial successes – and then the heartbreak of closing the doors," he says. "So I have experience at all levels of that."
Hinson had a hand in writing the ETF online manual, "How to do Business in Effingham County," available at www.effinghamcounty.com. The manual is part of a program to encourage entrepreneurship.
"A large percentage of our population works in Savannah," Hinson says. "Our goal is to do business within Effingham County. That saves money on gas and helps the school system through the tax money from sales."
That's a welcome idea for Randy Shearouse, superintendent of the Effingham County School System, where new students are being enrolled well above projections.
"With the downturn in the economy, we didn't project growing quite as much as we did," Shearouse says. "We really thought we would decline to about 100 students in growth, but in reality we grew by 300 students, which is surprising when you look at numbers across the state."
Shearouse is expecting more growth next year in his 11,000-student system, thanks to Effingham's location in the coastal area.
"People from around the United States are moving into this part of Georgia," he says. "I think the ports have caused that, along with new industries like EFECEC."
To meet the anticipated growth, land has been purchased for a new elementary school and expansion renovations are under way at a middle school. "The latest elementary school was built for 750 students and is at capacity now," Shearouse says. "But that school was designed to build wings on and we're certainly going to talk about adding on to that school within the next year."
The school system is enjoying windfalls of a sort delivered by lower fuel costs that put $200,000 in reserves for next year and more than $1 million over projected revenues from the county's Education Special Purpose Local Option Sales Taxes (ESPLOST). Still, the system is mindful of the vagaries of the current economy. Though no teachers have been laid off or furloughed, and no hiring freezes implemented, the use of substitute teachers has declined. However, the economy has produced some changes in student lifestyles.
"We're seeing more of two families living in one home or either extended families living in a home together," Shearouse says. "You might see three generations living in the same house."
The superintendent believes that phenomenon might also help explain the unexpected rise in new students. "That's because [parents] can't sell their home wherever they're living, so they move in with family here in Effingham," he says.
Favorite Son
Last year when political rookie Dusty Zeigler became Effingham County's first commission chairman elected countywide, he found himself in a familiar position. Ziegler traces his roots in Effingham County back to the original Salzburgers who settled here in 1734 after a long voyage from Germany, but is best known locally as a former NFL center who anchored the New York Giants' 2000 offensive line on its way to the National Football Conference championship and a Super Bowl appearance (The Giants lost to Baltimore 34-7).
"You are the center of attention in both positions," Ziegler says. "And you do get some yellow flags [penalties] thrown at you."
Ziegler's football career came to an end in 2003 after he was sidelined by an injury, and last year he sold the Effingham County heavy equipment business he owned for several years. "That afforded me the opportunity to be a full-time commission chairman, at least for now," he says.
After several years of boom-like growth in the county, Zeigler says one of his first challenges will be dealing with a particular and unusual infrastructure problem. "One current opportunity is to find a solution to a challenge we face with our wastewater treatment infrastructure," he says. "We are facing much less development than was anticipated, which results in much lower income [from] impact monies."
Barton Alderman, mayor of Springfield, the county seat, has been looking to make two improvements in his downtown area by launching a beautification program and finding a way to reroute the stream of semis coming out of South Carolina and passing through town loaded with cargo on their way to the Port of Savannah.
Money for the design phase of a streetscape project has been approved, with a promise from the state's Department of Transportation (DOT) that the remainder of the $300,000 cost of implementing it will come when the economy improves.
That, Alderman says, is at least a start. The trucks pose a greater problem. "There is nothing the city of Springfield can do about it, because the area of the bottleneck is not actually in the city limits."
The problem is a railroad overpass with a history arcing over a major highway just north of town. "It's been there all my life, at least 60 years," Alderman says. "That overpass is so low the trucks are kind of taking a risk going under it."
And so the trucks take an alternate route through Springfield. There haven't been any officially reported incidents of trailer tops striking the overpass, but there's plenty of evidence that has happened. "If you go out there and look at it, you can see that the beams running underneath the overpass have been hit," Alderman says.
And there have been reports of logs and other truck cargo scattered along the edge of the road at the site. "The problem is the railroad is hesitating in allowing the bridge to be raised," Alderman says. "And the DOT has come up with several projects, none of which they have funding for."
The search for a solution has been under way nearly a decade. "The DOT told us the overpass project is still on the burner, but unfortunately the money to fund it is on the backburner," Alderman says.
Community Snapshot
Local Leaders
John Henry
CEO
Effingham County Industrial Authority
912.754.3301
jahenry@effinghamcounty.com
Dusty Zeigler
Chairman
Effingham County Commission
912.754.2123
dzeigler@effinghamcounty.org
Scott Hinson
Chairman
Entrepreneurial Task Force
912.754.2124
Population
(2007 estimate)
Effingham County, 50,728; Rincon, 7,454; Springfield (county seat), 2,086; Guyton, 1,907
Per Capita Income
(2006)
Effingham County, $28,443; Georgia, $32,095
Unemployment
(April 2009)
Effingham County, 9.9 percent; Georgia, 9.3 percent
Top 10 employers:
Effingham County Board of Education, Georgia-Pacific, Georgia Power, Walmart, Effingham County government, Flint River Services, Doncaster Inc., P&E Industries, Hanson, TEMCOR
Sources:
Effingham County Industrial Authority, Effingham Chamber of Commerce, Georgia Department of Labor, U.S. Census Bureau.