Cordele/Crisp County: Positioned For Recovery
Anticipating a new inland port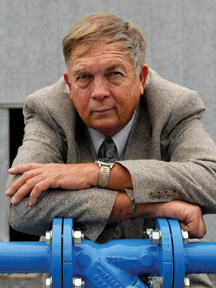 Paul Mechler was sitting in his office doing a little economic forecasting and thinking out loud about how his company may ride out the present economy and position itself to fit nicely into a national recovery. His musings are a study in contrasts.
"We're really expecting the [Obama] stimulus package is going to provide some amount of money for infrastructure and that will provide funding for school districts that wouldn't otherwise be able to build," Mechler says.
Mechler isn't a builder, but he has a deep interest in schools, especially those that might be going up in the better days ahead. He is president of Marvair, a Cordele company that makes the specialty air conditioning units used to cool telecommunications equipment and school classrooms. Those two markets have enjoyed steady growth over the years, particularly in the populous Sunbelt and East Coast regions where the company focuses its sales efforts.
Marvair's cooling equipment can be found in the sheds and cabinets that sit at the base of the telecom towers dotting the landscape of America, and that market represents the largest share of the company's $50 million yearly business.
"Our customers are Verizon, AT&T, CellularOne, and if they have a tower, that radio equipment, the electronics, generate heat and the batteries have to be cooled," Mechler says with a wide grin. "People may not be able to make their house payment; they may have trouble buying a car, but they will have a cell phone."
And growing school districts do have to build more classrooms, which do have to be cooled. For Marvair, it would seem that business is good and getting better. But not exactly.
Though the company has been in Cordele for more than 50 years, it has changed hands several times. Today Marvair is a subsidiary of Airxcel Inc., a Kansas-based company with a number of interests. Airxcel has a division that makes air conditioners for RVs, a market that depends heavily on a robust economy. "The RV business is probably off 80 percent," Mechler says.
Marvair's 150 fulltime employees and 30 seasonal temps also make air conditioners for the living quarters on larger seafaring boats, another market that can dry up overnight when the economy hits choppy seas.
"The marine pleasure craft industry is in a lot of trouble right now," Mechler says. "We're having trouble with the volume from the customers; we're having trouble with the customers staying in business; and we're having trouble with the customers seeing any kind of future in the next year or two."
To perhaps cast a wider net for snaring customers, Marvair has opened an overseas office in Britain. "I just got a nice order from the U.K.," Mechler says. "We ship out of the Port of Savannah. We're trying to grow the international business and we're hoping beyond hope that the new inland port gets opened up because it's just going to make our lives easier."
Port City
The inland port Mechler references is in Cordele, 170 miles from Savan-nah's port on the Atlantic Ocean, and it's an idea that has caught the attention of manufacturers and others shipping to foreign shores from within a 300-mile radius of the south Georgia town. The inland port concept has been used in Virginia, New Jersey, California and even Montana, but this is the first for Georgia, and its prospects for changing the face of economic development in the region around Cordele are exciting, according to one proponent.
"We perceive there being a vast number of warehousing operations associated with the inland port here," says Bruce Drennan, executive director of the Cordele-Crisp County Industrial Develop-ment Council (IDC), an arm of the local industrial development authority.
To make sure there's plenty of room for those warehouses, 850 acres on the east side of Cordele have been optioned by the IDC for the construction of the inland port, a kind of assembly area where warehoused goods will be placed in containers to be loaded on trucks or rail cars and sent to Savannah to be placed on outbound ships.
"We are going to break ground this fall and probably be shipping our first containers to Savannah's port sometime in January," Drennan says. Those initial containers will most likely hold cotton, according to Drennan. But he says a chemical company, a bauxite mining company and a compressed concrete company have already expressed an interest in sending their products to the inland port.
"We have another southwest Georgia company looking at shipping frozen chickens to the Caribbean region and Europe," Drennan says.
Promoters of the Cordele inland port predict the facility will employ 2,500 in logistics, warehousing and transportation within the first five years of operation and, more significantly, will mark a new era of economic development linked to the historically bustling Port of Savannah. Local economic developers say they will soon announce the planned construction of three warehouses on the inland port site. And new industry is setting up shop at the county's newest industrial park, Cedar Creek, with a third expected to be announced later this year.
To make sure the new industries have ample energy for their production lines, steps have been taken to increase available supplies of natural gas and electricity. Last winter a new $650,000 peak shaving plant was installed in Cordele to improve the capacity of natural gas delivery throughout the county.
"That's so we will have enough gas to keep our industries running," says Zack Wade, chairman of the Cordele City Commission, a rotating post in lieu of a mayor. "We have enough gas for our local homeowners' use, but as far as heavy users like industry, we can't supply the gas if we don't have the peak shaving plant."
Wade says the city has obtained easements to connect gas pipelines from the new plant to the industrial park, but is waiting on rail extension plans before proceeding. "We're just waiting now for the details on the rail route so we can make sure we don't run the gas under the rail line," he says.
Power Point
In 1927, Crisp became the first county in the nation licensed by the federal government to build its own power generating dam for the delivery of electricity to local consumers. Now, 82 years later, the county needs more electricity to serve a growing industrial base and an increasing number of homes dotting the shoreline of Lake Blackshear, the body of water created by the construction of the dam on the Flint River.
To keep the home lights on and the wheels of industry turning, the Crisp County Power Commission (CCPC) is making a bid for a stake in a recently approved power plant to be constructed 160 miles northwest of Cordele at Plant Vogtle near Augusta. "We've grown so much that we're actually buying power all the time out of the market," says Steve Rentfrow, general manager of the CCPC. "And the electricity market is basically an hourly commodities market, which means it is very unstable."
Crisp County's ownership of a block of electricity from the two new nuclear power units at Plant Vogtle comes via its membership in MEAG, the Munici-pal Electric Association of Georgia, which furnishes electricity to a number of the state's cities. MEAG has a 22 percent interest in the two new reactors at Plant Vogtle, Rentfrow says.
The county's interest in owning its power source seems to be grounded in history. "We believe we are better off being an owner than a renter of power," he says. The new power generating units at Plant Vogtle are projected to come online in 2016 and 2017.
Crisp Power's number one customer for electricity is now Cordele's Nor-bord Inc., a Canada-based manufacturer of oriented strand board used in roofing and a tongue-and-groove flooring material, both used in the construction of residences. Norbord finished a $135 million expansion of its Cordele plant earlier this year, essentially doubling its floor space and adding 120 workers to bring total employment to about 250. The expansion came as Norbord was shutting down two other locations in the South, making the company's growth here especially significant.
"This plant stayed open because it was the most modern facility they had, and that was because of the expansion," says Drennan, the IDC executive. "And, too, they now ship to Mexico, something they did not do before. That market in Mexico seems to have helped them some as well."
Norbord is legendary among the local workforce for distributing end-of-the-year bonuses that averaged $23,000 to every employee a few years ago. "The turnover and absenteeism there is nil," Drennan says. "And I think Norbord has found our workforce to be excellent."
Mike Pittman is about to tap into that workforce – one he knows well – as general manager for the Big Tex trailer company he's preparing to open out on exit 99 on I-75. "A big part of the [move] here was the question of the workforce here. I'm from Fitzgerald, and I'm familiar with the workforce here," Pittman says with a broad grin and a decidedly Northern accent.
Actually from Wisconsin, Pittman did work for years in south Georgia before being sent to Cordele to start up the Big Tex manufacturing facility, parts and distribution centers and sales office in Cordele. With a solid dealer network on the East Coast, Big Tex was looking for a site on I-75 to expand that network and make the company more competitive.
"We feel we can dramatically improve what we have already done simply from a freight [cost] stand-point," he says. "Right now the cost of freight from Texas out to here kind of takes us out of the market. But this particular piece of property right off I-75 works really well for us going north and south."
Big Tex, the national leader in utility trailer sales, has found a home on a 55-acre site with two buildings totaling 187,000 square feet. The company is immediately opening its sales and parts operations, with plans for the manufacturing lines to be up this fall.
Banking On Tourists
The presence of I-75 through Crisp County is a conduit for tourism dollars, bringing more than $39 million into the community annually, according to a 2007 report from the Georgia Depart-ment of Economic Development, but the interstate is undergoing some expansion of its own as work is ongoing to expand the highway from four to six lanes.
And that has had an immediate effect on those tourism dollars, especially at the most commercially developed site at exit 101. "We've had two or three stores close at that exit because the construction has kept tourists from easily getting on and off the exit," says Monica Simmons, president of the Cordele-Crisp Chamber of Commerce. "That exit is the direct link to Veterans [Memorial] State Park at Lake Blackshear where we have a million visitors a year, making it the most visited state park in Georgia." Construction work may continue well into 2010.
By that time, construction may have begun on three new hotels along the interstate's route in Crisp County on sites purchased within the last year. "It usually takes about 15 months for a hotel to get built, says Jack Hamilton, a Cordele commercial real estate professional who sold one of the sites. "We expect to have three new hotels here within the next three years. And we're seeing an uptick in real estate activity in general. Property sales at Lake Blackshear have begun to pick up. All of this is encouraging."
Last winter the Crisp Regional Hospital, a division of Crisp Regional Health Services, opened its new intensive care unit, a $13 million facility that doubled the ICU beds to 16. In addition, a five-year old urgent care center continues to provide relief for the hospital's emergency room by routing primary care patients to its examining rooms.
"The urgent care center was seen as a way to unclog the ER," says Skip Wright, president and CEO of Crisp Regional. The hospital's three clinics and the urgent care center see some 15,000 patients yearly, about the same number of primary care visitors as the emergency room, according to Wright. "So they've taken about half the patients we've seen in the ER and that's great relief for our emergency room."
Crisp Regional also operates programs to keep local industry healthy. Like hospitals everywhere, Crisp Regional depends heavily on local businesses and industries with solid health insurance programs to offset the rising costs of indigent care.
"We are working with Norbord and Marvair and other industries in trying to expand an occupational health program to help them screen employees and teach them better health habits on the front end," Wright says.
Community Snapshot
Local Leaders
Bruce Drennan
Executive Director
Cordele-Crisp County Industrial Development Council
229.273.9570
brucedrennan@crispidc.com
Monica Simmons
President
Cordele-Crisp Chamber of Commerce
229.273.1668
msimmons@cordele-crisp-chamber.com
Steve Rentfrow
General Manager
Crisp County Power Commission
229.273.3811
srentfrow@crispcountypower.com
Population
(2007 estimates)
Crisp County, 22,125; Cordele (county seat), 11,456; Arabi, 451
Unemployment
(April 2009)
Crisp County, 11.4 percent; Georgia, 9.3 percent
Per Capita Income
Crisp County, $23,4522; Georgia, $32,095
Top 10 employers
Norbord, Harris Waste Management, Marvair, Classic Surrounds, MBM, Griffin Lumber Co., Folsom Construction, Nationwide Homes, Helena Chemical, Goldens' Foundry
Sources
Cordele-Crisp County Industrial Development Council, U.S. Census Bureau, Georgia Department of Labor