DeKalb County: Dawn Of A New Day
Changes in government and a shifting industrial base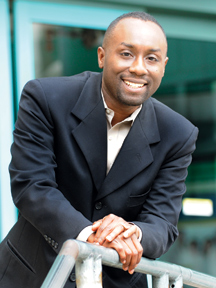 It was time for a change in sprawling DeKalb County – and the man who's now at its helm, newly elected county CEO Burrell Ellis, is under no illusions that restructuring county government, closing a $60 million budget gap and working to include all the county's 700,000-some-odd citizens in the decision making efforts is going to be a quick process.
"There's a lot to fix and it's a big apple. The county's a big operation," Ellis says. "We have almost 8,000 employees, and so you just have to take one bite at a time and realize you can't do it all in your first 100 days; you can't do it all in your first six months. It might take a year, it might take 18 months, and like President Obama said, it might take a term. But we'll get through it systematically."
Systematically is the operative word. Ellis ran on a platform that accentuated transparency and citizen involvement. After winning a run-off election and before taking office, he created a transition team of 40 citizens that he says were "diverse in virtually every sense – ethnicity, race, geographically and areas of discipline."
The team was divided into four groups of 10 and each group analyzed one of DeKalb County's government functional areas – administration, external agencies, operations and public safety.
"One of the things we heard about in the transition process was that the departments operated in silos," Ellis says. "They needed cross functional teams; they didn't have interactive communication between departments that had related functions. So we began to put them in groups. We have an infrastructure group, a development group and a public safety group."
The teams also found that 30 departments were all reporting directly to the CEO's office, which wasn't much of a surprise to Ellis. "For eight years as a county commissioner, I was never sure who to talk to with regard to various different types of problems," he says.
Now the CEO can delegate responsibilities to a cabinet of six – chief financial officer, chief operating officer, chief of staff, chief legal officer, chief communications officer and, eventually, a chief public safety officer.
Ellis was surprised to encounter a $60 million budget shortfall. Stream-lining county government has helped – the 311 department was functioning below expectations and was rolled into 911. The Arts, Culture and Entertain-ment Department, which Ellis says existed primarily to put on a summer blues and jazz festival, was eliminated and rolled into the Parks and Recre-ation Department. Most of the staffers were reassigned, he says, although there have been some 30 layoffs and eliminated positions among the county's almost 8,000 workers.
In addition, Ellis says, the county decided not to give performance merit increases this year and asked each department to cut its budget by 2.1 percent. He underscores that when there are unpleasant announcements to be made, he makes them in person.
The only department exempt from experiencing cuts this year is DeKalb County's police force. One of the most unpleasant situations Ellis encountered centered on then-police chief Terrell Bolton, who was eventually fired for insubordination, misuse of county property and conduct unbecoming an officer.
"We knew that public safety was going to be a high priority, but we did not realize we were going to have the problems in the leadership of the police department," Ellis says. "We began to get a sense before I took office that there were some management problems there, but beyond just poor management it seems there were some very bad decisions that were made on his behalf that you wouldn't expect of someone in a leadership role."
William O'Brien, a 24-year veteran of the DeKalb Police Department, is serving as interim chief, and, says Ellis, doing a lot to raise morale on the force. A search is on for a permanent chief. Bolton has asked for, and Ellis says he will receive, a merit investigative review.
New City, New Challenges
In early April, DeKalb County's police force was increased by some 40 officers, when those formerly assigned to the brand-new city of Dunwoody returned.
Dunwoody's charter called for the nascent city to pay DeKalb to continue police services until a new force could be assembled. "It was actually the quickest ramp-up of any police force in the United States," says Dunwoody Mayor Ken Wright.
In fact, the lack of police presence in Dunwoody was a leading reason for the incorporation effort. And to those who wonder if Dunwoody opted to "secede" from DeKalb, both Wright and Ellis note that, new city or not, Dunwoody still is very much a part of DeKalb. Wright also is quick to point out that although officers from the precinct at Perimeter Mall were assigned to patrol Dunwoody, they often were called off to more incident-prone areas such as the Buford Highway corridor.
In addition to an adequate police force, Wright, who ran unopposed, says despite the almost four decades that have passed since the first efforts to incorporate Dunwoody were launched way back in 1971, citizen concerns then were "eerily similar" to today's. Back then the area was mostly farmland and Perimeter Mall had just been built, raising a desire for more local control, especially over zoning and growth.
Wright, who's CEO of a medical software company in his spare time, approaches his leadership from an executive perspective. Taking DeKalb's size into consideration – 260-something square miles – he realizes there is no one-size-fits-all approach. "From an operational perspective, it is very difficult to operate a gigantic company as one … there are so many distinct areas and issues that communities are dealing with."
When it comes to running his own new $15 million "company," the city of Dunwoody, Wright says he and the six-member council decided on an approach similar to that taken by fellow fledgling cities Sandy Springs and Milton. But instead of contracting for services with a management firm, the city is conducting its own bidding processes. "It took a ton more work, but in the end we believe we saved quite a substantial bit of money," Wright says.
In addition to its police force, the city provides public works and community development services. Water, sewer, garbage collection and fire service remain with the county. The next big thing on the horizon: a comprehensive land use plan.
Infrastructure Efforts
Aside from reclaiming 40 police officers, Ellis says the main impact of Dunwoody's incorporation on DeKalb has been a loss of that $15 million in property taxes (tax revenue from the Perimeter Mall retail area all goes to the county).
In response, DeKalb had to adjust its millage rate by 8/10 of a mill. To neutralize the impact of the tax hike, the county adjusted its penny Homestead Option Sales Tax (HOST) distribution. Instead of returning 80 percent of each penny to homeowners for tax relief, the county upped the amount to 90 percent. The remaining 10 percent will go toward infrastructure projects.
Despite the HOST income reduction, and the overall economy, says new County Commission Presiding Officer Larry Johnson, the county isn't putting many infrastructure projects on hold.
A 2005 bond initiative provided funds for greenspaces, sidewalk improvements that were completed last year, and library enhancements, which are ongoing. The Embry Hills and Salem-Panola branches are closed for expansion; the Toco Hills, Northlake and Hairston Crossing branches are being rebuilt.
Other efforts include the Memorial Drive Revitalization Project, a $21 million streetscape that runs five miles from DeKalb Technical College to Candler Road. MARTA, Johnson says, also is planning to operate a Bus Rapid Transit Lane on Memorial.
Memorial Drive also is home to a 180,000-plus-square-foot Walmart Supercenter that celebrated its first anniversary in March. The store, says Johnson, who helped bring the project to fruition, is surrounded by the most trees of any Walmart in the nation, includes LEED (Leadership in Energy and Environmental Design) features and boasts a walking path to Avondale High School's football stadium.
Redeveloping GM
At press time, DeKalb's leaders were waiting with bated breath to discover what will befall one of the county's most promising sites – Doraville's former GM plant.
When the auto manufacturer set its sights on a location outside Atlanta in the early 1940s, Doraville was a tiny, one-street town best known for farms – dairy farms as well as the giant tank farms that served first the Plantation Pipeline and now the Colonial Pipeline as well, major arteries that carry oil from Louisiana and Texas through Atlanta to the East Coast. GM purchased some 160 acres, and in 1947 opened an assembly plant that would ultimately employ as many as 3,000 before it was shuttered last year as a part of cost-cutting measures that predated GM's current financial difficulties.
Doraville Mayor Ray Jenkins and his assistant, Luke Howe, don't quite have a hotline straight to GM's offices, but they are tops on the to-be-called list when, or if, the automaker does sell the property. They'd like to see it happen sooner, rather than later, as the loss of the plant has cost the county some $800,000 annually in tax revenue.
Rumors have surfaced promising everything from an Atlantic Station-style mixed-use development to a new stadium for the Atlanta Falcons. Whatever the future holds for the site, it has much to offer its owner, primarily a location just inside the perimeter, close to the I-85/285 junction, with direct access to MARTA.
As Howe points out, the GM site is something of a microcosm of the economy in general. "It's gone from agrarian to industrial and now we're at the threshold," he says. "They say the economy has gone from agrarian to industrial to service based, and we think what better way to celebrate that than to replace an industrial site with an innovation site – maybe biotech; I'm hearing a lot of good things about the video game industry, green collar jobs, what have you."
The bottom line, both he and Jenkins agree, is that whatever comes in, they hope it offers good paying, professionally oriented jobs.
The GM site is representative of DeKalb County in another way, says Chamber of Commerce President Leonardo McClarty. "DeKalb is a mature county," he says, "and we don't have an abundance of land to devote to new development. As a result, there is a lot of redevelopment going on, which can be expensive because you have land acquisition costs; maybe you have to tear down something. Between zoning and land use issues, more issues come into play than when you're doing a new development."
On the whole, he says, DeKalb is a small business county. To help small business owners weather the economic storm, the chamber is examining its efforts to support entrepreneurs. "We've looked at the programs we offer that are related to businesses' development – workshops, seminars, webinars. We're looking at it from the perspective of wanting to make sure that what we're doing is adding value."
Two particular areas of concern are marketing and labor issues. Educating business owners about the latter is important, McClarty says, because, "the unfortunate side of a down economy is that there have been a lot more labor and HR issues to come up as a result of layoffs and downsizing."
The chamber, he says, is brimming with new energy as the result of acquiring an entirely new board over the last two to three years. To guide it going forward, it has adopted a new strategic plan (which can be viewed on its newly redesigned website, www.dekalbchamber.org). The chief tenets are increasing and supporting membership, going through the U.S. Chamber's accreditation process, and involving members and tapping into their expertise.
Civic Efforts
Keeping local businesses alive during the economic downturn is a chief concern for Bill Floyd, mayor of DeKalb's county seat, Decatur. He says city leaders are planning a marketing campaign to encourage residents and visitors to patronize local shops and restaurants.
Floyd happily notes that, thus far, Decatur has dodged the layoff bullet, and its police force is close to becoming completely staffed for the first time in 18 years. The city also is spending funds from a bond issue to revamp Glenlake Park and the adjacent Decatur Ceme-tery, refurbish two fire stations and build new athletic facilities at Decatur High School.
Chamblee is building a new middle school, says Mayor Eric Clark. The city also is getting ready to cut the ribbon on a linear park that links the two sides of the town by allowing foot traffic under busy Peachtree Boulevard (the city renamed its portion of Peachtree Industrial Boulevard as part of its centennial celebration last year).
In Tucker, changes are afoot at venerable Tucker High School, founded in 1918. The project, under the leadership of Turner Construction, encompasses a 9th grade academy, in addition to classrooms, offices, gym, cafeteria, entry place and eventually new football and baseball fields.
This fall, the first students will attend Arabia Mountain High School. The LEED Silver facility is one of just 37 nationwide located in a national heritage area. The school makes the most of its location in the 2,000-acre preserve near Lithonia, with a PATH nature trail, outdoor classrooms and a greenhouse.
It's a new era in DeKalb, and leaders are clearly focused on making – and remaking – the most of what they have.
Local Leaders
Burrell Ellis
CEO
DeKalb County
(404) 371-2881
ceo@co.dekalb.ga.us
Larry Johnson
Presiding Officer
DeKalb County Board of Commissioners
404.371.2425
l
arryjohnson@co.dekalb.ga.us
Leonardo McClarty
President
DeKalb Chamber of Commerce
404.378.8000
lmcclarty@dekalbchamber.org
Population
(2006 Estimate)
DeKalb County, 723,602
Per Capita Income
(2005)
DeKalb County, $34,997
Unemployment
(March 2009)
DeKalb County, 8.9 percent; Georgia, 9.2 percent
Top 5 Employers
Children's HealthCare, DeKalb Medical, Emory Healthcare, Emory University, Kroger Company
Sources
DeKalb Chamber of Commerce, U.S. Census Bureau, U.S. Bureau of Economic Analysis, Georgia Department of Labor