Brunswick/Golden Isles: Playing To Its Strengths
New approaches and old standbys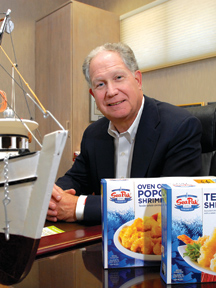 Jenna Guthrie is standing in the crowded kitchen of a home in a neighborhood of mossy oaks on St. Simons Island. It's nearing noon and she's been cooking under hot lights, tracked by a TV camera for more than four hours as she celebrates the ease of preparing seafood and presenting it elegantly.
Since daybreak, Guthrie has shown off her culinary talents to morning television talk-show hosts and their local audiences from Savannah to Seattle. It's a wrap, and the cameraman and technicians break down their gear amidst modest high-fives, fist bumps and congratulations.
Guthrie isn't a Food Network maven, nor is she hawking a cookbook. She's an employee of SeaPak, a 61-year-old St. Simons Island company, and her job is to dispel popular beliefs about seafood's being expensive and difficult to prepare. Her mission is to motivate more consumers to buy SeaPak products, and it seems to be working.
For SeaPak, recent economic conditions haven't delivered the bruising blows so common elsewhere. "The good news is we have not had any cutbacks or furloughs or anything like what we've all read about other companies doing recently," says Jack Kilgore, president of Rich's Consumer Brands Division, producer and marketer of the SeaPak label, which consistently dominates American sales in the frozen shrimp category.
"Our business has been very strong, very healthy, even when the commodities spiked in late '07 and the first half of '08 and margins were under a lot of pressure."
A more aggressive marketing campaign could be credited with SeaPak's steady course in a stormy economy. After all, people do eat more meals at home these days, and part of the marketing strategy has promoters such as Jenna Guthrie singing the nutritional virtues of meals from the sea. But the SeaPak brand belongs to Rich Products Com-pany, a closely-held, family-owned business based in Buffalo, NY, and that, Kilgore says, gives the company an edge in the marketplace, especially in difficult economic times.
"We've held true to the Rich family tradition, which is to not manage like public companies do from a quarter to quarter basis to maximize earnings," Kilgore says. "We don't have to sit here at the end of the first quarter and say we have to cut head count or cut other costs to make a quarterly number. We don't have to worry about the stock price because we are not publicly traded."
Whether it's taste, value, nutrition or DNA, Rich's products have made the company a $2.6 billion enterprise, one of the largest family-owned business in the world, according to industry publications. And it became a little bigger last fall after SeaPak invested $4.2 million in a new production line and added 26 employees to meet a product contract with Dunkin' Donuts, a familiar morning stop with hopes of expanding in the South.
Stream Of Commerce
In his office at the edge of the storied Marshes of Glynn, Nathan Sparks is just a short drive from Interstate 95, a coastal corridor responsible for dumping truckloads of cash into local businesses, and, in a way, a nice hedge for the local economy against the vagaries of the times. Yet there always was a nagging reminder that the community hadn't taken full advantage of that ceaseless stream of commerce.
"Glynn County has not enjoyed the benefit of a high profile industrial property adjacent to the interstate," says Sparks, executive director of the Brunswick and Glynn County Development Authority. "If you traveled up and down I-95 and I-16, you'd see these large distribution parks that seemingly cropped up overnight, and we felt like we wanted to position ourselves to play in that distribution and logistics arena. We are strategically located here and we have a lot of assets others don't have."
Those distribution assets include a busy port, a soon to be six-lane interstate and Brunswick's location halfway between the ports of Savannah and Jacksonville. "The one thing we didn't have was the site," Sparks says. But after years of searching, Sparks' development authority found the land it needed: a 700-acre tract with 8,000 feet of I-95 frontage bracketed by two interchanges.
The authority's I-95 property is under a lease-purchase agreement with Texas-based Lincoln Property Company, and is being prepared to accommodate warehouses, factories and even shops and residences – whatever the market will bear. It is to be branded Tradewinds, with the initial industrial tract to be named the Logistics Park at Tradewinds.
"Right now it is all zoned industrial and we hope it goes that way," Sparks says. "But if the market dictates other uses, then it can be developed in that manner."
Like his counterparts throughout Georgia, Sparks keeps an anxious eye on the businesses and industries that determine his community's well being. "Our unemployment rate is higher than it's ever been in history, sitting at about 8 percent," he says. "Then you take into consideration that this time last year we were at three or four percent. We haven't had one company lay off hundreds of people, but we've had our share of the 10 or 20 job layoffs and smaller 10-person operations laying off three people."
To ensure the business community has every resource available to keep existing jobs and grow more, the development authority has joined forces with the local chamber of commerce, education and training institutions and state agencies in an effort called Coastal BEST (Business Enterprise Support Team) to conduct formal surveys of company leaders.
"We've formed a committee of 22 folks who are committed to making certain we collectively do what we can to minimize the effects of this economic downturn to our business community," Sparks says. "This will allow us to plug in those businesses to assistance they might need."
One BEST partner is the College of Coastal Georgia (CCGa), an institution that launched its own economic development program when it grew from a two-year college to a four-year baccalaureate program last year. The change in mission will bring well-paying jobs and campus construction projects long overdue, says its new president, Dr. Valerie Hepburn.
"We'll have 20 new faculty members who are advanced-degree researchers, thinkers and teachers to help educate the students," Hepburn says. "We will build the first new building on campus in 30 years. Our master plan calls for us to grow from about 2,500 college students, about where we are right now, to about a 6,000-student campus by 2020, and ultimately 10,000."
With a current three-county economic impact of $100 million-plus, Hepburn sees that figure growing to $400 million within 10 years. And the new president sent a clear message to the business community that the campus would provide a strong link to economic development.
"The reason this college has gone to a four-year institution is because the business community demanded it," Hepburn says. "It is a challenge these days to recruit business and industry if you don't have college or university access in a community of this size. The College of Coastal Georgia will have as one of its first degrees a business administration program."
And to make sure the chair of that program was a perfect fit for local economic development, Hepburn invited Glynn County's development authority and chamber of commerce leaders to join in the interviews for the position. "The people we brought in as candidates all said, 'This is amazing – we're all sitting down with the development authority. How is this possible?'"
Career Academy
Until last year's change in mission, CCGa was the Coastal Georgia Community College, a hybrid institution with both a two-year academic program and a technical college education and training program. That will change July 1, when it drops the technical college part of its mission. But that won't affect local education and training opportunities and the link to economic development. The new $19 million Golden Isles Career Academy (GICA) opening this August will offer programs managed by Altamaha Technical College (ATC), whose main campus is in adjoining Wayne County.
The Career Academy building, located on 14 acres at the Glynn County airport, was financed by funds from local sales taxes and a $3 million grant from the Technical College System of Georgia (TCSG). It sits in an industrial park on land donated by the Brunswick and Glynn County Development Authority. But the impetus for the academy was provided by donations from the local business community.
"This couldn't have been done without their help," says Andy Lundell, CEO of the academy. "The connection is that this is an economic development venture."
The academy will feature a television video studio and editing suites, a culinary arts kitchen and class area and facilities for 16 other programs, some of which will be taught by Altamaha Tech. High school students enrolled at the academy will take traditional courses in the mornings at their campus, then go to GICA classes for instruction leading to certification in a career field. Adult students can elect to take afternoon or evening courses for the same certification programs.
For the high schoolers, internships and apprenticeships are available in local businesses. "They'll work in the environment for credit in one of those courses to see and touch the business," Lundell says. "And the employers will get a chance to see the young people and help guide them and screen those that would be good employees for the future."
Jekyll Revitalization
It seems Brunswick and the Golden Isles have become a staging area for future growth and its attendant prosperity, and the centerpiece of the new construction, renovations and infrastructure improvements is Jekyll Is-land, where public/private partnerships are at work on a $165 million revitalization plan born three years ago and met by a storm of controversy. Right from the start, every interest group in the state, understandably, seemed to have opinions, suggestions and criticisms about a revitalization plan on the island and along the popular beaches that truly belong to the people of Georgia. Bought by the state with taxpayer money for $675,000 in 1947, Jekyll Island has long afforded the working class a place to play in the water and sand and attend conferences and conventions.
But its infrastructure, lodging and meeting facilities became timeworn and attendance began to drop.
Much of the early criticism centered on fears the island's delicate landscape would be harmed by the new development and was directed at Linger Longer, a private development group and early partner in the revitalization plan.
Yet, there are several private partners in the development of new lodging and convention facilities, says Jones Hooks, executive director of the Jekyll Island Authority (JIA), the island's state-sanctioned caretaker.
"A lot of people think that when you talk about revitalization, it's all Linger Longer, but it is obviously not," Hooks says. "That became controversial because of the original concepts that were put forward, and they were very ambitious concepts. Then Linger Longer listened and the [JIA] board listened to the input they received over the past year or so and they came back with a new plan."
The new plan, Hooks says, "is much more appropriate. It is smaller than the original plan and basically the entire project is within existing footprints of development. So now you have less than two acres of land that is going to be affected that has not already been developed."
There are early signs the Jekyll redevelopment is taking hold in the public imagination, Hooks says. One condominium project, Jekyll Ocean-front Resort, began offering units last winter in a price range from $150,000 to $475,000 and almost immediately closed three sales. A key to the island's future as an affordable resort for vacationing families and professional groups will be the new convention center with 76,000 square feet of meeting space.
"We have documented 75 Georgia-based groups that used to meet on Jekyll Island but now no longer do," Hooks says. "We need to bring those folks back with new lodging options and the new convention center, and we're going to be able to do that."
Revitalization of a different kind is taking place inside the city limits of Brunswick, where a vigorous campaign is under way to remove unsafe dilapidated buildings.
"Up until three years ago, the city of Brunswick averaged two or three dilapidated houses taken down each year," says Brunswick mayor Bryan Thomp-son. "In the last three years, we've taken down about 150."
In addition to sprucing up neighborhoods and improving home values, the effort has had other effects. During a routine meeting, city officials were looking at a crime-mapping study to identify crime "hot spots." On the same table lay a map of targeted dilapidated homes.
"When the two maps were laid one on top of the other, they almost perfectly matched," Thompson says. "Where we had high-crime areas, we also had the highest concentration of dilapidated houses."
To get more owners of substandard housing involved in the removal project, the city began offering financial assistance for the demolition and disposal of the buildings, thanks to a $1.3 million balloon note Brunswick collected from the Jekyll Island Club Hotel on a loan made 20 years ago.
"So we were able to pay for 50 percent of the cost of removing those dilapidated houses for people who couldn't afford to do it," Thompson says. The program has been extended to commercial properties and even rental properties, under certain conditions.
Glynn County has one revenue stream that put nearly $40 million in local government treasuries in the last fiscal year: tourism. A study commissioned by the Brunswick and Glynn County Convention and Visitors Bureau (CVB) found tourism brought $735 million to the coastal region's economy and was directly responsible for 14,700 local jobs. The CVB executive director, Bill Tipton, reports that the hotel/motel taxes are down just under 9 percent from a same period last year, but he predicts April-June receipts to be up.
Woody Woodside, president of the Brunswick-Golden Isles Chamber of Commerce, says overall retail sales taxes were up slightly from December '08 to January '09 but were significantly higher than the same period the year before.
"We're not ready for any glowing predictions," Woodside says. "But we are hoping some of these signs we're seeing are pointing to an upturn in the economy. We're seeing some new retail establishments open their doors, so there is an air of optimism."
Local Leaders
Bryan Thompson
Mayor
City of Brunswick
912.267.5500
thompson@brunswickga.org
Woody Woodside
President
Brunswick-Golden Isles
Chamber of Commerce
912.265.0620
www.brunswick-georgia.com
Nathan Sparks
Executive Director
Brunswick and Glynn County Development Authority
912.265.6629
www.georgiasgoldenopportunity.com
Population
(2007)
Glynn County, 74.932; Brunswick (county seat), 16,235
Per Capita Income
Glynn County, $21,709; Georgia. $32,095
Unemployment
(March 2009)
Glynn County, 7.7 percent; Georgia, 9.2 percent
Top 10 Employers
Sea Island Company, Southeast Georgia Health System, Georgia-Pacific Cellulose, Rich Corp.,
King and Prince Seafood, Walmart Supercenter, Hercules Pinova Division, Gulfstream Aerospace, International Auto Processing, Target
Sources
U.S. Census Bureau, Georgia Department of Labor, Brunswick and Glynn County Development Authority