A Marketing Strategy That Works
The University of West Georgia's president is zealous in promoting his school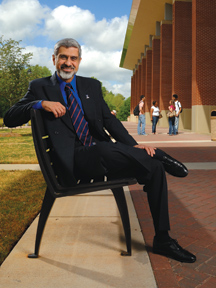 Sit down with Beheruz Sethna for just a few minutes of conversation and you may feel an uncontrollable urge to buy something. Sit with him for an hour and you might pull out the Visa or ask for a sales contract to sign.
The ebullient Sethna is a master salesman whose language is filled with descriptive marketing terms delivered in a persuasive manner in the promotion of his product: the University of West Georgia (UWG).
Sethna is the president of UWG and, he will quickly tell you, also a professor of marketing research at the Carrollton institution.
"I'm a marketer," Sethna says. "After a bachelor's degree in electrical engineering, I sort of went over to the dark side and became a marketing man. That's part of my profession and I look for an appropriate marketing strategy [at UWG]."
While completing his marketing PhD at Columbia University, he also worked at Lever Brothers, the soap company. "Wisk [detergent] was one of my brands and I had the distinct pleasure of working on the original Wisk commercials," Sethna says. One of those commercials was the classic "ring around the collar," a successful, if annoying, TV detergent ad.
"One of the marketing strategies the corporate world does very well, and so should we, is the idea of finding a niche – you can't be all things to all people. And we have found some niches for the University of West Georgia."
One of those niches is the Advanced Academy of Georgia (AAG), a part of the only freestanding honors college in the state, Sethna says. The AAG is a residential program for high school students of exceptional intellectual prowess.
"There are maybe 10 of these in America," he says. While living and studying at UWG, the high school students take university courses that complete their high school diploma requirements and count toward a college degree. And they get a nice timesaving bonus in the process.
"You can visualize this," Sethna says, "They are walking across the stage, shaking hands with their high school principal and getting their diploma, and at that instant they become college juniors."
The Advanced Academy reached a milestone in May of 2008 when 17-year-old Ajay Pillai received his degree in biochemistry and became the youngest graduate in UWG history. Pillai is now in his first year at the Medical College of Georgia.
Long Tenure
Situated on 645 acres in Carrollton, some 50 miles west of Atlanta, the University of West Georgia has been led for 15 years by Dr. Sethna, in a tenure interrupted only by two short stints when he was tapped by the University System of Georgia (USG) to serve as senior vice chancellor. Sethna has a niche of his own as the only known India-born president of an American university.
Sethna not only is an admitted marketer, he's also a researcher and teacher and has taught classes at UWG every year he's been president, even when he was serving as a USG vice chancellor.
"I'm not the only administrator who teaches," Sethna says. "My provost teaches; my deans teach; the vice presidents teach. So it's a culture here, and we're probably unique not only in the state of Georgia but perhaps one of a handful across America [in that respect]."
This focus on academics has propelled UWG to national recognition, including the Princeton Review's list of the Best Southeastern Universities in each of the last six years.
But whatever niches this university occupies, Sethna says he's aware of the need to provide campus experiences for the broad range of the 11,252 students on campus today, and for those of the future.
About 27 percent of UWG's students hail from the Atlanta area, with a third representing the university's regional service area and most of the balance from 122 other counties in the state. The student population has jumped 25 percent since 2000. And that kind of growth pumped $346 million into the regional economy in the fiscal year 2007, according to a recent USG study.
Under Construction
As the fastest growing university in Georgia among institutions with 10,000 or more students, UWG has seen some accompanying growth in construction, but still needs more building funds.
"We've worked very hard to increase our facilities to make it very significantly worthy of a destination university," Sethna says. "I still say we don't have enough, but over my tenure here, if you add up all the construction projects, including some renovation projects [and] those already approved, you will approach a quarter of a billion dollars."
One sign of the university's growth is the new $30 million athletic complex now under construction on 250 acres donated by the city of Carrollton. The complex includes a 9,000-seat football stadium, women's soccer and softball facilities and field houses for the athletic teams. Future plans call for intramural fields.
A new football coach will take the field this fall when Daryl Dickey leads his UWG Wolves into the freshly built stadium for their season opener. An understandably excited Dickey, son of the legendary Tennessee and Florida coach Doug Dickey, sees the football program as one part of a UWG growth spurt.
"This is a huge time in the evolution or our university, not only for athletics but also as a learning campus," Dickey says, turning to point toward the stadium construction site. "But even this is just a small part of what's going on here at our university."
To make sure students can more easily get to the new stadium, the legislature approved $1.9 million for a new road and bridge across the Little Tallapoosa River to connect the main campus with the athletic complex. In fact, construction projects, either new, planned or requested, total some $125 million.
A $30 million coliseum and academic building was completed earlier this year and is home to the university's basketball team, with additional student recreation and physical education facilities. An $8 million planned renovation and construction project at the campus library was launched this year with $1 million in hand for design work.
The library will house a replica of the Capitol office of former Speaker of the Georgia House of Representatives Tom Murphy, as well as his papers and memorabilia. Murphy was a long-time supporter of the University of West Georgia.
Former U.S. House Speaker Newt Gingrich was a faculty member at UWG before being elected to congress.
And there are differently defined speakers drawing attention to the West Georgia campus.
UWG academic debate teams have placed the university among the top five in the nation, an achievement that Sethna sees as further evidence his campus has as much brain power as any in the nation.
"We beat Harvard, Northwestern and Dartmouth to win the UC [University of California], Berkeley Invitational Tournament," Sethna says. "Our track record, in terms of getting into the national debate tournament, is beaten by only four universities in America including Harvard. That's it."
Living Arrangements
The university gained the distinction of being a trailblazer in one standard of campus society when groundbreaking ceremonies were held last fall for the $11 million-plus UWG Greek Village, a unique concept for fraternity and sorority housing.
"We're actually the first University System of Georgia (USG) school to build this kind of Greek village," says Dr. Melanie McClellan, vice president of Student Affairs & Enrollment and Dean of Students. "This is a fraternity/sorority neighborhood with lots of greenspace and sidewalks. And it is within walking distance of the campus."
The village will consist of 18 buildings housing 268 students. The UWG Foundation is funding the project. "The university will own it and rent it to the student organizations," McClellan says.
And there won't be any Animal House-style keg and toga parties in the neighborhood, thanks to policy agreements reached by the university and the Greek organizations.
"The [policies] are perhaps not as liberal as the students might like them to be," McClellan says. "But they can lose their house if they don't follow the rules."
Housing has been available to students on the Carrollton campus since the institution opened in 1908 as one of Georgia's agricultural and mechanical colleges, hybrids of a trade school and a college prep school. About 130 students enrolled that first year. Today West Georgia is one of four doctoral comprehensive universities in the state.
UWG offers 115 courses of study, including 41 at the master's degree level and two doctoral programs, in education and psychology, with a third in counseling and supervision, being offered for the first time this fall by the University's Department of Counseling and Educational Psychology.
At the graduate study level, the most popular program is in education. "We are third or fourth in the state in the production of teachers," Sethna says.
Undergraduate studies in business administration have the largest number of students, says Sethna.
Practical Research
The university boasts strong research programs at both the undergraduate and graduate levels. The National Collegiate Honors Council, an academic group that weighs undergraduate research papers for recognition, has consistently accepted the works of UWG students.
"The University of West Georgia has topped the nation, number one in the United States, in terms of the number of papers accepted from the institution," Sethna says. "And we have done that eight times in the last 11 years."
Sometimes faculty members have their own brand of research that can yield beneficial practical results.
Dr. Randy Kath is a diviner, a dowser, a finder of water and, incidentally, a professor of geology in UWG's Department of Geosciences and director of the university's Center for Water Resources. He's an expert at finding ground water in the rocky subterranean depths of north Georgia, an area of the state that depends heavily on streams, lakes and reservoirs to slake the thirst of its populations and industries.
Such dependence on surface water instead of wells may be the product of misinformation or faulty science, says Kath, who recounts striking water while digging on a site near the new football stadium under construction on the west edge of campus.
"We have enough water on campus now with three wells that we can meet all our irrigation needs, even if there are mandated water restrictions," Kath says, sounding a little like a Texas wildcatter showing off a new gusher. "We didn't want to pay the city of Carrollton any more money [for water]. This means we will save between $30,000 and $60,000 a year in water costs."
Kath and his associates in the UWG geosciences department not only teach their specialty, but also put it to work advising local governments on how best to find water lying below the earth's surface. The geologists are sometimes first responders in emergency situations.
"Last year during a brutal drought we got a call from a desperate cattle rancher who reported his pond had dried up and his cattle were out of water," Kath recalls. UWG geologists raced to the cattle ranch, located a well site and began drilling. "We produced a well that delivered 90 gallons a minute. He filled his pond back up and everything was fine and dandy," Kath says.
University of West Georgia psychology professor Dr. Larry Schor, a licensed professional counselor, often finds himself standing in the rubble of destroyed buildings, like those of the World Trade Center in New York, or in the ruins left behind by Hurricane Katrina. Schor is a disaster mental health counselor for organizations such as the Red Cross, and works with tragedy survivors to help them cope with what they've been through and return to some semblance of normalcy.
He's the architect of Georgia's new disaster mental health website (www.georgiadisaster.info) sponsored by the state's Department of Human Resources and funded by the federal government. Schor is filling a niche in the field of psychology, one that gained traction and speed after the World Trade Center terrorist attack.
"Disaster mental health counseling is a kind of training that emerged after September 11, 2001," Schor says. "I think there are three or four programs in the country that are specific to disaster mental health education. This summer I'll be teaching a course for both graduate and undergraduate students called Disaster Mental Health. We might be the only university in the state offering this specific course."
In his work with survivors and first responders at the World Trade Center and following Hurricane Katrina and other disasters, Schor says he discovered a common complaint.
"Everybody wants precisely the same thing, and it is something we can't do," he says. "They want everything like it was before the disaster."