White County: Scenic And Savvy
A community finds clever ways to capitalize on tourism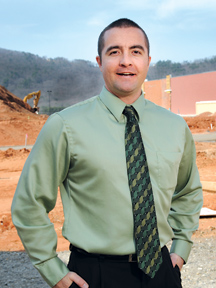 Established as a lumber town on the banks of the Chattahoochee River in the early 1900s, the White County city of Helen, struggling by the mid-20th century, decided to adopt an Alpine theme and devote itself – with much success over the years – to enticing tourists to what many locals call their "goodly portion of beautiful northeast Georgia."
Until this year, anyway, Helen's hotels and restaurants have thrived almost year-round, but particularly during fall's Oktoberfest. Nearby Unicoi State Park, with its 100-room-lodge, plus cottages, campsites and meeting facilities for up to 500, is booked far in advance.
Jerry Elkins, Helen city manager, says hotel and motel tax and sales tax revenues were down 10-14 percent last year, even though the town welcomed the same number of visitors as usual during its season, which runs from spring through Christmas. Though tourist numbers remained steady, the amount of money they had to spend was down. Elkins also cites last fall's gas shortage as a factor in the reductions that were noted.
As a result, Helen has eliminated seven of its 31 city jobs; all remaining employees are required to take one furlough day per month until the economy improves. Two of those seven jobs were seasonal and not filled, so five people were affected. So far, Elkins says, the cutbacks are not affecting city services, but that may change as the weather warms and folks hit the highway – Helen can host as many as 30,000 people on a busy weekend.
Visitors in May can enjoy a new pedestrian bridge across the Chattahoochee; Helen is also reworking its sidewalks.
A New Kind Of Tourism
In this economy, says Tom O'Bryant, White County's community and economic development director, the county as a whole is, "in the same boat as a lot of folks. We're trying to focus on our strengths."
And these days White County is taking a cue from Helen's playbook and adding a new type of vacation experience – agritourism – to the county's already well established outdoor and Alpine offerings. "Tourism is our strength, agriculture is our strength" O'Bryant says. "It makes sense to marry those two to build an agritourism industry."
It's a term that can embrace many different attractions. Wine lovers and getaway seekers from the big city, for example, might be lured to this county, some 80 miles north of Atlanta, by the promise of new additions to Georgia's wine highway.
For years Habersham Winery, founded in 1983 and headquartered just outside Helen, was the only game in northeast Georgia when it came to local wine. This year White County welcomed a second winery, Yonah Moun-tain Vineyards, and two more are in the works. Several other area wineries – among them Blackstock, Frogtown Cellars and Three Sisters – operate tasting rooms in neighboring Lumpkin county, but grow grapes in White County.
History buffs may want to visit Logan Berry Heritage Farm, west of Cleveland, where owner Sharon Mau-ney is not only growing fruits and vegetables, but showing people how to preserve and can them using the same methods that would have been used by White County's first settlers.
Discovery of gold in the 1820s drew crowds to the area, which became Hab-ersham County in 1818. White County was carved out of Habersham in 1857.
Hardman Farm, just south of Helen at the intersection of highways 17 and 75, will offer a mix of agritourism and heritage tourism writ on a broader canvas. One thing is sure – visitors won't have a hard time finding the place; it's distinguished by one of the county's most recognizable landmarks, an elaborate white gazebo perched atop an Indian mound surrounded by a pasture full of cows.
John Erbele, director of Smithgall Woods, the adjacent state park, is currently riding herd on renovations at the Hardman Farm, once owned by former Georgia Governor Lamartine Hardman, and donated to the state by his family about five years ago.
The farm was built not by Hardman, but by Capt. John Nichols, a Mil-ledgeville pharmacist who purchased the property in the 1870s and built an elaborate Italianate mansion that matches the gazebo.
But it was Hardman, Erbele says, who undertook farming on a major scale after purchasing the property in the early 1900s. In addition to his political career, Hardman was also a banker, insurance broker and doctor. While pursuing medical training in Europe, Hardman came across innovative farming practices, such as crop rotation, and drainage techniques, which he put to work in White County.
In all, the property includes the house and 20-something outbuildings. The state plans to restore it to the way it appeared during its heyday as a working farm in the 1920s – just before Hardman scaled back operations in order to run for governor. The farm's centerpiece will be its two-story dairy barn, which was the source of milk shipped by train to Gainesville and Atlanta. Ultimately, the barn will offer exhibits designed to help school kids understand where the food they see in grocery stores comes from, but whether it will be home to live dairy cows or fiberglass cows with working udders remains to be seen, Erbele says.
His other responsibility, Smithgall Woods, is a 6,000-acre parcel donated to the state by newspaper publisher Charles A. Smithgall, Jr. The Lodge at Smithgall Woods – actually a cluster of five cottages that made up the original family retreat – has a boutique feel, with accommodation for only 28 guests and a gourmet restaurant.
Down the road from the Hardman Farm in tiny Sautee, the Sautee-Nacoochee Community Association (SNCA) is making its own bid for tourism dollars. Housed in a 1920s elementary school, the organization operates a gallery featuring works by local artists and offers painting and dance classes. Also on the grounds is the recently opened Georgia Folk Pottery Museum, a dramatic, $3.5 million facility that debuted in 2006 and, says SNCA Executive Director Kathy Blandin, drew some 7,000 visitors last year.
The school's circa 1938 gymnasium is the setting for the SNCA's performing arts efforts, chief among them its heritage tourism play Headwaters: Tales from a Goodly Portion of Northeast Georgia. Patterned after Colquitt County's enormously popular – and profitable – Swamp Gravy, which, for 16 years, has drawn audiences in to hear local stories, Headwaters weaves a mix of local history, legends and tall tales.
But the purpose of such plays runs deeper than mere entertainment. Headwaters, Swamp Gravy and plays like them also have one eye firmly fixed on economic development. And that means more than luring tourists away from the beer gardens of Helen for an evening. "We're trying to shape the perceptions that both visitors and residents have of the mountains," says producer Lisa Mount. "If people change the way they think about a place, it does have an economic impact. If you value the place you live, and see that others value the place you live, you're much more likely to fight for it."
The show bursts into its third season this July with a new set design and a focus on "how you go through this life and the people you gather around you," Mount says.
Addressing Infrastructure
White County leaders aren't just turning to the past for economic stimulus ideas. Many eyes are focused on a parcel of land just off highway 129, which connects Cleveland and Gainesville. It is home to White County's very own Walmart, set to open this summer.
And where Walmart goes, additional retail soon follows. "They generate their own activity," O'Bryant says, "and so you have commercial development, satellite strip centers. We've already seen a couple pop up in that vicinity."
That, says White County Chamber of Commerce Presi-dent Judy Walker, is sure to help the county's tax coffers, as residents will no longer need to visit Walmarts in neighboring counties.
But until some lingering infrastructure issues are work-ed out, additional growth on the 129 corridor may be on hold. New White County Commis-sion Chair Travis Turner says that while the city of Cleveland has extended wastewater lines down 129 to the county's Telford Hulsey Industrial Park, it's been hesitant to tie in many new commercial customers because of capacity concerns. Turner says he's working on a solution, whether it's brokering an agreement with Cleveland – perhaps by offering county funds to cover extra capacity – or, failing that, bringing sewer lines north from neighboring Hall County.
O'Bryant, meanwhile, is touting the possibilities of a vastly different type of infrastructure project. White has joined four other counties – Lumpkin, Dawson, Union and Forsyth – along with North Georgia College & State University, in the North Georgia Network (NGN, pronounced engine), to explore the possibility of bringing high-speed broadband connectivity to the area. The group, using a $198,000 state grant, has mounted a feasibility study to document the need – the first steps in a process O'Bryant believes could ultimately help lure small, high tech companies to the area.
"The folks that own and operate companies that use high technology are generally younger people – the millennials, so to speak. People who will never work for or have a career with a big company, yet they are available to work 24/7 and they also want to be able to take a break during the middle of the day and ride their bike for two hours," O'Bryant says. Such enterprises are tailor made for White County, with its scenic terrain and accessibility to the big city. "Our big thing is quality of life," he says. "That's what we offer – not just to residents, but to business and industry."
White County is wise to tackle such needs now, because slowly but surely, more growth is coming its way. In a little less than 20 years the county's population has more than doubled, O'Bryant says, jumping from 13,000 in 1990 to 27,000 now. The county has opened two new elementary schools in less than five years.
And at press time, Turner was hoping to get the green light for one more concrete infrastructure project – the Cleveland bypass, which has been discussed for close to two decades. The state DOT had begun purchasing rights of way along the proposed route last year, but the project was one of 500 put on hold when DOT shortfalls came to light.
Turner and other White County leaders are working with DOT leaders to get approval for a three-phase approach that would spread the $32 million cost out over a period of years. The first phase would begin at the new Walmart and head west.
Hometown Heroics
While the bypass would shift automobile traffic away from downtown Cleveland, the city has a dedicated team working to increase foot traffic. Maria Jurado-Flynn, executive director of Cleveland's nationally accredited Better Home Town program (one of just 92 in Georgia), says her organization is "working closely with downtown businesses to find ways to bring people back to downtown."
To that end, the city's historic square is getting a makeover, with help from Special Purpose Local Option Sales Tax (SPLOST) funds. Upgrades include new sidewalks and medians around the square planted with crape myrtles.
"For the first time we now have trees on the Cleveland square," Jurado-Flynn says. Add to that new brick planters, iron benches and decorative iron poles topped with carriage lights and powered by underground wiring. The new lights, which replace the traditional wooden poles and wires, should be up and running just in time for Cleveland's Fabulous '50s event, scheduled for May 16. Intended to honor members of the armed services, the festival also features a classic car show.
Other special events include September's Fall Leaves Festival and December's Christmas in the Moun-tains complete with parade.
Better Home Town also has partnered with local banks to provide grants for businesses wishing to boost their curb appeal. Owners can apply to be reimbursed for up to 20 percent of the cost of a new façade or sign, up to $1,500. Since its inception in 2006, the program has awarded $5,400 in grants to 17 businesses.
But some of the biggest changes could lie ahead, says Jurado-Flynn. The city is considering changing current zoning laws that prohibit multi-use properties downtown. Combine that with its recent decision to reactivate its development authority, she says, and Cleveland could be on its way to creating a coveted small town live-work-play community.
Not to be left out of the county's heritage tourism efforts, Cleveland has created a historic preservation committee. Although its circa 1860 courthouse, now a museum, already is on the National Register of Historic Places, Jurado-Flynn points to other properties that might be eligible, including the Merchant Square building and the Kenimer-Telford house. Better Home Town also is putting together a plan to restore the historic cemetery, adding fencing, a walkway and benches.
White County residents will tell you its greatest strength is not the beautiful scenery but the people who inhabit it. That seems particularly evident when those residents who are its leaders are working to make their community not just a nice place a visit, but a nice place to live and do business.
Local Leaders
Tom O'Bryant
Director
Community & Economic Development
706.865.6768
tobryant@whitecounty.net
Judy Walker
President
White County
Chamber of Commerce
706.865.5356
Judy@whitecountychamber.org
Travis Turner
Chair
White County Commission
706.865.2235
t-cturner@hotmail.com
Population
White County, 27,932; Cleveland, 2,475; Helen, 567
Unemployment
(February 2009)
White County, 9.8 percent; Georgia, 9.3 percent
Per Capita Income
(2006)
White County, $24,372; Georgia, $32,095
Major Employers
Freudenberg-NOK, Cobb-Vantress, Truett McConnell College, Ingles Markets
Sources
U.S. Census Bureau, Georgia Department of Labor, U.S. Department of Commerce, White County Community & Economic Development Office