Albany/Dougherty County: Forging Ahead
On track with recovery and renewal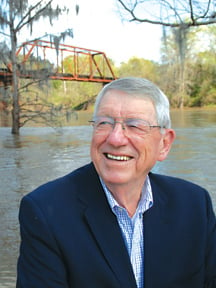 On a Sunday afternoon, John Norton stands in the shop attached to his Albany home and holds a 15,000-year-old fossilized Siberian mammoth tusk in his hands. He's surrounded by containers holding shredded currency, denim, exotic woods, shotgun shells, large-caliber ammunition, rocks, gems and even the black sands of Iwo Jima.
This is the eclectic inventory of a craftsman, and Norton uses it to fashion ink pens, letter openers, knives and other common devices that become quite uncommon when he pulls them from his lathes and polishes them into a final product.
Norton, who holds three engineering degrees, is on the eve of retirement from Albany's Procter & Gamble (P&G) plant after 30 years on the job. You'd expect him to be enjoying most of his retirement in his shop, making the pens and knives that he admits are so popular he doesn't even advertise because he would be overwhelmed with orders. His pens alone can fetch up to $500.
"It's a very good business," Norton says. "But it is a gift and craft hobby for me."
Is this the classic retiree's dream of commercial success and enjoyable retirement arriving at the same moment? Not for Norton.
The day after his March 1 retirement, Norton stepped into his new job as site engineer for Wyeth Consumer Healthcare, a Pennsylvania-based company that last summer purchased rights to manufacture P&G's ThermaCare, an over-the-counter heat wrap.
Significant to Norton and local economic developers is the fact that Wyeth will keep its ThermaCare plant in Albany, employing the same people that produced the product for P&G. "We're all thrilled," Norton says of those who will be making the transition to Wyeth.
A local economy severely wounded by the announced closing of Cooper Tire Company last year, with the loss of 1,400 jobs, will at least have retained jobs for ThermaCare workers.
"Certainly, we view the Wyeth Company deal as a positive for Albany," says Ted Clem, the first president of the newly formed Albany-Dougherty Development Commission. "The good thing about ThermaCare is that this is the only place it is made in the world."
Strength In Numbers
Keeping the homegrown economy growing is an emerging theme here with "buy local" promotions increasing.
Another theme might be "hire local." When Albany's Phoebe Putney Memorial Hospital opened its new $40 million Medical Tower II cancer treatment center in February, the occasion was especially noted by the six local contractors who shared in $15 million of that expenditure, and by the workers who kept their jobs at a time when construction employment nationwide cracked then crumbled.
In fact, the hospital produced more than $763 million in revenue for the local economy in 2006, according to a report produced by the Georgia Hospi-tal Association and cited by Phoebe Putney officials.
In Albany, the hospital is simply known as "Phoebe," like a favorite aunt who always remembers a birthday and is quick with a casserole when tragedy strikes the family. Earlier this year Phoebe took a big step toward bringing a new member into the family.
In 2007, when a tornado destroyed the Sumter Regional Hospital 40 miles north of Albany, Phoebe Putney Hospi-tal opened its services to the stricken Americus hospital, its physicians and patients. That emergency arrangement moved toward a permanent partnership in 2008 when the two hospitals signed an agreement calling for Sumter Regional to lease its assets to Phoebe Putney Health System, the parent of the Albany hospital. In turn, Phoebe is to commit at least $25 million for the construction of a new hospital in Americus.
In March, the two hospitals announ-ced the purchase of a 272-acre tract of land at the southern edge of Americus as the site for that community's new hospital.
"It signals the beginning of the next phase of returning the healthcare system to its normal status in Americus and Sumter County," says Jackie Ryan, assistant vice president for marketing at Phoebe Putney.
The 2007 tornado not only leveled the Americus hospital, it also wiped out a number of physicians' offices, resulting in many doctors leaving town to continue their practices. "One of the first orders of business is to rebuild that medical community even while they are in their temporary facilities," Ryan says. "Phoebe will be very aggressive in recruiting new doctors for the community."
The new Sumter County hospital will become a member of the Phoebe Putney Health System's family of healthcare facilities, Ryan says. The new 76-bed facility, set to open its doors in 2011, will be complemented by a medical office building and retail/medical village.
Phoebe Putney Memorial Hospital is one of several dependable economic engines that will help this community weather threats posed by the current economy. Another is the Marine Corps Logistics Base (MCLB) that had, according to a report issued by the base earlier this year, a $987 million economic impact on the community in 2008.
A new MCLB housing project, built at a cost of $38 million, is set to open in the fall, providing 110 residential units and other amenities for Marine personnel living on the base, and offering another piece of evidence that the facility is deeply anchored in Albany, and promising to stay that way.
Infrastructure Concerns
In February, divers from the Georgia Department of Transportation (DOT) plunged into the waters of the Flint River to examine the base structures supporting Albany's Broad Avenue Bridge, an old but well-used link between the city's downtown and its eastern neighborhoods. What they found, and reported when they surfaced, were serious signs of aging. The alarm went out and the bridge was closed to vehicles and even pedestrians.
Albany's mayor, Dr. Willie Adams, a practicing physician, was fairly certain of the diagnosis the divers would make, but the urgency of the treatment was troubling to him. "It was on the radar to be repaired by the DOT," Adams says. "But the DOT ran into a deficit of about $2 billion. The last estimate we got was about $10 million for the repair of that bridge."
There are other municipal ills hidden from view, Adams says. "Citizens don't see the aged [water and sewer] pipes underground. And some of those pipes have been there since the 1950s, and they're not up to par. We are looking at about $200 million that we need to improve our infrastructure."
Getting that $200 million in this economy will test Adams' imagination, but he has some ideas.
Like mayors across the nation, Adams plans to be in line when the Obama stimulus package is opened. And, too, there is a backup plan.
"If we ever have another SPLOST, my feeling is that 90 percent of those revenues will have to go for infrastructure improvements," says Adams, referring to the Special Purpose Local Option Sales Tax, a revenue-generating device that in the present economy may become a self-generating bailout for the Georgia communities that have it.
It's particularly meaningful for Albany, the county's seat and only municipality and the retail, financial, industrial and healthcare center for southwest Georgia.
Albany and its host county extract their 1 percent SPLOST revenues from the more than $1.8 billion in taxable sales spent here annually, and some estimates have upward of 50 percent of those purchases made by nonresidents. That's $18 million a year divided between the city and county, and for 25 years that money has been flowing as steadily as the waters of the Flint River.
County Commission Chairman Jeff Sinyard credits the continuing support of the local citizenry for the self-imposed SPLOST as the key to infrastructure and quality of life improvements in Dougherty County. "I think we were the first county to put the SPLOST on the books back in 1985," says Sinyard, who was the chairman of the Albany-Dougherty County Economic Develop-ment Commission and a recently elected county commissioner when the legislature passed the 1985 bill allowing counties to add a 1 percent sales tax to local retail purchases.
Dougherty County imposed the tax in a special election held within five months of the passage of the legislation. In the years since, SPLOST funds have helped build roads, sidewalks, a new jail, healthcare facilities, industrial parks, fire stations and law enforcement centers, and helped improve street lighting and fund all manner of equipment purchases.
"To me, we set the tone for southwest Georgia," Sinyard says. "When the economy is going full blast in the Atlanta area, we are doing OK. But we have to make sure we have our A game every day."
SPLOST funds have helped the county establish a level of infrastructure in place and quality of life that makes it attractive to business pros-pects, he says.
"This country is probably going through the most incredible economic seizure since the Great Depression. If we had not done the things we did with the SPLOST revenues, we wouldn't even have a game to present," he says.
For longtime economic developers such as Sinyard, the Cooper closing evokes a sense of déjà vu and irony, and seems to be part of the evolutionary rise and fall of local business. The Cooper plant occupies the site of a Firestone tire-manufacturing facility that closed more than 20 years ago.
"Look, when Firestone left in 1986 it was devastating for us," Sinyard says. "Then, in 1990 Cooper Tire opened. We just got a report that 960 [Cooper] folks will be officially terminated by July 2. We're going through this just like we did then. The up side is that our skilled workforce numbers will improve, and that will be an attraction for prospects."
Hope For Tomorrow
In spite of the soured national economy and the Cooper job losses, optimism here remains bright.
At Albany's Thronateeska Heritage Center a new planetarium features a high-tech light show in outer space that became the first of its kind in the nation when it opened in December.
"The next one is opening at Yale University anytime now," says Thronateeska's Executive Director Tommy Gregors. "But we installed the first high-definition digital system in the country. The total project was about $3.9 million and was funded through the SPLOST program."
Thronateeska hosts some 6,000 people annually for its educational programs, another 5,000 visitors come during hours open to the public and 10,000 use the center for wedding receptions, birthday parties and other social events.
"Since the planetarium opened, we have seen an increase in attendance," Gregors says. Thronateeska was created in 1974 as a history and natural science museum to tell the story of southwest Georgia. As it expanded over the years to include a planetarium and a more comprehensive science museum, it became a popular stop for kids, the public and visitors to the city.
Catherine Glover, the new president of the Albany Area Chamber of Commerce, has more than hospitality on her mind as she tracks those visitors and their habits. "For every person that comes here for one day and does not spend the night, they spend about $50," she says, citing a 2007 study on state and local tourism.
"For every person we can encourage to spend the night, that goes up to $109 per person. What this means is actual tax relief to our community from the outside world. If you look at Georgia as a whole, each resident receives tax relief of $482 per person because of tourism."
In 2007, Albany enjoyed $10 million in economic impact, thanks to tourists, conventioneers and other visitors, and hotel-motel occupancy rates were up 1.1 percent in the period 2007-2008, Glover says.
Glover sees Albany's role in the civil rights movement and the election of the nation's first African-American president as assets that can be mined for more tourist dollars, especially at the recently refurbished Albany Civil Rights Museum. To boost tourism, she has sent representatives to meet with motor coach associations in an attempt to attract tour groups to the city.
Just like municipalities all across the state, Albany's economy is threatened by national events, plant closings, layoffs and slow real estate sales, but there is one idea being floated out that many here view as the most serious threat to the city's future: a dam across the Flint River near Thomaston to create a reservoir that might provide water (via a pipeline) to places as far away as Metro Atlanta.
"Historically, we've had more water than any other section of the state," says Chuck Lingle, a retired Albany veterinarian and county commissioner recently appointed to the Lower Flint River Water Council, one of 10 such advisory councils around the state.
"I think it would be a travesty if we were unable to keep that water. That dam is a valid threat. That dam would just kill us."
Lingle and others believe that building a dam and reservoir would have a crippling effect on the regional economy while diminishing the quality of life here and turning the lower Flint into an ankle-deep muddy stream.
"The Flint River is a tourist draw," Lingle says. "And it provides our farmers with almost an unending source of irrigation, and we are an agriculture-based economy here.
"And there are those shoals right here in town where in the evening you can walk down to Turtle Grove Park and watch the water roll by."
Local Leaders
Willie Adams
Mayor
City of Albany
229.431.3244
wadams@alany.ga.us
Catherine Glover
President/CEO
Albany Area
Chamber of Commerce
229.434.8700
cglover@albanyga.com
Jeff Sinyard
Chairman
Dougherty County Commission229.431.2121
Population
(2007 Estimates)
Dougherty County, 95,693; Albany, 75,825
Unemployment
(February 2009)
Dougherty County, 9.3 percent; Albany, 8.7 percent; Georgia, 9.3 percent
Per Capita Income
(2006)
Dougherty County, $26,349; Georgia, $32,095
Top 10 Employers
Marine Corps Logistics Base, Phoebe Putney Memorial Hospital, Dougherty County Board of Education, Procter & Gamble, City of Albany, Albany State University, Dougherty County government, MillerCoors, Palmyra Medical Center
Sources
Albany-Dougherty Economic Development Commission, Georgia Department of Labor, U.S. Census Bureau