Savannah: Going Greener
A venerable city plays to its strengths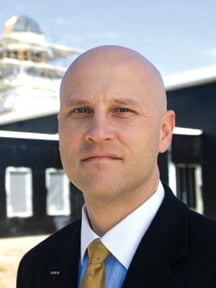 People in Savannah take their Irish seriously and green is always in style, whether it's clothing or beer.
A different kind of green was very much on the minds of the 100 or so mostly young folks who crowded into a downtown bar one recent evening. The talk was about energy efficient buildings and how to reduce your carbon footprint, here in a city that has always taken its biggest asset, the natural environment, seriously.
Known as GreenDrinks, this party brings together a surprisingly diverse group ranging from professional environmentalists to real estate developers. With a motto of "many shades of green, one good time," this social networking hotspot for the eco-conscious is a good measure of just how seriously they take these things. Savannah's version of this nationally syndicated party is already one of the biggest in the country – outdrawing places such as Atlanta and Chicago.
"We don't preach at folks," says Summer Teal Simpson, GreenDrinks organizer and program director with the local Georgia Conservancy office. "If you're the guy driving down the street in a Hummer, but you're interested in environmental issues, we want you here."
That's because green is now mainstream and its potential for enhancing businesses' bottom lines is recognized even by those who don't drive a hybrid to work. Over the past few years, a growing number of environmentally friendly developments have popped up here. Savannah is home to the nation's first LEED certified shopping center and even a McDonald's constructed using energy saving, sustainable methods.
The popularity of green building also hints at how diverse this historic city on the Georgia coast has become, and that has proven to be a real strength in the current economic tumble. Metro Savannah lost 2,800 jobs last year, including layoffs at some of its biggest employers such as heavy equipment manufacturer JCB, Inc. and Great Dane Trailers.
"Yes, we've been hit, but not hit as hard as most places," explains Rick Winger, president and CEO of the Savannah Economic Development Authority (SEDA). "We've had a fair resilience here because for a community our size we are remarkably diversified in our employment base."
It's an economy that ranges from technology firms to old-line manufacturers and, of course, the massive economic engine known as the Port of Savannah.
As a result, Savannah and Chatham County have enjoyed some measure of protection from the economic downturn. In February, when the state's unemployment claims soared 80.7 percent, the local increase was just 39.1 percent.
This area has been aided by what you might call counter cyclical industries that aren't affected by the economic downturn. One of them is the military, which maintains a large presence at nearby Fort Stewart. The post is home to the 3rd Infantry Division, whose members returned home after tours of duty in Iraq. In addition, the garrison is being strengthened by other units shifted here as bases are closed in other parts of the country.
"A lot of our military troops have been coming back over the last six months, and until now they have basically had no place to spend money," says William Hubbard, president of the Savannah Area Chamber of Commerce.
Emphasis On Technology
Another driving force here is a growing community of technology and media companies that form the vanguard of the county's Creative Coast Initiative, which was founded to attract "knowledge-based" industries.
"I'm buried under a number of projects [representing] corporations and organizations from small to large that are looking at Savannah as a location for their business," declares Brynn Grant, executive director of the initiative, which works closely with SEDA to attract new businesses.
Companies such as high tech firms and ad agencies, whose main products come from brain power rather than an assembly line, find it easier to locate to places such as Savannah to take advantage of the mild climate, vibrant culture and natural beauty, she explains.
The big problem has always been putting a coastal Georgia city such as Savannah on their radar screens.
"A knowledge-based company can be more portable and if they only knew more about Savannah they might well choose us," Winger says.
The support this area lends to these businesses was a prime reason that Digitus Biometrics, a developer of highly secure access control systems, made the move from England to the city.
"You have a lot of retired CEOs and a lot of people who are willing to help you," said Claude Galipeault, the company's co-founder. "The support from Savannah is more concentrated because it's not so big a place that you get lost in the shuffle."
Much of that assistance has been provided by the Savannah College of Art and Design (SCAD). First there's all the money that students, employees and the college funnel into the community – nearly $400 million at last count, according to SCAD external affairs director Danny Filson. Then there's the creative talent and brain power students lend to companies.
SCAD students work with local companies on design projects and more than a few end up being hired after graduation. The list of companies that have profited from student talent includes AMC Theatres, Gulfstream and JCB, Inc. Police car maker Carbon Motors enlisted students to design the unique seating for its vehicles.
Economic Upturns
The region also is attractive to more traditional manufacturers. One of the most notable examples is an environmentally-friendly firm called DIRTT (for Doing It Right This Time) Environ-mental Solutions.
The Calgary, Canada-based company is opening an assembly plant here for its modular movable walls. About 150 workers will be engaged in making walls that can support furniture and even be taken down and reused at another location. They offer an alternative to traditional studs and drywall construction that saves both energy and materials.
Along with DIRTT, SEDA landed 10 new or expanding companies in 2008, representing more than $23 million.
Among the new arrivals was The Great American Hangar Co., a Miami-based firm whose founder and CEO, Devon Rifkin, is Entrepreneur magazine's Entrepreneur of the Year. The company decided to move its primary import distribution center to 85,000 square feet of warehouse space at the Savannah LogistiPort in Pooler.
While activity has slowed recently, Winger says that more new developments are on the way – including two as yet unnamed companies that could add more than 500 jobs to Chatham. One includes a potential corporate headquarters that could be well suited for the unoccupied mega site on I-16 near the city.
"But it's a long ballgame in a slow economy," he adds.
That slow economy also is reflected in the city's small business community, where "the weak are having a lot of problems staying afloat," says Tony O'Reilly, president of the Small Business Assistance Corporation, the local SBA and micro-business lender.
"Folks with a little bit of strength, they're standing pat and seeing if they can wait it out. I'm not seeing a lot of robust activity in terms of expansion and startups."
As banks have cut off credit even to solid customers, O'Reilly's agency has seen increasing numbers of companies coming to him for loans. Many are stronger deals that a year or so ago would have been done at a conventional bank. They also tend to fall into the "creative" category that Savannah has been pushing in recent years.
"Probably half of the people we finance are startups and I would say maybe 20 percent of our loans last year were to knowledge based companies," O'Reilly says. "We really have a growing niche in that area."
While there are a growing number of small companies in town, the big guys are still the manufacturing companies such as private jet builder Gulfstream, which is working off an extensive backlog of orders for its sleek aircraft.
Even heavy equipment manufacturer JCB, Inc., which laid off 120 workers, is planning to relocate approximately 200 engineering, research and development and other jobs from elsewhere to its facility.
Then of course, there's the Port of Savannah. While the flow of cargo onto its docks has slowed with the downturn in the world economy, many believe that it eventually will become even busier as more shipping is transferred from the West Coast through an enlarged Panama Canal to distribution centers on the Atlantic Seaboard. From here products can reach the growing population living east of the Missis-sippi without the hassles and slowdowns that have plagued West Coast ports and rail lines.
In January the port opened the Chatham Intermodal Container Trans-fer Facility (ICTF) at its Garden City Terminal, making it the only single port on the East Coast with two on-terminal facilities.
The port's growth also has provided a boost to its close neighbor, Garden City. Most of the loading and unloading of cargo containers takes place at the nearby terminal, and the area has grown into a congested mass of rail yards and warehouses. When port authorities approached the city about the prospect of purchasing the municipal building, local leaders saw a unique opportunity to plot a new course. By selling city hall, they could move to a new location and in the process build a new and more attractive city center.
"Garden City is faced with some obvious challenges with the growth of such an economic monster," says City Administrator Brian Johnson, noting the constant truck and train traffic that surges in and out of the port every day.
"We knew that we needed to do something," he explains. "We needed to move somewhere that allowed us a little bit more flexibility without having to fight it."
A new 40-acre town center on Dean Forest Road south of I-16 could be the catalyst for giving Garden City a vibrant, bustling downtown. Along with a new city hall surrounded by greenspace, plans call for 800,000 square feet of commercial, residential and retail development.
While the complete build-out is likely to take years, the first retail has already arrived with a Food Lion. Officials also are planning a welcome center, library, post office and Georgia Public Safety Training Center Regional Police Academy.
The city – one of only two in the state with no property tax – was able to swing purchase of the land using mostly money in the bank, Johnson adds.
New Projects Downtown
The city of Savannah itself has seen an upsurge in building in its downtown area. Construction includes two low and moderate income housing developments on opposite sides of town, along with retail and hotel developments near the city center. A planned $800-million mixed-use project is getting back on track, although its ambitious plans for residential units have been slowed by the housing market collapse.
"Because many of these projects were planned before the bottom fell out of everything, they can move forward," says Savannah Mayor Otis Johnson.
Earlier this year the city formally opened the 1,075 space Whitaker Street underground parking garage, the first phase of the Ellis Square restoration project. It soon will be followed by an expansive one-acre park that can accommodate large public gatherings and will mark the transformation of what was once an eyesore into a lush addition to the city's historic district.
Work also is complete on News Place, the old Savannah Morning News building, which is now home to a hotel along with retail and dining. The biggest impact is likely to come from the 54-acre Savannah River Landing, which marks the largest expansion of the historic downtown since James Oglethorpe first settled here. It will incorporate tree-lined streets and greenspace amidst a large mixed-use development.
"The first developer who came in was going to do this high-rise gated condo development, like you see in any city around the country," says Chris Morrill, deputy city manager. "As we met with them we said, 'You know this isn't really Savannah, let us work with you on it.'"
Thinking Green
The city has worked hard to ensure that development is not only in keeping with its historic character, but is also energy- and resource-efficient.
It helps that this kind of sustainable development has become an advantage to the bottom line, not an act of penance. Architect and Chatham County Commissioner Patrick Shay says his firm, Gunn Meyerhoff Shay, incorporates green building methods into all of its jobs.
"In the past two or three years we've had more and more of our clients that were increasingly receptive to the idea of investing a little bit more energy and time and talent into making their buildings highly efficient," he explains.
Making new buildings energy and water efficient isn't hard and makes sense economically, but that still leaves the overwhelming majority of existing structures that don't incorporate those technologies.
"Figuring out how to go back and look at the existing buildings and retrofit them to be a whole lot more energy conserving and resource conserving makes an awful lot of sense," he adds.
With all this green activity, there's little wonder that the Chatham County Commission approved an initiative to become the "The Greenest County in Georgia." Mapping a path to this ambitious goal has been undertaken by the Chatham Environmental Forum, which is developing a plan for an environmentally, economically and socially sustainable future for the county, says forum chair Patty McIntosh.
While the county has a long way to go, at least green now is clearly on everyone's minds – and that's a big step forward for Chatham and Savannah.
Community Snapshot
Local Leaders
Rick Winger
Executive Director
Savannah Economic
Development Authority
912.447.8450
rwinger@seda.org
William W. Hubbard
President & CEO
Savannah Area Chamber of Commerce
bhubbard@savannahchamber.com
912.644.6421
Brynn Grant
Executive Director
The Creative Coast Initiative
912.447.8457
bgrant@thecreativecoast.org
Population
(2007)
Chatham County, 248,469; Savannah (county seat), 130,331; Pooler, 13,526; Garden City, 9,504; Port Wentworth, 4,167; Tybee Island, 3,912; Bloomingdale, 2,669; Thunderbolt, 2,650; Vernonburg, 136
Unemployment
(January 2009)
Chatham County, 7.6 percent
Georgia, 8.8 percent
Per Capita Income
(2007)
Chatham County, $24,362
Top Private Employers
Gulfstream Aerospace, Georgia-Pacific Savannah River Mill, International Paper, JCB Americas, The Home Depot, APS/Schneider, Colonial Chemical Solutions
Sources
Savannah Economic Development Authority, Georgia Department of Labor, U.S. Census Bureau