Hands-On Learning
Georgia's Quick Start program teams up with Kia to train a new automotive workforce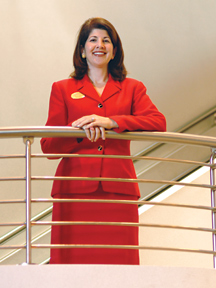 The orange robotic arms embrace the skeletal chassis of the automobile for just a moment as they plant their welds on the steel frame and then withdraw, pause and smoothly move to another part of the body.
This is the precise choreography of modern automobile manufacturing, and these rehearsals go on all day long at the Kia Georgia Training Center On I-85 near West Point. The tireless robots and their intent coworkers, the humans who manage them, are readying themselves for a November public debut when the first Kia vehicle is set to roll off the line on its way to a showroom.
No one will be cheering louder for rave reviews than the 2,500 Kia workers and their fellow cast members, as many as 4,200 employees of Kia's suppliers. "I can't wait," says Jeremiah Scott, a 29-year-old Kia trainee from Columbus who left his job as an insurance claims agent for a place in the Korean company. "I knew this was the startup for a new company here and I just thought this was an opportunity to get with a company and work from the ground up and grow with the company."
Scott was one of 43,000 people who sought a job with Kia in the state's first all-online application process back in January of last year. That process was designed by training professionals at Quick Start, a workforce development agency within the Technical College System of Georgia (TCSG).
The Quick Start pros also managed the design, construction and operation of the Kia Georgia Training Center on the grounds of the company's Troup County site and worked with Kia's management team to develop training materials and the unique software needed to operate the robots so crucial to the production process. Trainee Jeremiah Scott had never seen a robot before he was hired at Kia, but says he grows more comfortable with them each day, especially after a trip to Korea for some hands-on training.
Scott's growing knowledge of the Kia way of producing vehicles, and his increasing proficiency, seem to be shared by the rest of the trainees, especially those who have made their second trip to Korea, says Randy Jackson, the Georgia-born leader of the company's first U.S. manufacturing site.
"From the scorecards I am seeing, their performances are very high, from learning attention to detail to grasping standardized work and grasping automotive work," says Jackson, director of Human Resources & Administration for Kia Motors Manufacturing Georgia, Inc.
"We basically have people who have not worked around automotive, but we have people in this part of the country that have extremely strong work ethics," he says. "They've been around farming and they've been in these textile mills, and their work ethic is very high. We're pleased with how they're learning.
"From what we can tell today, we're well equipped to move them into the [production] site and start the trials, including the SOP [start of production] launch.
"By the way," Jackson says, "that first car will be signed by all those who had a hand in making it. And years from now when they drive by the plant they can tell their kids, 'I was there when the first Kia came off the line, and I helped build it.'"
Some people are calling the interstate routes from Chattanooga to Columbus "Auto Alley," in recognition of the growing numbers of automotive-related industries popping up along those highways, but the last leg of that trip, La Grange to Columbus, is more like the "Auto Autobahn," where such growth seems to be turbocharged.
Since Kia's imminent arrival was announced in 2006, 11 of its suppliers have followed their customer to the West Georgia region and promised 4,255 new jobs, and representatives from the TCSG and its Quick Start executives were among the welcoming committee for each.
For the leader of the state's technical colleges and Quick Start program, the Kia project was revolutionary.
"Undoubtedly, this is the largest we've ever seen," says Ron Jackson, commissioner of the Technical College System of Georgia. "And nothing has been routine – the size, scope, technology, the timetable, it's amazing and exciting. When you look at Kia and the supplier companies, you're talking about something like 7,000 jobs. And all these companies have to be up and running at the same time."
That time will be November when Kia begins production, capping a timeline of less than 24 months from the company's groundbreaking in October 2006, an exceptional fast track for construction, equipment installation and training – especially training. But the state's technical colleges are built for rapid responses to the needs of business and industry, and the demands of the marketplace.
The Need For Speed
Speed is of the essence for those who lost their jobs during the present recession and are looking to get back on a payroll as fast as possible, which may account for the systemwide jump in enrollments in the 2009 winter term noted by the state's 33 technical colleges.
According to data provided by the TCSG, winter enrollments increased by almost 10 percent over the same period in 2008. The largest increase among the 88,000-plus winter enrollees occurred in the 21 to 35 age bracket, followed by an 8 percent increase in those 36 years of age and over.
These numbers in the current economic climate reflect the need for speed. "Today's students want college programs that can fast-track them into the workforce, and attending a TCSG college means that they can reach their goal in two years or less," Jackson says, in response to the enrollment data. The largest program enrollment for the winter quarter came in healthcare fields, constituting about one-third of the total.
Moultrie Technical College President Tina Anderson has noticed acceleration in demand for the kind of basic courses once the mainstays of the state's old vocational school curriculum.
"Welding, automotive repair, are bursting at the seams, not a [classroom] seat open," she says. "Our overall increase in enrollment for the winter quarter was better than 11 percent, and that I think goes back to the economy. People are coming back to get the training and education they need to compete for available jobs. Allied healthcare is also hot right now."
Chris Estes sits in front of a panel of eight video screens in his control room at the Tifton campus of Moultrie Technical College (MTC). He is viewing various parts of manufacturing equipment located just a few feet away in an adjoining room, although he says that equipment could be anywhere in Georgia. From his chair, Estes can instruct students or assist manufacturers in solving problems with their production machinery.
For Estes, this is the bold new world of instruction and consultancy, made possible by a 2008 $1.75 million grant from the U.S. Department of Labor (USDOL) for the establishment of a Remote Automation Management Project (RAMP), the only one of its kind in the state. Originally earmarked for workforce development in MTC's four-county service area, RAMP can also deliver technical training and expertise anywhere it is needed.
"It also makes the training available for more uses," says Estes, an instructor of industrial systems technology. "We will be able to take this technology to that farmer in his field in the middle of nowhere who needs instruction on how to operate his new GPS-controlled automated irrigation system."
But the most immediate needs for the RAMP training program are in the fields of manufacturing and healthcare, especially in southwest Georgia. The remote teaching project seeks to prepare 750 participants in the region for the degrees, diplomas and certificates they need to begin careers in advanced manufacturing and healthcare, beginning as early as the 10th grade. The USDOL grant is allowing Moultrie Tech to open seven sites around Georgia for the remote learning exercise by paying for equipment, materials and staff support.
At the same time, MTC is using RAMP to reduce training costs for industries and businesses throughout the state. "Everyone is going through Microsoft '07 upgrades right now," says Shawn Utley, vice president of education at MTC. "Normally, we would bring a business employee onto our campus for that training. So the business would lose that employee for the day of training, and bear the total cost of the training as well. We can set that training up for 10 different businesses and deliver it all at one time."
The end result, Utley says, reduces that training cost for each participant by 90 percent.
Positive Partnerships
At one of her weekly Rotary Club luncheons last year, Athens Technical College President Flora Tydings was talking with Larry Webb, senior vice president and CFO for Athens Regional Health Services, parent of the local medical center. Webb was lamenting the shortage of qualified IT specialists who could code and put medical records and data into electronic form when Tydings offered assistance.
"Larry was telling me of their difficulty in finding people who could work with electronic medical records because this was a new technology," Tydings recalls. For years, filling such positions was mostly done in-house, not always the fastest means.
"In the past, such training was done on the job," Webb says. "We have the need for two or three [medical IT specialists] right now. In the Athens area, there is a need for 20 or 30 a year, and there is a shortage of coding people all over the state."
With a promise for funding help from Webb's hospital, the two began drafting a proposal to create a new Athens Tech health information technology program. By March, the proposal was on its way to Atlanta for approval by the state board of the Technical College System, with a target date of this fall's beginning school year for introducing the new program. And there was a boost for the program as 2009 began when recently inaugurated President Obama called for the nation's hospitals to convert all their records to electronic form within five years.
Demand For Mechanics
In 2007 and 2008, as the sales of hybrid vehicles began to grow and the rest of the U.S. auto market was slumping, the repair and maintenance of cars such as Toyota's Prius became welcome cash producers for the company's dealers, and that, says Steve Conway, created a demand for mechanics who could work on the gas-electric varieties.
"The Toyota Prius is probably the most well-known gas-electric vehicle out there," says Conway, program director for automotive technology at Gwinnett Technical College (GTC). "And with new car sales down, servicing becomes a major profit center. The sales in the showroom often get all the glitz and have the curb appeal; but it has always been repair and maintenance [that] consistently pay the bills. Hybrids are still very much a niche vehicle, but their sales have been climbing."
To make sure north Georgia Toyota dealers have auto technicians who can wield the wrenches to work on the Prius, GTC has offered the gas-electric expertise for their employees in a program called Toyota Technical Education Network, or T-TEN. Such training sounds like routine coursework for an auto mechanic.
Far from it, Conway says. "The Prius has a very, very high voltage system to drive that electric power train and to create reserve power to charge up the high voltage battery in the vehicle," he explains. "That high voltage is dangerous and life-threatening if you do not know what you're doing and how to safely disable that part of the system. We have Toyota techs from the dealerships, and they have to be acclimated to the safety aspects of servicing a hybrid vehicle."
About 20 students finish the T-TEN training each year, but Conway believes the number will grow as sales of the hybrids continue to increase.
Streamlining Schools
In July, 13 of Georgia's technical colleges are scheduled to merge into six, combining administrative functions but without affecting students and their coursework, according the TCSG officials. West Georgia Technical College (WGTC) in LaGrange, for instance, will merge with Waco's West Central Technical College; that campus will be in Waco, a town an hour's drive from LaGrange, says WGTC Acting President Perrin Alford, who will become the provost of the new technical college. "The technical college system was set up so no person in the state would be more than about 40 miles from a campus," Alford says.
And it would seem access to a technical college for any Georgian truly is just down the road. The two West Georgia tech schools have a combined seven campuses scattered across that region of the state, thanks to the common practice of establishing satellite learning and training centers where they were needed. Some Board of Regents schools have technical college divisions, and technical college facilities have been located on all kinds of sites, from storefronts to military installations.
Speed, flexibility and a wide variety of course offerings – there are more than 600 – have long been the hallmarks of the technical colleges, but West Georgia Tech's Alford says his college's role in welcoming Kia to the neighborhood brought a new element to the campus.
When Kia's Korean executives came to LaGrange looking for office space, they couldn't seem to find anything suitable until they were escorted to WGTC's second floor administrative offices. "They said, 'We'd like to stay here for a couple of years,'" Alford recalls. "And we said, 'We'd love for you to do that.'" And then representatives of Sewon, a Kia supplier, moved into West Georgia Tech's Callaway Conference Center.
"All of this has been great for our students because they have had the opportunity to be around international companies and different cultures," Alford says.