Catoosa County: Revving Up
A nearby auto plant may boost this community's fortunes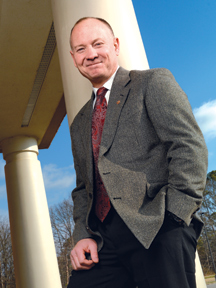 You'll forgive civic and business leaders in Catoosa County if they're still smoothing out their pronunciation of farfegnugen. But the German marketing slogan for driving pleasure, made popular by Volkswagen, may soon become the catch phrase for the northwest Georgia county.
Though Catoosa suffers along with the rest of the state during the recession, its economy is poised to benefit from the construction of a $1 billion plant the European auto manufacturer is building a few miles north on Interstate 75 in Chattanooga. It's a trump card economic development officials throughout other parts of Georgia would love to hold.
Volkswagen officials stood with elected leaders in Tennessee last July to officially announce that the facility would rise on the 1,350-acre Enterprise South Industrial Park, snubbing a competing site in Huntsville, Ala. The plant will sit just off Exit 9 on I-75 near Chattanooga and a short drive from Catoosa, whose residents already leave each morning in large numbers for jobs to the north. With an expected employee roster of 2,000 jobs in the plant and nearly 10,000 more through suppliers and related sectors across the region, Catoosa stands to benefit.
"We are hoping for some positive fallout from that," says Mike Helton, Catoosa's county manager. "We definitely expect that there will be some persons from north Georgia and Catoosa that acquire some work at the new plant. We are also hoping that some of the businesses near the plant will provide some employment."
Construction of the 1.9 million-square-foot Volkswagen facility is under way, with a $30 million paint shop the first phase to come out of the ground after months of site work that started in mid-2008. Additional components include a training center, body shop and assembly facility built on a timeline to finish this year so manufacturing equipment can be installed in 2010. The company wants to begin annual production of up to 150,000 vehicles, expected to be midsize sedans, in early 2011.
As Catoosa works to broaden its tax base by attracting industrial and commercial development, the Volkswagen plant announcement comes at an opportune time. Residential property makes up much of the county's tax digest; and even though the 22.135 millage rate compares well to its neighbors', county officials say a diversified tax base will relieve the burden on homeowners and boost the overall economy. Volkswagen will certainly play a role in that, though Catoosa leaders are careful to point out that the auto plant is just one component of a larger strategy.
"We are not putting all of our eggs into one basket. There are other industries that are looking here. The auto companies are not the only ones coming to the Southeast. We have a very key location on this I-75 corridor and we want to capitalize on that," Helton says.
Last fall, the county scooped up a 50-acre site near the existing Rollins Business Center as a short-term move to attract potential Volkswagen suppliers. With utility lines already in place and a location less than a mile from I-75, the parcel is the first county-owned industrial site, which may be more attractive to tenants who shy away from privately-held industrial parks in favor of publicly-owned ones that offer more incentives.
It also is the first step in an emerging strategy by county and municipal officials who want to identify larger tracts in Catoosa that could be quickly made suitable for larger industrial clients through site work and the installation of basic infrastructure such as water and sewer lines.
"VW is coming and they don't have any plans of stopping at this point, so we need to continue our efforts to develop our strategies and provide sites to VW and suppliers that might want to locate here," says Keith Greene, the Catoosa Commission chairman who was elected last November in part on a campaign to focus on economic development. "Even though the economy's bad nationally, I think we are set up for success here in the near future."
The new site already is being marketed by the Northwest Georgia Joint Development Authority, which expanded earlier this year to add Catoosa County to its efforts in promoting economic growth and development in the neighboring counties of Chattooga, Dade and Walker, which gave up a portion of its land to help form Catoosa in 1853.
The partnership is expected to help make the region more appealing to potential Volkswagen suppliers, while increasing the incentives Catoosa can offer to new employers.
Ideally, additional tracts would stretch to 200 acres with the installation of infrastructure accomplished pretty quickly, says Bob Peck, chairman of the Catoosa County Development Authority and president of Gateway Bank & Trust in Ringgold.
"Economic development – for a long time people thought of [it] as an expense, but you have to look at it in terms of investment," Peck says. "You make an investment today, but you get your reward 10 or 15 years down the road, not when you make the expenditure. It will help improve the quality of life down the road."
The county earmarked $2 million from its Special Purpose Local Option Sales Tax (SPLOST) for economic development when the latest five-year, 1 percent sales tax kicks in this summer, an amount that may be used for land purchases. The county would like to attract employers that would hire more than 100 people into high-paying positions for enterprises with minimal environmental impact. The key, Green says, is planning and laying out a development strategy that has buy-in from county, municipal and school system officials.
"The economic development push that is occurring here seems to be the one factor that is unifying all of the parties in the county like never before. All of us put ourselves in a better position as we look at the opportunities facing us," Helton says.
Underground Achievements
Some 90 miles south of Catoosa County sits Atlanta, a city in the midst of a multibillion-dollar overhaul of its water and sewer system. The massive project, paid for with a 1 percent sales tax and increased water and sewer rates, often receives the lion's share of media attention when it comes to water and sewer problems faced by municipalities. But in Catoosa, officials are quietly remaking and expanding the water and sewer system and doing so with cooperation among governments that would make Atlantans envious.
Nearly half of the county's portion of the $56 million expected from the five-year SPLOST will go to sewer projects. That's in addition to the millions to be spent by the cities of Ringgold and Fort Oglethorpe, which provide sewer service to unincorporated areas of the county through intergovernmental agreements. While some projects are replacing and rehabbing existing lines and improving capacity in already developed portions of the county, several other projects will put sewer lines into undeveloped areas to pave the way for future growth.
An $8 million project by the city of Ringgold will extend sewer lines to Exit 345 on I-75, the least developed of Catoosa's four interstate exits. The project follows a nearly $13 million effort two years ago that built nine miles of sewer lines and a new pump station so the city could tie into a regional facility in Chattanooga and close its waste treatment plant. In Fort Oglethorpe, up to $14 million will be spent in several phases in the next few years to rehab lines and add capacity along Cloud Springs Road, which crosses I-75 at Exit 353 near the Tennessee border where Volkswagen suppliers are expected to locate.
"Without this new pump station we just finished, we couldn't even be entertaining those projects," says Ringgold City Manager Dan Wright. "But since we have the capacity, that will really open up the areas that have never had sewer. We can handle pretty much anything that comes our way within reason."
Looking Inward
While the county prepares for the growth the Volkswagen plant could bring, it's also looking inward by supporting the small businesses already in place and boosting its considerable appeal to tourists. Nearly two-thirds of the 400 members of the Catoosa County Chamber of Commerce are small businesses with 20 or fewer employees, and chamber efforts are working to support those enterprises and help them survive in difficult economic times.
Last year, the chamber received an "Entrepreneur Friendly Community" designation from the Georgia Depart-ment of Economic Development, part of a five-year-old program that helps build entrepreneur and small businesses strategies into an area's overall development efforts. Additionally, the chamber created a Small Business Council that brings small business owners together to discuss their concerns and maintains a resource center at the chamber office.
"Small businesses are very important to the county," says Martha Eaker, chamber president. "We need the large businesses. But you cannot stifle that dream of owning your own business. Small businesses grow. One is not more important than the other. We have to have both large and small businesses."
In fact, Eaker hopes that the community's small businesses see a surge as larger employers move in to support the Volkswagen plant. The industrial growth will boost the county's daytime population and create a need for more places to shop and eat. That, in turn, would provide a boost to small businesses catering to them.
"We can certainly anticipate industrial growth that begets commercial growth and housing. One just follows the other. If people come here for new jobs, they are looking for places to shop, eat and places for the kids to play," Eaker says.
In Ringgold, the Downtown Develop-ment Authority is helping property owners with facelifts. It's in the first year of a program that will provide 10 matching grants of $500 each as an incentive for owners to refurbish and renovate the facades of their properties. The city asked for applications earlier this year with a May deadline to complete the projects, which could include paint, awnings, signs, doorways, windows and landscaping.
"It's a way to spruce things up in downtown and it is something that is contagious," Wright says. "As people start making improvements, their neighbors start making improvements and it grows."
The city is in the design stage of a $500,000 streetscaping project for the heart of downtown, an effort funded through a grant from the state department of transportation and matching funds from the city. The project includes historic street signs and poles, sidewalk and crosswalk improvements and landscaping. City officials hope to start turning dirt on the effort in early 2010.
Ringgold also is investing in its recreational offerings around Chicka-mauga Creek, adding nature trails, walkways and a 600-foot pedestrian bridge to connect its commercial hotel district with downtown and tie into the Little General Children's Park completed last year.
A nature walk also takes advantage of Ringgold Gap, a 2.5-acre pocket park with ties to the Civil War that became a tourism site during the Great Depres-sion and later fell into disrepair. The city has $15,000 in grants to improve the park and in October, a $150,000 bronze statue of Confederate Gen. Patrick Cleburne will be unveiled during a festival. Cleburne's defense of the area in 1863 allowed a large contingent of Confederate soldiers to retreat to Dalton.
City leaders in Fort Oglethorpe are also focusing on sidewalks, trails and recreation, hoping to expand an existing 1,800-foot trail farther west so it stretches more than a mile. The trail currently connects City Hall to Gilbert Stephen-son Park, which includes an expansive new outdoor pool and will eventually include a $600,000 pool house paid for with SPLOST funds. An expanded trail would link neighborhoods and a second park and lead to the Chickamauga-Chattanooga National Military Park.
Long-range plans would push the trail east and link to Cloud Springs Road and a network of sidewalks and help highlight what the city has to offer. "We have a good historical town, but we just don't have an old downtown like some of the cities have," says Fort Oglethorpe Mayor Ronnie Cobb. "With us being near Chattanooga, we really have to work hard to attract people."
Sharing Resources
As Catoosa focuses on economic development and the potential impact of the Volkswagen plant, elected officials and business leaders are joining forces to work together. The county and its cities are inking intergovernmental agreements to share public works re-sources, for example, as business leaders are partnering with the county to create attractions for residents and tourists alike.
Northwest Georgia Bank spent $600,000 to construct an 1,800-seat amphitheatre in 2007 on a county-owned campus known as Benton Place. The three-acre arts venue adds to a host of county services and offices already available there, including the chamber, health department, learning center, library and senior center.
"We wanted to give something back to the community to celebrate 100 years," says Wes Smith, the bank's chairman and CEO. "We built it for just the local people. If it's drawing in other people, that is good for economic development and we would be happy with it. We've worked hand-in-hand with the county when they needed something."
Cobb, the Fort Oglethorpe mayor and a resident of the area for 60 years, says the economic development efforts and the potential for growth as a result of the Volkswagen plant have focused local leaders.
"We are working with the county, the chamber and the development authority. It is going to benefit the city even if something locates here in the county. We are not in a wrestling match whether it is in the city or not. We know that any growth is going to be advantageous to the entire county and we are going to benefit from it, the retail side of it, the residential side of it. So we are not haggling over territory. We are looking at working in unison," Cobb says.
Community Snapshot
Local Leaders
Keith Greene
Chairman
Catoosa Board of Commissioners
706.965.2500
keith.greene@catoosa.com
Martha Eaker
President
Catoosa County Chamber of Commerce
706.965.5201
meaker@catoosachamberofcommerce.com
Bob Peck
Chairman
Catoosa County Development Authority
706.965.5500
rpeck@gwbt.com
Population
(2008 Estimates)
Catoosa County, 64,832; Fort Oglethorpe, 8,518; Ringgold, 2,819
Per Capita Income
(2008 estimates)
Georgia, $24,053; Catoosa County, $20,643; Ringgold, $20,490; Fort Oglethorpe, $17,079
Unemployment
(January 2009)
Catoosa County, 7.6;
Georgia, 8.8 percent
Top Employers
Hutcheson Medical Center,
Shaw, Catoosa County Board of Education, Catoosa County Government, Walmart, Container Service Corporation, Victory Sign Industries, Southern Metal Industries, Habitat International, Metro Boiler Tube Co.
Sources
Catoosa County Chamber of Commerce, Georgia Department of Community Affairs, Georgia Department of Labor; Northwest Georgia Joint Development Authority