Valdosta/Lowndes County: Recession Proof?
Weathering the economic storm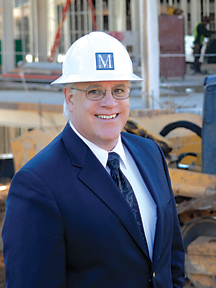 Last April when The Associated Press carried a story about the online monthly publication JobBait.com's including Valdosta on its list of two dozen American "recession-proof" communities, the city's residents received the recognition with the same mixture of joy and dread that might strike the fans of a football team picked in the preseason by Sports Illustrated to finish number one in the nation.
Was it foreshadowing or jinx? Neither. JobBait.com had science behind its selection, rating Valdosta based on its performance creating jobs during the period 1990-2001 and in 2007. The city had a regional medical center, a university, a military base and a nice mix of industry, all important economic engines that should allow it to chug through just about any stormy times, in JobBait's opinion.
But that was then, before the cyclones that went through Detroit and down Wall Street – and this is now. An end-of-the-year freeze-frame of economic conditions in Lowndes County and its seat of government, Valdosta, would have shown a still-robust economic picture, but with some belt-tightening by two of the community's major players.
The late 2008 presentation of a $1 million grant from the OneGeorgia Authority to the Valdosta-Lowndes Industrial Authority for site preparation helped pave the way for construction of a Home Depot distribution center that will, during working hours, double the population of 600 in Lake Park, a crossroads community near the Florida state line.
"We're proud of that because Home Depot will become Lake Park's number one employer," says Brad Lofton, executive director of the industrial authority. "It will certainly revitalize that end of the county."
The 660,000-square-foot Home De-pot facility joins a family of distribution centers around Valdosta brandishing names such as Lowe's and Dillard's. Another end-of-the-year arrival was the 108,000-square-foot Smith Drugs distribution center. All this, Lofton says, threatens to give the region its own brand as "Logistics Center South," thanks in large part to the presence of Interstate 75 and the proximity to I-10 just 30 miles down the road in Florida.
"People might be shocked to learn that Valdosta is partnering with Florida communities in economic development projects," Lofton says. "We market ourselves [in Lowndes County] nationally as the "Crossroads of I-75 and I-10."
Asked about that bit of fudging on the details, Lofton laughs and explains the facts, as he sees them: "It can take 18 months to get through the necessary permitting for a new business in Florida," he says. "We can do it in 10 days."
OK, so maybe Valdosta is "The Most Economical Crossroads of I-75 and I-10" for new businesses.
"Doesn't have the same zing," he says. "Anyway, a state line is just a line in the sand. Our position near that interstate intersection means 80 percent of the U.S. population can be reached from Valdosta within one day's truck drive."
Small Business Focus
While Lofton is looking across state lines for new businesses with a national brand, another Valdosta economic developer, Ruby Riesinger, is narrowly focused on entrepreneurs, startups and small businesses inside the city limits.
As economic coordinator for the city of Valdosta, a key part of Riesinger's mission is clearing the path from idea to reality for those who want to begin doing business in her town. The first step in that process is often an unusual weekly session that puts key municipal decision-makers in front of a hopeful entrepreneur.
"Each Thursday for 30 minutes that one entrepreneur or business owner gets to sit and talk with reps from planning and zoning, the health department, fire department and all the permitting departments in the city government to make sure the business clears the way to opening the doors as soon as possible," Riesinger says. "That gives them a face-to-face with the people who will be handling the full battery of inspections necessary to receive a business license. It gives them the chance to ask their preliminary questions and it keeps everybody on the same page."
And that, Riesinger says, saves everybody time and money. "It really goes a long way toward avoiding conflicting opinions and mistakes that can slow the businesses' openings or clog the permitting pipeline."
Prospective Valdosta re-tailers also can take advantage of the city's authority to offer prospects sites in Enterprise Zones and Opportunity Zones that include such amenities as the waiving of fees and the offer of state tax credits, even to retailers who create a requisite number of jobs.
"We want to have a place where the entrepreneurs can come and feel like they have gotten off on the right foot, and that we helped them along the way," Riesinger says. "And we are there for those not only thinking about starting a business, but also for those who are thinking about renovating a business or moving a business."
In difficult economic times, such lures for business prospects grow in value. Valdosta Mayor John Fretti was instrumental in creating Riesinger's city-funded position because, he says, "We want business prospects to feel that if they come to Valdosta they will be successful, whether it's a restaurant, retail, hotel or whatever." An economic development coordinator like Riesinger, he says, "can offer the expertise in delivering the goods to prospects."
Higher Education
With a record enrollment of 11,500 students last fall, and a campus teeming with construction workers applying their trades to new buildings and renovations, it would seem Valdosta State University (VSU), a significant feature of the city and county economy and culture, could indeed be "recession-proof." After all, the university has a $332 million annual impact on the region, and it is in the middle of a $183 million construction program.
But VSUs new president, Patrick Schloss, on the job less than a year, arrived just in time to struggle with statewide budget cuts for Georgia's institutions of higher learning. "Universities, and Valdosta State specifically, are very resistant to changes in the economy," he says. "The economy is cyclical and anyone in this position knows that about every six years there is going to be downturn, and we were due for one. But I think overall we were surprised by how deep and pervasive this downturn is."
To meet the challenges posed by a wayward economy, and to protect his institution's overall mission, Schloss has had to freeze 70 staff positions. "And we're not sure we're done at 70 positions," he says.
VSU was in phase II of a three-phase master plan for construction that has seen $150 million spent, but bonds that were to be let by last January for renovation projects have been delayed until April in order to take advantage of what is hoped to be a better climate for financing. Other future construction plans are dappled with shades of possibility.
"Funding for the design of a health studies center should come in FY '10, with construction to follow a few years later," Schloss says. "Because it better fits with the mission of the University System of Georgia, that project has been moved up in priority."
Shortages of nurses, medical technicians and other critical healthcare professions pushed that project up the budget triage list. Though the campus is alive with construction, it comes, Schloss says, at a dear cost.
"All of the construction and buildings you see here are funded by student fees, and that has pushed our student fees up to be one of the highest in the state," he says. "The amount that students are able to pay is extended about as far as it can be extended."
Good Medicine
James McGahee sits in his office less than a mile north of VSU and ponders his own strategy of wrestling with a national economy that threatens the growth at Valdosta's South Georgia Medical Center (SGMC), a facility that pumps more than $420 million annually in salaries and purchases into the surrounding countryside.
"We have put a temporary freeze on those noncritical [administrative] positions and will be looking at them on a case-by-case basis," says Mc-Gahee, SGMC's CEO. "We have not frozen our nursing and direct patient care positions."
A five-year, $90-million construction program begun in 2004 led to the completion – just before the economy began its downward snowballing – of a new information technology facility, a new emergency department, an outpatient surgery building, professional building and the new Dasher Mem-orial Heart Center.
Other planned projects are being viewed with cautious optimism as, "we see where this economy is headed," McGahee says. Some planned construction may be delayed, perhaps as long as a year, the CEO says.
"We've gone on with the design phases," McGahee says. "And we're going through and preparing budgets for these projects."
Other consequences of the downturn/recession go beyond brick and mortar and go straight to the heart. "We see people coming in now who have lost their health insurance or lost their jobs and don't have access to health insurance," McGahee says. "Of course, once they've lost their income stream they can qualify as indigent, and those numbers are trending up," he adds.
The medical facility is working with the rising numbers of such patients to provide appropriate payment plans. "And, thank goodness, we've had some good years and we have some reserves set aside that can carry us through a couple of years," McGahee says.
Training Days
At Valdosta Technical College (VTC), refugees from a struggling economy have boosted demands for both standard training and a few courses tailor-made for the times.
"After a 10-year student population growth spurt of about 4 percent annually, the 2008 enrollment jumped 18 percent," says F.D. Toth, interim president of the school.
"The welding class had a huge increase," he says, jumping from its normal size of 10 to 12 students to 35. "We had to turn people away," Toth says. "I think that's due to the downturn in this economy. Welders will always have a job."
Angela Crance, Valdosta Tech's vice president for economic development, has noticed a shift toward training in other skills. "We're being asked more and more to provide training in soft skills like customer service, leadership, supervisory training and team building," she says. "Industries now are needing more of the communications type training because they are downsizing and they need to work as a team better."
Lowndes County's new county commission chairman, former sheriff Ashley Paulk, is looking for 2009 to end with the county's finances among the most robust in the region. "We're facing one of the toughest years in my lifetime," he says. "But we've been lucky. If you look at our real estate transactions, we didn't start feeling the [economic downturn] until last October, long after others in the state and region."
When some of eight new construction projects let for bids last year came in under projected cost, the county found itself with some extra cash, which Paulk is hoping to see applied to the county's debt. "We're going to have to look after the necessities, and forget about luxuries," he says.
Teamwork seems to be a dominant theme in Valdosta where high school and college sports teams have gained national recognition for their championship teams, successes due in large part to the passionate support from the community, says one Valdosta booster.
"Last July when ESPN came here to crown our community as America's 'Titletown,' we certainly celebrated," says Valdosta-Lowndes County Chamber of Commerce President Myrna Ballard. "But I think after the excitement and cheering faded we looked at the ESPN recognition and asked ourselves what other parts of our community far from the playing fields can we excel in. And right now that is the challenge before us."
Community Snapshot
Local Leaders
Brad Lofton
Executive Director
Valdosta-Lowndes County Industrial Authority
229.259.9972
blofton@industrialauthority.com
Ruby Riesinger
Economic Development Coordinator
City of Valdosta
229.671.3658
rriesinger@valdostacity.com
Myrna Ballard
President
Valdosta-Lowndes County
Chamber of Commerce
229.247.8100
mballard@valdostachamber.com
Population
(2006)
Lowndes County, 97,844;
Valdosta (county seat), 45,529; Hahira, 2,077; Remerton, 1,008;
Dasher, 803; Lake Park, 578
Per Capita Income
Lowndes County, $25,729;
Georgia, $30,914
Unemployment
(December 2008)
Lowndes County, 7.4 percent; Georgia 7.8 percent
Major Employers
Lowe's Distribution Center, Convergys Corp., Fresh Beginnings, Roadway Express, The Langdale Company, Packaging Corp. of America, Southern Bag Corp.,
ADM, Dillard's Distribution
Center, SAFT America
Sources
Valdosta-Lowndes County Industrial Authority, Georgia Department
of Labor, U.S. Census Bureau