Macon/Bibb County: Meeting In The Middle
Big developments in central Georgia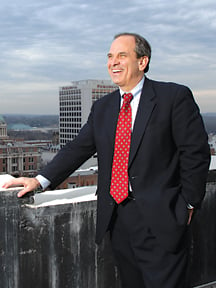 Looking at recent economic activity in Bibb County and Macon it's difficult to believe they are part of a suffering U.S. economy. New commercial construction in the area during the first 11 months of 2008 rose by more than $48 million over all of 2007; retail sales taxes held steady; and six jobs-creating announcements of new businesses and industries gave promise to a rise in employment during 2009.
Central to that promise was the arrival last year of executives from Korea-based Kumho Tire Company with plans in hand for the construction of a 5.5-million-square-foot manufacturing plant that will create 450 jobs and represent a $225 million investment. That was news enough, but when word began to leak out about how the Kumho deal was made, insiders began to grasp – and gasp at – the route of the complex negotiations and the range of creativity used in putting it all together.
Kumho execs, city and county elected officials, economic development leaders, state officers, federal agencies, even a congressman were brought into the negotiations. The negotiators looked at several sites, wrestled with zoning changes, crafted a one-of-a-kind tax abatement schedule, fashioned unique financing, found creative ways to fast-track infrastructure improvements and pursued permits for a project that weaved and lurched over a months-long, ever changing course.
At one point Macon and Bibb County officials even tried to abandon the effort. "We sent a letter to the [Kumho] company saying that we had to withdraw our site because, as we understood the project, the [proposed] site would not work," says Pat Topping, senior vice president of the Macon Economic Development Commission (MEDC), who took the lead on the Macon side of the negotiations. "This was the most involved project this community has done in the time I've been here."
But the deal was done and Kumho broke ground on its new plant in May 2008 and expects to begin making tires this fall.
For the effort in landing Kumho, Topping and MEDC received the 2008 inaugural "Deal of the Year Award" from the Georgia Economic Developers Association. Kumho's jobs and its investments in Macon, which Topping now says will "be north of $300 million" were reason enough to spend the weeks of 10- and 12-hour days in negotiations, but there was also that persistent memory of loss motivating the Maconites. Back in 2004, the city's Brown and Williamson cigarette plant closed and the community lost 2,100 well-paying jobs.
"The community understood that [Kumho] would go a long way toward easing that pain," Topping says. "And this was the biggest deal we had had in a long time."
Restoring Downtown
Other jobs are cropping up in places that are more than a century old, and they are attached to the rebirth of Macon's downtown.
When a consulting firm hired by a Macon nonprofit forecast last year that the city's downtown could absorb 189 new residential units in each of the next five years, the news was naturally well received by Tony Long, a Macon native who's been contracting and developing properties inside the city limits for the past 52 years. One of Long's projects at the time was the Dannenberg Department Store, a 120-year-old, 100,000-square-foot building one block off the main drag, Cherry Street, that he and his partners were converting to house 60 loft apartments and some retail space.
"I've done preservation business all my life," says the 70-year-old Long, who admits he's attracted to old buildings by their character and – he's a businessman – by the financial benefits of giving historic sites a facelift. "If you are doing a $5 million project, you are looking at $1 million in tax credits from the federal government and another $300,000 [tax credit] from the state of Georgia," he says. "And they freeze your property taxes for nine years. All of that amounts to a big chunk of money."
Whether the result of tax credits or the aesthetic rewards in returning old buildings to their Victorian glory, Macon's downtown has come alive with projects dedicated to saving its past, adding to the number of downtown residents and creating jobs. The restoration and renovation movement began more than a decade ago when a few citizens started meeting in their living rooms and kitchens to explore ideas on dressing up declining neighborhoods surrounding Mercer University.
Those early efforts led to the formation of NewTown Macon, a private nonprofit that has stimulated inner city redevelopment and restoration projects. On the drawing boards now is a $26 million mixed-use development along Martin Luther King Boulevard that will include a 30-unit townhome community, a five-story residential/retail/commercial building, an 85-room boutique hotel, the restoration and renovation of the city's old Rescue Mission and the rehabilitation of the building housing the historic Capricorn Records studio.
NewTown Macon leaders have set a goal of raising $21 million in public and private funds to improve infrastructure, restore building façades and add 60 new businesses and 1,000 new residents to downtown over the next five years. As 2009 began, NewTown had received commitments and pledges totaling 60 percent of the $21 million goal.
The concept of renewal, long a staple in Sunday sermons, is a part of the message Keith Watson delivers to his flock at the Baptist-affiliated New City Church housed in downtown Macon's old Capitol Theater. "What I tell people is that we are a downtown church and downtown needs us," says Watson, a Macon native. "We want to see the city thrive. I encourage people who are going to go out and eat to drive the extra 10 minutes and come downtown and invest in the city God has put our church in."
Meanwhile, Macon Mayor Robert Reichert is looking at another rehab project in a declining area known for years as the Downtown Industrial Park. Structures in the area, located just behind Macon's historic train station, are more than a century old.
"That part of Macon had heavy industry sites, such as the old train station roundhouse and locomotive and train car repair shops," Reichert says. "We're working on rehabilitation plans now to turn the area into commercial properties with loft apartments on the upper floors."
He's working with a freshly created ad hoc committee to craft plans for improving transportation corridors in and out of the area. And there are health and regulatory issues to be met, including thorny problems related to polluted areas known as brownfield sites. "But we know there are federal funds and other funding available to deal with the brownfield issues to help get these properties back on the tax rolls," Reichert says.
He expects to soon formalize plans for the rehabilitation project and has enlisted the help of several local and regional economic development authorities and agencies to begin the effort.
For Janice Marshall, CEO of the Macon-Bibb County Convention and Visitors Bureau (CVB), the long awaited arrival of a new hotel adjacent to the city's signature meeting facility, the Centreplex, was the kind of news that promises to boost the $260 million tourists and visitors contribute to the local economy annually.
"We estimated we lost $33 million in convention business each year because we had no hotel adjacent to that meeting facility," Marshall says. "People are already beating down the doors to book meetings there."
Doors are important to Marshall in another way. The new Macon Marriott City Center Hotel at the Centreplex will have room doors that open to interior corridors, a feature absent at many of the county's aging motels whose room doors open onto parking lots. "Indoor corridors are especially attractive to businesswomen who travel, because that creates a much safer environment," she says.
The new Marriott opens in October and will add 220 rooms to local lodging. That's in addition to 1,000 additional new rooms that opened recently, a healthy complement to the community's tourism industry, one that withstood recent economic downturns across the country and state. Macon's central location in Georgia remains an important feature in attracting tourist dollars.
"People want to meet in the middle," Marshall says, referring to a CVB promotional catchphrase. "Georgia is such a huge geographic area that it is so much easier to meet in the middle of the state. And we can promise more delegate turnout when people don't have so far to drive."
Don Bivings is another downtown true believer, one who made a pilgrimage from Los Angeles to Las Vegas to Macon with partner Pino Mauro looking for a reasonably priced home with a history where he could relax and essentially do absolutely nothing requiring regular hours or work or generating stress. He got only part of that wish.
"Back in 2006 I had open-heart surgery, a triple bypass, and we just wanted to unwind and not do much of anything," Bivings says. After he bought a 19th-century seven-bedroom, nine-bath home with a ballroom, a library and a carriage house out back, Bivings eased into Macon's laid-back downtown lifestyle for a moment or two before becoming one of the city's more active entrepreneurs, opening The Market City Café, a 200-seat restaurant that has become a popular lunch spot, and then purchasing two adjoining buildings he plans to turn into 19 loft apartments and several retail sites.
"I didn't think I'd tackle another project, but the opportunity was there and I do have an incredible passion for this town," says Bivings, the incoming president of Historic Macon, a preservation group.
He's been joined downtown by friends, a couple from Las Vegas that is following his lead.
"She's become the executive director of Historic Macon and her husband, the brother of the New England Patriots' Teddy Bruschi, is opening a sports bar downtown," Bivings says. "They saw the value of Macon, how [inexpensive] homes are here and the business opportunities here."
Seeking New Industry
Chip Cherry also is looking for real estate and opportunities to do business and he is finding them in the sluggish local housing market and in locales far from Macon. Bibb is Georgia's 12th most populous county, but ranks 121st in land area, meaning land for industrial sites is at a premium.
Like that of most of Georgia metro areas, Macon's new home construction has dropped considerably. "While the current economic situation in the United States is challenging, I think it is a great opportunity for communities to reposition themselves," says Cherry, president and CEO of the Greater Macon Chamber of Com-merce. "In our case we've done very well over the last few years in generating projects and securing projects, and that has created some challenges as it relates to [industrial] sites. Right now residential [building] activity is not the kind of king it once was, so there are some [residential] properties that may have a life as another use. I believe in the intermediate timeframe we'll be able to acquire the land that we need to be able to continue to bring in projects."
To keep the jobs-creating projects coming in, Cherry has joined economic development leaders in Augusta, Columbus and Savannah in the pursuit of new businesses and industries. The Greater Georgia/Network Activities for Regional Innovation (NARI) also has as international partners mid-sized cities in Ireland, Scotland, Germany and Italy. The NARI project was begun by Georgia Tech's Economic Development Institute and School of Public Policy to help the state's mid-sized cities in a technology development initiative. For Cherry, the Greater Georgia sisterhood of cities is an opportunity to educate the important site selection consultants that help guide companies to new locations.
"A study done a number of years ago showed that of the number of people who could actually name a city in Georgia, everybody could name Atlanta, but the survey showed that after Atlanta only a small number could name a second city in Georgia," Cherry says. "When you're a non-Atlanta metro city and you're going after business, part of the process is educating those consultants who handle site selection for companies about the other areas that have the infrastructure and workforce to handle their needs."
Economic developers in the four Georgia cities pool their resources and jointly host receptions, luncheons and dinners for invited site selection specialists who hear a pitch on Georgia as an ideal place to do business and then a short presentation from city representatives on their hometown's assets.
After that it's every city for itself. "The number one objective is to get them to consider Georgia and then, obviously, the non-Atlanta metro areas," Cherry says. And once they come to our communities, then we can duke it out."
Attendance at the sessions is up, Cherry says, because the site selection pros find it time-saving and informative, and the participating cities benefit from the sharing of travel and event costs.
In addition to getting Macon on the map, leaders also are hoping to reconfigure one of the map's most dangerous features – the juncture of I-75 and I-16. With accidents there a daily event, and several fatalities each year, the junction was moving up the Depart-ment of Transportation's (DOT) priority list, that is until road improvement funding shortages last year put the project on hold, forcing community leaders like Bibb County Commission Chairman Sam Hart to look for alternative funding.
"We're hopeful something can be done at that intersection," Hart says. "In fact, we can't afford not to do something. This is a safety issue and we're hopeful some of President Obama's stimulus money can be provided for that purpose.
"In the meantime, we will be discussing that issue with our legislative delegation to see about helping us get the DOT to put the I-16/I-75 intersection back up their to-do list."
Community Snapshot
Local Leaders
Chip Cherry
President & CEO
Greater Macon Chamber of Commerce
478.621.2003
Pat Topping
Senior Vice President
Macon Economic Development Commission
478.621.2030
Kathy Bowden
Executive Director
Macon-Bibb County Industrial Development Authority
478.621.2037
Population
Bibb County, 154,903; Macon (county seat), 93,146; Payne, 167
Per Capita Income
Bibb County, $31,171; Georgia, $30,914
Unemployment
(December 2008)
Bibb County, 7.9 percent; Georgia, 7.8 percent
Top 10 Manufacturing Employers
YKK USA, The Boeing Company, First Quality, Graphic Packaging
International, Armstrong
World Industries, Kumho Tire Co., TIMCO, The Trane Company
Sources
Macon Economic Development Commission, Georgia Department
of Labor, U.S. Census Bureau