2009 Counties Of Excellence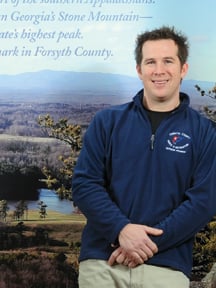 Whether it's creating a water park, saving a local landmark or establishing an animal shelter, the winners of this year's County Excellence Awards are thinking inside and outside the box.
The competition, sponsored for the fourth year by the Association County Commissioners of Georgia (ACCG) and Georgia Trend, rewards innovation, economy and good stewardship.
Winners of the 2009 awards are Bulloch, Dawson, Forsyth, Gwinnett, Heard, Lamar, Liberty and Webster counties.
"Counties that were selected for the County Excellence Awards submitted outstanding projects that focused on maximizing cost savings and other efficiencies which are essential for the challenging times that we face," says Jerry Griffin, executive director of ACCG.
"These projects highlight the best of the best from the last year and provide examples that other counties can replicate in their own communities."
Winners were selected by an independent panel of judges convened by ACCG. Judges were especially interested in projects other counties throughout Georgia could learn from.
"This year's recipients have all implemented initiatives that will have a long-lasting impact for years to come," says Ross King, ACCG deputy director.
Bulloch County
Making A Splash
On hot, sticky summer days, folks in Bulloch County may feel like jumping in the pool – or racing down a water slide, or riding a float down a "lazy river," or even dancing in the spray of a pool fountain.
Thanks to Splash in the Boro, a publicly funded water attraction at Mill Creek Regional Park in Statesboro, they have an affordable summer diversion as well as opportunities for competition and therapeutic pools that are open year-round.
Splash in the Boro evolved to fill a recreational need. The county's two aging pools, among the oldest municipal pools in Georgia, could no longer meet health codes. While the 160-acre Mill Creek Park offers a state-of-the-art athletic complex and hosts tournaments throughout the year, there wasn't much else to do beyond the playing field.
"In our market area, there just weren't many options for family activities," says Mike Rollins, Bulloch County director of parks and recreation.
Rollins began thinking about how the county could provide a better aquatic facility. Swimming pools are notoriously expensive to maintain. Public facilities don't raise enough in fees during the summer months to cover the costs. "It's a huge investment for a small community to make in such a short period of time [for the 90 days of summer]," he says.
But what if the county could create a water attraction that would become a destination – and would help pay for the year-round aquatics program? Rollins pressed his case, and the county commission agreed to include it in the recreation master plan, which was part of a Special Purpose Local Option Sales Tax (SPLOST) referendum in 2002.
The SPLOST issue passed, and the $4.5 million Splash in the Boro attraction opened in June 2004. County Manager Tom Couch set up the new amenity as an "enterprise fund," so it could be run essentially as a business. It was designed to be financially self-sufficient.
It was a runaway success from the start. The county had hoped to attract 40,000 to 60,000 visitors the first summer – a huge increase from the mere 3,000 who had used the aging swimming pools. In fact, about 90,000 people came to Splash in the Boro. "It occurred to me we might be really onto something," Couch says.
Using revenue from the attraction, he hired a well-known water park consultant to create a five-year business plan. Based on a marketing study and surveys of visitors, they recommended adding new elements to attract teens. This summer, a $4 million expansion will include a four-lane "mat racer" – a water slide that allows riders to race each other – and a "wave rider" that simulates surfing. With new and expanded gate areas, locker rooms and restrooms, the park also will have a larger capacity.
Last summer, attendance grew to more than 106,000 guests, says Steve Brown, aquatics division director. People were coming from as far as Chatham and Effingham counties to enjoy a day at the water park.
"It's something that was intended to be a community amenity. We started doing just a little bit of advertising and it took off on its own," Couch says. "It's not uncommon on a Saturday or Sunday afternoon to have a hundred people or more waiting in line to get in."
Admission is just $7 for county residents ($6 for children under 48 inches tall) and $8.50 for nonresidents ($7.50 for children under 48 inches). – MCM
Dawson County
Customer Service
Officials in Dawson County have ripped a few pages out of successful marketing playbooks. They've engaged customers by communicating directly with them, working with local media and opening their doors for citizen academies.
And the best part? They did it on a shoestring budget.
When longtime county employee Kevin Tanner stepped into his new job as county manager last May, he embraced an effort already percolating inside the government to address what residents complained was poor communication that was eroding their support. He started by referring to the county's 16,000 residents as customers, a simple phrase but one that underlies Dawson's re-engineered approach to delivering services.
"There is a real tendency in government to close yourself off and operate in a bubble because you get a lot of criticism, right or wrong," Tanner says. "It is easy to get in that bubble and not listen to anybody and get tunnel vision. The majority of people will support you if they know you are trying, willing to listen and communicate. That's what we're trying to take to a new level in Dawson County."
So Tanner tasked a newly-created customer service support group of county employees with creating a framework to improve relations between the government and residents. What they came up with, an initiative called "In Touch with Dawson County," provides a shotgun approach to communicating with the public, from improving what residents know about how the government works to making them aware of government resources while ratcheting up the level of customer service.
The key for this county 40 miles north of Atlanta was the simplicity of its approach. No expensive consultants, no massive marketing budget and no broadly-vetted slogans.
"The simplest things sometimes are the best things," says Mike Berg, chairman of the Dawson County Commis-sion. "When you are running an organization, I think the opportunity is there to work inside instead of outside. You have to push yourself to make sure the people you are serving understand what you are doing."
"In Touch" efforts started small, too. Last June, the county created a free monthly email newsletter, published by the county staff, that costs less than $50 a month to produce. Another monthly newsletter for county staff switched to electronic delivery, which dropped the costs to $20 a month. Tanner started a monthly column for three local news outlets to highlight county service efforts. Commissioners, Tanner and senior county staff also fan out to attend community meetings.
It was a suggestion from one of those sessions that led to an agreement between Dawson and Pickens counties to jointly build and operate a fire station in a Burnt Mountain community that sits in both jurisdictions. The resulting station is expected to improve fire service and lower insurance rates in the area.
The county's "In Touch" initiative also included the September launch of a 10-week program for 40 residents to sit in on classes taught by government officials to provide an overview of county operations and boost community interaction. The class, modeled after one Tanner designed while working for the sheriff's office, proved so popular that the county will offer it again.
Dawson wants to soon roll out the most ambitious piece of its communications initiative with the creation of a 311 telephone service so citizens have one point of contact for their questions and complaints, instead of navigating through 15 departments and 12 related agencies.
"It's a risky situation because you open yourself up to everyone. Here's government and it gives them a bird's-eye view and it helps them. But then folks become supporters and that certainly helps," Berg says. – MH
Forsyth County
Saving Space
Rising in the midst of Cumming, the county seat of Forsyth, Sawnee Mountain has long been a landmark. While new subdivisions and commercial strips were springing up in a flurry of development, Sawnee's green slopes and rocky outcroppings remained largely untouched. People giving directions would often orient themselves from the mountain. It was the backdrop of their lives.
Now Sawnee Mountain has been preserved for future generations, thanks to the generosity of families that owned large tracts of land, the willingness of Forsyth taxpayers to pay for new greenspace and a public-private partnership. "It's iconic and it needs to stay that way," says Matthew Pate, manager of the outdoor division of Forsyth County Parks and Recreation.
The Sawnee Mountain Preserve encompasses 963 acres with three miles of hiking trails, a 5,600-square-foot visitor center, an amphitheater, a tree house and canopy walk and a variety of outdoor programming. Some 2,500 people visit the mountain every month.
The preservation effort began back in 1982 when Mary Helen McGruder, her sisters and her mother inherited a large tract from her father. Developers approached the family with visions of a golf course community. But McGruder didn't think that's what her father, Jim Mashburn, would have wanted.
"My father loved Sawnee Mountain. Our home where we grew up was situated so he could sit on the front porch and look at the mountain," she recalls.
Meanwhile, the families of two other major property owners, McGruder's uncle, Mark Mashburn, and the Mashburns' partner in a medical practice, Bob Dunn, arranged to sell land to their church. The ultimate goal was for the county to take over the property.
In 1999, the Forsyth County Board of Commissioners approved the first land purchase, using general fund and Special Purpose Local Option Sales Tax (SPLOST) money. Purchases continued in 2000, 2001, 2002, 2003 and 2007, totaling $16.5 million for the 963 acres – almost half of the 2,000 acre mountain.
In 2003, the county began collecting impact fees and targeted Sawnee Mountain for improvements. That funded the pavilions, hiking trails and parking. Northside Hospital-Forsyth provided a $40,000 donation to build an amphitheater, which hosts environmental education and performances in a natural setting.
"It's a great model for other communities. We constantly have folks calling us to ask us how we did it," Pate says.
The visitors' center, with exhibits, classrooms, a library and laboratory, opened in 2008. Sawnee Mountain Preserve hosts rock climbing and tree climbing, birding, nature hikes, storytelling and nature-themed birthday parties.
"Now that it's been preserved it is a destination, a place that families can come and enjoy," says interim county manager Doug Derrer.
Sawnee has gained attention beyond the county lines. The visitors' center, which was built with an environmentally sustainable design, was named the outstanding new development in 2008 by the Georgia Urban Forestry Council.
The preserve also received an award from the council in 2005 for best greenspace plan.
Forsyth residents underscored their support of greenspace when they recently approved a $100 million parks and recreation bond. Some $36 million will be used to purchase new greenspace, and $1.8 million will fund further improvements at Sawnee.
Meanwhile, Mary Helen Mc-Gruder, who chairs both the Sawnee Mountain Foundation and the tourism committee of the Cumming-Forsyth County Chamber of Com-merce, can still gaze at the natural landscape of the mountain from her driveway. She regularly hikes the mountain with her 3-year-old grandchild.
"You don't need to own a mountain," McGruder says. "It should belong to everybody." – MCM
Gwinnett County
Reclaiming Water
As a record drought parched Georgia and left Lake Lanier boat docks high and dry, The River Club golf course community in Suwanee irrigated the turf as much as it needed.
This wasn't a matter of flouting watering restrictions. In fact, The River Club was one of the first businesses in the county to tap into a sustainable source: reclaimed, or reused, water.
Reclaiming water became possible in Gwinnett County in 2003, when the county opened its state-of-the-art water treatment center, the F. Wayne Hill Water Resource Center. The water treatment involves an 11-step process that includes carbon filtration and double ozone disinfection of sewage water.
Planning for this conservation effort actually began in 1998, long before the current drought, when a citizens' steering committee helped draft a 50-year plan. Members envisioned a time when the Chattahoochee River would no longer be able to sustain the water needs of Metro Atlanta.
"The quality of the water comes out near drinking water quality," says Irish Horsey, reclaimed water program manager. "It is treated so well that it actually exceeds the state's requirement for reclaimed water."
The water cannot be used for human consumption. But Gwinnett County has encouraged some landscaping and commercial use of the water as a way to reduce the demand for potable drinking water. Last year, the county saved 209 million gallons of water that would have been drawn from the drinking supply.
Customers of the reclaimed water avoided the worst ravages of the drought. In fact, The River Club put out signs indicating "irrigation by reclaimed water" so that neighbors wouldn't think it was ignoring the restrictions. "It's turned out to be a huge benefit for us," says golf superintendent Robert Roy, adding that the club had no turf loss during the drought.
Reclaimed water is also much less expensive – 79 cents per 1,000 gallons, compared to the usual water rate of $3.66 per 1,000 gallons. Customers can tap into the pipe that sends most of the treated water to the Chattahoochee River. This year, Gwinnett is adding a pipe to return up to 10 million gallons of water a day to Lake Lanier, the county's sole drinking water source.
There's no need to worry that the reclaimed water will contaminate the lake, Horsey says. "If I were to pour a glass of this water and water from the lake, you would select the reuse water because it would be cleaner," she says. "It's not going to cause any harm to the water in the lake."
Gwinnett uses the reclaimed water to irrigate Bunten Park in Duluth and Pinckneyville Park in Peachtree Corners. The Mall of Georgia uses the water for landscaping. It can also be used for dust control at a construction site, for pesticide applications or to mix with concrete. Smaller commercial users can collect water from the treatment plant in an approved water truck.
Meanwhile, the customer base and use of the reclaimed water is growing. The new Gwinnett Braves stadium, for example, will use the water to flush toilets and wash down the stadium after games, in addition to irrigation. Eventually, even residential subdivisions may tap into the source, says Lynn Smarr, acting director of the Gwinnett County Department of Water Resources.
"There's a lot more focus on the environment [among consumers], whether it's organic foods or reusable grocery bags or something like this," she says.
"We have to be good stewards with the water we have," Roy says. – MCM
Heard County
Rescuing Pets
Nearly twice a day, emergency operators in Heard County would receive a call about an abandoned or stray animal. But there was little comfort they could offer the callers. Like many rural areas, the county of 11,000 people on the Alabama border didn't have the funds for animal control operations.
The problem proved vexing for both residents and elected officials, whose attempts to solve it always came back to the same roadblock: How to pay for what was becoming a festering concern.
"When I grew up here in Heard County, we got used to stray dogs," says June Jackson, chair of the Heard County Commission. But a solution was needed.
So the county turned to its Special Purpose Local Option Sales Tax and included funds in the program to construct a 2,260-square-foot animal control building and a new jail next to one another. But money woes soon struck again. The nearly $500,000 animal control facility was built, but operating funds didn't materialize and state licensing snags pushed the center's opening to April 2006.
Ever since, two staff members and a supervisor have stayed busy as the facility's eight kennel runs for dogs and nearly 20 crates for cats and small dogs remain full. It's a rare a night that there's any room left in the county's animal inn.
"We have been full since we opened in 2006," says Robert Nelms, Heard's code enforcement officer and animal control director. "There have been very few short months where we've been down. We try to make a difference and we have made a difference. You can tell it."
More than 4,000 dogs and cats moved through the center in 2007, with 98 percent of those being adopted or turned over to animal rescue organizations. The shelter wants to meet a "no kill" goal as quickly as possible.
Sandi Allen, a Heard County commissioner, credits the center's success to an efficient operation and community support. More than 300 rescue groups and supporters are emailed when animals are awaiting adoption; responses have come from as far away as California, Canada and the United Kingdom.
The center's $104,000 annual operating budget is supplemented with food donations from two national retail chains and county residents who drop off treats, bowls, blankets and toys. Staffing at the center is bolstered thanks to its neighbor, the county lockup, which provides inmates to clean cages, feed animals and care for the facility and grounds.
"For the amount of people we have, we have a good amount of animals that go through the shelter," Allen says. "It's made a difference. The staff is good about working with people in the county. They have a really good rapport with people. If you had someone in there that didn't really care, the shelter wouldn't be a success."
The facility's success also brought together the county government and its three cities, Franklin, Centralhatchee and Ephesus, which signed agreements to have the county provide animal control within their boundaries in exchange for paying a percentage of the center's operating costs based on population.
Now, the center hopes to expand by adding more capacity and extending the building so it can house more animals at once.
"It's a good thing that all of us, the cities and the county, are working together. We're proud of that," Jackson says. "We hope to enlarge it and maybe add some more kennel runs. It gets a little crowded sometimes." – MH
Lamar County
A Place For Trash
Johnny Poore is used to the quizzical looks. He is, after all, the guy who's made trash and recycling cool in Lamar County, a place better known for its "Barnesville Buggy Days" than what it does with its solid waste.
But this middle Georgia county is transforming its 23-acre Cedar Grove Landfill into a state-of-the-art facility. Not only is it recycling some of what's been buried in its depths for four decades, it's also making room for the trash of generations to come in the county of about 16,000 people. Ton for ton, the project packs quite a punch.
"We have taken last generation's problem that they left us and prepared the way for possibly three generations of garbage," says Poore, executive director of the Lamar County Regional Solid Waste Authority. "A baby born today in Lamar County can put its garbage in this landfill; its children's garbage can be put in this landfill, and its grandchildren's garbage can be put in this landfill."
But it wasn't always the case. In 1994, the newly created solid waste authority inherited the landfill, a 1968 creation that was bursting at its seams and quickly closing in on its capacity.
Poore and the authority were charged with addressing the problem and doing so without money from local taxpayers.
Building a new landfill would require clearing a series of environmental and permitting hurdles, not to mention local opposition and funding questions. So Poore hit the road, making visits to sites in Florida, Pennsylvania and other places where successful projects reclaimed landfills and squeezed more space out of existing footprints.
"The only good place for a landfill," he says, "was where one was already existing. Nobody wants another one in their backyard, so the idea I had was to make the one we had last as long as possible," Poore says. "The local officials kind of looked at me like I was crazy and the folks at the Georgia Environmental Protection Division looked at me like I was crazy, and that was 15 years ago."
In 2001, after three years of efforts to get permits from the state EPD for a project the likes of which had not been seen in Georgia, work started on creating two new facilities out of the current 23-acre footprint of the Cedar Grove Landfill. It's a slow process that involves digging up old waste, pulling out materials that can be recycled and re-compacting trash using the biggest trash compactor in Georgia. The landfill space must be lined and groundwater contamination concerns addressed before waste is returned.
The $2.26 million cost of the project, which far outstrips the authority's $1.5 million annual budget, is funded through a state matching program for cleaning up landfills, recycling materials pulled from the facility and dumping fees. Current staff handles the reclamation project.
"What we've done here, what gets me excited, is that we are using that space over again and reusing the dirt as cover that they thought had been used up. We are recycling the most valuable things you can ever have in a landfill – the space and dirt," Poore says.
Jay Matthews, chair of the Lamar County Commission, says the project makes garbage interesting, but more important for his constituents, it isn't a burden on taxpayers.
"I remember as a young boy going out there and it was truly a dump and you held your nose," Matthews says. "Now, you can go out there on the rainiest day of the year and drop off garbage without worrying about getting your tires muddy and getting stuck." – MH
Liberty County
Web Access
Paying property taxes in Liberty County used to mean waiting in a line that sometimes stretched out the courthouse and around the building. Looking up property records could involve a trip to two different offices – with two long lines. Now with the county's new web portal, Liberty County residents don't even have to leave home.
It's possible to look up deed and plat information, search the chain of title back to 1986, find the 10-year tax history and obtain the assessed value of a property.
You can get the square footage of a home, its lot size and description, and even view a color photo.
You can purchase car tags and business licenses, pay for building permits and solid waste fees and pay your property taxes.
In fact, if you're curious, you can find out if your neighbor has paid his property taxes and how his house assessment compares to yours.
This truly is government at your doorstep. Or, rather, desktop. "It has cut the traffic in my office by about 50 percent," says chief appraiser Glenda Roberts. "I can't even express in words what that has done to cut down on the time [it takes to get information]." She had been considering requesting an additional employee to handle the crowds, but now can avoid that expense.
To Bob Sprinkel, assistant county administrator, putting government online just makes sense in this 21st century, web-based world. He's continually looking for new information to put online that will make life easier for Liberty County residents.
"We are able to do more with less and get our people better services through the use of technology," he says.
The project began in 2005 when Sprinkel and Tax Commissioner Virgil Jones began talking about ways to modernize the department. They met with Roberts, county administrator Joey Brown and the county's director of information technology to discuss how to create a user-friendly, web-based system. They solicited input from the Citizens Advisory Committee and other community groups and ultimately contracted with Lyles Data Systems of Florence, SC, for the software, data management and ongoing support.
The project cost about $71,000, plus an annual fee of $6,000. It has more than paid for itself through increased efficiency, Sprinkel says.
On the first day the web portal went online, the county collected $23,000 in taxes from 35 people. The online system also apparently inspired taxpayers to pay up. In the portal's first year, Liberty County collected $3.5 million in extra taxes. Users pay for the convenience based on fees charged by the financial institutions – 3 percent for using a credit card or a small flat fee ($5 for up to $10,000 and $20 above $10,000) for using an e-check.
The system is especially handy for absent property owners – a common situation in Liberty County, which is home to Fort Stewart, the U.S. Army's largest installation east of the Mississippi River. "If someone is away when it's time to pay their property taxes, they'll pay it online and it's just so convenient for them," Jones says.
The county is considering other ways to use web-based technology. Future plans include a satellite office staffed with a couple of employees who can help residents obtain information or pay taxes and fees online. Eventually, the county may even install a web cam in the satellite office.
"If it gets very technical and beyond the limitations of the person working [in the satellite office], then they could get on the webcam and talk to a person who provides further detailed help," Sprinkel says. "We have to keep looking forward." – MCM
Webster County
Three for One
In recent years, a handful of Metro Atlanta communities voted themselves into new cities. But in tiny Webster County in southwest Georgia, the new year brought a new twist on government as voters there merged two cities – Preston and Weston – and a county government into one.
In an age where more always seems to trump less, the Unified Government of Webster County – with nearly 2,400 residents – is now the least populated jurisdiction among the seven in the state with a unified government.
"We consolidated for the right reasons," says Dave Wills, former chairman of the Webster County Commission, who opted not to run for election to the new consolidated government commission. "We did not have any financial problems. The impetus behind our consolidation effort was the culmination of good relationships built over a decade. It was right for our citizens."
Voters in the county overwhelmingly approved the consolidation in a February 2008 referendum, though the tiny town of Preston rejected it when 12 of 22 voters cast ballots against it. But later, the town's council and residents backed an effort to revoke Preston's charter and have it become part of the consolidated government.
The February vote was the result of a 17-month effort by a citizen commission empanelled to study consolidation. The seeds of cooperation, though, were planted years earlier.
"It boiled down to the fact that the county was already providing services for Preston and Weston," says Stan Roberts, who chaired the Preston-Weston-Webster County Charter and Unification Commission. "It was just a situation where the consensus was we pretty much consolidated as far as services and why not make it formal and be done with it."
The pattern of cooperation was established in April 1998 when Preston closed its one-person police department and signed an agreement with the county to receive law enforcement through the sheriff's office.
Later intergovernmental agreements brought the city's municipal court into the county's court system, provided water to areas outside the cities' jurisdictions and expanded garbage services from the city into unincorporated areas.
"At some point, maybe three or four years ago, we began to say, 'What else can we do?' The logical place to look was the consolidation of the governments themselves," Wills says.
The nine-person unification commission, made up entirely of nonelected residents, eventually concluded that unifying the three governments would promote efficiency and improve the delivery of services. But finances also played a large role. With the consolidation, Webster is able to impose a utility franchise fee, usually the purview of municipalities, diversify its revenue and possibly roll back property taxes. In fact, the county dropped its rate by a half-mill in the lead up to the consolidated government last year, Davis says.
The consolidated government took effect in January, with five elected officials on one governing authority instead of 15 spread over three. Four of those five commissioners previously served on the county commission. Varying solid waste fees will have to be addressed, along with a host of policies and ordinances. But the workforce spread across the three former governments is expected to remain the same.
"We are too small to lose anybody," Wills says.
The unified government's charter also includes an incentive for its elected leaders. The chairman, whose salary is pegged to that of the sheriff, could earn up to 15 percent more with a graduate degree. District commissioners, who receive $250 per month, could receive up to $200 more after completing training programs.
"I'm proud we put that in place. I hope it will allow us to attract a higher quality of candidate, which, theoretically, will allow us to have a better government," Wills says. – MH