Rising Interest
A downturn in the economy gives an unexpected boost to Georgia's MBA programs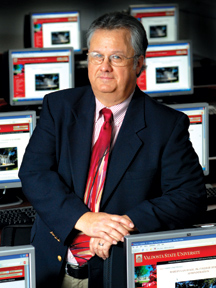 A sign of the times, perhaps, but the demand for MBAs is rising. Georgia universities and colleges offering Master of Business Administration programs are seeing an increase in inquiries and, in many cases, an uptick in enrollment.
Georgia State University's Jane Mutchler, associate dean for academic planning and programs, attributes much of that to the economy. "With the economic downturn, enrollments are up," she says. "I think people are saying, 'Gee, I better make sure my credentials are tops; I better upgrade my skills if I want to keep my job. I'm going to go get this degree now so that I'm ready when the economy comes back.'"
In fact, there's never been a better selection of programs for MBA applicants – lengthy on-campus programs that include study abroad; evening and weekend programs; coursework that can be completed online. More than 20 Georgia educational institutions offer an MBA degree.
Thirty years ago there was little difference in the content of MBA studies from campus to campus. Courses such as accounting, management, human resources and other business-related subjects were almost interchangeable, and almost all were offered exclusively on a campus.
Today's greater access and wider curricula are responses to the demands of MBA candidates who want programs that suit their lifestyles, their work schedules and their ambitions.
In addition, there's growing nationwide demand from business, industry and even the military for MBA graduates. The MBA is now the second most popular degree, after the master's in education, according to several national education studies. Even so, recent MBA graduates may find potential employers a bit cautious in the current economic climate, say MBA program administrators.
"The large companies that typically hire large numbers of MBAs every year were able to plan for what their talent needs would be," says Shannon Caldwell, director of the MBA Career Management Center for the Terry College of Business at the University of Georgia (UGA). "In this economic environment, it becomes a lot harder for them to plan what their demand for talent will be."
But that tentative approach to hiring hasn't slowed the flow of applicants. Anne Cooper, director of admissions for UGA's MBA program, says January 2008 MBA applications were up 35 percent over 2007 and were up slightly by year's end over the same period in 2007.
"A lot of that had to do with the size of the demographic groups coming into MBA age," Cooper says. "Millennials, those who entered college in 2000, are now 28 or 29 years old, and that pool is a lot larger than the Generation Y and the Generation Xers that preceeded it. The other part of that was there was a multiplicity of new forms of MBA programs: some part-time programs, evening programs, executive programs, weekend programs and all kinds of programs."
Range Of Offerings
The great variety of offerings in MBA coursework is appealing to young professionals already in the marketplace who see the degree as opening a faster track to promotions, as well as current students who may want to extend their stay on campus in order to be a more saleable commodity in the marketplace, says Melvin Schnake, a professor of management at Valdosta State University (VSU) who manages both the online and on-campus MBA programs.
"We do seem to be getting more information requests on our MBA," Schnake says. "I have accepted, so far, two or three more students for [spring] semester than I typically would, and the interest has been growing for a while."
He believes that interest is fueled by the financial benefits that often accompany an MBA. "It's not uncommon, for example, for an MBA graduate from a prestigious school to not only get a pretty good initial salary, but also a cash hiring bonus of several thousand dollars."
The VSU on-campus MBA program is relatively small, which may be part of its allure. "The last two years we've been graduating four or five and admitting five or six," Schnake says. "This spring already I've admitted nine."
He expects that number to grow slightly before the spring classes begin. VSU is part of a consortium of five universities that offers online MBA courses, with slightly varying admissions standards. "A student admitted to Valdosta State will take 10 courses and two or three of those will be taught by VSU faculty … the rest will [be taught by] faculty of the other schools," Schnake says. Online and on-campus MBA studies are the norm for most programs – others are far more exotic.
Georgia State University (GSU) offers three MBA opportunities for working professionals, with widely varying standards for admissions beyond an undergraduate degree. "The flexible program requires a couple of years' experience, and offers classes Monday through Thursday in the evenings, and they can take up to five years to complete courses," says Jane Mutchler.
"For the Professional MBA program, they have to have at least four years of [workplace] experience. These are for rising professionals in the business world," she adds. Professional MBA candidates have two years in which to complete the coursework, which GSU offers at four sites around Atlanta.
"The Executive MBA program attracts people who are pretty close to the executive suite and some who are in the executive suite," Mutchler says. "They have at least seven years' experience, and that's an every other Friday and Saturday program lasting 17 months."
The most challenging of GSU's MBA offerings is its Global Partners program, also lasting 17 months. "First of all, it's a fulltime program in that they [students] are not working," Mutchler says. "Secondly, they get a certificate from the Sorbonne in Paris; they spend time in Rio [de Janeiro]. They spend time in China, and they spend time in Washington, DC. And each student must be proficient in a second language."
The Global Partners MBA program arose, Mutchler says, as a response to the growth of international trade. Some 25 students are accepted for Global Partners, which begins classes each October and is now in its third year. As might be expected, the student body is diverse. "They are from around the world and around the U.S.," Mutchler says.
Further evidence of interest in MBA programs with a foreign accent comes from Sheb True, associate dean of graduate business and executive programs at Kennesaw State University (KSU). "We have a joint program in our executive MBA program with ASEBUSS [Institute for Business and Public Administration] in Bucharest, Romania, which has the largest MBA program in southeastern Europe," he says. "In the last two years, we've had two of our largest classes, as well as our largest pools of applicants."
KSU's joint MBA program is taught in English and its students spend September to April studying in Bucha-rest. They then welcome foreign students to the KSU campus to complete joint projects begun the previous fall. The cost of the nine-month course is $46,000.
True says other, more traditional executive MBA programs at KSU are growing as well, perhaps due in part to the willingness of Atlanta area companies to share in the cost for the degree upgrade. "For some [students], their companies are paying for all of it, or they're using their tuition reimbursement from their organizations, and some of them are paying for it themselves."
Candidates in local MBA programs hail from widely varying professions. "We have a lot more nonbusiness [degree] applicants that find themselves needing those business skills in their career," True says. "But in addition, those people who already had a business background are looking to complement it by learning the latest methods and techniques that can update their knowledge."
A typical evening course MBA program at KSU will have 45 students averaging 34 years of age; they usually complete their studies in about 18 months.
Starting Small
With only 1,050 students, tiny Reinhardt College may be the smallest campus in Georgia to offer an MBA degree, a fact the school's president, Thomas Isherwood, sees as a huge asset. "Each student is in classes with 10 or 12 other students, and each MBA student has a mentor," he says, [who] gives them advice and counsel on how to build themselves to be most ready for the career they hope for when they complete their MBA."
Reinhardt's MBA program runs 19 months; its first degrees will be awarded this spring at ceremonies on the Cherokee County Campus in Waleska, about 45 minutes north of Atlanta.
Reinhardt is a private school founded in 1883 as a United Methodist Church institution. Even with the 39 degree programs available today, it seemed an unlikely candidate for MBA studies as its first graduate program. But Isherwood cites demand from its principal service area, which covers a 25-mile radius from the campus, and support from its particularly loyal 10,000 alumni as catalysts.
The trick was to come up with an approach to offering an MBA program that would attract the students necessary to sustain it.
When the college began to consider offering MBAs some four years ago, planners focused on providing a different kind of learning experience. "Our MBA program … has all of the typical elements of an MBA program from the standpoint of the content areas," Isherwood says. "But from those content areas people pick a particular industry or service that they are most interested in, and then they study those issues of management, marketing, human relations, finance and all those content areas from the perspective of that industry or that business. Students develop a personal and professional development plan that basically is a plan for what they're going to do for the first five years after they get their MBA."
To see if its concept is working, the school plans to track its first MBAs closely for the next five years, using surveys to fine tune the program, if needed, Isherwood says.
Ed Davis is doing some tracking of his own in an attempt to revive an MBA program that once was robust, but has seen its admissions declining lately. Davis is interim head of the MBA program at the private Clark Atlanta University (CAU), a historically black campus that once was a magnet for MBA candidates.
"Prior to about 1990, I would say probably one-fourth of all the black MBAs in the world were graduates of Atlanta University," Davis says. "Prior to 2000 we would have about 60 MBAs in a class, and sometimes we'd have up to 80. Now we're down to about 35 in a class. In the last three or four years, we've seen a decline in the number of people who actually enrolled in our program, but we have not seen that much of a decline in the number of applications."
The problem, Davis says, is a common one. "We're asking people to commit to two years that's going to run them roughly $60,000 to get this MBA. Although that's much less expensive than most private MBA programs, to our population that's still a good chunk of money."
Still, CAU MBAs are in demand, particularly among Atlanta's business community. "Most of our MBAs are marketing majors," Davis says. "And the consumer packaged goods companies and the banking sector have been prominent [recruiters] here."
Clark Atlanta began evening and weekend MBA classes nine years ago; those classes routinely hold about 25 students.
A sampling of MBA Programs In Georgia
Albany State University
asurams.edu/cob/degrees.php
Augusta State University
www.aug.edu/coba_mba/Welcome.html
Berry College
www.berry.edu/academics/campbell
Brenau University
www.online.brenau.edu
Clark Atlanta University
www.sbus.cau.edu/Working_professionals.php
Clayton State University
www.business.clayton.edu/MBA
Columbus State University
mba.colstate.edu
Emory University
www.goizueta.emory.edu/degree/eveningmba
Georgia College & State University
www.gcsu.edu/business/graduateprograms
Georgia Institute of Technology
www.mgt.gatech.edu/exec_ed/gemba.html
Georgia Southern University
coba.georgiasouthern.edu/mba/webmba.htm
Georgia Southwestern State University
www.business.gsw.edu/busa/mba/gradadm.htm
Georgia State University
www.robinson.gsu.edu
Kennesaw State University
coles.kennesaw.edu/mba-options
Mercer University
www2.mercer.edu/Business/Academic_Programs/MBA_Atlanta.htm
Piedmont College
www.piedmont.edu/mba/index.html
Reinhardt College
www.reinhardt.edu/working_adults/Graduate/ MBA/index.html
Shorter College
www.shorter.edu/pro_studies/degrees.htm#mba
Southern Polytechnic State University
www.spsu.edu/business/webx/mbax.htm
University of Georgia
www.terry.uga.edu/mba/programs/two_year
University of West Georgia
www.westga.edu/~busn/mba.htm
Valdosta State University
www.valdosta.edu/lcoba/grad/mba.shtml