The Next Atlantic Port
A partnership agreement between two governors is smoothing the way for a new facility on South Carolina land owned by Georgia. It could be built in the next eight years – with an initial economic impact of $2.3 billion.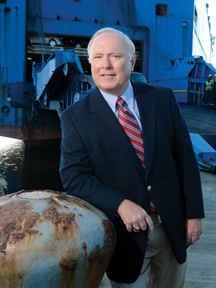 Viewed from atop the 50-foot-tall earthen dike that surrounds a reservoir on the South Carolina side of the Savannah River, the topography ranges from marshy and swampy to pitted stretches of sand resembling a moonscape. With darkening storm clouds gathering on the eastern horizon above the Atlantic Ocean, this sad landscape across the river from the city of Savannah is bathed in a gunmetal blue melancholy.
In a way, this huge reservoir is a dump, holding dirt dredged from the bottom of the river, a constant necessity if the river is to stay deep enough to accommodate the giant ships that use it as their entryway to the Port of Savannah at Garden City, 15 miles upstream. The men on a work crew at the reservoir say they have found shark's teeth the size of saucers in these dregs. There are alligators here, some deer and birds that sit patiently in the trees along the river's edge waiting for a meal to swim by.
In all, there seems little here to recommend this place for any particular purpose. Yet, like the birds, there are investors waiting patiently to spread perhaps billions of dollars across this landscape that sits in South Carolina but is owned by Georgia – and is dearly coveted by both. If leaders of the two states can remain committed to an agreement they entered into last summer for the next eight years or so, this 1,518 acres in Jasper County, SC, will begin to take shape as the next American port on the Atlantic Ocean. Early reports indicate the new port could mean as much as $2.3 billion in initial economic impact to the region.
Jasper County is one of South Carolina's poorest political subdivisions. Its leaders first got a hint of the promise of unimaginable prosperity eight years ago when a private shipping company offered up a $500 million commitment to build a cargo terminal on the Savannah River at the site now jointly managed by Georgia and South Carolina. But first South Carolina would have to get the land back from Georgia. Back-and-forth legal wrangling followed the half-billion dollar commitment until the two states realized they could come to terms as partners and share the bounty the port promised.
The Partnership
Retired Atlanta businessman Jim Balloun, former CEO of Acuity Brands, served as chairman of the board of directors of the Jasper Ocean Terminal (JOT) Joint Project Office, the nuts-and-bolts managing arm of the two-state partnership formed to build the port. Balloun, who this month gave up his chairmanship to South Carolina's Bill Bethea, as part of a rotating leadership agreement, helped draft the interstate partnership agreement after Georgia and South Carolina had for years traded lawsuits over ownership rights to the port site. What leaders of both states could finally agree on is that each of them needed more port capacity in the coming years.
"We have learned that [sea-borne] container traffic in this country has grown at about twice the rate of the gross domestic product over the last 20 or 30 years," Balloun says. "And that's expected to continue over the next 20 or 30 years. The Southeast will grow even faster than the rest of the country."
To underscore his point that Georgia and South Carolina will need the new port, Balloun points to several factors promising cargo growth, including congestion in West Coast ports and on the rail lines leading from them into the American interior, the historic route of Asian products. "And the Panama Canal is being enlarged to accommodate the so-called post-Panamax ships that will go down to a potential 50-foot draft and carry as many as 12,000 twenty-foot equivalent units (TEUs), compared to today's 4,000." TEUs are the containers that hold cargo.
In addition, Balloun says, Asian cargo traffic is shifting from Japan and Taiwan down to Southeast Asia and eventually India, using the Suez Canal to reach the United States and promising more traffic for the Ports of Savannah and Charleston. "The combination of Charleston and Savannah is about 4.5 million twenty-foot equivalent containers now," Balloun says. "And by the year 2024 we expect that to be up to 13 million, or three times as much."
Look beyond that to 2032, says Balloun, "and we expect there to be an unmet demand for another 10 million twenty-foot equivalent containers, so our Savannah harbor could be bringing in 15 million containers per year as you go out 15, 20, 25 years from now, and that's what we're getting ready for."
The two states agreed to a price of $5,000 an acre for the South Carolina land owned by Georgia's Department of Transportation (DOT). Balloun says if all goes well, construction of the new port could be completed within eight years or so, an opening date just after traffic begins through the new and improved Panama Canal on its 100th anniversary in 2014. If all this unfolds, the two states' joint ownership could prove to be an important source of revenue for both in an enterprise that cost little.
"Aside from the capital from the two port authorities, there really is no public money being spent by either state right now," Balloun says. "There were lawsuits being exchanged between the two states and Governor [Mark] Sanford and Governor [Sonny] Perdue got together and basically said, 'This is silly. Why don't we build a port together?' Since then, we've been told in no uncertain terms by the regulatory agencies that that was a good decision because there's no way this port could be built by either Georgia or South Carolina alone."
Balloun says private capital will build the port, and "it will be a very profitable port."
Still, there are hurdles to overcome.
"The first thing that is fundamentally required for that port to ever exist will be for the proposed deepening of the channel to be successfully completed at 48 feet," says Stephen Green, chairman of the Georgia Ports Authority (GPA), and a member of the JOT Governing Board. "If you don't have sufficient water depth there to serve the ships of the future, then you'd never be able to secure state or private funding to build a facility. We believe the science and the economics will support the deepening of the Savannah River."
(Plans to deepen the riverbed from the Port of Savannah to the Augusta area have been delayed for at least a year as the U.S. Army Corps of Engineers continues to study the environmental impact of that dredging. But that study should have no impact on plans to deepen that portion of the river from the sea to the Port of Savannah, according to Corps officials.)
In a sense, South Carolina began preparing for its partnership with Georgia 275 years ago when South Carolina government officials welcomed Savannah founder James Oglethorpe on his landing at "Charlestown." The Palmetto State's General Assembly voted to provide him with a military escort, labor, and " … twenty barrels of rice and one hundred head of cattle, besides hogs … ," according to a historical account. In addition, South Carolinians helped Oglethorpe lay out the squares and streets for what became Savannah.
Not all present-day Savannahians are convinced those early gestures were grounded in friendship. "I think you will find that South Carolina so welcomed Oglethorpe and provided all those provisions to him and his party because South Carolina folks wanted somebody between them and the Indians," says State Senator Eric Johnson (R-Savannah), an early proponent of the Jasper port partnership. "That warm welcome was in South Carolina's best interest then, and so is this port now."
Slow Going
It is late afternoon on Georgia Highway 307 leading from the Port of Savannah at Garden City to Interstates 95 and 16, and the traffic jam there rivals anything Atlanta has to offer. Huge semis loaded with TEU containers holding cargo bound for the port, or leaving it, are bumper-to-bumper in all lanes of the four-lane road. Any auto commuter has the feeling of sitting in a canyon rimmed with sheets of steel – an unnerving, claustrophobic effect – and a daily reminder of the growing congestion at this busy port. The traffic stalemate could be caused by a train on the rail line crossing the road, or by the sheer volume of the big tractor-trailer rigs that sit jugging and waiting. It's hard to tell.
The bottlenecks at the port's entrance are daily evidence of the improvements that must be made if the Port of Savannah is to continue logging record years for the cargo that provided 286,476 jobs and $55.8 billion in revenues across the state in FY 2007-08, says Doug Marchand, executive director of the Georgia Ports Authority. "Each of the containers on those trucks is on a race against time," Marchand says. "And for those with an interest in those containers, either shipping or receiving, time is money. For them, the congestion you described is costly."
To relieve the traffic tie-ups, the GPA is working with the Georgia Department of Transportation on a plan Marchand calls "Last Mile Projects," road improvements that will keep cargo moving smoothly to and from ships. "One of those projects is the Highway 307 overpass that will expand the rail that goes in and out of one of our intermodal container transfer points, which is a fancy name for a rail yard," says Marchand, who estimates the several improvements will cost about $140 million.
The critical improvement for relieving the vehicle congestion at the port is construction of the highway overpass, which will cost some $14.5 million to build; it was supposed to begin this year but has been delayed by state budgetary constraints. Best estimates by the DOT call for that project to start in the last half of 2009, with a completion time of about 18 months.
Marchand is also firmly committed to deepening the river to accommodate the post-Panamax ships whose keels will go to that depth and be able to use the Panama Canal after 2014. He calls it the most pressing need for the Savannah port's continued prosperity.
"In the past, trade with Asia through the Panama Canal has been constrained to a 39.5-foot depth," Marchand says. "We have 18 weekly services today from ships from Asia that come through the Panama Canal to the East Coast and call on Savannah. After 2014, the folks that are in these trades will be putting larger ships out. We must be ready with our deeper water project to take the deeper ships."
Marchand says studies done by the GPA have shown the deepening can begin. "We feel like after 12 years and $36 million in studies, there have been no show-stoppers identified, and we feel like we'll be approved to go to 48 feet of water."
The deepening project should be completed by 2013, Marchand says, just in time to take the larger and deeper ships that will be able to use the Panama Canal a year later.
Brunswick Activity
Anyone needing evidence of the value of an overpass and its attendant improvement in the movement of cargo on roads and rails need only travel the 76 miles down I-95 South to the Port of Brunswick, where a recently completed overpass on busy U.S. Highway 17 has opened up 900 additional acres for the preparation and storage of exported and imported automobiles. Three new auto processors have moved onto the port's land made accessible by the overpass, and another has expanded its Brunswick operations.
Mercedes-Benz has been using the Port of Brunswick for exporting autos manufactured in Alabama, says Bill Dawson, general manager of the Brunswick port. "But once that overpass was completed, Mercedes made the commitment to us to build their [imported] vehicle preparation center in Brunswick," he says. "So that transportation improvement opened up a whole new opportunity for further port development."
Improved rail lines and storage facilities at Brunswick are being credited with the FY2007-08 record in the movement of agricultural commodities totaling 1.6 million tons, up 29.4 percent from FY2006-07's tonnage. Dawson believes farm product traffic through Brunswick will continue to increase due to the presence of Bunge North America, a giant agribusiness and food company that began the year by signing a cargo-handling agreement with the port for all its agricultural products.
"This is good news for Georgia farmers," Dawson says. "Because once you have a company like Bunge establish themselves in the market, then the farmer has some confidence that there will be an outlet for his products and you'll see more farmers growing the products that we export here."