Southwest Georgia: Creative Efforts
Building a new economy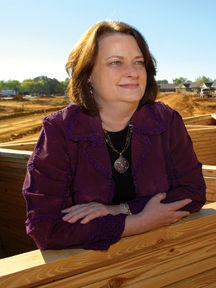 On more than a few occasions in modern times the people of southwest Georgia have resorted to prayer to bring rain for thirsty crops or provide other forms of relief for their economic woes. But those were times when almost every dollar earned came from the fields of cotton, peanuts, tobacco and other row crops that sustained this region since it was first settled centuries ago.
Today, local economies derive some degree of stability from the presence of military installations, colleges and universities and growing healthcare facilities. In fact, while the national economy was swooning earlier this year, southwest Georgia seemed to be enjoying the fruits of a few almost whimsical economic development experiments.
Last summer Ruth Paul was sharing a limo with some Hollywood types on a ride from the Tallahassee, Fla., airport to their weekend lodgings in southwest Georgia when she and her fellow passengers were suddenly transported into unfamiliar territory.
"We were all stunned by the landscape of forests and fields and the streams and lakes," recalls Paul, a Miami-based business representative for the Screen Actors Guild, who was on her way to the Third Annual Jokara-Micheaux Film Festival in Blakely and Colquitt. "Then somebody said, 'Where are all the buildings?' And I was thinking all the time what an asset these beautiful natural resources are for filmmaking."
Others have been drawn to that conclusion as well. "Right now we have about six films in various stages of production," says Southwest Georgia Film Commissioner Ralph Wilcox. "And I have two location scouts coming in from Los Angeles."
Just down the road in Early County, a one-week shoot in June for the movie Dismal generated $70,000 in local income. A new film company, Freezer Locker Films, LLC, moved into its facility in – surprise – an unused freezer locker in Blakely. Freezer Locker joins a growing number of motion picture businesses in the town, including wardrobe and production companies and homemade lodgings for casts and crews during location shoots.
Most exciting to local economic developers was the announcement of the Blakely Industrial Development Park as a site for 2 Kings Petroleum, LLC, a bio-fuel and -energy plant that is expected to produce a total capital investment of $25 million when its three-phase construction is completed within the next four years.
2 Kings is a subsidiary of Phoenix Petroleum, a United Arab Emirates company, but the Early County plant will be American-managed, local officials say. The Blakely site will produce fuels from chicken fat, a plentiful commodity thanks to the large number of poultry houses in the region. Corporate execs "like to be able to come in on their jets and our 5,500-foot runway at the airport is just a quarter of a mile away," says Lisa Collins, director of economic development for Early County 2055, a 50-year economic development plan endowed by Atlanta's Barton and Catherine Rice Foundation. "And we have three rail lines that run through our industrial park. We are working on a small rail spur to accommodate them." The company will employ 435 people when fully operational.
Like many of Georgia's poor small rural counties, Early has had difficulty snaring and keeping teachers, nurses and other higher income professionals, due in large part to the absence of adequate housing. That obstacle is being removed by a unique housing development now under construction.
"[The Rice Foundation] bought 20 acres of land and gave it to Hammond Development Inc., an Atlanta firm," Collins says. "But there is an agreement that Hammond will provide amenities like a soccer field and greenspace on another donated 10-acre parcel."
The project, called Blakely Commons, is to be a 64-home neighborhood built at a cost of $10 million. The rent-to-own development is specifically designed to make homes available across a spectrum of the workforce and dwellings will be priced in the $85,000 to $100,000 range. Funding will come from private sources and an acronymic soup of federal and state agencies offering grants and loans.
Valdosta's most pressing housing problem may have been finding lodging for the more than 1,700 workers who found jobs there over the past two years thanks to the arrival of auto parts manufacturer Steeda Autosports, two distribution centers, an aircraft production line, a $42 million bakery and numerous other new businesses and industries. So robust was the Valdosta/Lowndes County economy that USA Today ranked the Metropolitan Statistical Area as one of 12 across the nation that was "recession-proof," a label local boosters quickly embraced.
"I think our success, especially during these difficult economic times, has been due to the rich diversity of our industrial base and our workforce, and our unrelenting recruitment efforts," says Brad Lofton, executive director of the Valdosta-Lowndes County Industrial Authority.   
Making Opportunities
In sparsely populated Baker County (pop. 4,098), three towers armed with sensitive instruments rise to 110 feet above the forest floors of the 22,000-plus-acre Joseph W. Jones Ecological Research Center at Ichauway, the former hunting plantation of Coca-Cola baron Robert W. Woodruff. The towers monitor carbon dioxide and water vapor and their movements through and above the stately pines and ancient oaks. This seemingly routine research could have profound implications for owners of Georgia's 24 million acres of timberland.
"This [monitoring] will give us a much clearer idea of the rate the forest is growing and storing carbon, as well as the rate [at] which the soil is storing carbon, as in carbon sequestration," says Lindsay Boring, director of the Jones Research Center. "We are approaching a period of time where the United States may, next year, enter into agreements to cap and trade credits on greenhouse gas emissions. This could be a situation where private landowners might actually be paid for the carbon sequestration of their forests."
Boring says such a practice is commonly used by industries in Europe and Asia. The idea is much like the wetlands mitigation programs now in widespread use in America. The research is the result of a partnership with the University of Alabama, which is funding the study.
The Jones Research Center is a small example of how science and post-secondary institutions provide critical stability to the economies of this corner of Georgia, an area routinely ranked among the nation's poorest congressional districts. In addition to providing 100 relatively safe jobs with a yearly payroll of $4 million to residents of six surrounding counties, the center purchases some $4 million in goods and services annually.
"And we are the number one property taxpayer in Baker county, paying some $325,000 a year," Boring says. "Altogether, this is equivalent to having a small college-level research and education campus in Baker County."
Thirty miles up the road in Dough-erty County, the 3,600-acre Marine Corps Logistics Base (MCLB), Albany is generating just under $600 million a year in economic benefits to the region, and its key position in supporting Marine missions in the Mideast and along the Pacific Rim seems to imply a degree of permanence.
"I think the proof of MCLB's value to the local economy is in the numbers," says Andrea Schruijer, vice president of the Albany-Dougherty Economic Development Commission (EDC). "During the recent national economic downturn, of Georgia's 14 Metropolitan Statistical Areas, Albany's MSA had the fourth lowest job loss, percentage-wise. We can credit MCLB jobs for helping to keep those numbers in line."
Schruijer points to the more than $207 million combined local economic impact of Albany State University and Darton College. In addition, Albany Technical College's annual economic impact was measured at more than $64 million in a recent study conducted by Georgia Southwestern State University in Americus.
"If you will look at where there is a unit of the university system in Georgia, you'll find a bit more stability in terms of a workforce," says Dr. Jeff Gibbs, chair of the business division of Tifton's Abraham Baldwin Agricultural College (ABAC). "These institutions are economic assets that simply can't be duplicated."
A recently completed study commissioned by the Board of Regents of the University System of Georgia showed that ABAC had a regional economic impact in 2007 of more than $237 million, a figure that has more than doubled since 2001, according to the report. "But the presence of such an institution is about more than money," Gibbs says. "It's also about the quality of life, and other benefits that are not readily measurable. I think the classic example they tell in north Georgia is they decided at first to put the University of Georgia in Watkinsville, but then put it in Athens. Look at the difference now between Watkinsville and Athens."
Another Albany economic powerhouse is making its presence felt in the region. The southwest Georgia healthcare community breathed a sigh of relief when reports surfaced in late fall that Phoebe Putney Memorial Hospital would embark on a joint venture to help rebuild Sumter Regional Hospital in Americus, which was ravaged by tornadoes in March 2007. At press time the parties were involved in due diligence.
Since the Franklin Roosevelt administration, the region's chronic high poverty rate has attracted federal and state programs to create jobs. One in particular has worked, but is facing the threat of extinction in 2009 as its federally mandated life span comes to an end. Created during the Clinton Administration, Empowerment Zones (EZs) are areas that offer special tax credits and other incentives to generate jobs in the nation's poorer regions. The Crisp-Dooly EZ, created in 1999 to cover parts of those two Georgia counties that lie along Interstate 75 on the eastern edge of southwest Georgia, is one of only six rural EZs in the nation.
In nearly a decade, this EZ has reduced poverty in Crisp County by 15 percent, according Census Bureau data provided by Robert Cooke, executive director of Southwest Georgia United, the managing agency for the Crisp-Dooly EZ. "In its 10-year life, the EZ has attracted 1,600 jobs and business investments of $316 million," Cooke says. "The big deal about the end of the designation is the loss of the Empowerment Zone employment tax credits. Currently, any business that locates in our EZ in Crisp and Dooly counties gets a $3,000 per employee per year direct federal tax credit, and that goes directly to the bottom line. So a business with 100 employees gets $300,000 a year."
A national movement is under way to extend the Empowerment Zones' lifespans – and that of their tax credits. The program is set to end Dec. 31, 2009.
Of Roads And Rivers
For Thomasville's Don Sims, the fact that an interstate runs through Crisp and Dooly Counties is of particular interest, given the fact that there are serious ongoing discussions about putting one of those four-laners through his community, an idea he opposes. "First of all, our access to interstates is already terrific," says Sims, president of the Thomasville-Thomas County Chamber of Commerce. "We have six four-lane highways coming through our city and connecting us to I-10 and to I-75, both about 40 miles away."
The Southwest Georgia Interstate idea, born in Albany, is to take I-185 in Columbus and extend it through Albany and Thomasville, connecting with I-10 around Tallahassee. The Georgia Department of Transportation (DOT) has begun public hearings on the matter in 34 counties in the region and has found strong resistance in some quarters.
"If they ran it through here, through our scenic landscape and our wooded areas, they would have to fence in on both sides of the highway and cut off our wildlife's ability to go through 300,000 acres of plantation land," Sims says. "And that's not something we want. If the idea is to build it for economic reasons, then people should look up and down I-75 and they will see it is not an automatic guarantee of economic success."
Sims cites high unemployment and poverty rates in southwest Georgia counties along I-75, including Crisp and Dooly, which have enjoyed the presence of Interstate 75 for decades. "We are not on an interstate and we are below the national and state unemployment rates," he says. Macon has two interstates, he notes, but its unemployment rate is higher than Thomasville's. "Quality of life will trump an interstate every time."
Charles Gillespie, chair of the Albany chamber's transportation committee, is for the Columbus to Tallahassee interstate extension, but feels the economy will keep the idea on hold. "There is a $456 million deficit on what the DOT has available for projects they have already undertaken," he says. "If that's the case, you and I will never ride that highway. Still, we have seen the economic effects of interstates in north Georgia, so I believe the thing would improve the economies of our region."
Meanwhile, Sumter County resident Paul DeLoach is worried about the quality of the Flint River, which begins just south of Atlanta's Hartsfield-Jackson Airport and flows west to join the Chattahoochee, which becomes the Apalachicola before emptying into the Gulf of Mexico.
DeLoach is part of a group that met last summer to form the Flint Riverkeeper, an organization dedicated to preserving the river and to preventing what he calls "a water grab" by the city of Atlanta, an issue of growing concern in southwest Georgia. He says a recently released water plan for Atlanta and its metro area revealed a disturbing use of the Flint.
"Included in that plan was a proposal for two dams on the main stem of the Flint River and on one tributary," DeLoach says. "We took the numbers from [Atlanta's] experts, and it is well-documented that there is 84 million gallons of water a day that Atlanta wastes through the lack of conservation efforts."
DeLoach says his group is demanding Atlanta be a better steward of its resources before looking south for more water. The Flint Riverkeeper will fight efforts to build any more dams across the river, he says. "When upstreamers want water, they generally place dams on rivers then put a straw in it and suck it back upstream," DeLoach says. "They forget about all the economic development that doesn't happen downstream."
SOUTHWEST GEORGIA
At-A-Glance
Population
(2007 Estimate)
Georgia, 9.5 million
Baker County, 3,781
Dougherty County, 95,693
Early County, 11,836
Lowndes County, 101,790
Miller County, 6,163
Unemployment
(September 2008)
Georgia, 6.6 percent
Baker County, 7.0 percent
Dougherty County, 7.7 percent
Early County, 7.8 percent
Lowndes County, 6.2 percent
Miller County, 4.8 percent
Per Capita Income
(2006)
Georgia, $32,095
Baker County, $21,164
Dougherty County, $26,349
Early County, $26,062
Lowndes County, $26,037
Miller County, $25,464
Sources
U.S. Census Bureau, Georgia Department of Labor, U.S. Bureau of Economic Analysis