Screven County: Right Place, Right Time
A new road promises prosperity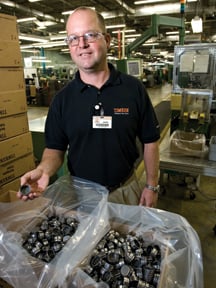 Sylvania is one of those small Georgia towns (pop. 2,541) where everybody knows your name, and if they don't they soon will – and they'll know the name of everyone in your family, your history, your likes and dislikes; and if you're not careful you'll soon end up on the city council.
Just ask Ben Smith. When the Kansas State University professor and authority on geography happened to travel through Sylvania in 1999 he says he saw "a little town that looked like it needed a little bit of sprucing up."
Even local boosters admit Smith's observation was kind. Still, Ben and wife, Sylvia, were drawn to the town's friendly people; he was a lifetime handyman, and they were looking for a place to retire.
"We decided we did not want to move back into a big city nor into a university town," Smith says. "We lived in the professors' ghetto in Kansas, and as you get older it's less easy to enjoy some of the antics of college-aged kids."
And so the Smiths settled in Sylvania in 2002. Since then, Smith has purchased six buildings and rehabbed 30,000 square feet of downtown retail and office space. He plans to put condominiums in the central business district as soon as the real estate market warrants it. For Smith, who, before retiring, was an editor of geography books and an executive for the Geographic Alliance, an organization supported by the National Geographic Society, it's all about geography.
"Geographically, this is a well-situated little community," he says. "Syl-vania is physically located in such a way that you have pretty easy access to airports. It's on the Savannah River Parkway. It's an hour from Savannah and it's an hour from Augusta."
Smith's warm embrace of his new community and his cash investments in the city's future were endorsed by the locals: He was elected to the city council in 2006.
"Ben Smith really cares about his property and the look of the downtown," says Hilda Boykin, manager of Sylvania's Better Hometown program. "He is an important part of the rejuvenation of downtown and a perfect example of how downtown improvements are more than a point of local pride: they are solid economic development events that bring cash into the community. Almost every building on Main Street has been upgraded and is occupied."
When the town launched a downtown façade improvement effort called Preservation Sylvania, matching grants were funded by the sale of homemade cookbooks and calendars. "I know that is a bit old-fashioned," says Mayor Margaret Evans. "But we are a small town and things like that still work. And that's also just another way we stay in touch with one another."
Through The Grapevine
Ben Smith isn't the first transplant to find promise in Sylvania and Screven County. Jim Shannon and his father, James Shannon, Sr., came to the county from South Carolina in 1990 and began planting muscadine grapes "on 10 or 15 acres."
"By 1993 we realized it was an up and coming business," the younger Shannon says. "There is a very strong interest in this fruit, especially because of its potent health values; it has high levels of antioxidants."
Today, Shannon Vineyards grows 200 acres of muscadines on two Screven County farms that total 700 acres. Their vines supply fresh table grapes to 2,900 chain stores owned by Walmart, Publix, Bi-Lo and Kroger.
This fall, the Vineyards opened a winery with six labels, part of the company's growing diversity.
"We have muscadine cider already, and we hope to have a sparkling juice product in the next six months," Shannon says. "And there is a lot of byproduct from the pressing of the juice that will appeal to the health food manufacturers and we hope to get involved with that in the next year or so."
To keep the bottom line as healthy as his products, Shannon is changing his harvesting methods. "We are going through a mechanization process right now," he says. "And that has allowed us to cut our labor force this year from as many as 150 harvesters down to about 20 or 30 employees."
There is a rising demand for muscadine products in new regions of the country. "We send grapes every week into Pennsylvania, Virginia, Maryland and New York," he says. "The taste for muscadines in the Mid-Atlantic States is really growing."
The products from David Burke's Screven County manufacturing facility are shipped to more far-flung regions, such as China, India and the ports of Europe. Burke, plant manager for Timken US Corp., oversees production of the needle bearings used in a wide range of industry, from automotive transmissions and steering assemblies to copier machines and paper towel dispensers, the kind of market mix that hedges downturns in just about any sector.
"We have a lot of diversity and that is a good thing for us, especially during times like this when automotive is taking a kicking," says Burke, a 15-year Timken veteran. "Right now our industrial and distribution [sectors] are holding on pretty good."
In 2009, Timken will celebrate its 35th year in Screven County, a long and successful ride due as much to people as to the steel that goes into its products. "Our average period of service for our associates is well above 20 years, and our turnover rate is less than one percent," Burke says. "People who make a decision to work here usually make a career out of it, and that is a good thing for us. We have the kind of machinery that takes a lot of skill to operate, and the low turnover rate keeps them humming and that saves us a lot from a training standpoint."
On a much smaller scale, boatmakers Al Freeland and his neighbor, John Mills IV, have found success with their handmade "Geechee boats," named after the flat-bottomed craft indigenous to the northeast Georgia area around the Ogeechee River and another waterway, Briar Creek.
The original Geechee boats were developed in the 1920s as two-man fishing vessels with flat bottoms and narrow sterns, Freeland says. For Freeland and Mills, the boats they build represent the confluence of history, art, sport and commerce. These boats are designed to drift downstream, steered by the person in the rear, Freeland says, "while the guy in the front would pitch [his line] redbreast fishing." The boat's flat bottom helped negotiate stretches of the Ogeechee and Briar Creek crowded with fallen timber, trees and other vegetation.
Freeland and Mills sell their boats for about $750 each, and they sell every one they make – about 20 in the last five years. It may not be the kind of productivity that turns entrepreneurs into moguls, but it's just fine with these two. The low production is part of a crafty non-word-of-mouth marketing plan.
"I try not to let anybody know I build them because I'm afraid I'd have to go back to work, and that is a horrifying thought," says Freeland, a retired school administrator and teacher who holds a PhD in education.
Road To The Future
Alex Lee can remember when one of his father's duties as a Sylvania policeman was to direct tourists to the spare bedrooms and even the sofas of the community. "He worked the nightshift and he helped tourists find a place to stay when all the hotels and motels were filled up," recalls Lee, a pharmacist and local historian. "They kept a list of all the homes that had a room to let for tourists. We had a real heavy concentration of bed and breakfasts in those days."
"Those days" marked the period beginning just after World War II when U.S. Highway 301 opened and connected the Northeast to Florida, passing right through downtown Sylvania. "That was the main trail to Florida and you had a big influx of people coming in," Lee says. "Suddenly you had a big surge of economic development, with hotels and motels and restaurants, as well as souvenir shops, springing up."
It was the golden age for Screven County and its seat, Sylvania. The monuments to that time of prosperity can be found today in the 1950s architecture of the motels sitting alongside the U.S. 301 corridor leading in and out of town.
It may be a longing for the prosperous times of the 1950s created by U.S. Highway 301 that has leaders here looking forward to the completion next year of the Savannah River Parkway (SRP), a 156-mile four-lane highway connecting Augusta to Savannah and passing through Screven County.
"I'm old enough to remember when 301 was a viable highway," says Stan Sheppard, chairman of the Screven County Commission. "And it created a lot of jobs along the way and it brought a lot of industry to Screven County that would not have come otherwise. We've lost some of that, but we feel like we're well positioned now with this new highway to attract some of that business back – and we're gearing up for expansion."
The SRP already has generated more local investment, says Gayle Boykin, director of the Screven County Industrial Development Authority. "We already have site preparation underway for a new motel. And I think our easier access to Savannah and its port will make our location attractive to the logistics industry."
Chamber of Commerce Executive Director Heidi Jeffers sees the four-lane as an inviting portal to Screven County. "The scenery along that drive is wild and beautiful," she says. "And we can offer the pristine 15,000 acres of the Tuckahoe Wildlife Management Area for lovers of the outdoors, as well as our historic downtown, now almost fully restored and alive with business and attractions for art lovers."
Small counties like Screven (pop. 15,190) have to be resourceful, and are often forced by economic conditions to be far more innovative than their larger counterparts. That's the local government lesson County Manager Rick Jordan is outlining as he sits in his office holding a fist-size block of dark material he describes as "open grade cold mix." It's something he also describes as "amazing," noting that it can be used to pave roads at a cost about one-third that of asphalt.
"So this was a no-brainer for poor people like us," he says, pointing to the cold mix. "We started our first road using this product four years ago. It hadn't been used in Georgia; we were the first."
Screven's leaders were looking for a less expensive way to pave a dirt road – the county has 300 miles of them. They heard from a local citizen who had read an article about a new substance being used in Florida. Jordan and a group of county officials hopped a plane to Pensacola for a look-see. "They took us on a tour of about 25 or 30 miles of roads made of this stuff right here," Jordan says, pointing to the dark block of cold mix. "We rode some 10-year-old roads and some roads that were less than a year old, and you couldn't tell the difference in them."
Impressed with the material's ease of application and its durability, Screven County hired the Florida company to pave a short stretch of dirt road. "You can't find in a book why it works because you put it down right on top of a dirt road and it stays there," Jordan says. "And it's permeable; water goes right through it. Ride behind another car on this stuff when it's raining and you see no splashing or ponding. This stuff defies all engineering standards."
Most impressive, Jordan says, is the cost. "The last road we did with hot mix (asphalt) by DOT standards we probably spent about $315,000 a mile," he says. "That's everything: environmental, wetland mitigation, surveys, engineering, all of it. The cold mix cost about $12,000 a mile. Our lowest cost, two years ago, was when we resurfaced some paved roads that were breaking up was, I think, $92,000 a mile.
Jordan says the roads will last at least 15 years before repairs might be needed. While Screven County was spreading the pavement, Jordan was spreading the word about cold mix. So far, he says, about 15 Georgia counties have sent representatives to look at the roads paved with cold mix, and officials of the Florida company, Florida Highway Products, say they are in negotiations with several Georgia governments.
Screven County At-A-Glance
Population
(2006)
Screven County, 15,190; Sylvania (county seat), 2,541; Hilltonia, 396; Newington, 323; Oliver, 240; Rocky Ford, 182
Unemployment
(August 2008)
Screven County, 8.5 percent; Georgia, 6.4 percent
Per Capita Income
(2005)
Screven County, $21,219; Georgia, $30,914
Top Five Employers
Timken U.S. Corp., 540; Sylvania Yarn Systems, 240; King America, 180; Savannah River Challenge, 145; Screven County Hospital, 126
Sources
Screven County Development Authority, Georgia Dept. of Labor, U.S. Census Bureau