Georgia's Chemistry Set
The state's plastics and chemical industries pack a $24-billion punch, but they face critical challenges at home and abroad.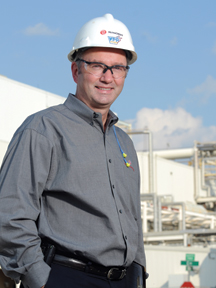 Drivers rounding the curve near exit 16 on Interstate 520 in Augusta top a bridge stretching across manmade lakes, filled after a local company excavated clay to make bricks. In the distance are a cluster of stacks from industrial plants that line the aptly-named Columbia Nitrogen Drive. It's a decidedly industrial portion of the Garden City of the South that offers unknowing visitors and the region's 500,000 residents a surprising window into the state's bustling chemical and plastics industries.
You wouldn't know it from seeing those stacks, the nondescript two story administration buildings along Columbia Nitrogen Drive and its extension, Lovers Lane, or the drab-looking manufacturing plants. But the area sandwiched between the interstate and the Georgia-South Carolina border that splits the Savannah River is home to NutraSweet and its only manufacturing facility in the world. Those little blue packets of sweetener found in restaurants and coffee shops are among the 14 million pounds of aspartame, NutraSweet's generic name, produced each year by 300 employees at the 40-acre site.
Neighbors on the two-lane road include an expansive DSM Chemicals North America site, which produces raw materials for nylon, textiles, carpet, fertilizer and engineered plastics; Potash, the largest producer of nitrogen chemical and fertilizer products on the East Coast; and General Chemical, whose products help purify water, produce semiconductors, improve poultry production and enhance sports drinks.
"We're like a little industrial oasis of facilities," says James Flynn, NutraSweet's senior vice president of global operations. "It is unusual to have a high density of chemical plants in this part of Georgia. I don't think you'll find as many plants as this until you get to Raleigh or somewhere in Florida."
The area serves as a microcosm of a chemical industry that directly employs nearly 21,000 people across Georgia, ranking 14th in the nation, in a $12.8 billion industry. Annual wages in the state average more than $57,200.
The industry also provides the building blocks for the state's plastics companies, themselves an $11 billion industry that employs 24,500 people – the nation's 13th-highest. The average wage for a plastics industry employee in Georgia is $39,400.
"The industries are so integrated together," says Rudy Underwood, executive director of the Georgia Chemistry Council and the Georgia Plastics Council, trade groups for those industries. "If you start looking back, upstream, it all starts from petroleum or gas. Everything we make comes from natural gas – about 70 percent of all chemicals come from natural gas, and plastic is one of those derivatives. All of the different types of plastics come from the same building blocks in the chemical industry. That's why they are so closely related."
But while the two industries are closely linked, what they produce varies widely.
In Marietta, some 140 people work in a facility that is Dow Chemical Company's North American headquarters for its polyurethane business. The two-component material is individually configured for customers who later mix it to create material for items including deer targets, architectural molding, surfboards, insulation for wall panels and refrigeration units, dashboards and seating for auto and bicycle seat cushions.
"It's bizarre where these products end up," says Gustavo Bacce, director of North America polyurethane systems for Dow Chemical. "You kind of forget where all of these things go, but it really is in a lot of places in your home, your car, your walls. It's a fun chemistry."
The 150 employees at the Exxon-Mobil Chemical Company Film Division in LaGrange take more than 80 tons of resin pellets each year to create oriented polypropylene film that wraps around candy bars, chips and other foods and beverages, pharmaceutical products and personal care items. It's one of only three such ExxonMobil plants in North America.
In Thomson and Sandersville, Thomson Plastics operates custom plastic injection molding plants that employ 430 people who turn resin pellets into components for golf carts, handheld chain saws, engine housings, garden tractors and lawn mowers.
"There are companies all over the place. What blows my mind is that you'll be going down the road and never know they are there," Under-wood says.
Hands On Training
If Michael Twomey has his way, a 25,000-square-foot facility tucked inside the LaGrange Industrial Park will whir with the noise of a manufacturing facility working at full tilt, cranking out plastics pieces for customers across the state. But the Center for Integrated Manufacturing, a part of West Georgia Technical College, will be staffed with students who are drafting designs, creating rapid prototypes, operating milling machines, overseeing extraction robots, repairing the equipment and delivering product to customers.
Twomey, a plastics faculty professor at the college, also is director of the center, an outside-the-box creation that grew from the school's move to a new campus earlier this year. (The college is set to merge with West Cental Tech in Carrollton, but will retain its campus.)
Faculty members wanted to map out a new way to offer their programs to better train students, dismantle academic silos and show local companies exactly how they could help them.
So as the rest of the 2,000-student campus prepared for a move into a nearby building, Twomey focused on seeking donations from companies with a presence in LaGrange and equipment from the scrapheaps of other schools within the state's technical college system. He also set about securing state and school funds to transform their four-decades-old facility into what will eventually become a live manufacturing operation.
"We were so spread out that none of our students understood how they fit in the greater context of things and worse yet, none of our clients understood that either. They would come over here and they would see a great classroom, but they didn't understand how that pertains to them. We bring them over here now and they see it – they see the production flow, people milling around and exchanging ideas and maintenance working on equipment. It is a much more organic approach to teaching the subject than we were doing before," Twomey says.
Putting the finishing touches on the state's only program dedicated to teaching plastics processing comes at a critical time. West Georgia Tech sits in the shadow of the massive KIA Motors plant taking shape just an exit south on Interstate 85. In fact, the school and the Korean automaker share the 243,000-square-foot building that is the school's new West Campus, a former Raytheon and Hughes Aircraft facility.
KIA, expected to begin production in 2009, will bring 2,500 jobs to its $1.2 billion plant and fuel thousands of others through at least a dozen suppliers already locating near the site. Some of those firms will require employees schooled in plastics manufacturing as they provide components of the 300,000 vehicles KIA wants to produce each year at the assembly plant.
"We are trying to really reenvision training industrial technology," says Daryl Gilley, the West Georgia Tech president who coordinated the creation of the manufacturing center before retiring in August. "With KIA locating here and all of these first- and second-tier suppliers here, all of the sudden now there is this demand for a trained workforce in plastics. Now there is this urgent need to have men and women who know something about plastics and can operate the equipment and have some background. It's a totally different general education requirement."
It's that sort of practical education that will help David Quester, president of DSM Chemicals North America, which operates a 540-acre site with 600 employees on the Savannah River in Augusta. Much of the operation is automated and requires trained craftsmen and employees who can understand the entire manufacturing process in a plant that produces 2 billion pounds of caprolactam, nylon polymer, ammonium sulfate, oil stripper bottoms and carbon dioxide each year.
But when DSM struck an agreement to operate Evergreen Nylon Recycling on its facility two years ago for Shaw Industries, the carpet recycling facility needed 50 employees. DSM had to cull through more than 250 applicants to make the hires.
"It is hard to get people and a trained workforce," Quester says. "To work in a chemical plant like this, a lot of it is automated. You are dealing with cause and effect. Something you do can affect what happens a tenth of a mile away. We pay people here not for what they do, but how they think, how they process information, how they can understand cause and effect."
Competitive Concerns
Late last summer, executives from eight chemical manufacturers with facilities in the state gathered on the 17th floor of an office tower near the Cobb Galleria. They talked over lunch at the Georgian Club about issues facing their industry as preparation for an afternoon session with Sen. Johnny Isakson at his nearby office.
Though the companies – Arch Chemicals, BASF, Chemtura, Dow Chemical, Olin Chlor Alkali Products, Rhodia, Solvay Advanced Polymers and Stepan – range greatly in size and products, they share similar concerns about the rising costs of energy and raw materials, foreign imports, transportation and attracting a qualified workforce.
Feeding their angst is the state's four percent sales tax on energy costs associated with the manufacturing process. The Georgia Chemistry Council, the group that organized the luncheon and meeting with Isakson, has unsuccessfully lobbied the state legislature to repeal the tax, although they did gain a partial reprieve in 2007 when lawmakers capped the tax as energy costs were on the rise.
Chemical and plastics companies often use natural gas to fuel their plants and for many, including DSM Chemicals, it's a key component in their manufacturing process. DSM is the state's second-largest industrial natural gas consumer and the sales tax costs the company about $4.5 million a year, its officials say.
Chemical and plastics companies in Georgia compete against those in other states, including Texas, that don't levy a similar tax. In an industry already facing higher energy costs and increased foreign competition – and paying more for transportation – the energy sales tax adds to their costs in a way that can't easily be passed along to customers, industry executives say. Many of those clients are plastics and paper manufacturers across the state who rely on the chemical companies for raw materials.
"It seems like anything that can be made in the Asian countries and China right now, they are able to produce products at a much lower cost than we're able to do it," says Mark Kenline, global business director for Arch Biocides in Smyrna. "There is less differentiation and they are pricing products at a much lower cost than we're able to. It is really going to change the basis of competition that we are going to see in the marketplace."
In the long term, items that boost production costs for facilities in Georgia will make those companies think twice about investing in local expansions and factor into decisions about whether plants stay fully operational or are downsized.
"Big companies, especially chemical manufacturers, are not making big investments and instead are doing small labs and specialty chemicals," says Bill Kincaid, strategic development director for Dow Chemical's North American Systems House in Marietta. "Nobody is putting in infrastructure and the big dollars – the fundamental building blocks. We are all going somewhere else. That is why Dow is putting their plants in Kuwait."
At the same time chemical and plastics companies in the state face increased costs for energy and raw materials, they face, as do most industries these days, increased transportation costs. Some plastics and chemical concerns are served by a single rail provider, which they say leaves them especially vulnerable to shipping costs that have risen sharply over the last few years. In addition to lobbying the General Assembly and meeting with the state's congressional delegation, Underwood, who can easily tick off the impact of each industry by congressional district, spends time taking lawmakers on tours of facilities around the state. It's that first-hand look that can make the difference when discussing policy issues or luring job recruits.
"I take congressmen through plants all of the time and they ask me where are the people. They are in the control room sitting in front of computer monitors doing calculations. It's not what it used to be. I worked in a textile mill coming up through college. I wouldn't want to do that, either. Our plants are not like that," Underwood says.