Cutting The Red Tape
Community improvement districts are funding transportation enhancements and revitalizing commercial areas. Their leaders have learned how to work fast and get results.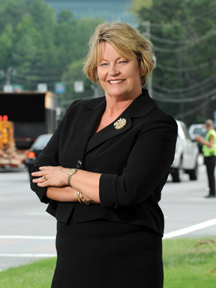 It is mid-afternoon and Yvonne Williams steers her SUV in and out of light traffic, crisscrossing the Perimeter area on the northern side of Atlanta pointing out to her passenger office towers, restaurants, roads, residential high rises, municipal buildings, pedestrians, traffic cops and medical facilities – all the while delivering a rapid-fire narrative on how these features of the urban landscape have become symbols of progress in a community once threatened by choking gridlock.
Williams pulls to the side of the road at the Perimeter Center Parkway Bridge over busy I-285. "This bridge had been talked about since 1982," she says. "We put it in in just two years."
The bridge, Williams says, is just one example of the speed with which a Community Improvement District (CID) can get things done. She is president of Perimeter CID, a self-taxing organization of business property owners in DeKalb and Fulton counties dedicated to more easily moving people in and out of their community by building or improving transportation corridors – and doing it fast.
CIDs are "red tape cutters," Williams says. "The problem we've got in our region is that we do not incentivize enough for projects to get built. We plan and replan and replan, and the incentive is to plan forever. The [CID] business model is to build projects and that's been the new dynamic here. We build; we don't go back and say, 'Why don't we re-study this?'"
Sitting in her SUV at the side of the $35 million flyover bridge that links Perimeter's business district to offices and the hospital complex known as "Pill Hill," the largest concentration of medical facilities in Atlanta, Williams points to a few unusual features of the bridge: bike lanes and a wide median. "The median could be transferred someday to provide some kind of transit service," she says.
As if on cue, a MARTA train glides by on an elevated track. "Here you see the bridge and a transit system among corporate buildings, and there are medical facilities and residential buildings; it all ties together," she says.
At an intersection near the bridge, Williams points to a huddle of pedestrians at a crosswalk. "You'd have never seen anybody standing there five years ago," she says. "It would have been too dangerous because they'd have had no way to look at a light; there were no sidewalks. We've put in more than five miles of sidewalks in this market, an investment of over $5 million."
Traffic cops are standing on a corner at the ramp leading to I-285 in preparation for the beginning of rush hour. "These off-duty police officers help direct traffic onto I-285," Williams says. "If it backs up when everybody is getting off work, it is a mess."
The PCID spends about $600,000 annually to pay 18 traffic cops stationed at key intersections to keep traffic onto the major commute arteries moving smoothly and, it is hoped, avoid or reduce traffic congestion.
Toward the end of the working day, people are beginning to trickle out of office buildings and walk over to a favorite watering hole. Later, many of them will walk to their homes in nearby condo developments. That stroll to and from work is accounting for a robust residential market in the midst of a national home sales crisis. "We have a very interesting mix of empty nesters, young retirees who want to retire from their suburban homes," Williams says. "And with the energy prices we're seeing, more and more people are looking at these [residential] properties because they don't want to drive from 30 miles out anymore."
In fact, a PCID market analysis revealed an anticipated demand for 6,000 new housing units in the Perimeter area over the next 15 years. The same study predicts the arrival of 10 million square feet of office space and 1 million square feet of retail space over the same period. Perimeter already has the highest concentration of Fortune 500 companies in Metro Atlanta. To meet this growth, the PCID is proposing $500 million in federal and state funding for transportation projects.
If the PCID's history is any judge, the goal will be met. In the past nine years, PCID has leveraged $18 million in self-imposed business property taxes into $500 million in transportation improvements; PCID's projections anticipate $28.6 million in taxes over the next 10 years, thanks to the growth generated by improving transportation.
"The next 10 developments approved for the Perimeter CID area are for mixed-use developments," Williams says. "And when completed, these projects will pump $1 billion a year into state and local taxes. That's a pretty important economic indicator."
As the sun lowers on the horizon, Williams drives past a $250 million mixed use community opened three years ago. "Perimeter Mall is to my left and all types of retail and top-end restaurants have come in here," she says. "This area just comes alive during the evening hours."
With pedestrians walking into taverns and cafés, and residents emerging from their condos and townhomes, the area takes on a big city feel apart from its suburban location. "I think there is an environmental context, too," Williams says, "because we are building with less asphalt across less acreage. We are using a new building standard for the future with green building and energy efficient standards as a sort of criteria for approving projects."
20 Years Of Success
Using self-imposed business owner tax money to fund improvements that lead to more prosperous communities was an idea new to Georgia when the Cumberland CID (CCID) was formed in 1988, the first in Georgia. Now celebrating its 20th anniversary, Cumberland CID has collected more than $75 million from business owners to leverage billions from government for projects completed or set to launch, mostly in transportation improvements. The CCID is a few miles west of the Perimeter community in Atlanta's northern suburbs and its central trans-portation feature is the intersection of I-75 and I-285.
One million vehicles navigate the roads in the 5.5-square-mile Cumber-land CID each day, and transportation is the dominant theme of planning and funding discussions here, but with a twist. "When the DOT [Department of Transportation] is telling folks they are kind of halting their work orders because they have to reprioritize their limited funding, everybody is affected by that," says Malaika Rivers, executive director of the Cumberland CID. "You can choose to wait or you can choose to find alternatives for getting your project constructed."
Cumberland, Rivers says, is not choosing to wait. "We are changing our model to put more of our local dollars into construction projects over the next few years in lieu of waiting for the federal and state dollars to become available. We are still working with our state partners when it comes to big projects that are in the $40 million to $100 million range; obviously we can't build those by ourselves."
CID money can be used for more than concrete and asphalt projects. The Cumberland CID, for instance, used its funds to complete master plans, Blueprint Cumberland I and II, to help manage growth. In addition to its traffic cops, the Perimeter CID has invested in improved traffic signal synchronization to keep vehicles moving more smoothly. And those two CIDs are looking at a joint effort to bring light rail and bus rapid transit lines into their communities.
"The bus rapid transit is flexible, so you could move it around without having dedicated rail lines in the pavement," says Perimeter's Williams. "The light rail is attractive if you want to attract development around it. For our purposes, the bus rapid transit makes sense because we could at least get it up and running quickly."
The idea, Williams says, is to run one bus rapid transit line from the Cumberland Community to Peri-meter. "And then run it from Peri-meter to Doraville where a huge megacenter is being developed on the old GM [auto plant] site," she says.
The Cumberland and Perimeter CIDs are part of an informal coalition called the CID Alliance composed of the 12 CIDs in the Atlanta Metro Alliance which collectively represent the heart of Georgia's high revenue business community, a potent political potential. "[The Alliance] comprises all of the largest office markets, so we definitely can bring some voices to bear," Rivers says.
For those who work on legislative issues, CIDs are being noticed for their ability to get things done. "From our perspective, a CID is probably the most powerful public-private partnership that I've seen in the state," says Matt Hicks, associate legislative director for economic development and transportation for the Association County Commissioners of Georgia. "They tend to be innovative and creative in solving problems that matter to them. They also are willing to pay for it."
Revitalizing Valdosta
Though several Georgia communities are in one stage or other of creating a CID, most such taxing districts are in the Metro Atlanta area. In fact, at present Valdosta has the first and only CID created outside the Atlanta area. It has set measures of success that center less on transportation and more on preserving a downtown that even its boosters admit once had a "shabby and disorderly image: dilapidated sidewalks, cluttered signage, numerous aluminum façades and deteriorating buildings with many absentee property owners."
That language from an application for a national award is the before picture – before downtown Valdosta business owners formed a CID in 2000. Since, leaders have seen a net jobs gain of 237, and 35 new businesses have come and stayed in the 26-block Valdosta Community Improvement District (VCID). Downtown occupancy rates now exceed 90 percent, according to data supplied by the city's Main Street program and the office of Valdosta's city manager.
Public-private investment in the VCID has passed the $20 million mark in buildings sold or rehabbed. These investments have created downtown residences, expanded office space and a new generation of stores and shops, many of them crafted from 19th and 20th century buildings.
"The CID tax was originally projected to generate approximately $80,000 per year when the tax was imposed in 2000," says Mara Register, assistant to Valdosta's city manager, and director of the VCID. "The total collection for the CID tax in 2007 was $189,000. As you can see, things have definitely grown in value in historic downtown Valdosta."
The property owners who formed the VCID and voted to tax themselves recently voted to lower their taxes from 10 mils to 5 mils, thanks to collections that outperformed predictions. The excess funds will allow the CID to pay off an $11 million bond eight years early. Those funds were used to finance street-scape projects.
The success of Valdosta's CID will allow it to dissolve in 2012, the last year of its legislatively approved operational period. Unlike the high-growth Atlanta metro area, however, downtown Valdosta's CID has achieved its specific goals and has determined there will be no further need for it.
"The increased property values generated more property taxes, allowing us to pay off the bond debt much earlier, even with the reduction in the milage rate," Register says. "This was a temporary taxing mechanism to achieve specific goals in downtown Valdosta. And it worked perfectly."