North Fulton County: Balanced Growth
Mapping a future that guarantees quality of life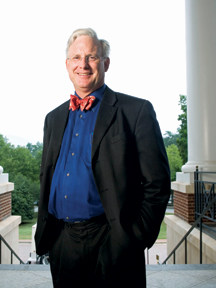 If only the "King and Queen" could talk.
For nearly 25 years the iconic towers, located near Georgia 400 and Interstate 285, have served as a gateway to the bustling scene unfolding in North Fulton County, as three cities were born, the highway was expanded to eight lanes, high-tech companies built new headquarters and tens of thousands of people moved in and created some of the region's most affluent zip codes.
And unwittingly, the buildings also served as a Petri dish for a grand experiment unfolding in three of North Fulton's six municipalities. When CompuCredit Crop., an Atlanta-based financial services company, looked to consolidate operations in 2006, it wanted to stay close to its existing collection of space in the central Perimeter market, yet greatly add to it. It also wanted to accomplish the move in a hurry.
Inking the deal to consolidate the company's headquarters into 411,000 square feet of space in Concourse Corporate Center V and VI, also known as the "King and Queen" buildings, required permits from the new city of Sandy Springs to build out the space so CompuCredit could move in as several other tenants shifted to make room. Prior to the Sandy Springs incorporation in 2005, that process could easily have bogged down in the bureaucracy of Fulton County.
In stepped CH2M Hill, the Colorado-based company that has run most municipal services in Sandy Springs since it formed. The company talked with city officials about shifting some of its resources to aid the relocation effort, review plans and speed along the needed inspections. The deal closed in October 2006 as the largest single office lease signed in at least a decade in Metro Atlanta.
"We did so without sacrificing any of our work," says Rick Hirsekorn, CH2M's vice president of municipal services. "We were told later on that it was a vital element in making the deal possible. It was a good example of being able to be flexible and see what was needed while rising to the occasion and helping the city."
To CH2M, the episode wrote another chapter in the company's lengthening municipal services playbook. To Sandy Springs, it demonstrated that the city's unusual partnership with a private firm was not only tackling city services but also aiding economic development and turning out better than the nascent city expected.
"From an operations standpoint, it is better than I could have hoped for," says Oliver Porter, a citizen activist who, as a member of the Governor's Commission on Sandy Springs, urged the yet-to-be city to lean on the private sector for municipal services. "We are producing far more efficient government than is typical. In general, the citizens are very well satisfied with it. The better you get, the more people demand of you. There's never a point where everyone is happy but every indication is that it's a better way to run government."
Expert Assistance
As the passion for new cities spread north to Johns Creek and Milton, Porter followed, offering pro bono advice to city boosters in those areas before and after they incorporated in 2006. CH2M, with its nearly $25 million annual contract in place for Sandy Springs, followed, too, signing a $16. 8 million contract with Johns Creek and a $6.4 million agreement with Milton. Some 330 people now staff CH2M's municipal services operation in Atlanta, including 30 in a 14th floor office in Sandy Springs that is shared among all three municipalities to staff a call center, information technology services and perform back-office administrative functions.
Sandy Springs officials single out the call center as a particular point of pride for an area that bucked Fulton County over its perceived lack of attention and customer service. When the city signed its contract with CH2M, it spelled out the creation of a center in which calls are answered by live attendants. In its first year, the 24-hour center logged 63,000 calls. A year later, with Johns Creek added, the calls spiked to more than 179,000, a number expected to climb even higher since Milton was added this spring.
"The satisfaction as a whole is tremendous," says Eva Galambos, who headed the Commit-tee for Sandy Springs for three decades before becoming the city's first mayor in 2005. "We like to point to the call center and public works in terms of how they have improved simple things. We respect that private industry is more efficient than local government sometimes and we chose to go that way."
CH2M's work with Sandy Springs and Johns Creek also impacts the bottom lines of both cities through a revenue enhancement program that provides improved oversight of business licenses. Employees armed with hand-held computers fan out across both cities to inventory businesses, information that is later compared to city records to ensure the enterprises are licensed. In Sandy Springs, that doubled the amount of licenses issued. The result in 2007 meant more than $3 million in revenue for Sandy Springs and $800,00 for Johns Creek, money that is split with CH2M on a graduated scale in the first year of collections.
Sparking Redevelopment
Georgia's three newest cities embraced the private sector for help as they formed, but the idea also sits well with planners in Alpharetta looking to reshape a 120-acre downtown created in 1857. With new developments sprouting up around it, the city developed a 15-year Downtown Redevelopment Plan to spark interest in the possibilities that redevelopment and infrastructure improvements could bring.
"When the city was founded, downtown was the only game in town. Everything was downtown and it was successful by virtue of a lack of competition," says Diana Wheeler, the city's community development director. "Now, of course, there is a whole lot of competition on many different fronts. Downtown really needs to reinvent itself and become something different, become something that is appropriate for what the community needs today."
The initial component of the larger vision for downtown remains in the design phase, but the 7-acre City Center would partner with private developers on a mixed-use project that could include nearly 50,000 square feet of office and retail space, dozens of condos and a 700-space parking deck around a new 57,000-square-foot City Hall.
The city features some of the most affluent zip codes in metro Atlanta, a fact not unnoticed by developers who want to tap into the market with a dose of higher density for the once sleepy suburb. Prospect Park, an 85-acre project on Old Milton Highway at Ga. 400, is scheduled to open late next year with upscale retailers, mid-rise office buildings, a boutique hotel and luxury condos.
In May, an Atlanta Symphony Orchestra concert ushered in the $35-million Verizon Wireless Amphitheatre at Encore Park. The 45-acre venue includes seats for more than 7,000 under a roof and another 5,000 on the lawn.
Blueprint For Success
As president of the Greater North Fulton Chamber of Commerce and executive director of the North Fulton Community Improvement District, Brandon Beach understands the political realities of growth, traffic congestion and paying for solutions to mediate either.
"People want the mixed-use developments where you can walk, shop and eat lunch and enjoy some landscaping," Beach says of the area's 310,000 residents.
In response, the chamber and CID are developing Blueprint North Fulton, a land use and transportation plan unveiled in August that calls for more compact development focused on three existing areas – North Point, Old Milton and Windward Parkway – to enhance walkability and livability while reducing transportation demand and congestion.
"We can't keep sprawling. You can't keep going out onto these two-lane roads and we can't build our way out of this. We've got to look at smarter land use and building in the corridors that are already there with higher density," Beach says.
It's a different approach for a CID formed three years ago to push along the stalled construction of additional phases of Westside Parkway. It still advocates for traffic projects, including leveraging $800,000 of its own funds into a $14 million project that will reshape and improve 10 intersections in the area over the next 18 months, starting with Hembree and Maxwell roads near Encore Park.
But after the CID's Westside Parkway effort was successful, Beach and chamber officials such as Tedra Cheatham, COO and VP for economic development, realized the time had come for North Fulton to take a broader look and develop a master plan to help guide the area's continued growth and redevelopment. In fact, the chamber's 1,800 members, about three-quarters of which are businesses with fewer than 20 employees, were clamoring for the area to address not just traffic congestion, but other quality of life issues that impact economic growth.
Balancing Act
While the Roswell City Council approved a zoning change to allow greater density for projects in its historic downtown, a 107-acre project that included high-rise condo towers by Atlantic Station developer Charlie Brown for Ga. 400 and Holcomb Bridge Road stalled last year. City leaders and residents voiced concerns that the density needed to house its nearly 8,000 residents would further tax the heavily traveled corridor.
Roswell also is grappling with a funding freeze from the state Department of Transportation, which has put on hold a downtown streetscape project, and an economic downturn, the impact of which can be seen along the eastern expanse of Holcomb Bridge. That's where the mostly-retail East Village is nearing completion, bringing with it 380,000 square feet of retail spread among a SuperTarget and smaller shops, to join its established neighbor to the west, the Home Depot-anchored Market Center retail development.
In between is Centennial Walk, a 26-acre project with retail and office space alongside five buildings of condos and townhomes that required a new zoning category to make it possible. The project hasn't broken ground, but Kirk Demetrops, senior vice president of Griffin Co., the project's developer, predicts retail construction will start sometime in the first half of 2009, with office and residential to follow. "We're optimistic," he says. "We have done all of the work and can pull the trigger in 60 days."
The discussion about what types of development the city wants to see, combined with the struggling economy, paints a sometimes complicated picture for Roswell's future. Even when public opinion comes together with city planning to move forward on development, a sour economy puts on the brakes. "It's a balancing act," Roswell Mayor Jere Wood says. "… Sometimes you are successful and sometimes you are not."
North Fulton County
At-A-Glance
Population
(2007)
Sandy Springs, 86,404; Roswell, 82,914; Johns Creek, 57,793; Alpharetta, 55,045; Milton, 29,347; Mountain Park, 534
Per Capita Income
(2007)
North Fulton, $57,146; Fulton County, $49,291; Georgia, $30,914
Unemployment
(July 2008)
Alpharetta, 3.7 percent; Roswell, 4.3 percent; Sandy Springs, 4.4 percent; Fulton County, 6.7 percent; Georgia, 6.5 percent
Largest Employers
Northside Hospital, 6,000; AT&T, 3,500; Verizon Wireless, 3,000; United Parcel Service, 2,000; ADP Inc., 2,100; Saint Joseph's Hospital, 2,100; Children's Healthcare of Atlanta, 2,055; Kimberly-Clark, 1,600; McKesson Provider Technologies, 1,500; Hewlett-Packard, 1,200; AT&T Mobility, 1,200
Sources
Georgia Department of Community Affairs, Georgia Dept. of Labor, Georgia Power, Greater North Fulton Chamber of Commerce