Henry County: Welcoming The Slowdown
A lull in growth lets leaders catch a breath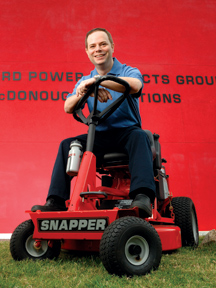 As director of the Henry County Building Department – and a 28-year veteran of county government – Doug Gilbert has enjoyed an up-close view of the turn-of-the-21st-century growth that came at the county like a roaring freight train on a downhill track.
"I've seen [new home construction] go from doing very little to being wide open," Gilbert says. "And now we're back to that slow period." What Gilbert saw in his office from 2001 to 2007 was a steady two-thirds decline in the number of requests for new residential housing building permits.
The population of Henry County's Locust Grove doubled in the past nine years, thanks to a building boom and the annexation of 12 square miles into the city limits. Mayor Lorene Lindsey says times were good coming into the year 2002, but that was six years ago.
"We had quite a bit of development going on and were doing great till the bottom fell out of the housing," Lindsey says. "We're on thin ice, but we haven't broken through."
In the county seat of McDonough, Mayor Billy Copeland says his city is looking at hiring freezes and even layoffs in the quiet after the storm of growth here. "In 1997, we had 4,200 people," Copeland says. "Today we have 18,400. The home building situation we have today has slowed to just about a crawl."
"Our growth was like the stock market of the '90s," says Kay Pippin, president of the Henry County Chamber of Commerce. "We were opening new banks left and right. The day we were named the third-fastest-growing [county] in America, I had 40 different developers come through the door. We were opening three to five new school buildings a year, two new classrooms a week, just to keep up. And nobody keeps up with that rate. Yes, we were fourth in new housing starts in America, but you know what happened in the housing industry."
Breathing Room
If Henry County is in a growth lull right now, it's not altogether a bad thing. "The housing slowdown had a trickle-down effect on every community," Pippin says. "And we were not exempt. The good side is that it has allowed us a little breathing room."
Copeland sees a bright side. "In the commercial and industrial [sectors] here we are growing by leaps and bounds," he says.
In fact, one of the county's oldest manufacturers is showing considerable employment gains during its peak production period. "If you compare the last couple of years to, say, five years ago, what I consider our core employment has been fairly consistent, around 450," says Larry Mingledorff, plant manager of Briggs & Stratton (B&S) Yard Power Products Group, McDon-ough Operations, which makes Snap-per lawnmowers. "However, if you look at our peak time during the lawn and garden period between December and May, we're augmenting our core staffing with somewhere around 250 employees."
And, says Mingledorff, B&S has invested $10 million in new equipment over the past 18 months. The Snapper plant's solid sales in tough economic times are due to new marketing practices instituted when B&S acquired the lawnmower company in 2005. The company began placing its products in big national retailers such as Sears after decades of selling mowers only through an authorized dealer network. It also started producing products for other brand names, according to industry reports.
The 34-year-old Mingledorff has worked at the Snapper plant since he was a student a Georgia Tech 14 years ago, and witnessed the county's growth in population and home construction in the early part of the decade. "You can't expect to have that type of growth every year, and you don't want that type of growth every year," he says. "It was almost a blessing in disguise now that it is slowing down for a period of time." The growth, he says, was outrunning the county's infrastructure capacity.
"The biggest problem was traffic," says Henry County Administrator Rob Magnaghi, who is guiding a $200 million road improvement project now midway toward completion – one that has benefited from local, national and even international economic downturns. "We're not lagging as far behind in building some of these roads because the rate of the traffic increase has begun to slow down," he says.
Just 30 minutes south of Atlanta down Interstate 75, Henry County found its location to be an asset in attracting commuters, a fact that Pippin explains with an Aesopian analogy. "Atlanta is like an ant colony," she says. "And the ants have crawled as far north as they can go every day and still get back to the queen by 8 o'clock every morning. And that's the north side of Atlanta, all the way to the mountains. And it was just our time. We are in excellent proximity for commutes, so we are going to be a bedroom community just because of location, location, location."
Traffic Patterns
In fact, if not for one of history's little turns, Henry County could have become home to what eventually became the city of Atlanta. In 1833, the route of Georgia's first railroad just missed the county and ended in Marthasville, then barely a village, but one that became Atlanta.
Then the railroad extensions coming out of Marthasville bypassed Henry County on the east and the west, creating the prosperous towns of Griffin and Jonesboro, and the merchants and professionals fled McDonough and followed the rails. Beginning in 1830 and for the next 40 years, seven new counties were created from Henry County, diminishing its size and political power.
Now, it seems, history will give Henry County another shot at bringing rail service through its borders. This time around, its citizens will have a major voice in just where the trains will load and unload their cargo: commuters.
When gas prices started rising, Henry County's Atlanta commuters began opting for a bus ride into the city and home again. The buses, operated by the Georgia Regional Transportation Authority (GRTA), make stops at three locations in the county and have reached full capacity.
That, says Henry County attorney Andy Welch, is prima facie evidence that a commuter rail line linking his county with Atlanta would be well used. "We're seeing so many people riding these GRTA buses that now there is a desire for additional funding to purchase more buses to send down our way," says Welch, chairman of the chamber's Henry County Transportation Committee.
The original plans call for a rail line connecting Lovejoy to Atlanta, but support is growing to extend the route farther south to Griffin, with a stop at Hampton in Henry County.
There's evidence of high level agreement with the commuter train idea: Some $86 million in federal funds was earmarked for the project 12 years ago, but economic conditions have since shrunk those dollars, Welch says.
In addition, the state has pledged $20 million for the project.
The process of getting from the idea to the reality is about 60 percent complete. "We still have obstacles in [finding] the actual location of a multi-modal facility in downtown Atlanta," Welch says, adding there are details to work out on operation and maintenance costs.
Jobs and Schools
Even during the growth spurt that began a decade ago, Henry County wasn't getting the respect from retailers its leaders desired. "We lost sales taxes every day with, for instance, people going to the Southlake area [in Clayton County] to shop," says Bob White, executive director of the Henry County Development Authority. "We were losing retail dollars to competing neighboring counties."
So dire was the need to improve retail sales that the county commission came to the HCDA and asked the authority to take a more active role in expanding the local retail base. That effort has paid off, says "BJ" Elizabeth Mathis, a four-year member of the Henry County Commission who was elected chairman of that board in a primary runoff election last summer. Mathis has no opposition in November and will take office as the county's first female chair.
Mathis saw the need for a new approach to the county's growth, both past and, it's hoped, future. "One of the things that has crippled Henry County in years past is that we didn't have a comprehensive transportation plan in place," she says. "So every time the board [membership] changed, the priorities changed, and that hindered us in going after those federal and state dollars."
The county's new approach takes the form of a growth management project called One Henry, designed to deal with future transportation and land use. "We have three planning documents that we are in the process of adopting: A unified land development code, our comprehensive land use plan; and our comprehensive transportation plan. The beauty of all this is that all three of the documents are being adopted at the same time. Henry County has four cities and we're all working on this together, which is almost unheard of. And that's going to help us get those [federal and state] funds back to Henry County."
The project will create a solid touchstone with which to manage growth, Mathis says. "Now we'll have this document in place, and it sets priorities based on data. We're speaking with one voice." Mathis says the transportation plan has been approved by all government entities in the county and expects the land use plans to be adopted by the end of the year.
Henry's recent population explosion has left behind 400 mobile classrooms as unwanted monuments to growth, but the current quiet times have provided the school system with an opportunity to build more lasting structures. "This year we opened two new schools," says incoming School Superintendent Michael Surma, who rose to his position from a Henry County High School classroom. "That brings our total to 47 schools. When I started here 13 years ago we had half that number. And next year we will open up five new schools."
With 40,000 students, there's little wonder Henry County has become a youth sports destination. Tim Coley, director of the county's parks and recreation department, estimates his facilities welcomed 4,000-plus teams from around the nation for tournaments last year. "We work at networking with associations to get them to bring their tournaments to Henry County, and that is providing a positive economic impact here," he says.
Revenues from those tournaments have helped fund unique recreational opportunities for locals, such as a therapeutic recreation program for residents with mental or physical disabilities. And the robust tournament business also funded such recreation luxuries as a BMX bike course and a paintball complex, both of which attract national and regional competitions.
More visitor dollars will be pouring into local coffers with the opening this month of the Locust Grove Conference Center, a 15,000-square-foot facility. The $2.7-million center is being funded with development authority bonds and is seen as a continuation of an Atlanta regional trend. "The suburban area of Atlanta is enjoying solid success in the convention and conference sector," says Sarah Robbins, director of tourism for the Henry County Chamber of Commerce Convention and Visitors Bureau. "The proximity to the airport; less traffic congestion; lower travel expenses and free parking are all factors in attracting the meetings and conferences," Robbins says.
The new center was called for when a 2006 study found Henry County's Merle Manders Conference Center could use some help in handling the demand for meeting space.
Henry County At-A-Glance
Population
(2006)
Henry County, 178,033; McDonough (county seat), 16,853; Stockbridge, 13,668; Hampton, 4,994: Locust Grove, 3,980
Unemployment
(July 2008)
Henry County, 6.4 percent; Georgia, 6.5 percent
Per Capita Income
(2005)
Henry County, $26,826; Georgia, $30,914
Major Employers
Briggs & Stratton/Snapper, 615*; SunTrust Service Corp., 560; Georgia Power Company Customer Care Center, 550; Georgia Crown, 280; Toys "R" Us, 274; Carter's Inc., 250; DSC Logistics, 250; Ken's Foods, 250; Luxotica RetailGroup, 237; GENCO/Kimberly Clark, 205
Sources
Henry County Development Authority, Georgia Dept. of Labor, U.S. Census Bureau
* Not Including Temps