2008 40 Under 40: Georgia's Best & Brightest
Meet the Class of 2008: For the 12th year, we select 40 high-achieving Georgians under the age of 40. They are making their marks in business, government, education, the arts and the world of nonprofits.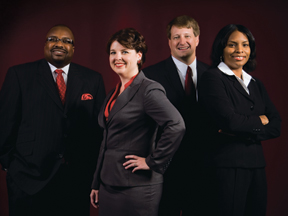 Each year, the Georgia Trend editorial staff engages the magazine's readers to help identify those individuals who will lead our state's business, cultural, academic and governmental institutions in decades to come.
This year marks what may be the highest level of individual participation in 40 Under 40 history. More than 300 readers nominated some 180 candidates. Selecting those individuals named in the following pages was not an easy task for the editorial staff, but it was rewarding. For a look at the process, see page 41.
Individual profiles were contributed by Patti Ghezzi, Matt Hennie, Karen Kennedy, Ed Lightsey, Patty Rasmussen, Kenna Simmons, Christy Simo, Randy Southerland and Rick Woodall.
On these pages – photographed by Adam Komich – are four representatives of the class of 2008: from left, Terrance Smith, dean of students and vice president, student affairs and enrollment management, Fort Valley State University; Heidi Green, deputy commissioner, Georgia Department of Economic Development; Greg Mullis, vice president energy services, Tri-County EMC; and Shonah P. Jefferson, associate, HunterMaclean law firm.
Greg Mullis, 39
Gray
Vice President Energy Services
Tri-County EMC
Tri-County Electric Membership Cooperative (EMC) serves more than the three counties implied in its name. In addition to Baldwin, Jones and Putnam counties, the company also has customers in parts of Bibb, Jasper, Morgan, Twiggs and Wilkinson counties. "We thought Tri-County sounded better than Octa-County," jokes Greg Mullis who, as vice president of Energy Services, oversees a laundry list of departments for the company. "I'm responsible for marketing, public relations, economic development, key large commercial accounts, as well as efficiency issues, facilities management and information technology," he says.
There's a lot on his plate, but Mullis relishes the challenge. And he is a rarity these days, employed by the first company he went to work for after graduating from Mercer University 17 years ago. He is lavish in his enthusiasm for Tri-County and its mission. "As an EMC we operate under a different premise than other for-profit utilities," he says. "I think EMCs are typically great workplaces because of that different atmosphere." Operation Roundup, a Mullis pet project, has raised more than half a million dollars for the Tri-County EMC Foundation funding community development programs in its service area.
Mullis is just as passionate and successful in his off the clock activities. As chairman of the Development Authority of Jones County, he oversaw the purchase of a much needed and anticipated 972-acre industrial park. He's also incoming chairman of the Middle Georgia Workforce Investment Board, working with industry and labor professionals to help workers find or replace jobs.
He knows how to let his hair down, too, playing trombone, and sometimes drums and keyboard, in a '70s revival band, "The Grapevine." "We play about 50 dates each year," Mullis says. "Believe it or not, playing in the band gives me a lot of networking opportunities." – PR
Shonah P. Jefferson, 37
Savannah
Associate
HunterMaclean
In her day job at HunterMaclean law firm, Shonah Jefferson represents developers who build multifamily homes for low-income families. She also represents hospitals and universities when they borrow tax-exempt bond proceeds or purchase municipal bonds. "I need to feel that what I do has a lasting effect and impacts a lot of lives," says the Georgia State law grad.
That's true of her avocation, as well: An artist herself, she started the Telfair Museum's Friends of African American Art (FAAA) and currently serves as its president. She began at the Telfair as a docent shortly after moving to Savannah, a city she fell in love with on vacation. It was "hot, humid and full of mosquitoes – it felt like home to me," says the Houston native. The city has a "vibrant artistic culture – there's SCAD, and many artists have settled here," she says. Joining the museum as a volunteer was "a way to get an art degree without going back to school."
Jefferson has been painting in oils since she was in middle school. "It's just a hobby," she says. Her personal collection includes her own works and those of artists she's met, but she's running out of wall space. "I'm going to have to start rotating paintings, like a museum," she jokes.
The Telfair is a place she takes seriously. Members of the FAAA are "ambassadors for the museum, but African American art, specifically," she says – like that of Luther Vann, a well-known local artist who just had a retrospective at the museum. He and Jefferson are featured in an upcoming issue of Southern Living.
Jefferson is quite active in the community – she also volunteers with Junior Achievement and the Savannah Community Foundation, and is serving on a short-term mission trip to India in October for Savannah Christian Church – but works of art hold a special meaning for her.
Art is important, she says, because it's a universal language that reaches across race, language and nationality. "It can be a creative outlet not only for the person who makes it, but the person who sees it," she says. – KS
Terrance Smith, 33
Fort Valley
Dean of Students
Vice President, Student Affairs and Enrollment Management
Fort Valley State University
Terrance Smith took over a troubled student services department at Fort Valley State University in 2006. As dean of students, he and his team turned things around in record time. The middle Georgia school's 17 percent enrollment spike in 2007 was the highest in the university system, and the freshman class was the largest in the college's history. Applications shot up more than 60 percent.
"We are marketing our institution to ensure people in the U.S. are aware of the well-rounded education we provide," says Smith, who holds a doctorate from the University of Georgia.
Last year, Smith became one of the youngest vice presidents in the state's university system. He turned his energy to freshmen and sophomores, establishing a support center to help them adjust to the "rude awakening" of college. He set up an office of diversity and international affairs to help students compete in a global society. He rebuilt the counseling center. He oversaw the construction of a $44 million housing complex.
"All of this has been accomplished in a little more than one year in the life of a man of family, church and community commitments," says Canter Brown, Fort Valley State's chief legal officer.
Smith grew up wanting to help young people. "I enjoy just seeing them grow and realize their full potential as they become productive members of society," says Smith, who, along with his wife, established a college scholarship fund at his church.
During his first year as VP, Smith was so busy restructuring, he had little time to chat with students. Now that he's made his mark, he can spend more time walking the campus.
In his future, he sees the possibility of a college presidency, but for now he's focused on Fort Valley. Smith says: "I want every student to feel at home here." – PG
Heidi Green, 32
Marietta
Deputy Commissioner
Georgia Department of Economic Development
Heidi Green has the experience equivalent of a PhD in government service, intragovernmental and international affairs and economic development, making her ideal for attracting new foreign businesses to Georgia as the leader responsible for implementing Global Georgia, an international state marketing effort with a $4 million budget.
Following stints as a congressional aide in the U.S. House of Representatives, Green worked in the office of Senator Paul Coverdell. Now deputy commissioner of the Georgia Department of Economic Development (GDEcD), she quickly put her skills to work upon assuming her post in June 2007 by helping to add more than 8,500 new jobs to the state's payrolls within the first six months of her tenure.
In 2002, she served as a member of Governor-elect Sonny Perdue's transition team and subsequently became a valued advisor to the governor on issues such as economic development, transportation, water management and PeachCare.
In her first six months in the GDEcD post, Green traveled to 11 countries on business missions. She's often tapped to represent the state in national and international business conferences. Despite a grueling work schedule, Green and her husband Reuben, an assistant district attorney in Cobb County, have opened their home and their lives to nine foster children over the years.
Green's rise to the top tier of the state's government leadership would seem to make her a recruiting target for private business or lobbying interests, but she says she doesn't give that much thought. "Whenever I have set out on a career path, God has opened an unexpected and awesome door," she says.
"Senator Coverdell took a chance on a non-native Georgian and exposed me to this wonderful state," says the California native. "Governor Perdue challenged me with new responsibilities and allowed me to participate in once-in-a-lifetime experiences. So right now I am focused on doing this job to the best of my abilities." – EL
Charlie Bethel, 32
Dalton
Director of HR
J&J Industries
Charlie Bethel comes from two old Georgia families whose members were always involved in community, church or political activities. If you were a member, you were expected to serve, he says.
That helps account for his dedication to Dalton, the city where he grew up and returned to first practice law and then work as director of human resources at J&J Industries, the 50-year-old family business. He also took on a long list of civic and church organizations to which he's given his time. Doing so has made him a familiar face in the community.
It also made him a natural choice when local residents wanted someone with fresh ideas to tackle multiple challenges facing the community including a changing industrial base, water issues and a surging immigrant population. He's currently the youngest member of the city council. "I grew up in a household that when people ask you to serve, you listen and consider it carefully," Bethel says. – RS
Chadwick Boyd, 36
Atlanta
President & CEO
Lovely & Delicious Enterprises
When Chadwick Boyd fixes his gaze on a goal, there's a better than even chance he'll succeed.
He arrived in Atlanta from Delaware with less than $1,000 in his pocket, yet determined to break into the city's crowded public relations field, so much so that he cold-called executives and pushed hard until landing a job. But it wasn't until spending nearly two years jetting between Atlanta and Delaware to care for ailing grandparents – his grandfather having served as a pivotal figure in Boyd's life – that he learned a greater meaning to life and his career ambitions. "That experience grounded me and it was the most challenging time ever," he says. "That taught me about balance and commitment, honor and respect. Until you go through being a primary caregiver, you don't fully understand and appreciate it."
That experience, along with his public relations background and training as a chef, led to the creation of Lovely & Delicious Enterprises, a food and lifestyle branding company that draws on Boyd's passions. – MH
Chuck R. Butler, Jr., 33
Chatsworth
Founder
Combat Brothers
Chuck Butler's life exemplifies service, first as an officer in the Murray County Sheriff's Department and again when he donated his bone marrow to a young woman, whom he'd never met, suffering from leukemia.
In 2004, Butler volunteered for the Civilian Police Assistance Training Team, training members of the Iraqi Police Force in Basra. Members of Butler's team suffered an attack in January 2007, which killed two Americans and severely wounded their Iraqi language assistant, Ayad Majeed.
Knowing Majeed was a marked man, "It became my mission to get Ayad out of Iraq," Butler says.
With help from Georgia Sen. Saxby Chambliss and Catholic Charities, Butler became Majeed's sponsor through the U.S. Refugee Program, making him the first American to sponsor an Iraqi refugee who was not a family member. Majeed arrived in Georgia in February 2008. They are working to get Majeed's wife and three children out of Iraq. The two men formed Combat Brothers, a speaker's service, to tell their story of courage and brotherhood. – PR
Esther Campi, 35
Atlanta
Senior Vice President of Communications
Metro Atlanta Chamber of Commerce
For someone who envisioned a career in journalism, Esther Campi has certainly gone about it in a roundabout sort of way.
She landed a plum internship while in college in former Sen. Fred Thompson's Capitol Hill office, setting in motion a career that mixes politics, journalism and civic affairs while perched right in the middle of high-profile events. There were stints as press secretary for Thompson, political reporter for two newspapers and a job in management for a public relations firm. Now she plots strategy as a senior executive with the chamber, which is often publicly, though sometimes more quietly, in the middle of most major issues in Atlanta.
"It's a rush to be part of something that really matters," Campi says. "The chamber is right in the middle of everything that is happening in Metro Atlanta. It's a perfect mix of all of the things I've done." – MH
David Cannon, Jr., 37
Canton
Solicitor General
Cherokee County
David Cannon decided to run for the job of solicitor general when he realized no one else wanted to deal with the problems then plaguing the office.
"One of my peers and I would go back and forth with each other saying 'You need to run.' 'No, you need to run,'" recalls Cannon, who was then practicing law with his father. After talking to attorneys and judges throughout the county, he decided he was the one.
After waging a successful campaign against the incumbent, Cannon has brought order and modernization to an office that was overwhelmed by cases and a lack of public understanding about what the solicitor general does. During the campaign, he handed out business cards with the duties of the office – handling all misdemeanor criminal and traffic offenses – printed on the back.
The staff has grown and new initiatives, such as dedicated DUI and traffic courts and a pre-trial diversion program for teens, have been instituted. – RS
Carla Case-McCorvey, 35
Savannah
Owner/Veterinarian
Case Veterinary Hospital
Not only is Carla Case-McCorvey the fourth generation in her family to run a practice in Savannah – her great-grandfather started in 1909 – she grew up in the vet hospital, spending time where both her mother and father worked. She briefly considered a career in journalism and human medicine, but quickly decided to join the family tradition.
Now she's bringing advances in veterinary medicine – such as laparoscopic surgery – to Savannah. "Pets have less pain, less risk of infection and need less aftercare," she says. "It works for them the same way it works for a person."
She helps train students from Georgia and Auburn at her practice, and still calls on her dad for advice.
"I had an associate ask me about a difficult surgery, and I said, 'Wait a minute,'" she recalls. "I came back and said, 'Let's attack it like this.' She thought I'd researched the answer, but I called Dad." – KS
Ron Clark, 36
Atlanta
Founder
Ron Clark Academy
He's been on The Oprah Winfrey Show and The Today Show, has a best-selling book and movie made about his life. But that's all part of the job for Ron Clark, who has worked tirelessly for more than two years drumming up financial support for the Ron Clark Academy, which opened in Atlanta last September.
The school's innovative teaching approach makes use of the classroom and the world at large. Last year, 5th and 6th graders traveled the globe, from Washington, DC, and New York to London and Paris. Clark believes this approach produces students who go on to become lifelong learners.
At the end of the academy's first year, students tested better than 86 percent of the country – a 46 percent increase from initial test scores. While those numbers speak volumes, to Clark, it's the student's reactions that matter most.
"The kids love it," he says. "On the last day of school, the kids cried. They didn't want to go home." – CS
La'Keitha Daniels, 28
Decatur
Corporate Counsel
Harland Clarke
La'Keitha Daniels remembers her first political campaign, knocking on doors and passing out flyers. She was 5. "I'm from Miami, and my parents were involved in local politics," she says.
A litigator, she surprised herself by turning corporate counsel in 2007 – and loving it. "One lawyer said, you know as a kid which you want to be – were you making deals or throwing sand in the sandbox?" she says, laughing. "But I love being proactive."
That's her approach in politics, too, as a member of the board of governors of the Red Clay Democrats and co-founder of the Atlanta chapter of National Young Lawyers for Obama. The candidate has inspired people nationally; now it's time to bring that to the state level, Daniels says. He has drawn people in … ," she says. "We fail if this dissipates after November."
Will she run one day for office herself? Stay tuned. – KS
John Daviston, 33
Newnan
President
McKoon Funeral Home
The funeral home business may seem grim from the outside, but a few minutes with John Daviston, president of McKoon Funeral Home in Newnan, soon dispel that myth. "Our business is about truly helping people at a critical time in their lives," he says.
Daviston's community commitment also demonstrates his determination to help people. He's chairman of The Keith Brooking Children's Foundation, which, among other things, gives children vouchers they can take to a store and put toward a pair of shoes. Many recipients have never had a new pair of shoes.
Daviston also organized First Coweta Bank four years ago, when he saw a need for a locally owned bank in his area. He serves on several local nonprofit boards, and, in his spare time, is preparing to open a second funeral home in Sharpsburg. – KK
Kwanza Hall, 37
Atlanta
Atlanta City Council, District 2
Director of Business Development, MACTEC
Kwanza Hall began his career in elected public service with a term on the Atlanta School Board. In 2005 he decided he didn't want to leave the issue of education behind, but wanted to tackle other challenges, including public safety, sustainability, transportation and economic development. (He's also served on the Atlanta Development Authority.)
As the District 2 Atlanta City Council member since 2006, Hall tackles all these issues and more. One accomplishment he's most proud of is the Old Fourth Ward master plan. "This is one of Atlanta's oldest and most diverse communities," he says of the area roughly bounded by Ponce de Leon, Piedmont and the Beltline.
The plan will address issues such as rehabbing old parks and adding new ones, creating pedestrian friendly areas, adding a stormwater feature and guiding environmentally sound redevelopment. Given Hall's day job as director of business development for MACTEC, an engineering, environmental and construction services firm, his attention to those matters is hardly surprising. – KK
Bennett Hollberg, 30
Atlanta
Chef de Cuisine
Ritz-Carlton, Atlanta
Bennett Hollberg was studying at Furman University to be a high school biology teacher and baseball coach, when he abandoned his plans. He headed for culinary school in Seattle, worked long hours honing his craft and brazenly applied at the Ritz-Carlton Buckhead's famous Dining Room. He was hired and stayed four years, developing a specialty in seafood.
"Cavemen threw slabs of meat on the fire," he says. "Cooking fish is more delicate."
In 2006, Hollberg took charge of the kitchen at the Atlanta Grill, the Ritz-Carlton's downtown restaurant, where he assembled a dream team to ensure "the kitchen runs as a single unit, not as a bunch of individuals."
Hollberg isn't interested in showing off, even though Food Network junkies challenge him to Iron Chef type competitions and magazines have hailed him as a rising star. He's just interested in keeping customers happy. – PG
Mark Immelman, 37
Columbus
Head Men's Golf Coach
Columbus State University
Mark Immelman will always remember the pride he felt watching brother Trevor win the 2008 Masters. Not once, however, did he wish he could change places with him.
"I don't think I could have breathed," the elder Immelman says.
While Trevor has made a name for himself as a player, Mark has found success as a teacher of the game. The native of South Africa is head men's golf coach at Columbus State University, his alma mater. He also runs Mark Immelman Golf Instruction, attracting touring pros from as far away as Europe and South Africa for lessons. Mark derives great satisfaction from his work with these high-level pros, but he also enjoys sharing his knowledge with less-experienced players, often doing so on a pro bono basis in support of local charities, schools and youth organizations.
"It is cool for me to be able to pass on the knowledge that's been passed on to me," he says. – RW
Tony Jordan, 34
Savannah
CEO/Founder
All Walks of Life Inc. (AWOL)
The term "AWOL," the military acronym meaning "Absent Without Leave," has a negative connotation. But in Tony Jordan's world AWOL, which stands for All Walks of Life, accentuates the positive.
Jordan founded AWOL, an organization offering at-risk youth a place to explore and express their creativity, when he was a student at Savannah State University. His own difficult childhood was the impetus for his outreach. "My only refuge at that time was the pen and pad," he says. Writing "became my mentor, my salvation."
With assistance from other artists, and especially from Jordan's wife, DaVena, who serves as executive director, AWOL offers an array of disciplines: writing, performance, video and audio production, all financed through a combination of grants and public funding. Cool programs draw in the kids, but AWOL stresses big dreams. With encouragement, some AWOL participants earned their General Equivalency Diplomas (GED) and are enrolled in college. – PR
Gena Knox, 31
Athens
CEO & Founder
Fire & Flavor
In the crowded cooking/cookbook market, who'd have a thought a woman from Reynolds would find a niche with cedar grilling planks?
But Gena Knox, who now lives in Athens, started with the planks, added seasonings, spices and entrepreneurial spirit to grow her company, Fire & Flavor, into a $4 million-plus powerhouse.
"I read about plank grilling," she says of her company's start in 2003. "I was really intrigued but couldn't find the planks." Once she tracked them down and discovered how easy and delicious cedar plank salmon was, she packaged her own planks, plunked them down in the Atlanta Merchandise Mart and sold $6,000 worth in two days.
Knox also does her part in the community, including hiring and training people in general warehouse skills through Goodwill. Some folks go on to get jobs elsewhere but several continue to work at Fire & Flavor. – KK
Kent Landers, 32
Atlanta
Director of External Communications
Delta Air Lines
It took a little practice before Kent Landers grew comfortable enough to tell grizzled airline executives, often decades his senior, how their business should craft its public image and work with reporters who covered it. But with airlines, there's seldom a dull day or a lack of opportunities to hone his skills.
"That's one of the things they don't tell you in college – when you graduate you are going to be very young," Landers says.
"Nothing is more important than having confidence in what you do while also recognizing you don't know everything. Be willing to learn and have confidence in your knowledge and experience to influence decisions."
That's not a bad lesson to subscribe to these days, either. As chief spokesman for Delta Air Lines, Landers has weathered the airline's bankruptcy, restructuring of its entire route network, a hostile takeover attempt and a merger. – MH
Deidra Langstaff, 38
Albany
Founder
Langstaff Marketing
Despite serving exciting internships with CNN and Headline News in New York, and later a stint as a creative development manager for the Coca-Cola Company in Atlanta, Deidra Langstaff couldn't shake loose the entrepreneurial ideas that followed her.
Eventually they led her back to her native south Georgia. Langstaff's idea was to use her New York and Atlanta connections to outsource top creative talent skills for the firm she created in 2000, Langstaff Marketing. With billings of only $120,000 in the first year, the company has grown to five employees, 68 clients and $700,000 in annual billings. It has twice been named Albany's Small Business of the Year.
Just as significant is the company's pro bono work. "Our parks, museums, abuse centers, economic development agencies and so many other worthy efforts are richer for her contributions," says Albany State Senator Michael Meyer Von Bremen.
"To me," says Langstaff, "business and civic responsibility go hand-in-hand and, in fact, I'm the richer for community service." – EL
Tommy Linstroth, 30
Savannah
Head of Sustainable Initiatives
Melaver, Inc.
Tommy Linstroth's blood runs green. As head of Melaver's Sustainable Initiatives, he ensures that the real estate company's products are as environmentally friendly as possible, while reducing the environmental impact of the company's operations.
"Americans on average spend 90 percent of our time indoors," he says. "Making sure that people have a healthy indoor environment to be in – that you're not breathing in fumes from the walls or the formaldehyde of your furniture – is vastly important."
As founder of Savannah Recycles, Linstroth encouraged the city to institute curbside recycling starting in January 2009; he's also working to initiate a graywater ordinance. "Buildings use almost half of the energy in the U.S., as well as 75 percent of the electricity generated from power plants," Linstroth says. "Buildings have such a profound impact that if we're going to start curbing climate change, it really needs to start in the built environment." – CS
Jeff Mango, 36
Alpharetta
President for Georgia and Alabama Region
Verizon Wireless
Jeff Mango knew his days pitching cell phones and calling plans in a mall kiosk were numbered. He wanted it that way, using his downtime to read business books from a nearby bookstore and map out an aggressive career strategy. Within 10 years of joining Verizon Wireless, Mango wanted to be a president.
He reached that goal in 2004 with 60 days to spare, crediting strong mentors, a willingness to go where he was needed within the company and dedication to his long-term goal – he was then, at 33, the youngest person ever named a regional president for the company. He's responsible for sales, customer service operations and marketing for both Georgia and Alabama.
"When you come out of school, you have to see past the entry-level position and see what is possible," Mango says. "What I saw was an industry that was growing tremendously. Who is to say what position and how fast you can move up?'" – MH
Dr. Charles B. May, Jr., 36
Rome
Physician
Rome Orthopedic Clinic
For a week each year, Dr. Charlie May gets to travel the world as a team physician for the U.S. Men's Alpine Ski Team. The rest of the time, patients at the Rome Orthopedic Clinic and local high school athletes are the beneficiaries of his passion for sports medicine.
On Friday nights in the fall, he can be found on the sidelines for one of two local high schools he serves as team physician. The next morning, he is back at work providing free screenings for injured players.
Such work might not sound glamorous – especially for someone who treated professional athletes during his fellowship at the prestigious Steadman Hawkins Clinic in Vail, Colo. – but the husband and father of two wouldn't have it any other way.
"I remember how important it was to me," the Macon native says. "When I was in high school, that's all I cared about." – RW
Leonardo McClarty, 35
Tucker
President & CEO
DeKalb Chamber of Commerce
When Leonardo McClarty took over the DeKalb County Chamber of Commerce four years ago, he compared the organization to other Atlanta area chambers and found his baby wanting.
"We don't have the manpower to address issues and projects we need to do to effect positive change in DeKalb County," he says.
But that's changing under his leadership. Funds from a capital campaign that has, so far, brought in more than $800,000 will be used to improve internal operations and hire staff. A membership campaign was set to commence in September.
The ultimate goal, McClarty says, is to "effect change on the external community."
McClarty is visible in the community in other ways, as well. He's on the board of the DeKalb Convention and Visitors Bureau, has served as chair of the United Way campaign, is a 2008 graduate of Leadership DeKalb and will be a member of the 2009 class of Leadership Atlanta when it convenes. – KK
Allison Bracewell McCullick, 34
Athens
Coordinator of Health Initiatives
UGA
Georgia is facing a physician crisis, but with Allison McCullick's help, more doctors will soon be graduating from a new Medical College of Georgia campus in Athens.
The new campus will occupy the former Navy School facilities just outside of downtown. McCullick hopes the first class of students will arrive in 2010.
"Athens is a wonderful opportunity," she says. "With the research that's going on here, the students can really learn and have opportunities to work with our researchers in some different fields of study."
A native of Athens and former Statewide Voter Education Coordinator under Secretary of State Cathy Cox, McCullick also gives her time to such groups as the Clarke County Board of Elections, the Athens Area Cancer Auxiliary and the Junior League of Athens.
"At the end of the day, it makes you feel like you're having some impact on your home that you love." – CS
Bob McNeil, 38
Atlanta
Founder/President
IMAGES USA
Starting in his Georgia Tech dorm room nearly 20 years ago, Bob McNeil has created an award-winning multicultural communications firm that counts Wachovia, Sprint and Coca-Cola in its roster of clients.
"Every corporation in America that sells products and services to people has to recognize that the complexity and complexion of their consumer has begun to change," he says. "So any company that wants to grow its market share and increase its revenue has to be concerned about who its changing customer is."
IMAGES USA has been named the Multicultural Agency of the Year by the American Marketing Association, a Top 100 Black-owned Advertising Agency by Black Enterprise and a Top Owned Business on DiversityBusiness.com.
In the future, such distinctions may not be necessary. "Twenty years ago, it wasn't called multicultural marketing," he says. "I'm sure 20 years from now, we'll be calling it something else – hopefully, just marketing." – CS
David Meredith, 37
Savannah
CEO
Music Intelligence Solutions, Inc.
If you want to know what people have in common ask David Meredith. He'll tell you it's music – everyone responds to similar patterns in songs. That's the idea behind his company, Music Intelligence Solutions, Inc., which uses proprietary algorithms to identify key combinations of attributes present in every song. The system identifies songs that are related, giving it the ability to predict what people will like – and which song will become a hit.
"People just don't have time to discover music, whether it is rediscovering your own collection, or discovering music that's coming out of this explosion of digital media," he says.
Given the nature of his business, it's no surprise that Meredith is involved with The Creative Coast Alliance, a private/public partnership to support the growth of creative technology-based businesses in the region, the Coastal Business and Education Technology Alliance and the Savannah Music Festival. – RS
John Moeller, Jr., 38
Marietta
Executive Director
MUST Ministries
After John Moeller received a business degree from UGA and graduated from Emory's theological seminary, he began to pastor United Methodist Churches, he says, "because I thought that's what you did."
But the fit was never exactly right and when the position at MUST Ministries opened up nearly eight years ago, Moeller recalls, "it suited my skill set. It was a way to fulfill my ministry." MUST Ministries provided 24,000 people with help in the year ending June 2008. "That's a small city of people in need," Moeller says.
MUST Ministries provides a variety of services in Cobb, Cherokee and Douglas counties, including a food pantry, hot meals, emergency shelter, a health clinic, education and employment assistance and financial aid. With 255,000 volunteer hours last year, MUST also "provides a safe place for people to help make a difference in the lives of others," Moeller says. – KK
Tyler Perry, 39
Atlanta
Founder
Tyler Perry Studios
Consider how a 6-foot-5-inch man might fit, let alone sleep, in a Geo Metro and the image hints at just how much writer, actor and producer Tyler Perry suffered before finding unbridled success.
Perry managed to shake his hardscrabble childhood in New Orleans and move to Atlanta, where years later, in 2006, he opened Tyler Perry Studios in Inman Park. He's now planning a 200,000-square-foot facility in southwest Atlanta.
But it was memories of that painful childhood Perry tapped in 1992 for a work that later turned into his first play I Know I've Been Changed. It flopped for years before finally resonating with audiences and becoming the first of nine plays that routinely sold out box offices. His 12 DVDs, a combination of his stage and film work, have since sold more than 25 million units.
Perry has also produced and marketed five films since 2005 in addition to The Family That Preys, which opened in September. His popular House of Payne debuted on TBS in 2007. – MH
Trey Ragsdale, 34
Sandy Springs
Government & Community Relations Officer
Kaiser Permanente
Trey Ragsdale found his love of politics while on an elementary school trip to Washington, DC. "I sat outside the Reagan White House and thought, 'Maybe someday I could work there or be involved in politics,'" he recalls.
And work there he did, becoming a White House intern. He was appointed deputy press secretary for former Sen. Max Cleland, running his Atlanta office. In the years since, Ragsdale has been a fixture both in government and the private sector, working for Lt. Gov. Casey Cagle, School Superintendent Kathy Cox and several corporations before taking his current post.
He also co-founded PurePolitcs.com LLC, and has written several books. "Sometimes people say it takes too long to get things done in politics," he says. "You have to plant the seeds and it might take years, but the work you start can eventually come to fruition and change people lives." – RS
Ginny Rainey, 34
Smyrna
Director of Business Development
R.F. Knox Co., Inc.
In Cobb County, Ginny Rainey was the queen of commuting. For nearly a decade in her role as executive director of the Commuter Club, she helped provide transportation services to Cumberland Galleria area office workers and their employers. The agency's ridesharing, carpooling and vanpooling effort trimmed 55 million miles of travel from the region's clogged roads as well as tons of pollutants.
Now she's turning her attention to one of the largest metal shops in the Southeast by joining her brother in the family-owned and operated R.F. Knox Co. The company's 200 employees may soon know the ins and outs of carpooling as well as they do fabricating metals.
"I had the opportunity to join a business that is in my blood," she says. "I'm the first woman to step into a leadership role in the company. My brother picked up the phone and called and it was the perfect fit." – MH
Marlene Ramsey, 35
Albany
Criminal Justice Chair and Program Coordinator
Darton College
In 1996, Marlene Ramsey became the Albany Police Department's first crime analyst, detecting patterns in criminal activity, briefing law enforcement leaders and keeping cops up to date on changes in the law.
"For as long as I can remember, I have been interested in reducing large problems to understandable parts," says Ramsey, who was tapped earlier this year as Darton College's Criminal Justice Chair and Program Coordinator. "I was not a police officer but I did help the police officers on the beat to look at patterns and understand how those patterns may relate to things they have seen in the past and may be emerging as a trend." Such information, she says, can be used to solve and prevent crimes.
Ramsey sees her law enforcement and teaching careers intersecting in the classroom. "When I'm teaching criminal justice, I'm also introducing those students to a career path," she says. – EL
Todd Rhinehart, 37
Atlanta
Executive Director
THE TOUR Championship
You will never see Todd Rhinehart's name atop the leader board for THE TOUR Championship held annually at East Lake Golf Club in Atlanta. Nevertheless, the former collegiate golfer and longtime PGA TOUR staff member has helped the event achieve new levels of success during his five years at the helm.
The finale of the PGA TOUR playoffs for the FedEx Cup, THE TOUR Championship enjoyed a 58-percent increase in revenues during Rhinehart's first four years as executive director. At the same time, TV ratings and dollars raised in support of charity soared.
Rhinehart takes special satisfaction in the work that has been done to build The TOUR Championship's reputation in the local community. Like any true competitor, he hopes to see the event reach even greater heights in the years to come. "We definitely want it to become Atlanta's premier annual sporting event," he says. – RW
Edward D. Smith, 35
LaGrange
Principal
Hutchinson Traylor Insurance
If there's a thread woven through Edward Smith's civic involvement, it passes through organizations that serve young people and support education. "I do think that education can make a difference in impacting a community, the state and ultimately, the world," he says.
As this year's president of the Leadership Council of LaGrange College, an advisory group for the institution's president and board of trustees, he has led efforts to promote sustainability both on campus and off, including the development of a regional conference on sustainability issues, which caught the attention of the United Nations' organization CIFAL Atlanta.
Smith also co-owns, with his brother, Hutchinson Traylor Insurance, which employs 35 people and has offices in LaGrange, Griffin and Columbus. In addition, he has served as president of Rotary Club of LaGrange, co-chaired the West Georgia United Way campaign and works with the West Georgia Boys & Girls Clubs. – KK
Nathan Sparks, 32
Brunswick
Executive Director
Brunswick and Glynn County Development Authority
Many people come to economic development as a second career, but Nathan Sparks always knew he wanted to be the guy who landed new employers for his community. As executive director of the Brunswick and Glynn County Development Authority, doing just that. "We often refer to it as a perfect storm where you have so many facets of our local economy that appeared to be coalescing at the same time," Sparks says.
With the Port of Brunswick growing busier every day, and a location halfway between ports in Savannah and Jacksonville, this area is ideally suited for warehouse distribution centers. Yet it lacked an industrial park near I-95.
Since his arrival less than four years ago, Sparks has worked a deal with Lincoln Property to convert a parcel of land once slated for mining into a home for distribution companies. With that element in place, Glynn is poised to enter a new phase of growth. – RS
Sherri Stone, 38
Albany
Kindergarten Teacher
Alice Coachman Elementary School
Abused and abandoned as a child, Sherri Stone sought refuge in school, where her teachers instilled her with confidence.
Today, Stone, 38, pays it forward as a kindergarten teacher at Alice Coachman Elementary School. She was last year's Teacher of the Year for the Dougherty County School System.
"What kids learn in kindergarten they will use for the rest of their lives," Stone says.
She uses music and movement to teach her students to read, something kids are now expected to do by the time they reach first grade. "Everyone can relate to music," says Stone, who makes sure parents can relate to her by getting to know them on a first-name basis.
"I want to be the type of teacher I want my children to have." – PG
Emily A. Thomas, 33
Atlanta
President/Chief Operating Officer
Arrow Exterminators
Emily Thomas was 28 years old when she became COO of Arrow Exterminators. "Age was a bigger challenge than gender," she says. "I had to work hard and build relationships and let the results speak for themselves. Sometimes you have to work harder to earn credibility."
Thomas has credibility now. She runs the day-to-day operations of the ninth largest pest management company in the country with annual revenues topping $97 million. Arrow Exterminating has more than 1,000 employees with offices in nine states, including 41 in Georgia.
"Our main job is to protect the public's health and property, two of the most important things in life," Thomas says. She brings leadership, integrity and passion to her job. "My friends laugh at me," she says. "They say, 'I didn't realize anyone could get so jazzed about the pest control business!'" – PR
Judson Turner, 34
Griffin
Partner
Georgia360 Public Affairs
Judson Turner stole a page from the playbook of his great grandfather – a Greenville, Ga., legislator and attorney – in becoming an attorney who practices both politics and law.
The interest in a mix of law, politics and public policy was furthered soon after law school when Turner left a Birmingham law practice for a job in the Georgia Department of Education. Two years later, he moved to the office of Gov. Sonny Perdue. He started that job in 2005 and later rose to executive counsel to Perdue before leaving last June to help launch a public affairs company.
"I think the public service started more from a love of the issues and substantive policy as much as it did from the politics," Turner says. "That's always sort of been in my genes and thoughts. I didn't know what I was going to do with a law degree, but I always thought I was the lawyer type." – MH
Patrice Williams, 31
Morrow
Program Coordinator
Georgia Department of Community Affairs
As former Community Development Associate with the Georgia Municipal Association and current Program Coordinator for DCA, Patrice Williams has made a career out of revitalizing Georgia's communities.
Through the Georgia Cities Foundation, she helped developers obtain low-interest funding for projects in Georgia's downtowns, including restaurants, theaters and lofts. "It's a new wave, a downtown renaissance," she says. "People are moving back downtown to be closer to events that are going on in the area."
She currently manages DCA's Co-op and Signature programs, bringing cities, counties and local governments together to address issues facing the state's poorest counties. "I'm able to work with those who are invested in the community as a whole to see improvement [and] economic development, not just in the downtown district, but throughout the entire county," she says. – CS
Stacey Winfield, 31
Albany
Assistant Brewing Manager
MillerCoors Brewing Company
With a master's degree in biochemistry from Purdue University, Stacey Winfield planned to go into pharmaceutical research. "I was going to find the cure for cancer," she says. Instead, this self-described "people person" serves as liaison between brewing and packaging departments and oversees day-to-day operations at the MillerCoors Brewing Company in Albany – and loves it.
"It's a new challenge every day," says Winfield, who's been on the job for 18 months. "I use my foundational science skills as I learn more about the brewing process, but it's a growth opportunity for me as I develop my management skills."
The Virginia native earned her undergraduate degree at Fort Valley State University and spent several years at Anheuser-Busch in St. Louis. She's an active volunteer for The Samaritan Clinic, a publicly/privately funded free medical services clinic in downtown Albany. – PR