Monticello/Jasper County: Playing To It's Strengths
Banking on tourism, agriculture and creativity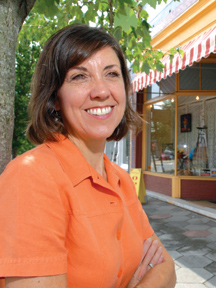 For decades, the citizens of Jasper County seemed perfectly content to watch from a distance the rising numbers of new businesses and residences in neighboring counties. But population growth, like water, seeks a void, and Jasper County had plenty of open space.
In fact, the landscape offers the kind of stately forests and gently rolling countryside peppered with tranquil lakes that's all but irresistible to developers. For leaders here, it seemed only a matter of time before the county was discovered by suburbanites running from the spreading sprawl of Atlanta, Athens and even Macon. The question then became, what would they find? To answer that question, Jasper County's economic development leaders began the formal search for an identity.
"We do not expect the big guns to come to our industrial park, at least in the short term," says Tracy Trovillo, executive director of the Development Authority of Jasper County (DAJC). "When we started researching our assets four years ago, we realized the majority of our assets are ag-based, nature-based and creative-based."
By the end of 2007, a promotional program had been developed to promote those three themes. Using nature to attract tourists was a given, Trovillo says. As home to 95 percent of the 6,400 acre Charlie Elliott Wildlife Center and its conference, lodging and banquet facilities, Jasper County has a tourism economy that is boosted by the 250,000 visitors the attraction draws. But that's just the beginning of the outdoor lures the county offers.
With 115,000 acres of woodlands, Jasper County's Oconee National Forest has long been a magnet for nature lovers. The Oconee Forest offers 35 miles of trails for horseback riders who, it seems, are clopping along under the radar. "There were good things happening in this county that nobody understood," Trovillo says. "Just like the 400 horseback riders that come onto our tail every weekend."
And those horses leave cash behind. "There is money spent here but nobody knows it because that is a quiet tourist attraction," Trovillo says.
Arts And Industry
Trovillo may be the only economic development professional in Georgia who's fully aware that Vincent van Gogh never sold a painting in his lifetime. "A lot of artists love doing their art, then set it aside; they don't actually know how to sell it," she says. "That's where we come in."
As part of its creative-based economic development plans, the DAJC brings in professionals who help artists tally up their costs in materials and time, then tackle the most difficult task: assessing the aesthetic value – in dollars – of their creations.
"We have about 30 artists now, and that's in a county of about 14,000, and we're working to attract more," Trovillo says. Citing statewide studies of the economic value of a single artist to a community, Trovillo says it equals one manufacturing job. "It's about $35,000 annually."
At the end of 2007, about the time the county was launching its recently completed promotional program, the community's largest employer, Georgia-Pacific (G-P), announced the layoff of 320 workers at its plywood manufacturing facility, the heaviest blow to the local economy in recent memory. The national downturn in new building construction was blamed, but that hardly lessened the pain here.
As 2008 began and the months wore on with no workers being called back to their jobs, worries grew that the G-P layoffs would become permanent. "The loss of any jobs is always terrible, but to add to that such a large number of jobs in proportion to the size of our community …" says Monticello Mayor Glenn Newsome, his voice trailing off. "But we are doing everything we can to help those workers who are losing their jobs."
Newsome says the Monticello city council is setting up a special program to assist laid-off workers who can't pay their utility bills with partial-pay accounts until they are called back to work by G-P, or until they find new jobs. In either case, those jobless men and women would require training.
Joan Bell came to Monticello in 2001 for what she thought would be a life of leisure after retiring from the DeKalb County School System. Bell's retired husband was a native of Jasper County and the two eagerly settled into their new home to enjoy a stress-free life. But in 2004, Bell was coaxed into a part-time job running the small adult education program on the Monticello campus of Griffin Technical College when the previous director fell ill.
On some days the seven-room education building had as few as three students, but after the layoffs at Georgia-Pacific the campus was flooded with applicants for training. "I had about 75 people come in," Bell recalls. "I was shocked; I wasn't prepared for that many." But the resourceful Bell drafted her visiting granddaughter, an eighth-grader, to help sign up the laid-off workers and organize testing materials.
After the testing to determine skill and education levels, Bell had to craft a plan for future coursework for each of the 75 retrainees. "All are still in the program and are on track to further their education or learn a new skill," she says. "The whole program is directed at having them ready when the plant opens back up, or to have them prepared to use new skills in a new job."
Timeframes for the 75 to complete their studies vary, and could run into the first part of 2009. "Or even beyond if they want to continue improving their skills or education," Bell says. "I knew a lot of the people who came in; knew their families; knew them from church or from the community."
Georgia-Pacific has two other facilities in Monticello that remain open and running. According to G-P public relations officer Julie Davis, the company employs 110 people in those plants and it did do some equipment upgrades at the [closed] Monticello plywood facility earlier this year.
Is that an encouraging sign the plant will reopen?
"We are going to talk with Georgia-Pacific and see if there is anything we can do to get this plant back open," Newsome says.
Down On The Farm
For years, Bob Donovan had ridden his horses near Monticello, enjoying the rolling, wooded terrain and letting his steeds drink from the region's creeks and lakes. His frequent trips to the region spawned a romance – of sorts "I just fell in love with the whole countryside up there," says Donovan, who, along with partner Kevin Shaney, developed the posh Ford Plantation on the coast near Savannah.
Originally, Donovan says, he began looking for a small piece of land for himself, his family and his horses. But the beauty of the land sparked an idea on the developer's side of his brain for something he calls "new ruralism." After a few years of talks, he and Shaney became business associates with the owner of a 900-acre tract of Jasper County land that held all the qualities a horse owner or homeowner could dream of. Thus, Monticello Farms was born.
It's easy to imagine Donovan and partners standing on a hill at the edge of a forest gazing down on a quiet lake and waiting for an idea. "We were thinking what market would work there," Donovan says. "It had to be something special." After looking at a "little market study," they found their concept. "[We] found that there was a demand from people from Atlanta, Macon and Augusta just to get away from the city on the weekends."
Monticello Farms is the latest project for the Richmond Hills-based Bedford Falls Development LLC, a company whimsically named after the town in the classic movie It's A Wonderful Life. Donovan says he expects his company to break ground on the project "early in the second quarter of next year."
Plans call for Monticello Farms to sell building lots for $90,000 to $400,000 for the construction of 280 homes, but the project also has rare landscaping design features as part of Donovan's new ruralism. "At one point, almost all of us came from some kind of agrarian background," Donovan says. "Why can't we put something together where we actually have something like a working farm?"
The Monticello Farms concept centers on horses, featuring stables, equestrian trails and fields of hay to be harvested by residents, if they want, to feed their animals. "And we're going to gather pecans from the orchard in the fall," Donovan says. "We'll have gardens for produce too."
Monticello Farms received necessary approval for the project from the Jasper County Commission last summer. While the development will create a wave of local construction jobs and a spike in retail sales to help offset the effects of the G-P layoffs, there will be another important – and more lasting – economic effect.
"Our research has shown that each Monticello Farms home will create at a minimum six-tenths of a job," Trovillo says. "That means upwards of 174 new, lasting jobs in everything from healthcare to transportation. It will increase the amount of annual disposable income here, which will assist with retail development."
In many ways, Jasper County is a rural outpost being squeezed by growth from all sides. Sitting at the center of a triangle that stretches from Atlanta to Athens to Macon, the county is poised for invasion by the suburban sprawl spreading from those three metro areas.
Jasper County has a history with invasions – in 1864, Union General William T. Sherman and his troops swept through on his march from Atlanta to Savannah, pausing long enough to "secure" supplies. "The citizens suffered greatly in the loss of provisions and work stock taken, also in the burning of houses and bales of cotton …" reads one local account. In the 1920s, a boll weevil invasion decimated local cotton fields, and continued for years to ravage the crop so severely that farm families fled to the cities for factory jobs.
It's unlikely these two events loom large in the local memory bank, but to some here the bucolic life is being threatened. "We have those who oppose growth," says County Commission Chairman Charles Hill. "But the growth is coming at us real fast and we've got to get ready for it now. We are already getting a lot of spillover from Newton County [Covington] to the north. And the Georgia-Pacific layoffs made things tough in the county, so I think the Monticello Farms development is going to be very welcome here."
Brack Pound, chairman of the Jasper County Water and Sewer Authority (WSA), is point man in the effort to make sure his community has the critical infrastructure needed to welcome the growth that's coming. "We are truly surrounded on all sides by dynamic growth," he says. "But there are many people here who like what they have."
To make sure prospective businesses and residents have the water and sewer they need, the authority has joined with Monticello's city officials and brought in a geologist to search for three new well sites. The new wells and accompanying water treatment equipment are expected to cost $2 million, with funding provided by a state grant set for approval next month.
"The authority is also working with the city of Monticello to provide an extension line to the Monticello Farms site," Pound says. The cost of the extension line is to be paid for by utility customer sales guaranteed by the developers.
Monticello, the county seat, is sprucing up its infrastructure, but more out of present necessities than anticipated growth. "Basically, we're coming into the 21st century," says City Manager Hugh King. "We're the last city in Georgia that uses four kilovolt [electrical] lines. It wasn't a very powerful system." But it was an obstacle to economic development. "We upgraded to 12 kilovolts, which allows us to extend our distribution line further," King says. "And that is an improvement that reduces the line loss [of electricity]."
With a farm gate value of $60 million a year, agriculture remains Jasper County's leading cash generator, but there's more to that economic engine than planting and harvesting, says David Dyer, executive director of the fledgling Georgia Agritourism Association.
"Agriculture is still the number one industry in Georgia, and tourism is a close second," says Dyer, a native of Jasper County. "If you can some way marry agriculture and tourism, then what an engine you would have for generating economic development. That's why we have gone to such great lengths to form the Georgia Agritourism Association, with the idea of headquartering [it] right here in Jasper County."
Dyer sees a latent yearning in the heart for the farms of old. "We are two or three generations from our children having a very direct relationship with a farm," he says. "Agritourism is a portal by which families can go back to that old family farm and, I guess in some respects, go back to their roots."
Monticello/Jasper county
At-A-Glance
Population
(2006)
Jasper County, 13,624; Monticello (county seat), 2,612; Shady Dale, 245
Unemployment
(June 2008)
Jasper County, 5.9 percent; Georgia, 6 percent
Per Capita Income
(2005)
Jasper County, $24,173; Georgia, $30,914
Top 10 Employers
Jasper County School System, 350; Georgia-Pacific, 160; Jasper Health Services, 134; Jasper County Government, 100; Dexter Axle, 75; Cal-Maine, 70; Ingles Supermarkets, 70; City of Monticello, 55; Pallet Acquisitions, 55; Perma Therm, 46
Sources
Development Authority of Jasper County, Monticello-Jasper County Chamber of Commerce, Georgia Dept. of Labor, U.S. Census Bureau