Creative Strategy
Designed to grow Georgia businesses, the state's Centers of Innovation are linked to strategic industries – agriculture, aerospace, life sciences, logistics, manufacturing and energy – with a solid record of supplying jobs and reven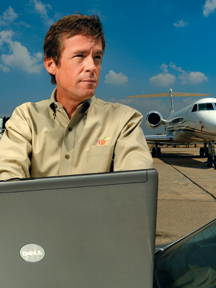 When Irwin County vintner Chris Paulk was facing a few difficulties in converting the byproducts of his muscadine grapes into a saleable commodity, he turned to the Agribusiness Innovation Center (AgIC) in nearby Tifton.
"He needed a way to add value to his waste stream, those muscadines that do not grade for the fresh market," says Bill Boone, AgIC's executive director.
Paulk also was interested in turning the muscadine seeds and skins into a revenue stream. "There are high levels of antioxidants in muscadines," Boone says. Antioxidants are valued in cancer-fighting nutritional supplements.
What Paulk needed was expertise in refining his byproduct processing line, and the equipment to do it. With assistance from the AgIC, the expertise was provided by a University of Georgia pharmacologist through a USDA grant, which also paid for the needed equipment.
"We had the pieces of the puzzle, and the Ag Innovation Center helped us put them together," says Paulk. Since then, he's found a customer – a nutritional supplements manufacturer who needs concentrated muscadine liquid for a new product scheduled to hit market by fall.
Another byproduct popped up when Paulk's tinkering attracted the attention of cancer researchers from France who twice have visited his vineyards. "In a conversation I had with them on their last visit, they were interested in perhaps locating a small research facility in Georgia to work on other areas of this type of research," Boone says.
Paulk is yet another beneficiary of Georgia's network of six innovation centers that grew from a 2002 report issued by the Commission for a New Georgia, a study group that made recommendations for improving the state's economic development efforts. The centers are linked to strategic industries that have a proven record of supplying jobs and revenue.
Agriculture, aerospace, life sciences, logistics, manufacturing, and most recently, energy, each have their own innovation centers, with a small staff of experts. The centers also offer wide access to a great variety of resources to assist business and industry – and at no charge.
"They help companies that want to grow or innovate or develop some new process," says Greg Torre, director of the Georgia Department of Economic Development's (GDEcD) Small Business and Innovation department, the agency responsible for the Centers of Innovation (COI) program. COI got a new full-time director last summer, when business development veteran Sterling Wharton, former entrepreneur-in-residence for the Atlanta Technology Development Center, took the reins.
Total statewide budget for the COI program is $3.5 million, to support a staff of 25. "This is a lean operation," Torre says. That's quite an understatement. Tifton's AgIC may have the largest staff with four full-time employees and one part-timer, but its state-supplied budget is only about $200,000.
The OneGeorgia Authority uses tobacco settlement money to provide about 75 percent of the centers' funds, with the state's university system and technical college partners anteing up the remaining 25 percent. The centers are free to pursue grants and other funding from whatever sources they choose.
"What we're seeing now, as they have become more and more successful and we're seeing more and more benefits come out of it, is that we are able to build on these successes and add to their budgets," Torre says.
Still, the innovation center concept is built on a Spartan approach, with small offices and staffing – one center director says much of his work is done out of his car.
Tim Bola is training coordinator at the Manufacturing Center of Innovation on the campus of Gainesville's Lanier Technical Col-lege, and though he works in the most luxurious building in the ICs network – a 20,000-square-foot facility complete with a robotics lab – he and the center's only other employee find themselves constructing by hand the machinery their innovations require.
At present, Bola is working with an inventor seeking to get a medical device to market. The project is top secret. "To work with an individual from basically taking a concept to a product that will probably go in the next month or so to a clinical trial is pretty cool," Bola says.
"The challenge is in meeting all the criteria set down from the medical field and the regulatory agencies. And then there is making the device operate efficiently and effectively."
That's a far cry from the huge product lines he's used to visiting. "We [usually] work with manufacturers and we go in and look at what kind of things they are doing and kind of hurdles they have," he says.
New Energy
About two years ago, the Georgia Department of Economic Develop-ment set up a "one-stop shop" with the Georgia Environmental Facilities Authority (GEFA) to help streamline the process of building biofuel facilities in the state. So last May when the governor signed an executive order creating an Energy Center of Innovation (ECI), it seemed perfectly natural to put it in the same building with GEFA at Atlanta's Peachtree Center.
In keeping with the lean theme, the GEFA and ECI ended up with the same executive director, Chris Clark. "We took that one-stop shop and those relationships that we had worked on for the last 18 months and basically we grew that into the Energy Innovation Center," Clark says. "Georgia's energy business recruitment and development has centered on biofuels. We've expanded that effort now so that we include wind, methane, solar and the whole gamut. We are being more aggressive now in going out to identify companies around the world that are in those [alternative energy] areas, and we are talking with them." Clark says the ECI is currently working with about a dozen such companies.
When Nick Furman took his come-to-Georgia sales pitch to a California unmanned aircraft conference last summer, he carried with him some enticing bait. "Together with salaries, energy costs and taxes, Georgia is the half-price aerospace capital, compared to California," says Furman, executive director of the Aerospace Innovation Center (AIC).
Located in Warner Robins, the AIC has as partners Georgia Tech, Middle Georgia Technical College (Warner Robins) and Central Geor-gia Technical College (Macon). Furman has been focusing on workforce development to ensure new and expanding Georgia aerospace industries have the employees they need, particularly at Robins Air Force Base, whose 26,000 employees constitute the state's largest industrial complex.
The AIC has been gathering information on the aerospace industry's hiring needs, conducting much of the research at Robins AFB. "The Air Force is committed to $4.5 million in payrolls for new [on-the-job training], internships and entry-level jobs as a result of these conversations we've had," Furman says. "That represents 1,000 new jobs over the next three years."
In addition, some of the state's private aerospace companies are enjoying booming sales, creating the need for production line and maintenance employees. "Gulfstream in Savannah has back orders on all their production lines going into 2012," Furman says.
Georgia also is seeing growth in the unmanned airborne vehicle sector of the aerospace industry. "In Marietta, we have a business that's made a two-pound helicopter that's used for close surveillance by Army troops," Furman says. "That business was developed by a group of Georgia Tech professors, and we're helping them market the helicopter, mainly to the military."
With an Atlanta area telephone number and two staffers in Warner Robins, where does Furman hang his hat when he gets to work? "Wherever I'm at – in my car, wherever," he says. When asked where his office is physically located, he replies, "We're not physically located. We haven't had the need for a physical office but we could have in the next year or so."
Moving Cargo
Georgia's busy ports are wellsprings of the commerce that flows along highways and rail lines from Rising Fawn in the northeast mountains to Attapulgus at the Florida line. The movement of goods from these ports generates 300,000 jobs in trucking, warehousing, information technology – indeed, the entire spectrum of logistics, making Savannah the most suitable location for Georgia's Log-istics Innovation Center (LIC).
The unimpeded growth in cargo flow through the ports portends long-term challenges for the LIC, says its executive director, Page Siplon.
"The Port of Savannah had a 25 percent growth last year, making it the fastest growing port in the country, and it has been for the last eight years," Siplon says. "And that issue of massive growth flows into infrastructure and capacity. From an economic development point of view, companies are saying to us, 'We're coming to you because you guys are really kicking butt in the logistics world. You've got the infrastructure and you've got the companies that surround it, and the technology, and so on, and we want to be a part of that.'"
But with the promise of more logistics growth on the horizon comes some troubling clouds. "For us it's not, build it and they will come; it's more we have to build it because they are coming," Siplon says.
If there's a sense of urgency in his voice, it comes from needing now what has always come slowly. "If you look at what we need to build because they are coming, that's new warehouse space; that's new road infrastructure; it's new rail infrastructure; and new people – workforce development. And when you are building new highways you're not building for next year; you have to look out 10 years to see what will be needed. And that's what we do."
Building the needed infrastructure to support growth is requiring the LIC to forge partnerships with private industry and local, state and federal agencies. "We have to be collaborative," Siplon says. "And we have to look at some of these cargo flow models; look at where the industry is going and trends along those lines to help the industries make their decisions."
Even as news of Georgia's innovation centers spreads, and clients line up for assistance, IC leaders continue to search for fledgling companies that might contribute to the state's economy. Last summer Jonathan Goolsby found the 25,000 attendees at San Diego's Bio 2008 Conference a rich source of possibilities for his Augusta-based Life Science Innovation Center (LSIC).
"It is the largest international biotechnology show in the world," says Goolsby, who spent most of a week in San Diego selling his center to entrepreneurs and startup founders. "We felt like we've had 15 legitimate, serious, solid conversations with people about biotech opportunities in Georgia. And that could turn into job opportunities and economic growth in the state."
As marketing outreach director for the LSIC, part of Goolsby's sales pitch is the center's track record. "In the last three years, we have gotten seven businesses at our startup center in Augusta up and running," Goolsby says. "Only one has failed."
To measure his success, Goolsby uses what he calls the "3-4-5 rule." "Three out of every four new startups in life sciences will not make it past five years," he says. "So we think we are doing an exceptional job in Augusta."
The LSIC nurtures young businesses through the difficult early years and provides them with facilities on the campus of the Medical College of Georgia. In February, one startup, ClariPath Inc., celebrated its second year at the LSIC by shedding its beginner status and leaving the nest for the "real world." The company began with just three employees but left the center with 25. "Once companies at the center reach about 20 employees they are ready to stand alone," Goolsby says.
ClariPath's early success came from its development of an improved method of diagnosing prostate biopsies, and the company is a nice representative of the value of biotechnology businesses to the state's economy. "The scientific and biotech healthcare industries are among the highest paying industries there are," Goolsby says. "Nation-wide, the average salary is about $80,000 a year."
Beyond the financial possibilities, the research done at the LSIC can lengthen lives and improve their quality. Among the LSIC clients, Luminonics Inc., is searching for a means of combating the degenerative effects of diseases such as Parkinson's and Alzheimer's by studying genetic manipulations in zebra fish, a species whose bodies are transparent during the first few days of their lives. Goolsby says his center will be adding a director and an office specialist by the end of the year.
The Innovation Centers' growing success has the state's economic development leaders looking at adding more to the Georgia landscape, including a new Advanced Communication Center of Inno-vation that could be announced during the coming year.