Can The Speaker Survive?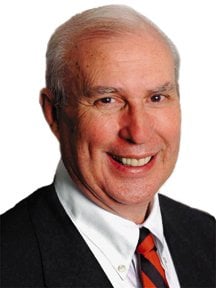 Glenn Richardson, speaker of Georgia's House of Representatives, is being challenged for his leadership post by House member David Ralston, a Republican from Blue Ridge.
The challenge from within the GOP majority will be decided after the November elections and comes as a result of this year's disastrous legislative session, in which almost nothing was accomplished.
Richardson's abrasive management style has been the focus of most of the discontent. When things don't go his way in the House, on the Senate floor or in the Governor's office, his temper flares.
Here are a few examples: He punished several House members by taking away committee assignments if they didn't vote his way on legislative issues. He called on Lt. Gov. Casey Cagle to "Stand up like a man!" Last year he accused Gov. Sonny Perdue of "showing his backside." The present crisis of leadership in state government is a result of no one wanting to deal with Richardson.
House members, not the voting public, are the ones who decide who is speaker. There are several reasons why Richardson might remain speaker.
One reason in particular is the money that Richardson can give to fellow House members to help with their campaigns. The speaker can buy their loyalty by providing financial support to those with political opposition. When Richardson first assumed his post in 2004 he created an obscure political action committee called the MMV Alliance Fund that he controls. The fund today is estimated to top $500,000. It has provided unprecedented opportunities for political giving by lobbying groups that have a financial stake in legislation overseen by the speaker. Richardson in turn doles out these funds to his favorites and gains their support in kind.
Another reason the speaker has strong support is that House legislative committee chairmen owe their assignments to him. Other members of these important committees are appointed under Richardson's direction.
Many House members have called him a dictator, one who has a "one-way-my-way" form of management. For instance, in the last session, Speaker Richardson pushed his "GREAT Plan," which promised to replace all property taxes with a 4 percent sales tax on all services in state.
There was major opposition to the GREAT Plan because Richardson crafted his proposal to do away also with local government control of tax dollars and give it to the legislature.
It was an outlandish proposal, and GOP House members complained that the speaker didn't heed their concerns. Many were embarrassed when the plan was voted down on the first ballot.
This summer, Richardson has moved to negate this irritating issue concerning his leadership style. He created a 10-member committee to form a legislative agenda to present at the 2009 session. He claims he is staying out of its way and will not present any more GREAT Plan ideas in the near future.
There will be no political blood shed in the streets in this fight between Richardson and Ralston. That's because Ralston is a highly respected member of the Republican Party, and is considered an all-around good guy by his fellow members. If he loses his bid, Ralston will be stripped of his chairmanship of the Non-Civil Judiciary Committee and will be sent into the wilderness, along with his supporters. So far, there are around eight GOP members asking for a change in leadership.
For all these reasons, Ralston's chances seem slim, unless he decides to make an arrangement with minority Democratic members in the House. It would only take 10 Republican House members to vote with the Democrats to eject the present speaker. Ralston could make arrangements with House Democrats by giving them some key committee assignments and other concessions. If this happens, you might see the long knives come out.
Rep. Mark Burkhalter (R-Johns Creek) could be a good compromise choice if the GOP majority leadership decides it does not want to stick with Richardson or elect Ralston. Despite Richardson's current attempts to reform his abrasive behavior, a leopard never changes his spots. He will still carry a short fuse and that, combined with his arrogance, makes for a terrible leader. Georgia citizens should expect better, but probably will suffer more of the same in the years to come.