The View From Youngs Station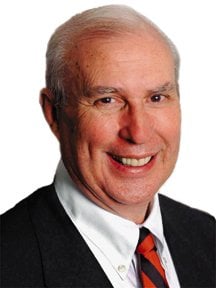 The history of agriculture in Georgia is reflected in the history of my family farm located at Youngs Station, south of Cedartown. Five generations of Youngs, Georgia pioneers and leaders, are buried in a cemetery there. Stories similar to that of Youngs Station can be told in almost every small town and county in Georgia, and all over America. Here is our story.
Augustin "Gustin" Young came to Youngs in 1832 following the Cherokee Land Lottery. He was born in 1799 in Flowery Branch near Gainesville in Hall County. His grandfather fought in the French and Indian War and his father, Robert Young, served in the Revolutionary War. In 1812 Gustin helped drive the wagon as his father supervised the construction of the Peachtree Trail, a road that connected three forts between Gainesville and Standing Peachtree, today called Atlanta. Robert Young was paid $150 for his efforts, and the road is now known as Peachtree Street.
Augustin married Cather-ine Pounds in 1820 and purchased land at Stone Mountain. He is recorded as the first settler of that area. During these early times almost everyone was involved in farming as a livelihood.
He soon realized that the ground was too stony for a farm and moved to Polk County. Family legend has that before moving to Youngs he sold his home and traded Stone Mountain for a pair of mules. Most of this is recorded on page 15 in the late Franklin Garrett's book Atlanta and Environs.
Augustin built his home place on Cedar Creek. According to the revised 1948 book Modern Georgia, by UGA professor John C. Meadows, earlier settlers in Georgia raised crops such as indigo and rice. But in north Georgia the mainstays of the economy were naval stores, i.e., tar, pitch, resin, barrel staves and lumber, as well as cattle and hogs. Most of these goods were shipped to Savannah to be transported to England, and the lumber was used for the British navy.
Augustin extended his holdings to around 2,000 acres by purchasing adjoining property and paying for it by cutting and milling the timber. He also kept large herds of cattle, horses, mules and sheep. After this land was cleared it was planted in cotton, and the remains of cotton terraces can still be found on the surrounding mountains to this day. Augustin was a large man who weighed over 300 pounds. He and Catherine had seven children, including four sons who served in the Confederate Army.
In an unusual turn of events, Augustin and Catherine died the same day on Feb. 2, 1868. According to a witness, he was worried that he would lose his land to "lawyers," called "Carpetbaggers" because they were Yankees who flooded the South to claim land whose owners were bankrupt at the war's end.
Their son, James, was my great-great grandfather. James served in the war as a second lieutenant in the First Georgia Cavalry. In 1854 he married Emaline Ammons, and they had six children. James took over the farm and was able to keep it in the family during the devastating times after the war. This era was called Reconstruction, which meant the North reaped the rewards of victory by suppressing the South's economy. The main crops continued to be cotton, with some corn and vegetables planted for food.
Youngs was a sizable community of around 50 families with a post office, country store, barber shop, church and cotton gin. During this time the Central of Georgia Railroad was constructed through the community and the town changed its name to Youngs Station. The farm was run on the sharecropper system, where families would farm the land and "share" in the crop proceeds after the harvest. Before he died in 1918, James was able to expand his farm to more than 2,000 acres.
My grandfather, Augustine Eugene "Gus" Young, was born in 1863. He was just a year old when Yankee troops marched through Youngs Station. He married Annie Wyatt Neely, daughter of my namesake Benjamin Neely, the first superintendent of schools in Rome. They had six children, including my father, James, who was born in 1902.
After the first World War, farm machinery, including tractors, began to make harvesting easier. Large cotton mills began moving south, looking to replace more expensive union shops up north with cheaper nonunion labor. Families began moving off farms into the city to work in the mills, which had better jobs and benefits. Cotton was still the main crop, but the sharecropper system was soon dwindling away. The Depression years, from 1929 to 1939, were hard on Youngs Station. Many families moved to the North and West to find work in the factories that built automobiles and other products. But seven out of 10 families made their income from agriculture.
A.E. "Gus" Young was a prosperous businessman who expanded the Young farm to more than 4,000 acres. Around 1908 he moved his family to Cedartown. There he formed the Commercial Bank and founded Young Hard-ware Company. He died in 1939, leaving a sizable estate. For the next 20 years his children did what many others did during this period: They moved to other parts of the United States. Their interest in the land dwindled as they raised their families and became involved in their new communities.
Many sold their shares of the property. Only my father, James, and one sister stayed in Cedartown. He married Dorothy Griffin of Valdosta and took over Young Hardware, which he ran for more than 40 years. He farmed his share and looked after his sisters' farms while they lived away. During the 1950s, six out of every 10 Americans worked on farms.
I'm not sure when the last family left Youngs Station. One of my aunts sold the property, and by the 1980s it was a ghost town. The railroad station fell into disrepair. The house had become a fire hazard and had to be torn down.
The property is still farmed, but in the last half of the 20th century farming became big business. Large companies owning tens of thousands of acres now run America's farms. They use little labor, because a crop can be planted and harvested using large industrial equipment. Mechanization took the place of the traditional family farmer. People moved away from farms in droves. Today only one or two people in 10 work in agriculture.
By the time my father died in 1985, my sister and I and one aunt were the last of the Young Family to still own a part of the Young Farm. Together we farm about 500 acres, of what used to be a 4,000-acre tract. My aunt's property was planted in timber. My sister and I use one of the few crop farmers left in Cedartown. Like many people who own farms, we do a reverse of the old sharecropper system. We supply the land and buy 25 percent of the seed, and we share 25 percent of the profits.
There is good news, though. Agriculture is still over half of the economy in Georgia, and much more in the American Midwest. It's still big business, but has become so industrialized that few actual people are involved in its production. Corn and soybeans have replaced cotton as the main crop.
I recently walked around the Young homeplace. The park by the old railroad station is still there. There is an engraving in stone that says "Youngs … founded 1832." The cemetery across the road contains five generations of my family, Georgia pioneers and leaders during their time. It pleases me to believe that Augustin, Catherine, James, Emaline, A.E. "Gus," Annie, James and Dorothy are still smiling down on Youngs Station. Similar dead cities are scattered all across America. It is up to our generation to make sure they are not forgotten.