Fields And Yields
Wheat, vegetables, corn, cotton, poultry and horticulture all are feeling the effects of the drought, but agribusiness – the state's leading industry – is stable and healthy.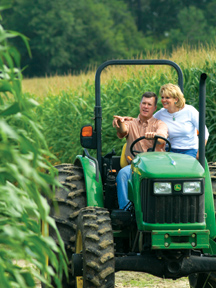 It's just after dawn on a Thursday morning and South Georgia farmer Brian Robinson is standing in a field of waist-high wheat pulling the grain off the top of one of the shafts. He tosses the kernels in his mouth and begins to chew, a test – one as old as agriculture itself – to see if this crop is mature enough for harvest.
"If we don't get any rain this weekend, I think it will be ready," says Robinson, a 37-year-old, fourth-generation farmer with land in Colquitt and Brooks counties. He has 20 years experience growing crops on this land.
Robinson's interest in harvesting his wheat goes beyond the cultural complexities of bringing forth food from the earth – it goes directly to his bottom line. Untimely rain would force Robinson to have his 450 acres of wheat mechanically dried by a contractor, at a cost that could reach $7,000. The expense could adversely affect the close margins in which he works.
Problem is, he has some squash in a field nearby which could use a little rain. Rain, he says, would be a mixed blessing. In poker terms, he is drawing to an inside straight. "I don't need to go to Las Vegas to gamble," he says, spreading an arm toward his crop. "I can gamble right here."
Brian Robinson and his wife Tracy – she handles the finances, he's the hands-on manager – work 1,150 acres of land, also growing cotton, peanuts, watermelons, soybeans, tobacco, and, for the first time in 10 years, corn. The variety of their crops contributes to Colquitt's reputation as the most diverse agricultural county in Georgia, one that routinely leads the state in total farm gate value, the revenue that goes to the farmer when he sells his crop.
Colquitt County's 588 farms form a microcosm of Georgia's agriculture economy. Some $385 million worth of crops will flow from this county, joining a stream of cash from the state's 50,000 farms that will snare jobs and value-added processing along the way to $92 billion in total value this year, making it the Georgia economy's most valuable industry.
The cabbages harvested on the Robinsons' TRC Farms earlier this year headed to dinner tables in Atlanta and restaurants in its teeming suburbs; the farm's wheat will go to the Port of Brunswick for export; its watermelons to metro markets in the Northeast.
While most of the state's farming products move beyond sight of the public eye, a growing number of residents in metro areas have their own agriculture sector; and it's as close as their backyards. Urban agriculture, including the nursery, turf, golf course and related industries tended by landscapers, was blooming into a distinct and valuable part of the state's economy until recent droughts stunted its growth.
"For most people in Georgia, their lawns or the flowers in their yards are their closest connection to agriculture," says Gary Black, president of the Georgia Agribusiness Council.
"That's urban agriculture, and cumulatively it is one of the top sectors in agriculture. If you look at field nurseries, that's $1.1 million in [annual] farm gate value; Christmas trees are $8 million; turf grass is $163 million in value; greenhouse and ornamental horticulture is $268 million. Who would have ever thought that just the collection of pine straw is an $81 million [annual] business?"
But, Black adds, climate conditions last year conspired to wilt profits and jobs. "The drought of 2007 was a devastating blow to Georgia's horticultural and green industry," he says. "That drought cost the urban ag industry about $3 billion and 35,000 jobs. Landscapers who install and maintain lawns, shrubs, trees and flowers were hard hit. Certainly, the challenges of new home starts have been a contributor, but that was a real one-two blow for the urban ag industry and we're still feeling the effects of that today, and will for a long time."
And even though landscapers got a critically needed 30-day exemption from state regulations restricting water use for new plantings, the drought's effect was magnified when some metro communities issued their own stringent watering ordinances. "One community issued standards that allowed watering only at night, and required the landscape professional, the business owner, to be on site when the water was on," Black says. That provision was later revoked, he says, "but it caused a lot of grief."
Good Yields
Georgia's farmland acreage is shrinking, a consequence of urban sprawl and a number of other factors, yet food and fiber production here remains strong, thanks to the use of modern irrigation techniques.
"We've taken acreage out of production and put it in conservation programs," says John McKissick, director of the University of Georgia's Center for Agribusiness and Economic Development, who has studied Georgia's farm economy for 30 years. "A lot of our marginal land has been put in timber production; so our better land is in real crop production. The combination of better land and irrigation is giving us relatively good yields."
Irrigation is a critical factor in maintaining stability in crop yields and protection from the effects of drought, McKissick says. And many of the Georgia's crops are processed in the state, a value-added economic boost. "Food processing is the largest part of manufacturing in Georgia," he says. "And a lot of that processing is done with Georgia products, and that is why our agriculture economy is one of the largest in the country."
Georgia's agriculture has a value of about $11 billion as it comes off the farm, but that figure increases almost tenfold by the time it gets to the consumer. And there's a new and growing trend mirroring America's past that's drawing the farmer and the consumer closer and closer together. The egg man and the corner produce stand, once familiar figures on the landscape of American small towns, are returning to villages and suburbs.
"Where we've really had a big increase in demand has been on the local products that are bought locally," McKissick says. "Folks seem to have more of a connection with the people who produced the crop."
It all fits into the rising demand for produce and meats that are grown as organic, natural or green products. Now the "Buy Local" movement is becoming institutionalized. "We've seen Emory Univers-ity, for instance, announce their goal of purchasing 70 percent of all their [food] products locally within five years," McKissick says. And federal help is on the way to promote locally grown products in the school cafeteria.
The 2008 farm bill passed by Congress earlier this year contains provisions for $1 billion in aid over the next 10 years for the purchase of fresh fruits and vegetables. Georgia stands to receive as much as $5 million annually over the next decade under the terms of the program. The measure allows schools to use a geographic preference for the purchase of locally produced goods in their meals.
"We funded local purchases of fruits and vegetables to be used in the school lunch program so that additional nutritional issues can be addressed," says Georgia's U.S. Senator Saxby Chambliss, ranking Republican on the Senate Agricul-ture Committee and a chief architect of the farm bill. "We're all concerned about obesity in children and the more access they can have to fresh fruits and vegetables, the more opportunities we have to give them more nutritious meals."
Chambliss also points to the nutrition title in the farm bill to counter what he and many farmers say are public and media misperceptions of the agriculture legislation. "Most people think the farm bill, particularly if you've read The Wall Street Journal, The Washington Post or the Atlanta papers, is all about money going to farmers," Chambliss says. "When, in fact, less than 14 percent of all the funding in this farm bill is in the [crop] commodity title. Almost 70 percent of the funding is in the nutrition title. That's food stamps, the school lunch program and our food bank supplement program. One thing I found out that I didn't know until I got into this is that one out of every 10 Georgians is a food stamp beneficiary, and that's about the national average."
The Corn Effect
This year there's one Georgia agricultural commodity that's having a trickle-down, domino and ripple effect on just about every economic sector: corn, the golden grain, the kernel of hope and the driver of prices across the agriculture spectrum.
Brian Robinson last grew corn on his farmland a decade ago, and had no plans to grow it this year, until the price it was bringing changed his mind. "I contracted my corn this year for $6.05 a bushel," he says. "That compares with the $1.92 a bushel I got for my 1998 crop."
Of course, he says, his 1998 crop had no irrigation, but this year's corn is fully irrigated, a hedge against the continuation of the nagging 2007 drought.
Robinson's corn will go to his contractor and, he believes, on to a poultry producer for use as feed. The record prices for corn this year are being generated by the expanding production of ethanol. But the high prices that Robinson receives must be weighed against the cost of production. And in farming there are few guarantees.
"Corn, I think, is going to work out pretty good this time," Robinson says. "It looks good on paper. But a lot of things that look good on paper don't always work out in the field."
Corn's earlier shining promise has dimmed for Robinson as fuel and fertilizer costs continued to rise. "You can get $10 a bushel for corn but if it cost $12 a bushel [to grow it], how are you going to make any money?"
Economist John McKissick says the rise in corn prices is a net negative for a Georgia agriculture that grows little of the corn on which its economy depends. "Last year we produced about 50 million bushels of corn, yet we used about 250 million bushels," he says. "So we're buying product from the Midwest to process for poultry [feed], and that's our main user. And that was before we opened that ethanol plant down in Camilla, which will use about 33 million bushels."
The high price for corn is leading to production cutbacks in the poultry and cattle industries, and that in turn is resulting in higher prices at the meat counter. "We know these meat prices are going to continue to go up," McKissick says. "In my opinion, this is a whole new era in terms of crop prices that we're going to have for the next several years. All of our production costs have risen by about 40 percent since 2002, and basically all of those costs are driven by energy prices."
Cotton, a Georgia commodity that pumps $1.4 billion annually into the state's economy, is weaving its way through a lackluster period, McKissick says. "Right now we're sort of treading along with about the same acreage that we had last year. Compared to some of the other crop alternatives, cotton is not as profitable, perhaps."