Banking On Relationships
The boom is over. Now the impact of the housing slump depends on geography, portfolio diversity and customer loyalty.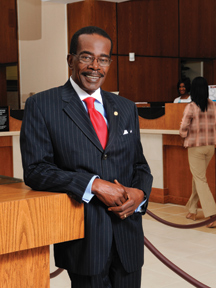 Looking ahead to new homes and new development planned nearby, Ron Francis made the decision earlier this year to set up temporary quarters just steps away from the Marietta Square.
He took a historic building on Atlanta Street, vacant since 2006, and turned it into the home of First Landmark Bank, the state's newest community bank and one of the few de novos expected to start operations this year.
Francis relied on nearly 40 years of experience in banking, including two prior start-up efforts with community banks, to launch First Landmark, a project that lured him from retirement and into a spruced up second-floor office where he oversees a staff of 14.
Just as new development coming to Marietta will capitalize on the area's small-town appeal and big-city amenities, so Francis wants to offer customers the personal service of a hometown banker with the amenities of a mega-bank.
"This is a people business, that's what it is; and I guess if someone had told me that when I got into it, I wouldn't have believed it," says Francis, First Landmark's president and CEO. "We all have one commodity that everybody wants and that is money. It's how we package those services that makes us different."
Francis has only known one thing longer than banking – his wife Claire, whom he married 42 years ago. And it was his wife who noticed Francis getting restless during his retirement, which started after he stepped away from his post as vice chairman of Bank of North Georgia in March 2006.
He came to that role after Bank of North Georgia, which is owned by Columbus-based Synovus Financial Corp., merged with Charter Bank and Mountain National Bank two years earlier. Charter was one of two Cobb banks Francis helmed in a career that started with a five-year stint at what would become SunTrust Banks.
"I got tired of playing golf and tired of traveling and doing all of the chores around the house I was supposed to do," he says. "My wife didn't kick me out, but she could see that I was getting antsy and wanted something to do."
So when former customers from Charter told him that the larger merged bank didn't provide the same experience as Charter, Francis took the bait and began assembling investors for First Landmark. From the outset, he envisioned a new hometown bank for Marietta, one that by the summer of 2009 will enjoy a new $4 million, 18,000-square-foot building on the North Loop that will serve as a financial gateway into the city.
But getting there hasn't been easy.
As Francis launched the bank, which was started in March with 230 investors and nearly $21 million in capital, he found it took more than four months to raise the funds – twice as long as he planned. As he builds the bank and works to deepen its pool of $8 million in deposits by grabbing a share of the estimated $5 billion in deposits in the area, Francis says his aggressive plans to be profitable by the end of the year are now more likely to come to fruition in the first quarter of 2009.
That's because he launched a bank during a time of economic malaise that includes a housing downturn, tightened credit markets and a dearth of consumer confidence.
"We had to come through what was a tough time raising funds," he says. "Most of the investment funds decided they no longer wanted to invest right now with the way economy is and the bad publicity around banks. It was a little more difficult and it took longer."
Upstarts Slow
Francis started First Landmark at the end of a banking boom in Georgia; and it's unlikely that many new competitors will surface this year. The high-water mark for banks came in 2006, when the state chartered 21 new ones, according to the Georgia Department of Banking and Finance. A year later, the number dropped to nine; and in the first four months of 2008, only four new banks opened. Those institutions, like First Landmark, started the process in 2007.
"Obviously, the downturn in the market has had a tremendous impact," says Rob Braswell, the banking department's commissioner. "I would be surprised if we have more than a handful the remainder of the year."
The boom environment stretch-ed into early 2007, though the pace of new banks started to show signs of wear as the economy soured and the housing industry slid toward a recession. Prior to that, start-ups found easy access to capital and, once started, were making money from fees and loans, the bulk from residential real estate to developers or through mortgages, says Christopher Marinac, managing principal and research director for FIG Partners, an Atlanta-based financial consulting group.
Industry veterans wanted a piece of the more than $143 billion in deposits held in the state's community banks, a figure down slightly from 2006 but up dramatically from the nearly $100 billion in deposits just four years ago, according to the Federal Deposit Insurance Corporation, which defines a community bank as one having less than $1 billion in assets.
"Many banks fell in love with the residential construction loans," Marinac says. "To a fault, everyone misgauged the demand. Fancy financing created the perception that the demand was higher than it really was. As you headed into year's end [in 2007], there were some real issues and it has really deteriorated since then."
The housing downturn's impact on community banks depends on geography, says Steve Bridges, president and CEO of the Community Bankers Association of Georgia and a former state banking commissioner. Banks in the Metro Atlanta suburbs, which receive much of the region's population growth, tend to focus on construction, acquisition and development lending and now are being hit the hardest, though the overall economic downturn touches a wider swath of financial institutions.
"Those that are not heavily concentrated in real estate construction and development, while I'm sure they have their challenges with the economic environment, they're not facing nearly as heavy of a problem," Bridges says.
Georgia's position over the last few years as a leader in chartering new banks – they're called de novos for their first three years of operation – is slowing, he says. Bridges expects the CBA's membership rolls, which stand at about 325 members, to remain flat for the near future.
Larry Lee sees how the housing downturn impacts community banks along geographic lines each day when he sits down at his desk in Lakeland, a city of about 2,700 people in Lanier County near Valdosta. As CEO of FMB Bancshares, the holding company for six community banks across the state under the Farmers & Merchants Bank flag, he says the fallout hits the branches in different ways.
"Our banks in the south are doing OK, but our banks close to Atlanta have really felt the housing crunch and credit crunch," Lee says. "We are extremely fortunate that our company enjoys diverse income earning assets."
The bank's diverse portfolio allows it to ride economic cycles without hitting the "low lows and high highs," says Jeff Parrish, CEO of Farmers & Merchants, which was founded in 1907 and now includes offices in Conyers, Covington, Homerville, Lakeland, Nashville and Valdosta. "Our company as a whole does not have too many eggs in one basket."
Though its branches in Metro Atlanta are suffering, a strong economy in Valdosta fuels the bank there, while its other south Georgia branches, despite surging fuel prices, are enjoying a strong agricultural economy.
"One of our brightest segments in south Georgia [is] the ag-related businesses," says Jimmy Benefield, chairman of Farmers & Merchants. "I'm surprised to say that. It was awfully tough in the 1970s and 1980s."
Room For Optimism
If there is a phrase popular with community bankers during these tough economic times, it's "cautiously optimistic." The state's banking community held its collective breath in May when ANB Financial failed, marking the largest U.S. bank collapse so far this year. The $2 billion rural Arkansas bank collapsed under the weight of loans centered on real estate, a lack of core customer deposits and the inability to raise capital when it needed more money to stay afloat.
To bank executives across Georgia, the failure provided a sobering wake-up call to the perils of real estate loans, brokered deposits bought from third parties and what could happen if they don't take corrective actions to weather the economic storm swirling around them.
"The economic cycle is a growing concern, but we are cautiously optimistic about what will happen," says James Young, president and CEO of Atlanta-based Citizens Trust Bank, one of the largest African-American owned financial institutions in the nation. "I don't know anybody who is predicting a rebound in 2008. We are doing fine, but I am concerned about the duration of these economic problems."
Citizens Trust, with more than two-thirds of its portfolio in commercial real estate, including churches and convenience stores, escaped the crash in the subprime mortgage industry by stepping away from those loans in 2007. Its long history in the market – the bank was founded in 1921 and now has eight offices in Georgia and two in Alabama – helps develop patience among investors who might otherwise push for greater market share and increased profitability, a situation that often forced de novo banks into the once-hot residential real estate market. But the stalling economy and a ripple effect from the subprime fallout is impacting Citizens Trust through tightening credit markets and a more conservative lending environment in prime mortgages, Young says.
To help, the bank has boosted its loss reserves and improved its capital base to protect itself from any delinquent loans, counseled its bankers on assessing and mitigating risk for its loan products and used the natural advantage community banks have over larger rivals – close relationships with customers.
"I have many customers that have been banking with us for more than 30 years and continue to do so. You know your customers and these customers have been with you. Mine the information you have on the customers and I get a pretty good understanding of their financial condition by how they manage their accounts with us," Young says.
Watchful Eye
Rarely does a bank in Georgia fail. What happened to ANB Financial in Arkansas provided a cautionary note to the industry in this state, to be sure, but in nearly 75 years, only 17 state-chartered banks in Georgia have failed.
Ten banks failed from 1934 to 1961, four between 1976 and 1981 and two banks in 1992, according to the state banking department. Just one bank has failed this decade – AmTrade International Bank of Georgia in 2002. But regulators note that AmTrade was a special purpose wholesale bank chartered for facilitating international trade and didn't fit the definition of a more traditional financial institution.
"Humans can sometimes be guilty of taking the path of least resistance. If you are a bank CEO, you are trying to get value for your shareholders and create value to sell it. It was too easy to do a construction loan and it was too hard to get core customers and try to build a cash management system," Marinac says.
Charlie Crawford, president and CEO of Private Bank of Buckhead, opened the enterprise in December 2006 with $16 million in capital and a strategy to balance the bank's portfolio across three segments – providing working capital to small and medium-sized businesses, private banking for professionals and serving real estate entrepreneurs who tend to work more in commercial projects than residential development.
"We still want a piece of the residential real estate market, but probably a smaller piece than most other banks do," Crawford says. "I can't tell you that we saw the residential implosion coming, but it ended up sort of supporting our strategy of being diversified and balanced. We looked smart in hindsight."
But even with a laser focus on its strategic plan, Private Bank of Buckhead tightened its credit underwriting and lowered loan-to-value ratios to provide a cushion in case the down economy slows their business, a client is hit particularly hard or the value of collateral for loans drops.
"We want a little more cushion than perhaps we might have in a stronger economy," Crawford says. "Our strategy is to grow the bank at a nice pace but do so maintaining high quality, whether that is asset quality in terms of loans or people that we add and the kind of relationships we develop."
The continuing economic doldrums that community banks face, along with additional fallout from the housing downturn, means that some institutions may close while others downsize, merge with another bank or sell to a larger regional competitor. But industry officials and regulators say banks that aggressively diversify their portfolio, build core deposits, increase loss reserves and manage costs can ride out the current economic storm and await the better times that will return thanks to the state's long-term economic prosperity and the continuing population boom that fuels Metro Atlanta's growth.
Banks such as Citizens Trust and Farmers & Merchants that have survived the Great Depression, wars and social upheaval, offer lessons to upstarts in how to weather an economic storm. Stay true to your customers, the one advantage community banks hold over their much larger rivals, they say.
"We are relationship banks and it is not a number, it's a relationship and a family and customers we know by name. It does make a difference," Parrish says. "Since 1907, it goes back to grandparents and family relationships. We know who we work for. It is our business to know that, and that is how we do business."