Augusta/Richmond County: Going Strong
A pronounced high tech influence and new life downtown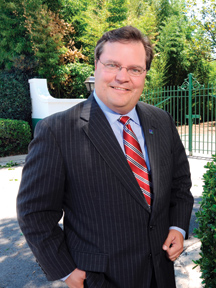 In May, when officials of Microsoft Corp. and Augusta's Fort Gordon signed an agreement to open a Microsoft Academy on the military base, the announcement was hailed as further proof that the city's boast of being a world-class information technology center had been validated by a world-class information technology company.
While other Microsoft Academies graduate about 100 students annually, the Fort Gordon facility will graduate some 2,500 a year, giving Augusta another bragging point as home to Microsoft's largest-of-its-kind teaching institution among its more than 100 worldwide. Microsoft Academies train IT students in the use of the latest technology in the field. It's a nice fit for Fort Gordon, where a new $286 million, 500,000-square-foot National Security Agency/ Central Security Service complex is under construction and will house about 1,000 new IT specialists when it opens in 2012.
"To be able to bring in a Microsoft training program, which will lead to Microsoft certification for a lot of the folks that go through that course, is a tremendous asset to the installation," says Thom Tuckey, executive director of the Central Savannah River Area Alliance for Fort Gordon (CSRAA). "The intent is, and it always has been, to show that Augusta could become an IT Mecca, much the same way as it is considered a medical Mecca now with all the medical facilities here. It clearly sends the signal that this is the place where IT companies need to come and establish themselves and take advantage of the workforce coming out of Fort Gordon."
Spreading Out
The Microsoft announcement came just two months after the University System of Georgia approved and the legislature appropriated $200 million for the expansion of medical and dental programs and facilities at Augusta's Medical College of Georgia (MCG).
The MCG expansion cost is believed to be the largest ever approved by the University System and will increase MCG's local and statewide economic impact from $1.3 billion to $3.2 billion by 2020. "The principal driver for the need to expand was the anticipated growth in Georgia," says Dr. Daniel Rahn, MCG's president. "Our state is continuing to grow and projected to grow at least through 2030, and we're behind the curve with regard to the education of new physicians, dentists, nurses and other healthcare professionals."
The expansion will allow MCG to increase its number of medical students from 190 a year to 300, with an annual dentistry student enrollment to jump from 60 to 240, Rahn says.
The MCG president believes there will be no problem filling the classrooms. "We have a highly qualified applicant pool that has been getting stronger every year," Rahn says. "We are interested in working on the diversity of our pipeline, both geographically and ethnically, so that we are attracting students from around the state who are inclined to go back to the areas of greatest needs to meet healthcare needs statewide."
Late last month MCG cut ties with the MGC Foundation, with plans to open its own foundation in September. Rahn cited a "lack of alignment" between the school's and the foundation's priorities. The Foundation has pledged to continue to support the school through previous endowments.
But before MCG can hold a groundbreaking ceremony, it must first find the land on which to hold it. And MCG is landlocked. That's where Gilbert Manor comes in. An Augusta public housing project built in 1941, Gilbert Manor occupies 6.3 acres just across the street from the MCG campus, an ideal site for the planned expansion. But the idea of uprooting more than 200 residents, many of whom have called Gilbert Manor home for decades, is a sensitive issue for politicians, even those with the most noble of intentions.
"When you start talking about relocating residents, it, at times, can be a difficult transition," says Augusta Mayor Deke Copenhaver. "They don't often believe that you have their best interests in mind and that you want to move them to better living conditions."
But after 67 years of service, Copenhaver notes, Gilbert Manor was declining and its residents definitely needed better living conditions. "Gilbert Manor was tired, very tired," he says.
When a study revealed that it would be far more expensive to rehab Gilbert Manor than to simply build a new facility, vacancies were not offered for re-rental and residents began to be relocated. "Last Christmas I had the opportunity to attend a ribbon cutting for a lady who was a 16-year resident of Gilbert Manor and who was moving into a new home in the general vicinity," Copenhaver says. "She was able to spend Christmas in her new home after so many years in what I would consider substandard living conditions. That was a heartwarming moment."
The $10 million purchase of Gilbert Manor as a site for the MCG expansion will help pay for replacement homes for its residents. "$6.1 million of that money will be used by the housing authority to continue to develop low income housing," Copenhaver says. And $3.9 million will be spent on the demolition of the existing development.
In essence, the city of Augusta is providing MCG with some of its reserve funds to make the Gilbert Manor purchase; the money will ultimately be replaced by sales tax revenues. That's the plan, but with a negotiating table surrounded by representatives of and lawyers for MCG, the Board of Regents, four banks, the city and the housing authority, there are no certainties.
"This is a very ambitious move," says City Manager Fred Russell, who has been involved in the negotiations from the start. "And we're still fine-tuning."
If city leaders seem anxious to close the deal, it's because it is such a deal. "For the city's [$10 million] investment we get $200 million-plus worth of capital improvements in our community," Russell says. Negotiations are expected to be finished by summer's end.
Talking Technology
With more than 16,000 healthcare professionals already working in Augusta, and with a growing number of IT specialists among Fort Gordon's 20,000 employees, all Walter Sprouse needed was a business prospect that could use workers with an information technology background, as well as some with experience in the healthcare field. He got just that earlier this year when he welcomed to town officials with Teleperformance, a Paris-based company looking for a location to house a customer service center and employ 250. But the Teleperformance site selectors found Sprouse, executive director of the Development Authority of Richmond County, suffering from an embarrassment of riches.
Already flush with the recent announcements of two customer service centers that were hiring 1,750 IT-savvy employees, Sprouse had to convince his prospect the IT workforce pool was still deep.
"In addition to those announcements, we already had six or seven other customer service centers needing the same talents," Sprouse recalls. "[Teleperformance executives] asked, 'Do you think there's enough workforce for our 250 employees?'" To which he responded, "I think so."
In fact, he knew so. "Look, Fort Gordon has the information technology center for all the military, not just the Army," Sprouse says. "And there are about 1,600 IT people leaving Fort Gordon each year, and about half of them want to stay here because their spouses are already employed here. That is a steady, yearly supply of IT professionals. And because Teleperformance had clients in medical related businesses, they wanted employee prospects with knowledge in certain facets of the medical community, and we certainly had that. For Teleperform-ance, that was the deal clincher."
Downtown Resurgence
Thirty years ago downtown Augusta was reeling from the economic effects of an estimated 2 million square feet of inner city retail space uprooted by the arrival of two malls on the edge of town. Businesses moved to the malls or just closed down, and citizens watched as the core of Georgia's second-largest and second-oldest town seemed be headed toward extinction.
"Downtown became a ghost town," says Augusta native Rick Toole, president of R.W. Toole Engineering, a company that has joined other businesses in rediscovering the joys of operating from downtown. Since relocating two years ago, Toole Engineers has grown from 11 to 19 employees in an 8,000-square-foot space that used to be a furniture store (at 15,500 square feet, the entire building offers plenty of room for expansion).
"This is a very cozy, homey feeling and people love coming [to work] in the downtown area," Toole says. "They like the architecture; they like the vibrancy; and they like to be able to walk to restaurants and shops."
Toole's employees like to take advantage of the shower he installed for those who use the nearby fitness center in the mornings or at lunch. Toole Engineers is a planning, consulting and civil engineering group for municipalities and other government clients. "And we have a group that works on private sector development such as residential and downtown urban development," Toole says.
Toole believes the walkability of working in a downtown environment makes his staff more productive, and he's not the only one to embrace that idea.
A few blocks away, software designers at Augusta's ESi can enjoy cookouts using a recently installed rooftop grill atop their rehabbed 1922 bank building. ESi is another downtown denizen enjoying growth and the prospect of more. The company was formed in 1996 when, according to its lore, "an elite group from Westinghouse Savannah River Company began ESi as a spin-off company in one of the first attempts by the U.S. Department of Energy to allow its skilled technologists to enter sophisticated commercial markets."
The firm has grown from 17 to 72 employees since 2005 and today is an international provider of software used by emergency responders. "If a hurricane strikes a coast somewhere, the emergency managers need to do things like decide on road closures; decide on evacuations; open shelters; provide food and water; put out fires; and [do] any number of activities that need to be undertaken to deal with that emergency," says Nadia Butler, president and CEO of ESi. "What our product does is allow everybody who has responsibilities in dealing with that emergency to share information in real time."
Sounds like something that would have been helpful following the destruction left by Hurricane Katrina. "Louisiana, New Orleans and several of the Louisiana parishes now have WebEOC [ESi software]," Butler says. "They didn't at the time Katrina hit." ESi's client list now includes FEMA, 10 airlines and most of the cabinet-level departments of the U.S. government.
The return of nonretail businesses to Augusta's downtown reflects a growing phenomenon around the state. For Margaret Woodard, executive director of Augusta's Downtown Development Authority, the new service businesses downtown are part of a vibrant mosaic that formed Augusta's history into the late 20th century, and one that is being pieced together again now.
"The number of new nonretail businesses locating downtown is growing at a very brisk pace," Woodard says. "And more and more we are getting these little shops. Now we are concentrating on getting new residences downtown because rooftops will drive retail."
Some 341 new condos are being carved out of three downtown building projects including 80 going into an old department store known as the J.B. White Building. "Those J.B. White condos are being priced at $99,000 to $289,000," Woodard says.
And buyers will want a clean and safe downtown. "We are into our CADI program now and that is really helping," she says, referring to the Clean Augusta Downtown Initiative, a program that funds the city's eight CADIs, and roving ambassadors who keep the streets clean, remove graffiti and greet visitors.
The downtown improvements are attracting investment. "In 2006 we had a net gain of 63 businesses downtown, with three expansions," Woodard says. "And that created 269 new jobs and represents $7.9 million in private investment."
Water Power
The city that became Augusta had its genesis in a trading post established on the Savannah River in 1736. In 1845, enterprising Augustans built the Augusta Canal by diverting the waters of the Savannah in hopes of harnessing the flow to power the machines of local textile mills to compete with industries in the North.
Even today the slightly diverted waters of the Savannah are providing power, this time to operate a unique tourist attraction: the Augusta Canal National Heritage Area, the first such designation in Georgia. The Augusta Canal comes off the Savannah and runs about 11 miles before its waters rejoin the river. Along the way the canal is used to run hydroelectric generators in the Augusta Canal Interpretive Center, a part of Enterprise Mill, a beautifully restored and modernized 225,000-square-foot textile manufacturing plant that also houses offices.
The electricity produced by the two giant generators in the interpretive center is far more than the building can use. The excess is sold to Georgia Power Company, generating some $300,000 a year for the Augusta Canal Authority (ACA). "And we sell water to other mills on the canal to operate their hydroelectric facilities, and that generates another $330,000 annually," says Dayton Sherrouse, executive director of the ACA.
The canal's designation as a National Heritage Area also allows the ACA to collect as much as $1 million annually from the federal government, though, Sherrouse says, the authority has averaged about $300,000 yearly from the feds in recent years. More than 40,000 visitors came to the interpretive center last year, including those who signed up for a ride down the canal.
Tourists and locals are coming aboard for cruises on the 65-foot-long replicas of the Petersburg boats once pulled by mules to bring cotton, tobacco and other cargo to Augusta markets. Particularly popular are the twilight cruises where passengers enjoy a glass of wine as they drift by still-operating 19th century textile mills and take in the flora and fauna along the banks of the canal. And there is the romantic moonlight cruise.
"We had one guy who rented the whole boat for a dinner with wine and his whole purpose was to propose to his girlfriend," Sherrouse recalls. "He had the captain pull up in a cove right next to a bridge and he got down on one knee and proposed to her. And the guys that were fishing up on the bridge yelled out to him, 'Did she say yes?'" And of course, Sherrouse says, she did.
Augusta/Richmond County
At-A-Glance
Population
(2006)
189,368
Unemployment
(May 2008)
Augusta/Richmond County 5.6 percent; Georgia, 5.8 percent
Per Capita Income
Augusta, $26,539; Georgia, $30,914
Top 10 Manufacturing Employers
EZ GO Textron, 1,277; Tyco Healthcare-Kendall, 850; International Paper, 820; Kellogg's, 535; FPL Food, LLC, 500; Procter & Gamble, 450; Thermal Ceramics, 444; Castleberry/Snow Brands, 375; Augusta Newsprint, 374; Boral Brick, 350
Sources
Augusta Metro Chamber of Commerce, Development Authority of Richmond County, Georgia Dept. of Labor, U.S. Census Bureau