Liberty County: A Healthy Mix
Military and industrial expansion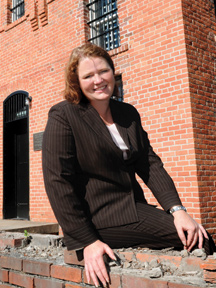 You'll have to forgive the people of Liberty County for thinking they're in the right place at the right time. When much of the rest of the nation is faced with the prospect of a slowing economy and a tumbling housing market, they see expanding growth.
Situated 30 minutes south of Savannah on the Georgia coast, Liberty has seen its industrial parks fill with relocating and expanding companies.
"We have really a mix of industry," says Ron Tolley, CEO of the Liberty County Development Authority. We have some of the heavier industry, but we also have some of the lighter manufacturing and assembly and we have distribution centers. So several different types of companies have found that this community offers what they need to be successful."
For one thing, it's easy to get here. Major highways bisect a county that offers relatively cheap land coupled with well developed infrastructure. Goods shipped into the Port of Savannah can be moved to distribution centers here and dispatched up and down the Atlantic Seaboard via Interstate 95. Manufacturing and industrial plants use the same network of roads to send their products throughout the county.
To accommodate companies seeking to locate here, Liberty officials built five industrial parks throughout the county. Each one is full or filling up quickly. Target Stores recently opened a 1.5 million-square-foot regional distribution center in the new Tradeport Business Center. Located near the interstate, it offers easy access for getting more than 80 percent of the company's inventory to Florida stores.
South Bend, Indiana-based The Tire Rack, which occupies a 250,000-square-foot building in the same park, also was looking at the need to serve the Florida market overnight. Trucks often pull out of its facility in the early evening and products are in stores the next day.
Being close to Savannah has clearly proven an asset when it comes to attracting business. The city offers one of the best second tier airports in the state with access to destinations both national and international. The city also provides many urban attractions from world class dining and accommodations to golf – all vital to companies seeking to entertain potential customers.
All those factors have armed economic developers with plenty of weapons – and they've put them to good use.
Among the wins have been French chemical manufacturer SNF, which acquired a small plant here and has since expanded to more than 800 employees. International Greetings relocated to Midway Industrial Park from Massachusetts into a 50,000-square-foot spec building that has since expanded to 200,000 square feet. Clothier Hugo Boss first opened a 165,000-square-foot distribution facility in Midway and now is in the midst of expanding to more than 300,000 square feet.
Tolley admits that Liberty County was slow to get into the industrial development game when it formed the authority and went out to recruit that first business. Yet it's clear Liberty has caught up and is now making a name for itself.
Military Maneuvers
Liberty County also found that one of its biggest local neighbors – Fort Stewart – could be an important partner in economic development as well. The post sprawls across 279,270 acres and is the largest military installation east of the Mississippi. With its main gate in Hinesville, it has a big impact on the city and county. Locals say military and civilians work well together to make sure that impact is positive.
"They've often said that there is really no gate between Fort Stewart and Hinesville or Liberty County; that we work as one," says Liberty County Manager Joseph Brown.
That good relationship helped the county acquire a new airport that boosted its economic development efforts. Liberty's general aviation airport had long been deemed inadequate, lacking both a runway that could handle corporate jets or a terminal to welcome visitors.
Fort Stewart, on the other hand, possessed the outmoded and little used Wright Army Airfield. Under an agreement with the post, the county was able to develop MidCoast Regional Airport at Wright Army Airfield. The county added a 1,500-foot extension to one of the runways and a terminal with conference rooms to accommodate out-of-town visits by companies looking at potential sites.
Hinesville has long been deeply affected by the ebb and flow of troops coming and going at Fort Stewart. When the Third Infantry Division deployed to Iraq, the town's streets and stores grew quiet. As these soldiers return to their families and the post prepares to receive a new detachment, local officials are gearing up.
"With our troops coming back, this is a big boost for our economy," says Kenny Smiley, executive director of the Liberty County Chamber of Commerce. "We've had 20,000 plus soldiers that left pretty much all at once and have been gone for 12 to 15 months and they're just now starting to return."
Those numbers will grow in the coming years, producing a nearly 25 percent increase in the local population. Some 4,000 new troops are due to arrive at Fort Stewart in 2011 when the Third Infantry Division gains a new infantry brigade combat team as part of the Army's plan to become a lighter, more modular fighting force.
Include family members and the number of new residents may swell by as many as 13,000, says Hinesville Mayor James Thomas.
"So what we've got to do here is prepare our roads and streets and water and sewage and also provide adequate housing," he explains. "We meet on a monthly basis with our developers in the area so that they know what we know when it comes to getting and providing houses for the additional people at Fort Stewart."
The mayor, a former project manager at Fort Stewart, says the military is planning to build approximately 1,000 new homes to take care of soldiers and their families – only 20 percent of the actual housing need. That could mean as many as 10,000 new people looking for housing off the base. Those numbers have caught the eye of homebuilders.
"We just had our county workshop planning session and housing was a big thing," Smiley says. "… We've got close to 2,400 dwelling units under construction right now. And … 1,000 that are already approved just waiting to start construction. We've got a master plan in place that's approved and another 7,300 approved for it."
The demand has spurred new developments such as Independence, a Fitzer Group project, which is taking shape west of Hinesville adjacent to Fort Stewart. Plans call for a mixed-use concept including both retail and residential in a variety of price ranges.
The development, which is already well under way, will contain as many as 7,000 housing units – single and multifamily – plus retail and office.
There's a big commute for people who work at Fort Stewart but just don't have an option for quality housing in Liberty County and Hines-ville, says Rick Fitzer, president and CEO of Fitzer Group. He says his company is trying to set up a master-planned community that encompasses everything that's deployment friendly for army families.
While in years past soldiers were never stationed at a post long enough to make buying a home practical, today deployments last five to seven years. Soldiers and their families can live in homes long enough to build equity.
It turns into a smart investment, just like buying a house by anyone else would, Fitzer says.
Local developers have taken notice of the accelerating population growth and the lack of housing near Fort Stewart. They're moving to meet that need without putting too much product on the market too soon ahead of the troop buildup.
Of course not all the new housing developments are designed with soldiers in mind. In fact, locals are coming to realize that Liberty and its scenic coastline are attractions for the civilian sector as well.
"I think we are seeing two different kinds of developments in these particular areas," says Sonny Timmerman, director of the Liberty County Consolidated Planning Commission.
He notes that the county recently approved two large planned developments on its east side around the I-95 and U.S. 84 Interchange. Sawgrass is a mixed-use development of almost 1,000 units coupled with commercial and retail. Across U.S. 84 another planned development is also getting off the ground and will add approximately 1,100 homes to this fast growing area.
Planning For Growth
While local officials welcome population growth and the retail and other development that will surely follow, they also want to make sure the county is prepared for it. Growth – and ways to handle it – are on officials' minds. That means setting zoning standards that guide and control development and making sure the county's infrastructure can handle more people and businesses.
A great deal of coastal property is in private hands and as more is developed, ordinary citizens will have less access to the water. That concern recently prompted local officials to join with the Georgia Department of Natural Resources to develop a public marina.
"It will provide an avenue for folks to put in larger boats and will ensure that all the residents of the county have access to a marina site and deep water," Brown says.
Liberty also is working to improve roads as more traffic flows into the county, particularly along arteries leading to Fort Stewart.
"We've got some road projects in progress," says Liberty County Com-mission Chairman John McIver. "These include [a] bypass route and some direct arteries to Fort Stewart that we'll be trying to put in place."
Local officials also are planning to implement a new transit system to help people get around. Hinesville recently secured a grant to study setting up a bus system to serve both the city and Fort Stewart.
"We've got about three routes set up that will run on about a 30-minute basis," Thomas says. "It will run through Fort Stewart, bringing people from the housing areas and the troop areas on Fort Stewart to the downtown, and it will pick up people in the downtown area along several of the major thoroughfares and take them wherever they need to go."
Although Fort Stewart has a hospital to take care of military personnel and retirees, growth is placing a greater strain on medical services.
"We've got a local hospital that sees a lot of military-related family members that come to support their son or daughter and move over," McIver says. "They are not in the military. They don't qualify for military benefits, so they end up coming to the local hospital. That and unmarried girlfriends, boyfriends, and that's a challenge for us."
To meet one pressing need, Liberty Regional Medical Center plans to expand its obstetrics unit, as part of a renovation and expansion project. Officials also say they plan to increase EMS service in the county.
Changes In Hinesville
The city of Hinesville is in the midst of a major redevelopment effort aiming to transform its downtown into a vibrant place for both living and shopping. While the historic downtown is relatively compact – with most storefronts filled – there is a large amount of vacant land and undeveloped lots.
"That's a unique situation, but it does allow for many new developments," says Vicki Davis, director of the Hinesville Downtown Development Authority. "The historic corridor was built for a population of about 5,000. It was established for a very small population and of course we are getting closer to 50,000 … by the time we get our new brigade [at Fort Stewart]. And so being able to have the space to redevelop in the downtown is a real asset."
A variety of mixed-use projects either are planned or are now getting under way, driven in large part by the impending growth at nearby Fort Stewart. The city already is working closely with the post as part of a collaborative effort that officials hope will create a more vibrant downtown. Task forces made up of local and military representatives are developing plans that include ideas for promoting tourism, business development and better uses of property.
As this new development begins to take hold, the downtown development authority is working to create design standards that will help guide the area's look and feel.
"We are trying to make it a little bit more user-friendly so that people can really grasp the concept of what we want for the downtown," Davis explains. "We are also considering what we want in the downtown area so we are able to promote those ideas."
Among the changes to downtown will be construction of a new $19 million justice center a short distance from the present county courthouse. Moving the courts to the new 90,000-square-foot building will open up space for other county offices now housed in an annex next door. The new facility is being funded through the county's Special Purpose Local Option Sales Tax.
To ensure that development is properly controlled, Fort Stewart is also launching what the military calls a compatible use buffer program. Using money allocated by Congress, the post is able to buy land around the installation to ensure private development doesn't interfere with its needs for security. Much of that land will be turned into greenspace, Brown says.
The project, which the county will help fund with monies from the Governor's greenspace initiative program, is a good example of how Liberty is managing growth. While more people and development are certainly welcome, locals also want to ensure that it doesn't destroy the good life that made this place so attractive.
Liberty County At-A-Glance
Population
(2006)
Liberty County, 60,503; Hinesville, 29,554; Walthourville, 3,778; Midway, 1,037; Allenhurst, 711; Riceboro, 703; Flemington, 349; Gumbranch, 255
Unemployment
(April 2008)
Liberty County, 5.2 percent; Georgia, 5 percent
Largest Employers
SNF Chemtall, Inc, 812; Wal-Mart Stores, 540; Target, 500; Heritage Bank, 318; Interstate Paper Corp., 286
Sources
U.S. Census, Georgia Dept. of Labor, Liberty Co. Economic Development Authority