Buckhead: Experience In Growth
Luxury appeal, strong leadership yield prosperity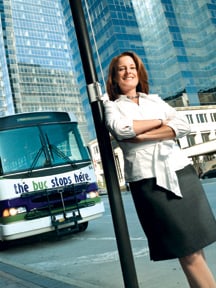 Imagine dining in a cutting-edge restaurant or enjoying a drink in a stylish lounge before settling into a leather seat tucked inside a small theater, giving you the posh feeling of attending a private screening. It's an upscale approach to taking in a movie and sometime in the next few years will be one of the many amenities of The Streets of Buckhead, a $1.5 billon development spanning eight blocks over nine acres and hoping to bring luxury to an area formerly known as a rough-and-tumble nightlife district.
It's so Buckhead.
In an Atlanta community already known as a destination spot for haute couture, fine dining and seven-figure homes many times over, developer Ben Carter is creating a destination within a destination with more than 500,000 square feet of retail and restaurant space as part of a mixed-use community that will also include two world-class hotels, up to 1,000 high-rise residential units and in later phases, more than 300,000 square feet of class A office space.
Among the 80 boutiques will be iconic names including Hermes, Bottega Veneta, Etro, Loro Piana, Oscar de la Renta and Vilebrequin. Carter borrowed from Madison Avenue for the first three of the 14 restaurants planned for the development, including the trendy Japonais, Bottega del Vino for wine lovers and the French bistro La Goulue.
Adding a seven-screen upscale movie theater that combines quality food and adult beverages fits Carter's approach of overlooking no conveniences for the redevelopment of Buckhead Village, a project he likes to call "Atlanta's Madison Avenue."
"Buckhead is probably the most famous area in the Southeastern United States for the quality of its retail, restaurants and residential and we are just building on that success," says Carter, the developer who turned pastures in Buford into the Mall of Georgia. "I hope it will lead to a more cohesive style of development. It will add to the quality of life of Atlanta if we can do more of them."
Carter's Streets of Buckhead presented a high-end solution to a nagging problem. Faced with a Buckhead Village that provided headline-grabbing rowdy nightlife at the center of Atlanta's most affluent area, business and civic leaders took action. They rallied to purchase land in the village, closed the trouble spots and formed the nonprofit Buckhead Alliance in 2004 to clean up crime.
It's a story that can be told time and time again in reciting Buckhead's success – when a problem surfaces, marshal the area's deep pockets and strong leaders to address it.
As Peachtree Road failed to live up to its status as Buckhead's signature boulevard, the Buckhead Community Improvement District led efforts for a $61 million improvement project to create a boulevard worthy of the area it serves.
With access to the north side of the Buckhead MARTA Station limited by Ga. 400, the CID joined with MARTA and other state agencies to develop plans for a $22 million pedestrian bridge over the state highway to attract more riders. Construction could start as soon as late 2009.
The daytime population doubles Buckhead's residential total of nearly 71,000, so employees needed options beyond driving their cars to work. The Buckhead Area Transportation Management Association formed a carpooling program, organized 21 vanpools and started a free, six-day-a-week bus service called "the buc."
As Lindbergh in southeast Buckhead suffered through the 1990s, developers finally realized the area's potential when MARTA moved its headquarters there and brought together a consortium to develop the 47-acre mixed-use Lindbergh City Center. No longer was the disgraced (and now long-closed) Gold Club the area's only calling card to motorists on Piedmont Road.
"Buckhead is an exciting story, it is a success story," says Sam Massell, president of the Buckhead Coalition and a former Atlanta mayor who is often referred to as the unofficial "mayor" of Buckhead. "There will be more growth – absolutely. There is more on the board that I know about now. There is something announced very two weeks, even in this recessionary period."
Going Vertical
Henry Irby was probably the first successful entrepreneur in Buckhead. The businessman from South Carolina bought 203 acres in what is now known as Buckhead for $650. It was 1838 and Irby wanted the land to build a tavern and grocery store.
Today, Irby would be hard pressed to pay only $650 per square foot in some of Buckhead's newest luxury high-rises.
The 82 units at Sovereign, the residential component of the 50-story mixed use development 3344 Peachtree, range in price from $1.2 million to $11 million. The 42 condos inside The Mansion on Peachtree, which sits atop a 127-room boutique hotel operated by Rosewood Hotels & Resorts, start at $3.5 million and stretch to $12.5 million. The two developments highlight the newest trend in Buckhead – mixed-use luxury projects that go vertical. When completed, the buildings will reach 635 feet and 580 feet, respectively, and become the tallest in Buckhead.
"We are a new product type," says Paul Cullen, vice president for City Center Properties, which developed The Mansion. "People are beginning to understand Atlanta is a cosmopolitan market. Our buyers are the wealthy that still have their money and they are aware of the level of this property."
Buckhead's residential appeal, though, doesn't stop with high-rises. Nearly one-third of single family homes in the community that sold last year had a price tag of more than $1 million, with the average price reaching $909,662. Even in a depressed real estate market, single family home sales over $1 million were up nearly 8 percent in Buckhead for the first quarter of 2008 over a year earlier, compared to a nearly 21 percent drop across Metro Atlanta, says Dan Parmer, president and CEO of Jenny Pruitt & Associates, a high-end real estate brokerage firm.
"In Buckhead, it's a little bit of an anomaly from what's happening in the rest of Atlanta," Parmer says. "It's a favorable place to be and it's convenient for everything that Atlanta has to offer."
In addition to its residential component, the Sovereign also includes 470,000 square feet of office space, a symbol of the torrid pace of commercial development in Buckhead that will deliver nearly 2.5 million square feet of office space in the next three years. Massell can see much of it sprouting up from his fifth floor window in Tower Place, a project that in 1973 started Buckhead's skyline.
Asked whether Buckhead can absorb the new office space, Massell recounts a conversation he had with Charlie Ackerman, the Tower Place developer, when they stood side-by-side to break ground on the building.
"He asked me, do you think anybody will top this? Now it is the small kid on the block," Massell says. "Buckhead is a major city. It is Atlanta's second downtown. By any index, Buckhead is a downtown and as such we are going to continue to grow and prosper."
Even with Buckhead's outsized personality and its stock of 21 million square feet of office space set to expand, the area is built on small businesses. Some 79 percent of the nearly 15,000 businesses in the area employ fewer than 10 people, says Charlie Crawford, chairman of the Private Bank of Buckhead and president of the 180-member Buckhead Rotary Club. That was a key factor in choosing to launch the community bank in Buckhead in late 2006.
"It's nice for a bank like ours who wants to be serving relatively small businesses that they are growing. Buckhead has a lot of them," Crawford says. "That is the lifeblood of Buckhead. People like Tom Bell and Cousins [Properties] are fabulous; and I think what we are doing here on the other end of the spectrum with a relatively small new business can coexist nicely in this community."
Remaking A Workhorse
Of Atlanta's five wealthiest zip codes, three sit inside the boundaries of Buckhead, borders confirmed by several civic groups and legislative bodies since 1982. The community, annexed by the city of Atlanta in 1959, is 28 square miles and encompasses north Atlanta bounded by the city limits and DeKalb County line on the east; the city limits on the north; the city limits and Cobb County line on the west and Peachtree Creek from the Chattahoochee River to Interstate 75 to Interstate 85 on the south.
And it's difficult, if not nearly impossible, to travel Buckhead and take advantage of its 1,500 retail outlets, 5,000 hotel rooms and more than 200 places to eat without encountering Peachtree or Piedmont roads. Civic and business leaders want one to become the city's signature boulevard, while recognizing the other as its more blue collar, workhorse cousin. Either way, the area's leaders are clear that as those routes go, so goes the future of Buckhead.
"Predictably, traffic is the biggest challenge," says Howard Shook, a member of the Atlanta City Council whose District 7 encompasses much of Buckhead. "Buckhead does not have a coherent street grid system. You have Piedmont, Roswell and Peachtree and if there's a problem on any of those streets, your goose is cooked."
Stroll along a half-mile stretch of Peachtree in the heart of Buckhead, from Maple Drive to the MARTA station, and you can experience the impact of the $21 million initial phase of the Peachtree Boulevard Project – widened sidewalks, willow oak trees, added greenspace, pedestrian benches, bicycle lanes, new light posts and a landscaped median that restricts turns from cars and provides a safe space for pedestrians to cross the street.
What you can't see and touch are improvements to traffic signals and timing cycles that resulted in fewer vehicle stops and a quicker trip. That means fewer pollutants spewed from the 55,000 vehicles that drive the route every day, according to Scotty Greene, executive director of the Buckhead CID, which was formed in 1999 with the top priority of addressing Peachtree.
"Suddenly, you have a downtown environment where cars are moving efficiently and people are not afraid to walk on the sidewalk or cross the street. Therefore, they are more likely to buy a condo or locate an office here and shop here because we're managing our congestion, not solving congestion, not making it go away. That is an unrealistic goal. It is the management of congestion," Greene says.
Transforming Peachtree Road into a boulevard isn't cheap. The second phase of the project, a one mile stretch from the MARTA station to Roxboro Road expected to get under way early next year, will cost $40 million from a combination of state and federal funds, CID money and donations by land owners. An additional phase, if it's funded, would go west to Shadowlawn Avenue.
The CID also partnered with the Woodruff Foundation for a $4 million project to remake streetscapes and public spaces in the Buckhead Village around the Streets of Buckhead.
The costs grow exponentially to refashion Piedmont into the community's workhorse. The recently-completed, $200,000 Piedmont Area Transportation Study recommended 50 projects totaling $200 million that would remake the road from Interstate 85 to Roswell Road. Projects include transit fixes such as consolidated MARTA stops, queue lanes for buses and expanded "buc" and express bus services; widened sidewalks and improved pedestrian crossings; streetscaping; improved signal timing and dedicated left turn lanes.
The big ticket item, part of nearly $160 million in road improvements, would complete the interchange with Ga. 400 and I-85 by adding ramps in both directions, something state road planners left off when they extended Ga. 400 south of Interstate 285. The result, says Denise Starling, executive director of the Buckhead Area Transportation Management Association, which managed the study, leaves Piedmont serving as a reliever for Ga. 400 and floods Buckhead with traffic that shouldn't be there.
"Piedmont is more the workhorse, and we looked at it more from that perspective," Starling says. "We came at this with a 'we don't want to widen our way out of it' approach. It's broken, we know that. The whole point is mobility balance. Widening is last and there are very few places where we do that."
There's no timetable on implementing recommendations in the 20-year plan or funding them.
More than five decades of calling Buckhead home leaves Massell with the experience to be bullish on the area's future, even while facing complex challenges associated with such explosive growth. With 15 percent of the city's population, 30 percent of its land mass and contributing 45 percent of Atlanta's property tax base, he understands that Buckhead has the clout and resources to weather most anything.
"As a former realtor, a native Atlantan, former mayor and president of the Buckhead Coalition, my word of advice is to buy a bit of Buckhead and take care of it now and it will take care of you later," Massell says.
Buckhead At-A-Glance
Population
City of Atlanta, 464,200*; Buckhead, 71,380**
Per Capita Income
(2007)
Fulton County, $49,291; Georgia $30,914
Unemployment
(April 2008)
City of Atlanta, 5.4 percent; Fulton County, 5.1 percent; Georgia, 5 percent
Largest Employers***
AT&T, 22,500; IBM, 7,500; MARTA, 5,099; Piedmont Hospital, 2,900; Buckhead Life Restaurant Group, 1,500
*2007 Estimate
**2008 Estimate
*** Employers located in Buckhead but employee numbers indicate total for Atlanta
Sources
Atlanta Regional Commission, Buckhead Coalition, Georgia Dept. of Community Affairs, Georgia Dept. of Labor