Brunswick/Golden Isles: The Best Of Both Worlds
Residential and industrial development abound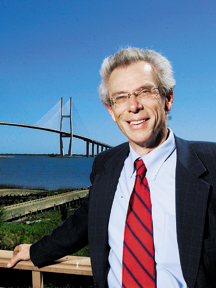 Two years ago when a ribbon cutting ceremony opened the sales office for Brunswick's Liberty Harbor, a $1 billion residential and retail development at the northern end of Glynn County's magnificent Sidney Lanier Bridge, the site became an object of curiosity and comment for an audience of sidewalk superintendents and gawkers who passed by daily. And by all accounts, they didn't like what they were seeing, or more to the point, what they weren't seeing.
The performance of Liberty Harbor LLC, the Ohio-based developers, drew increasing derision. But Brunswick's mayor, Bryan Thompson, says critics may have spoken too soon.
"I've heard since the beginning that this was an impossible feat, wasn't going to happen, was all smoke and mirrors, and yadda, yadda, yadda," Thompson says. "But each benchmark [the developers] make, I lose another segment of my Greek chorus of nay-sayers."
Problem was, Thompson says, most of the drama was going on behind the scenes, as environmental problems popped up, and were resolved on the site – a former World War II shipbuilding complex.
The idea of an upscale mixed-use community on the site of such a longtime eyesore challenged the credulity of some Brunswick residents. "I had my doubts," says James Vivenzio, chairman of the Brunswick Downtown Development Authority and a Glynn County real estate professional whose family has lived in and around Brunswick for generations. "I grew up here and I remember that place as an industrial site, and now to think of it as a place with restaurants on the water, with pleasure boats docking and all-around upscale living, well, it's a stretch. They tell me [the developers] have already invested $100 million in the project, but people can't see all those things because [they are] underground – the water, and sewer, the electrical and all those things. But now if you go over the Sidney Lanier Bridge you can look down and see all the progress they've made, and now the first house is going vertical. It's like anything else; sometimes you just have to see it before you believe it."
And if recent events are foretelling, there will be more to be seen and believed. This year Liberty Harbor gained final approval for a marina with 450 boat slips and 250 dry-stack units, which together can accommodate 700 watercraft. Sewer and water infrastructure is in place and construction has begun on the first of what will eventually be as many as 1,500 residences. Liberty Harbor has been approved for 300,000 square feet of commercial space, but Thompson believes the new shops and restaurants will not likely exceed 150,000 square feet.
Liberty Harbor is a work in progress, Thompson says. Brunswick will begin to count the receipts from Liberty Harbor when the first tax bills are sent out to new residents. When completed over the next decade, Liberty Harbor is expected to generate an estimated $1.5 million a year for local property tax coffers in a city with a current annual budget of $3.5 million.
A Boost For Downtown
Brunswick also will benefit from a new and much improved gateway for visitors coming over the Sidney Lanier Bridge. The development's roadways and walking and biking paths will connect to the city's. Thompson says Brunswick will be home to a new neighborhood of upper income residents near the heart of downtown.
A decade ago, Brunswick's central city began to come alive with new restaurants and shops whose numbers have increased steadily, but without attendant residential growth. Now, thanks to a master plan called Blueprint Brunswick, this riverfront city is about to build its own new neighborhoods, and even that Georgia rarity – a new intown middle school. A land-swap between the city and the local board of education secured the land for the school, and two new residential sites of three to four acres each for the city.
The two new residential building sites will accommodate anywhere from 70 new single family homes to 180 apartment units, says Mat-thew Hill, executive director of the Brunswick Downtown Development Authority. … "It gives us some acreage to develop," Hill says. "So it can be divided up to provide us with a new neighborhood."
Brunswick also is getting its own marina on the East River, a 252-slip facility, with plans to add 57 more over the next 12 months. Hill says the search is on for a private developer to partner with in the construction and management of a 20,000-square-foot conference center and attached 125-room riverfront hotel. The city's master plan calls for 300 waterfront condo and townhouse units, as well as the addition of 65,000 square feet of commercial space.
Brunswick recently has seen more than $3 million spent toward the rehabilitation of buildings downtown. "The housing market here may have slowed down a little bit, but we're not in any kind of depressed market," Hill says. "I think we are going to see the city part of Brunswick grow." Strict building codes have been enacted to make sure new residences don't violate the community's architectural integrity.
Island Life
Across the causeway from the mainland of Glynn County on St. Simons Island, another residential development with the strictest of building covenants is unfolding. Frederica is a 400-home community with a golf course, equestrian center, 400-acre lake and tennis courts, and the kind of marsh and waterfront views that make residents here anxious for sunsets.
Nestled among 3,000 acres of forests and meadows, Frederica's remote beauty places it atop the list of Georgia's most expensive real estate. With lot sizes of one to four acres priced from $1.43 million to $3.58 million each, Frederica is clearly for those in the rarified atmosphere of America's highest earners. When ground was broken for this Sea Island Company community in 2003, dozens of the lots had been pre-sold. To date, 11 homes have been built or are under construction – a pace as measured as the languid water of the Frederica River which forms the island site's western border.
A garden for Frederica's residents and Sea Island Company chefs has sprouted and plans call for a cultural arts center as well. Frederica even boasts a rookery for wood storks.
The long anticipated widening of Interstate 95 through Glynn County is expected to be complete next year, and Brunswick economic developers say the increased vehicle count will also increase revenues. "If the past is any indicator, that will certainly hold true," says Woody Woodside, president of the Brunswick-Golden Isles Chamber of Commerce. "We are already seeing steady retail growth along the I-95 corridor and the major arteries that come off the interchanges."
Glynn County saw almost $500 million in increased retail sales from 2004 to 2006, according to a study of that sector by the University of Georgia.
Woodside says a significant portion of that growth has come on the northern end of I-95's path through Glynn County. "That whole area has been expanding for years and we're seeing out parcels being developed."
But, Woodside adds, the interstate's influence on the local economy goes far beyond the gas stations, fast food stops and motels that line the route. "When you go to the manufacturing base, and the tourism base, mixed with the transportation assets we enjoy, then that provides a solid foundation for a healthy local economy, so improvements on that corridor will have to enhance our future growth."
The final 20 miles of the widening project, with a price tag of $368 million, is expected to be carrying vehicles on its six lanes by the winter of 2009.
Port Authority
There were no portside bands or speeches last March 17th when the Liberian ship Sanko Glory arrived at the Port of Brunswick to take on 42,000 metric tons of soybean meal headed to Denmark, but it was an historic occasion. The docking of the Sanko Glory marked the first time a Panamax class vessel ever called on the Brunswick port. Panamax ships are too wide to pass through the Panama Canal at the present time, and heretofore were too large to visit the Port of Brunswick. However, a deepening project completed in June 2007 opened the harbor to such larger vessels, which, in turn, will open up new possibilities for the state's important agriculture commodities.
"The increased access and capacity at the port will benefit Georgia farmers seeking to get their crops into the world markets," says Bill Dawson, general manager for operations at the Port of Brunswick. "And too, we are adding a new 10,000-ton capacity storage tank to hold soybeans and other ag products. That will be in place by the end of the year."
When the Panama Canal completes the $5 billion widening project begun last year, the Port of Brunswick will be ready to take on the giant cargo carriers expected to pass through its locks. Brunswick's port has just seen improvements completed on rail lines and storage facilities, and the new, taller Sidney Lanier Bridge nicely accommodates the Panamax vessels.
"It's all come at the same time," Dawson says. "And that has opened up a lot of doors, and not just for the grain and other ag products. The port will also welcome the newer and larger vehicle carriers that bring foreign made cars and trucks to the port and carry away American built vehicles to overseas ports.
The port's upgraded ag commodity facilities have already attracted a new client, Bunge North America, a leading global agribusiness that will use the Brunswick facility to coordinate the shipment of its products. The agreement between the Georgia Ports Authority and Bunge is expected to add 500,000 tons of grains and other Georgia commodities to the Brunswick port's volume.
Workforce Training
In his more than 20 years as a Glynn County electrical contractor, Tony Thaw has been frustrated in his efforts to find and keep qualified employees.
"There were times in my career when I could have been working 20 or 30 people," says Thaw, a Glynn County Commissioner. "But I couldn't find six or eight good employees. The main goal when I ran for commissioner was to train a workforce."
After his election in 2003, Thaw went to work on a plan to improve the county's workforce. His efforts led to creation of a career academy, a school to train high school students for jobs in modern business and industry. What began as an idea soon became reality, boosted by cash.
By 2005, Glynn county educators and government and business leaders had formed a nonprofit, Golden Isles Technical and Career Learning, Inc., to raise the nearly $20 million it would take to build the Golden Isles Career Academy (GICA). A needs assessment study delivered the subjects to be taught and local business and civic leaders began giving their own money to the cause while soliciting donations from others. The business community came up with $2 million in cash and in-kind gifts, and the local board of education authorized $6 million for the academy from its taxes.
"And for the first time in Georgia history a county commission put in their SPLOST (Special Purpose Local Option Sales Tax) issue $6 million for a career academy," Thaw says. The development authority also donated 16 acres of land near the airport to house the new facility.
More donations came from the city of Brunswick, and a state grant of $3.2 million rounded out the contributions. Bottom line: The Golden Isles Career Academy will open its doors in August 2009 with a student population of 500-600. Enrollment is expected to quickly grow to 1,200 students. The GICA will be part of the local system, maintained by the Glynn County School Board with day-to-day operations guided by a CEO and his independent board.
"Students will go to their base high school for academic training," says Dr. Ralph Gornto, director of the Glynn County Schools' Career, Technical and Agricul-tural education program, "then they will go to the academy for technical training and then back to their base school to finish the day."
Using their time at the career academy, students can leave high school with a diploma and a work-ready certificate and step right into a job, or they can continue their education all the way to a PhD if they want, Gornto says.
Thaw believes a bigger and better workforce will lower jail populations. "There is plenty of evidence that the career academies also lower dropout rates and build better work ethics," he says. "We're on track now to have the kind of job training that companies will take note of."
One company making a sizeable investment in Glynn County already has taken note of the intergovernmental and community partnership that led to the creation of Golden Isles Career Academy.
"Lincoln cited our efforts with the development of the career academy in their decision to invest here," says Nathan Sparks, executive director of the Brunswick-Glynn County Development Authority, referring to the March purchase of the authority's 687-acre Pinecrest Logistics Park by Texas-based Lincoln Property Company. The firm put $15 million up front and agreed to pay $39,000 a month for 36 months in a lease/purchase agreement for the site. Preliminary plans call for a mixed-use industrial, commercial and residential development on the property.
"The thing that excites us the most is that we, as a community, have never been in a position where we have the private sector willing to step up and invest in industrial park projects," Sparks says. "To us, this signifies what you might even call a right of passage. We are on the radar screen in a big way for private industrial developers."
When Sparks contemplates local progress – downtown, Liberty Harbor, Frederica projects, the planned rebirth of Jekyll Island (Editors' Note: See related story, page 36), the career academy and plans for a 687-acre mixed-use development, he sees the obvious: Brunswick and Glynn County are soaring toward a historic moment.
"When you look at each of these projects individually, each of them would stand to have a tremendous impact," Sparks says. "But when you look at the entire tapestry of development in Glynn County right now, today, it's mind-boggling. When you look at trends in the national economy, what we are doing seems counter-intuitive. I'm not saying we're recession-proof, but we have always been resilient. Now we are setting off on courses long charted, but never taken."
Brunswick and Golden isles
At-A-Glance
Population
Glynn County, 73,630; Brunswick (county seat), 16,074
Unemployment
(Mar. 2008)
Glynn County, 4.1 percent; Georgia, 5.3 percent
Per Capita Income
Glynn County, $34,272; Georgia, $30,914
Top 10 Employers
Sea Island Company, 2,100; Southeast Georgia Health System, 1,682; Georgia Pacific Cellulose, 600; Rich Corporation, 600; King and Prince Seafood, 570; Wal-Mart, 550; Hercules-Pinova, 356; Gulfstream Aerospace, 350; International Auto Processing, 200; Target, 200
Sources
Brunswick-Glynn County Development Authority, Georgia Dept. of Labor, U.S. Census Bureau