Hallowed Grounds
Georgia's cemeteries are benefitting from renewed interest in historic tourism and genealogy, appreciation for art and architecture and a reverence for generations past.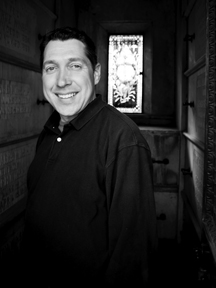 There's only one place in the state where you can have a wedding ceremony conducted in the presence of Georgia golfing legend Bobby Jones and Gone With The Wind author Margaret Mitchell – Atlanta's Oakland Cemetery. A cemetery wedding may sound a little odd, but Oakland is a popular spot for weddings, and has been since the first one took place there in 1874.
Kevin Kuharic, Oakland's director of landscape and restoration, believes the early weddings were held at the cemetery so the happy couple could be near earlier generations of relatives who had passed on. "But today most of the young couples that get married here don't have relatives buried here," he says. "They just like the setting. It's a little out of the ordinary. And a lot of young people aren't affiliated with an organized church and don't feel comfortable getting married in a church. Still, it's a sacred place and it's beautiful."
There are growing numbers of people showing up at Georgia's cemeteries with more on their minds than paying respects to the dead. Artists and photographers are finding a rich trove of subject matter in the statues and mossy trees that cover cemetery landscapes. Researchers of family histories and the Civil War find the hundreds of Georgia public cemeteries to be a wealth of information. Birdwatchers and tourists come to look around. Cemeteries are coming alive with visitors, and Atlanta's Oakland has led that trend since its establishment in 1850.
"The city of Atlanta stopped selling gravesites in the early 20th century," Kuharic says. "By then it was, by and large, sold out. For all intents and purposes, sales were over. If you walked in today with a fistful of cash, we would say there is nothing available."
Which brings up a mathematical puzzle. Oakland's 48 acres should hold about 48,000 graves, according to industry standards of 1,000 traditional 3×8-foot graves per acre. But, Kuharic says, Oakland has a population of about 70,000 souls. "Some people consider us beyond capacity," Kuharic says. "Yet we continue to have about 15 burials a year. Those folks tend to be descendents of the original lot owners who are exercising their burial rights."
And there are other, more enterprising Oakland suitors who purchase lots through private sale or through the sale of abandoned property by the city of Atlanta. "This was a wildly popular cemetery," Kuharic says. "I have acquired some space here and I intend on being buried here, but I have no ancestors here."
Kuharic estimates that only about 1 percent of the graves at Oakland are cared for by families, descendents and owners, or their authorized agents. "That leaves thousands of lots not cared for," he says. "So there are vacancies on these lots. But how do you get to the owner to ask him, 'So, you want to sell?'"
With so many absentee owners and untended lots, Oakland was heading toward ruin in the 1970s. To help care for the graves and maintain the serene beauty of the place, as well as promote visitation, the Historic Oakland Foundation was formed in 1976 and remains active.
Oakland's managers had long believed most visitors to the cemetery were researchers, tourists and Civil War buffs drawn to the 7,000 graves of Confederate soldiers buried here. But after tallying the results of a visitor survey done at the end of last year, the staff found that idea was way off the mark.
"Surprisingly, the runaway top reason given for coming to Oakland was art and architecture," Kuharic says. "That is something that appeals broadly and is politically neutral."
Sadly, the art and architecture that so appeals to visitors was ravaged in March when a tornado ripped through Oak-land, piling up a list of damaged monuments, statues, walls and other cemetery assets estimated at 7,500, and destroying 70 mature trees. Total cost of the tornado damage was initially thought to be between $3 and $5 million.
Kuharic says he was stunned when he first walked onto the grounds just after the tornado swept through.
"My first reaction was that I don't recognize this place," he recalls. "But the more I looked around the more I realized that the last several years of work out here has really prepared me and the staff to face this. We've never faced the quantity of repairs that we had, but we have been exposed to these sorts of repairs and cleanup, just not in amounts like this."
Oakland's leaders immediately began efforts to raise the money to repair the historic art and architecture and replace the lost trees. "We need all the help we can get," Kuharic says, inviting the public to visit Oakland's website (www.oaklandcemetery.com) to follow the recovery process.
A Southern Thing
As a boy growing up in Macon, Jim Barfield often went with his grandmother to Rose Hill Cemetery, where she would clean tombstones and clip the overgrowth and weeds. "I think that is a Southern thing," Barfield says. "That's why I was brought here and that's why I still come here."
Barfield has written numerous articles and several books on local history, and was the founding president of the Rose Hill Cemetery Foundation. He's the perfect tour guide for the growing number of visitors to the historic burial grounds, a job he clearly relishes.
"It is quite an attraction and people come here from all over the world," he says. "A lot of them come to visit the Allman Brothers' grave."
That gravesite holds the remains of Duane Allman and another member of the Allman Brothers Band, Berry Oakley. Both men were killed in motorcycle accidents a year apart. They are buried side-by-side.
Rose Hill is also the eternal resting place of two Georgia governors, Confederate generals, noted artists and architects, all attractions for visitors. But there are other reasons strangers come here.
"This is a garden cemetery with a great collection of funerary art, particularly from the Victorian period," Barfield says. "There is a lot of finely carved marble, colored granite and other stones. The predominate trees are Georgia red cedar, magnolia and tulip poplar. There is just a great deal to see here and it is a beautiful place."
Rose Hill is also a popular site to walk a dog or just stroll, says Barfield, who also has seen artists sitting before their easels painting the landscape.
Rose Hill's population mirrors the communities around it that have sent citizens here for their final rest. There are seven separate Jewish sections on Rose Hill's 48 acres, and they are divided into Orthodox, Reform and even Polish burial neighborhoods. The local Catholic Church has its own section, and there is a potter's field with burial sites for slaves, free blacks, the poor and prisoners.
The cemetery is still "active," with space available.
The graves of the wealthy are obvious by their adornments – large statues and obelisks that rise above them. Rose Hill is a historic neighborhood of the dead, and its demographics hold something of interest for just about anyone. Finding points of interest for visitors has been made easier by the Rose Hill Foundation's publication of a map marking notable graves and brief biographies of those interred in them. Not all cemeteries are so fortunate.
Christine Neal is a cemetery expert with the state Department of Natural Resources (DNR) who for 10 years has been helping people find graves, mostly those long forgotten, unmarked and consumed by vegetation. "There has been a resurge of interest in the hobby of genealogy," says Neal, DNR's archaeology program coordinator and cemetery specialist, who, as Christine Van Voorhies, authored the 2003 book, Grave Intentions: A Comprehensive Guide to Preserving Historic Cemeteries.
"People are looking for their ancestors and that is leading them to graveyards. I believe, too, that this is the result of a larger movement, the whole heritage tourism movement."
Neal says the portion of her workday spent answering questions about cemeteries has grown from about 20 percent seven years ago to 80 percent today. "I have talked to every possible person connected to a cemetery except the deceased themselves," Neal says. "People are interested in all the wonderful artwork and the serenity and people are interested in the plants placed around graves and landscaping in general at cemeteries. In cemeteries there is a wealth of interesting sociological and anthropological information, as well as horticultural and architectural, and there is interest in the art, especially in the larger monuments."
Neal also is getting inquiries from those who stumble upon graveyards they weren't looking for. "Developers clearing land long covered with vegetation suddenly come upon graves," she says. "And they don't know what to do. Sometimes even the local government officials don't know what to do. Even the attorneys handling these land transactions don't always know what to do about these cemeteries."
These small graveyards often are remnants of family farms where the dead were buried for decades, even centuries, Neal explains. "We have thousands of these small family cemeteries dotting the state," she says.
So what happens when graves are discovered? "The law says they shall not be disturbed," Neal says. "But beyond that the law has no specific instruction for the developers. Some of them will fence off the graves, others just go around them."
Reclaiming History
When John P. Godfrey set out to locate the graves of his grandparents at Oxford Cemetery in the Newton County town of Oxford, he found instead an overgrown mass of vegetation that made him angry – very angry.
"I knew the general vicinity they were in, and I knew there was a marker on it but I couldn't find my way to it," recalls Godfrey, whose grandfather was a slave. "When the slaves died, they were buried in one part of the cemetery and the whites were buried in another."
Godfrey retired from military and civil service in 1994 and came to Oxford to live. The white portion of the cemetery was maintained by a foundation created in the 1960s, but the graves of the African Americans remained untended, Godfrey says. But that changed eight years ago.
When an Oxford College professor and his students launched a cleanup campaign at the cemetery in 2000, Godfrey joined with them to cut vegetation and beautify the site of the slave graves, and he began an attempt to identify those buried there. Since then, thanks in large part to his efforts, the perpetual care offered in the cemetery has been extended to the African-American section.
"The cemetery is in very good shape," says Godfrey, who has done extensive re-search on local history and believes Oxford's slave owners may have given them land prior to the Emancipation, a violation of Georgia law at the time.
"Family stories say that is so," Godfrey says. "And we have traced documents back to 1880 showing my grandfather owned land. In fact, my grandfather had 49 acres that extended beyond the city limits, and we still own some of it and my house is on part of it."
Using a slave ledger maintained by an Oxford College official, and with help from students at the college and Emory University, Godfrey has found the names of 216 slaves he believes are buried in the cemetery. He plans to build a memorial exhibit to those slaves in a gazebo placed on the cemetery grounds by the city of Oxford.
A Walking Tour
Several years ago when members of Moultrie's Morning Glory Garden Club decided to take on the project of cleaning up the city-owned Westview Cemetery, the effort went far beyond planting flowers and trimming hedges.
When Wilma "Pete" Darbyshire, a decades-long member of the club, told her son, Tom, about the project, he used his skills as a New York ad agency executive to fashion a walking tour of Westview complete with a map, as well as a CD containing instructions and a brief description of 13 interesting sites to visit, accompanied by period music.
The Moultrie-Colquitt County Chamber of Commerce gave the Morning Glories a tourism promotion grant of $500, and another $1,300 came from the Colonial Dames to pay for a brochure, CD copies and players. Today, visitors to Moultrie wishing to tour the cemetery using the helpful CD can just drop by the chamber of commerce, leave a small deposit and pick up a CD. There are portable players for those who wish to walk. And what all find is a cemetery rescued from the decline that was evident just four years ago.
Using a three-year plan designed by the garden club, more than $120,000 in private contributions was collected to fence and landscape Westview and add a gazebo and benches. The most important product of the donations is the cemetery census taken by Morning Glory volunteers and filed at Moultrie's Ellen Odom Genealogical Library.
"We had some vandalism at a mausoleum," Darbyshire says, "and police took the name off the mausoleum and took it to the library, got the card and obituary, which listed relatives, and they were able to track down a nephew in Tallahassee. That man came up the next day and the repairs were done."
Innovative Solution
Raising the money to rehabilitate a public cemetery can evolve into a community project with widespread support; but cleaning up family cemeteries and identifying the dead can be a lonely and often complex task – and it can be expensive.
When descendents of several Augusta pioneer families decided to restore the badly vandalized Cottage Cemetery that held their ancestors' remains, they faced a daunting task. The two-acre cemetery was in ruins, headstones and grave markers were broken, scattered and missing, and overgrown vegetation had claimed the site. A lawyer would be needed to establish the chain of ownership, and a nonprofit set up to handle the finances and report to the IRS.
"We got a startup group [of descendents] to come together in September," says Anne Carmichael Sherman, who has bloodline connections to many families buried at Cottage Cemetery. "We got a lot of pledges from people, many of whom had never seen each other before."
Sherman says a lawyer was hired and spent months researching the cemetery's legal history and establishing descendents' rights in the property. Then came the time to form the nonprofit, deal with the IRS and set up accounts to handle money, a time consuming prospect.
To expedite and simplify those steps, the Cottage descendents took a clever route: they partnered with Historic Augusta, Inc., a local nonprofit preservation group. "It's not exactly what we do," says Erik Montgomery, executive director of Historic Augusta. "But it is still a historic preservation issue. There are Longstreets buried there and Fitzsimmons, Carmichaels and Eves. One of the Eves was the co-founder of the Medical College of Georgia. It is disgraceful to see that cemetery vandalized the way it was, so it is heartening to see this group come together to restore it."
Under the arrangement, the Cottage group will funnel donations into Historic Augusta, which in turn will pay bills and file IRS forms. "Our role is fiduciary," Montgomery says.
The Cottage group soon will begin genealogical research on families buried in the cemetery, as well as fund-raising efforts to hire a cemetery consultant to develop plans for restoration, Sherman says.