Fannin County: A Brand New Economy
Focus on tourists, entrepreneurs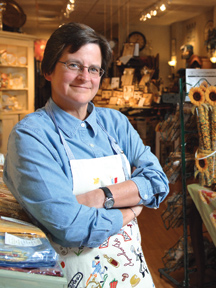 The shifting fortunes of North Georgia's Fannin County are reflected in the narrow main street that cuts through the thriving town of Blue Ridge. Cars line both sides of the thoroughfare, with many bearing out of county and out-of-state license plates. It's clear most of the sidewalk crowd is from somewhere else.
They're here to visit upscale boutiques such as the aptly named Out of the Blue. This store sports a wide selection of fine wines and foods from around the world, French table linens, hand-painted Italian ceramics and furniture. It's merchandise you'd expect to find in Atlanta or Miami, not a small town surrounded by wide expanses of the Chattahoochee National Forest. There's a good reason it's here, says proprietress Sarah Auman.
"Our customer base is that second home owner – hundred grand or more income – people that live up here," she says. "This is definitely a tourist community. The fathers of Fannin County don't know that yet, but we know it's our industry. This is no longer the Levi plant. This is no longer logging. Our industry is tourism."
Clearly things have changed in this scenic community nestled on the northern edge of Georgia where the state meets Tennessee and North Carolina.
That change was kicked-started a few years ago by the loss of nearly 1,000 jobs when Levi-Strauss, Amer-ican Uniform and Shaw Carpet all closed within 12 months of each other. The textile base that once sustained this area was dealt a death blow. The closings were part of a larger trend that has seen these industries flee to low wage foreign countries, but for Fannin it meant a dramatic change in the local economy.
"The community leadership at the time realized that they would have to reinvent themselves since the likelihood of replacing those jobs with a similar business was pretty small," says Kristin Gunia, executive director of the Fannin County Development Authority.
The county hired Georgia Tech to conduct a feasibility study that found the economy was already beginning to change. Fannin County and Blue Ridge in particular were becoming tourist destinations. An increasing number of people already were moving up here for weekend getaways and many were finding they didn't want to leave.
"It encouraged us to focus on tourism, small business, light manufacturing and light industry that could fit in with our mountain surroundings," Gunia explains.
If the lay of land wasn't appropriate for heavy industry, then Fannin had to take advantage of its other natural assets and find new niches that could foster economic development.
"Now a lot of that [need for jobs] was absorbed by the second and vacation home building industry," says Howie Bruce, chairman of the Fannin County Board of Commissioners. "That worked great for a long time, provided a lot of very good incomes. Over the past year to year and a half, there's no secret about how that's really fallen off."
But other niches are developing that could make up for the construction slowdown. Since 2000 the county has increasingly worked to entice more visitors here to enjoy Fannin's wealth of outdoor attractions ranging from hiking the nearby mountains to fishing trout streams or just enjoying the picturesque small town.
Local boosters such as Fannin Chamber of Commerce President Jan Hackett have realized that this kind of tourism may be the best engine for economic development. Its power can be seen when this county of just 22,000 permanent residents witnesses an invasion of 15,000 visitors on any given weekend during the summer. They come, spend money and then go home without taxing local infrastructure and schools.
"Well, it's just beautiful country, it's got a lot of outdoor recreation, that's what we push," she explains, adding that people come for a variety of reasons.
Word of the area's charms has begun to spread far and wide. Blue Ridge was among the Top 10 emerging travel hotspots and tourist attractions for 2008, according to a survey by TripAdvisor, the world's largest online travel community.
Beyond hiking and fishing there are other attractions such as the annual Blue Ridge Mountain Ad-venture Race in October. This 40-mile outdoor event regularly attracts several thousand people to see which team of runners, mountain bikers and kayakers is the fastest and more durable.
Another popular draw is the Blue Ridge Scenic Railway, which carried 60,000 riders from the Blue Ridge depot last year, up from 17,000 when it began in 1998. The line, which is owned by freight hauler Georgia Northeastern Railway, was once just abandoned track until local residents convinced company president Wilds Pierce to launch the attraction. To get it started, volunteers cleared the rail line all the way from Ellijay to Blue Ridge, cutting down trees that had been growing in the right of way for more than a decade.
"So we brought our first train up that way, blowing the horn as we arrived the first time," Pierce recalls. "Everybody was shocked to see us there since nobody thought we would make it."
Thinking Small
The emphasis is clearly on small, entrepreneurial operations that are better suited to a budding tourist community. Almost 90 percent of businesses are small concerns with 25 or fewer employees, say officials.
Fannin has worked hard to attract and nurture these operations. It was one of the first counties in the region to be certified entrepreneur friendly. The county also launched a program called Vision Quest geared toward showing local high schools kids the business potential in Fannin when they graduate.
As the population has grown, the area has attracted a number of outsiders with an entrepreneurial bent. Sarah Auman opened her store in Blue Ridge after years spent running the commercial division of Showcase, a photography supply retailer in Atlanta.
Steve Martin, owner of Blue Ridge Graphic Design Workshop, operated a successful graphic design business in Midtown Atlanta, lived in a high-rise condo, drove a fancy car and had all the other trappings of urban life. About 20 years ago, friends invited him here to spend the weekend at their cabin. It didn't take long before this urbanite had fallen in love with Fannin's slower pace and natural splendor.
"Then after weekends up here we asked ourselves 'Wouldn't it be great to somehow stay up here,'" Martin recalls.
He left the firm in the hands of his partner and joined other transplants making their way up the newly four-laned Highway 515 to Fannin. After moving into a little cabin, he opened a one-man graphic design shop in town.
"It was a leap of faith, but it was a good decision," he says now.
Many of the county's new businesses are being headed by ex-corporate types who are starting over at a much smaller scale. Some have enjoyed greater success than others.
"It's a great place for an entrepreneur – if you're wired the way you need to be," Martin says.
For one thing, relocating here has meant downscaling. A simple cabin replaced the condo and the fancy car is gone, too. The clients and their budgets are also much smaller, but Martin says the rewards are often greater than he found in the city.
"When it's a local somebody starting a restaurant that needs a graphic identity it's really satisfying to help them," he explains.
He still maintains clients in Atlanta and they sometimes seem envious of his new home.
"I'll mention Blue Ridge and people seem to think that's really kind of cool," he says.
"Kind of cool" is how many new residents see Fannin. They come to that conclusion after spending time in one of the more than 1,000 rental cabins that dot the landscape.
"The growth [in cabin rentals] has been unprecedented each of the last four years," says Steve Middlebrook, owner of My Mountain Cabin Rentals, which handles 40 of these high-end properties. "The amount of bed tax is increasing every year. It was 17 percent higher in 2007 over 2006, and 2006 was higher than 2005 and so on."
Of course, cabin is very much a misnomer here. Virtually all these houses have several bedrooms and come complete with large decks, outdoor fireplaces, granite counter tops and broadband access. For most visitors the idea of roughing it in the woods includes a hot tub.
Some people buy with the idea of putting their home in the rental program, but soon have second thoughts, says June Slusser, who runs Coldwell Banker High Country Realty out of a renovated 1895 corner building in Blue Ridge.
"They fall in love with it and don't want anyone else sleeping in their bed," she says.
While the housing market slumped along with the rest of the economy earlier this year, Slusser sees a great deal of pent up demand. Florida residents are waiting for their homes to sell so they can select from what has become a buyer's market locally. In the past few months more agents have been taking buyers out to look, but many are waiting for just the right home to appear.
"Our prices haven't dropped – that's the good news," she explains. "But there is more inventory on the market than a year and a half ago and not quite as many sales."
Banking On Fannin
While the market may have slowed recently, the long term potential can be seen in the increasingly number of banks – particularly locally owned institutions – that have opened here. For example, Appalachian Community Bank has expanded from four locations to 13 in the north Georgia region over the last 18 months.
"We keep adding banks so everybody looks at the market as big enough to handle more," says Bill Hammond, executive vice president at Appalachian's Blue Ridge office.
The growth in high-income residents also is reflected in Fannin's vibrant healthcare community. Fan-nin Regional Hospital is in the midst of an expansion project, as is RiverStone Medical Campus, a multi-specialty outpatient facility.
While most rural communities have a difficult time attracting specialists such as cardiologists and orthopedic surgeons, RiverStone has a long roster of these physicians thanks to its ability to provide a collaborative setting. Specialists who may be seeing patients one or two days a week have access to sophisticated medical imaging, testing labs and other specialties such as physical therapy and dentistry onsite.
"We had many patients having to drive long distances for cancer care, heart care or routine follow ups," says Dr. Raymond Tidman, CEO of RiverStone and a co-founder. "So we gathered ourselves together and formed a corporation and took a big risk and bought some land out on the four-lane to build a building."
The concept has proven popular enough that RiverStone will double in size this summer when a new 40,000-square-foot addition is completed.
While the textile industry may be long gone, Fannin still has a vital – although smaller – industrial base. Levi Kismet Rubber Products ex-panded into a section of the 80,000-square-foot Levi-Strauss fa-cility, which had been sold to the Development Authority. In turn, Whitepath Fabtech, Inc., a manufacturer of wire harnesses for large heating/ventilation and air conditioning (HVAC) units, moved into Kismet's old home bringing 75 new jobs.
Other small companies include a custom sewing plant for small clothing lines, a fiber processing mill and a builder of custom truck bodies.
"Fortunately we have been able to fill our vacant textile buildings with expansions of existing businesses, industries and some smaller industries," Gunia says.
The authority now is seeking to purchase property for a proposed light industrial park. As land prices in the area have soared, it has become increasingly difficult to find a site that makes sense economically. Officials have their eye on high tech companies that can take care of the area's abundance of fiber access that makes it as easy to use the internet here as in a major city.
In fact, for many who come here, the appeal is the ability to get away from it all while retaining the comforts and conveniences of the big city they left behind. That desire has driven the high-end second home market as much as it has the shops that line the streets of downtown Blue Ridge.
Fannin County At-A-Glance
Population
(2006)
Fannin County, 22,319; Blue Ridge, 1,081; McCaysville, 942; Morganton, 267
Unemployment
(Feb. 2008)
Fannin County, 5.7 percent; Georgia, 5.3 percent
Top Employers
Fannin County School System, 479; Fannin Regional Hospital, 258; Fannin County Government, 225;
Heritage Healthcare, 103; Ingles Markets, Inc., 100
Sources
Georgia Dept. of Labor, U.S. Census Bureau, Fannin County Chamber of Commerce