Banks County: Making Preparations
Preserving rural areas, planning for growth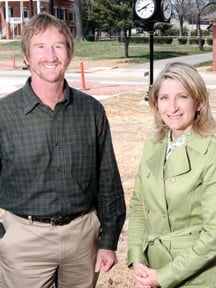 A few minutes on Google Maps shows what officials in Banks County are grappling with. The differences between the satellite images of the county's two exits on Interstate 85 in northeast Georgia couldn't be more stark.
Exit 149, the interstate's intersection with the five-lane U.S. 441, is crowded with development, from the popular Tanger Outlets, a portion of which is in Banks, to clusters of restaurants, hotels and retail stops that attract both longtime residents in more rural portions of the county as well as one-time visitors looking for a respite during their travels through the state.
The other exit, five miles north, is at Martin Bridge Road. The two-lane stretch crosses the interstate almost apologetically, offering nothing to motorists zipping by. It's a deadpan reaction to the development cliché, "If you build it, they will come." Other than the asphalt and concrete of the crossing roads, the canopy of cover from trees fills an aerial image of the area.
"The residents, we hear more than anything else, ask why don't we have a grocery store in Banks County," says Gene Hart, chairman of the Banks County Commission. "The big retailers say there is not enough roof tops. We get people that ask for a permit to put a subdivision in and people say they don't want all these people. But then they turn around and want all the modern-day conveniences to come with living out here. You have to balance the two of them."
So the county is planning for the inevitable growth that will come as Metro Atlanta continues to push its urban influence north along I-85 and Greenville, SC, continues to creep south. Leaders have launched initiatives to revamp the county's comprehensive land use plan, which was last updated in 1992, refurbish county facilities, expand water and wastewater capacities and otherwise improve infrastructure to lure new industry.
But the efforts are undertaken with sensitivity to the county's history as an agribusiness economy with gentleman farmers dealing in poultry and cattle, not widgets and cutting-edge manufacturing. Agriculture provides 16 percent of the county's jobs, but nearly a third of employment earnings. Retail, on the other hand, accounts for 26 percent of jobs but a slim 12 percent of earnings.
"We are really trying to prepare for growth that is coming and make sure it is balanced and sustainable," says Angela Sheppard, the county's administrative officer. "Banks County is primarily an agricultural community and it is very important for the citizens to maintain its agricultural integrity. But we realize we have a shortage of employment opportunities and high wage jobs and we know it is critical to the future of the people here in the county to get the employment opportunities. We need industrial growth to help the tax base and employ the citizens and that is key to creating that balance."
To pave the way for growth, but in a manner that complements the county's rural roots, planners hope to direct industrial growth to the area surrounding the Martin Bridge Road intersection with I-85 – a location Hart calls a potential "gold mine" for industrial recruitment. Retail will remain at Banks Crossing and vast swaths of the county's central and northern portions will be left just as they are – farmland or undeveloped.
To that end, the county has added a 12-inch water line in the Martin Bridge area and is making plans to add wastewater treatment that would tie into a new treatment plant just south of Banks Crossing and nearly quadruple the current treating capacity of 70,000 gallons a day. Some $6.25 million of the county's latest Special Purpose Local Option Sales Tax, more than a third of the $18 million in revenue expected over six years, is earmarked for design and construction of the new plant and additional water lines.
"There is still a lot of design and planning work to do. The thought is that one day this plant can accommodate the growth in Banks County for the long term," Sheppard says.
Late last year, the county launched an $8 million project, also funded via the SPLOST, to renovate the existing courthouse and build a new annex to house the county's administrative offices and some departments. The courthouse refurbishing will add a second courtroom, improve areas for transporting prisoners and gather all the county's judicial operations under one roof. The courthouse renovation will start after the annex is completed later this summer.
The smallest SPLOST project, about $125,000, will renovate portions of the county's impressive recreation facilities on Thompson Street. A multiuse facility with two gyms and the recreation department offices share a 100-acre site with six baseball fields, four tennis courts, a half-mile walking trail, covered pavilions and a horse arena used by two area horse clubs to stage shows and riding exhibitions.
Sluggish Economy
While county officials work to recruit new employers, some industries that already call Banks County home are hurting. Mount Vernon Mills in Alto, a city that sits in both Banks and Haberhsam counties, has long been Banks' largest employer. Some 660 employees fill 12-hour shifts, six days a week turning out 1.05 million yards of fabric and 450,000 pounds of yarn each week at the facility's two plants.
While quality and productivity have improved over the years through investment in new technologies, a sluggish economy is slowing business and prompting the company to reduce its advertising and community sponsorships as part of an overall belt tightening. "Business in the textile industry has really been tough and it has put a crimp in our style," says Larry Porter, general manager of Mount Vernon's operations in Alto.
Building permits issued in the county were down slightly in 2007, due mostly to a drop in residential applications though commercial building permits jumped nearly 50 percent, from 32 in 2006 to 45 a year later, Sheppard says. A drop in residential construction could impact the local economy, as 40 percent of the county's $537 million tax digest comes from homes.
A tumultuous housing market prompted developer Neil Hughes to temporarily shelve plans to build 2,450 lots on the 1,400-acre Diamond C Ranch near Maysville, which straddles the Banks-Jackson county line. Fully developed, Hughes estimates the property would produce $9 million a year in property taxes. Some 230 acres of the site, owned by local businessman Joe Craven, is in Banks.
Hughes' Tucker-based Clear Creek Communities holds a contract to purchase the property, though Craven still owns it so he can have a guiding hand in its development. Craven also was the force behind the Pottery at Banks Crossing, which he opened in 1984 and grew into a sprawling pottery manufacturer's outlet store. During its heyday, the Pottery employed 368 people and registered $50 million in annual sales before closing late last year. Craven plans to open a new site later this year.
"We have delayed the start of the project," Hughes says of the residential development. "There is quite a slowdown in the housing industry and it has delayed a lot of projects."
In fact, the housing industry downturn prompted Clear Creek to consider redesigning the development with fewer houses built around a new 200-acre reservoir on the property. But Hughes says Diamond C Ranch remains an attractive project in a location that is slowly becoming the next hideaway for people looking to escape Atlanta's congestion.
"The growth waves that leave Atlanta are putting the most pressure on the 85 corridor. Gwinnett has become so populated that people will move north and look for that white picket fence-type of look. The same thing that drove people out of Cobb and into Cherokee and out of Fulton into Forsyth will happen to Jackson and Banks county," he says.
More Than Shopping
In little more than an hour's drive, shoppers in Atlanta looking for a bargain can land in the middle of 150 stores and more than 1 million square feet of shopping. It's called Banks Crossing and its most well-known tenant is Tanger Outlets, split by I-85 into two portions. If there's a central tourist attraction in Banks County, this is it.
But while that's the most visible aspect of the county's lure to nonresidents, Banks offers much more. And civic boosters are working hard to build on the base that Banks Crossing offers.
"There are a number of things we'd like to do to increase tourism," says Bonnie Johnson, president of the Banks County Convention and Visitors Bureau. "Anything that we get even a hint that might help, we want to do it. We try everything. You try your best and not everything works as beautifully as you'd like it to."
With just 50 members, the visitors bureau is limited financially in its efforts to promote the county, though it has increased its regional advertising through billboards and brochures. The county, Johnson says, offers much more than shopping, including several annual activities and historic sites that hint at the area's links to the American Revolution and tribes of the Cherokee Nation. And the county is, after all, the birthplace of baseball great Ty Cobb, the first inductee into the Baseball Hall of Fame in Cooperstown, NY.
A full schedule keeps the Atlanta Dragway, just off U.S. 441 on East Ridgeway Road, roaring into November, the equestrian center at Grove River Ranch offers lessons and camps while golfers can enjoy the lush courses of Hammer's Glen, a golf and country club that was refurbished after new owners purchased it in 2005. The facility's lodge offers 150 upscale guest rooms, while homes with prices north of $600,000 are beginning to fill the more than 300 parcels around the two nine-hole courses.
The county also partners with Georgia's Heritage Highway 441, an effort by the Georgia Department of Economic Development to promote the thoroughfare, which stretches from Dillard, where it offers stunning views of the southern Appalachian Mountains, to Homerville, where it skirts the western edge of the Oke-fenokee National Wildlife Refuge before continuing into Florida.
"U.S. 441 is really a great route because you travel in from Georgia on the north and you hit the mountains and as you travel south, you hit the rolling hills and see some of the Antebellum heritage we have," says Cheryl Smith, the program's coordinator for the Northeast Mountains area, which includes Banks. "People could travel for months and not see everything we have that is really awesome."
Johnson credits the program with raising awareness of north Georgia and publicizing areas to vacation and shop while also driving traffic to small businesses along the route that provide charm the interstate just can't offer.
"I really do believe it helps draw people off I-85 and into Banks County," Johnson says. "We want people to come to the area and if they do, there are plenty of things for them to do and see."
Economic Diversity
Small business can mean big business for Banks County, a reality that Tara Fulcher, executive director of the Banks County Chamber of Commerce, understands. She hasn't seen a business with 15 to 20 employees open in the county since joining the chamber nearly three years ago. But the organization has more than doubled in the last five years, swelling to 155, growth coming from small businesses with a handful of employees.
"I'm in this for the business and growth. We want businesses here and it is just a matter of finding that right little recipe between the county as a whole and making sure they understand why we need the businesses here and the good that can come from it. We need to get the word out about Banks County and how easy it is to start a business here," Fulcher says.
The chamber also is pursuing an "Entrepreneur Friendly Community" designation from the Georgia Depart-ment of Economic Development, a four-year-old program that helps build entrepreneur and small businesses strategies into an area's overall development efforts. The chamber is nearly finished interviewing two dozen business owners, a requirement of the program, to learn about the hurdles entrepreneurs faced in starting their enterprises in the county.
City officials in Homer also are focusing on small business owners, revitalizing downtown to freshen up businesses already in place and to attract new ones, like a sandwich shop and antiques store. The city recently completed a $500,000 streetscape project that added new lighting, sidewalks and landscaping. SPLOST funds are helping construct a new fire station on Sycamore Street to replace an aging facility that will be converted into the offices of the Downtown Develop-ment Authority.
"We'll have the old fire department building, spruce it up and offer incentives for some businesses to get their façades fixed," says Mayor Doug Cheek. "Hopefully, this will attract more businesses. We just want to keep the small town feel to everything."
The development authority is spending up to $5,000 this year to reimburse any building owner for 50 percent of a refurbishing project, up to $500, in the hopes that some of the historic district's 20 businesses, homes and churches will see cosmetic improvements, says Janice Tennent, the DDA's chair.
"I think business owners are encouraged when the whole town is rallying to improve," Tennent says. "It is more of a team effort rather than one person saying that doing one place won't make much difference. It is a great incentive to get people rocking and rolling."
Banks County At-A-Glance
Population
(2006)
Banks County, 16,445;
Homer, 1,076
Unemployment
(Feb. 2008)
Banks County, 3.9 percent; Georgia, 5.3 percent
Per Capita Income
(2007)
Banks County, $26,006;
Homer, $26,006
Largest Employers
Mount Vernon Mills, 661;
Wal-Mart, 556; Banks County School System, 400; Fieldale Farms Corp., 245; Banks County Government, 175; Propex, 145; The Home Depot, 114; Cracker Barrel, 109; Outback Steakhouse, 85; Ruby Tuesday, 54
Sources
Banks County Board of Commissioners, Georgia Dept. of Community Affairs, Georgia Dept. of Labor