Walker County: Lessons Learned
Using tourism to reshape an economy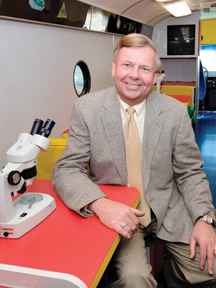 Chattanooga-based developer Jack Webb knew about the natural beauty of his neighbor to the south, Walker County. But it wasn't until he and three other business partners made the easy drive down U.S. 27 to examine a 180-acre parcel of land in Rock Spring that Webb knew he had uncovered a gem.
Little more than two years later, Walker County has warmly welcomed Fieldstone Farms, its first foray into mixed-use development, long a staple of more urban environments. When the 127 lots that make up Phase 1 went up for sale in summer 2005, builders snapped them up in less than two hours. Commercial properties in the development's town center have sold quickly, too, and now include a fitness center, real estate office and restaurant.
"The day we drove down and saw this property, we fell in love with it and made an offer to buy it," Webb says. "You look at a lot of opportunities before you land on one you want. This is one that just worked out from the beginning."
Walker County in northwest Georgia sits between two growing metro regions, with Chattanooga a 20-minute drive to the north and Atlanta about 90 miles to the southeast. It's a community struggling to preserve its rural past and slower pace of life while shoring up a lagging industrial base and boosting sagging graduation rates.
The southern portion of the county provides a throwback to earlier times. Visitors drive past large fields, sod farms and heavy equipment vendors as they enter the county on Ga. 136 and head toward LaFayette, the county seat and largest of Walker's four cities.
Enter the county at its northern tip along U.S. 27, from the Chattanooga suburbs, and the feel is quite different. The nearly 25,000 cars that pass by each day buzz through Rossville, a former textile town struggling to regroup. The northern third of the county houses much of its population.
County leaders, however, seem to understand the wrestling match between embracing the past and preparing for the future.
"We are moving forward at a reasonable pace," says Bebe Heiskell, the sole commissioner in Walker County, one of just nine in the state with a single elected leader. "We are not setting the woods afire, but we are doing a lot of different things to develop our economy. It is growth you can manage. Our community likes it to stay like that."
Lacking an interstate and the advantages it brings to industrial recruitment hampers efforts in Walker County at a time when "competition is fierce and large," says Jeff Mullis, executive director of the Northwest Georgia Joint Development Authority and a state senator.
"We are part of the Chattanooga-Atlanta community and offer a great quality of life and that gives treasures to certain businesses," Mullis says. "But Chattanooga sometimes has the ability to offer more benefits than our local benefits can be. It does make it more difficult. It makes for a bigger challenge."
Economic Diversity
To boost local recruiting efforts, a $3 million project will rehabilitate a rail line that runs through the 92-acre Northwest Georgia Business and Industrial Park in Rock Spring, Walker County's sole industrial park. The project also includes a new offload site in the park that will make delivering supplies to nearby manufacturers faster.
Blue Bird North Georgia, maker of the iconic yellow school bus, employs about 400 people at its LaFayette plant. Built in 1982, the 295,000-square-foot manufacturing facility produces some 4,000 school buses a year. But the local economy was jolted in 2006 when the parent company filed for bankruptcy.
Blue Bird recovered – in fact, its bankruptcy lasted just 32 hours – and last year was named one of Industry Week's 10 best U.S. plants for improvements in safety, quality and productivity. Kevin Wood, the plant's general manger, says the quality of Walker's workforce played a significant role.
"We build 23 buses a day and although it is not as convenient perhaps as it would be right off an interstate, a lot of that is offset by the quality of the workforce and the community in which we operate," Wood says.
Blue Bird's troubles provide the most recent example to economic development officials that a diversified employment base gives a cushion if one industry stumbles. Mullis and Heiskell hope to eventually fill the industrial park's remaining 25 acres to boost the local economy so it can weather even lean economic times.
But the county faces another hurdle with the housing market bust. The downturn is slowing the carpet industry, long a major employer in northwest Georgia, including a handful of the largest manufacturers in Walker County. To help, the county is seeking more small businesses.
The Walker County Chamber of Commerce held 21 ribbon cuttings last year, welcoming a variety of new enterprises including an office supply store, auto parts retailer, banks, a vision center, gym and hair salon. Only a handful of those provided more than a dozen jobs; most offered two or three positions.
"Obviously in Walker County, small business is big business for us," says Stacy Mauer, the chamber's president. "We do have several large industries. As those move out, you can't always replace them with other industries. At the chamber we look at how do we get those five-employee businesses and how do we support those."
The chamber also is pursuing an "Entrepreneur Friendly Community" designation from the Georgia Department of Economic Development, a four-year-old program that helps build entrepreneur and small business strategies into an area's overall development efforts. Additionally, the chamber created a small business roundtable that brings entrepreneurs together to discuss their concerns.
"When you look around Walker County, it is just regular people. Not all of these people have a master's degree in business. Sometimes it could be the first time they are opening a business and it can be an intimidating and scary process. What we want to do is bring those people together so it is not so scary," Mauer says.
Promoting Tourism
Some areas of the county are looking back to move forward. The National Register of Historic Places includes 13 sites in Walker County, and the area's ties to the Civil War provide a cornerstone of any tourism initiative. The Chickamauga and Chattanooga National Military Park, an 8,000-acre preserve where more than 34,000 men were killed or wounded during the Battle of Chickamauga in 1863, now serves as the centerpiece for a growing heritage tourism effort and attracts 900,000 people a year.
"The future of the city of Chickamauga is tourism," says John Culpepper, the former textile town's city manager. "We've spent the last five years promoting ourselves as the Gettysburg of the South."
Earlier this year, the city completed a nearly $1.8 million streetscape project to spruce up downtown and boost its tourism efforts, Culpepper says. The project included new sidewalks, period streetlights, landscaping and burying overhead power lines. The city also created and distributed marketing brochures touting its historic buildings and other tourist attractions.
Besides its historic downtown, Chickamauga also benefits from an emerging effort to promote U.S. 27, which passes by the city about a mile to the east. A new retail center is being built and the city put in place an overlay district to set standards on signs, lighting and development to protect the entrance to the military park.
U.S. 27, which runs through 18 Georgia counties, is the focus of a budding tourism initiative that pitches the route as a scenic and unclogged alternative to Interstate 75. The five-lane portion through Walker County is part of Commissioner Heiskell's plans to use tourism as an economic development tool. She lobbied for the appointment of Virgil Sperry, a longtime Rock Spring resident, to a seat on the Coosa Valley Regional Development Center to focus on the corridor.
"We're trying to promote the positive aspects of going down U.S. 27, not the negative aspects of traveling down I-75," Sperry says. "Each county has some similarities and each county has some things that are unique to it. Our organization intends to come up with an overall strategy."
The effort, loosely called Highway 27 Tourism, is working to secure funding for a marketing survey of the counties along the corridor, create a database of the route's assets, examine areas that will need improvements and develop a marketing program. The biggest challenge, Sperry says, will be maintaining interest among partner counties so the effort won't lose steam like a project several years ago to promote historic courthouses along U.S. 27.
The county's natural beauty also boosts its appeal to tourists. Some 500,000 people a year visit Rock City Gardens, atop Lookout Mountain, a number so large it prompted the attraction to undertake a $3 million, five-year expansion in 2005. Thrill seekers can also find plenty of adventure, from hang-gliding and rock climbing to exploring the deepest cave east of the Mississippi River, which is in the Crockford-Pigeon Mountain Wildlife Management Area. And the Lookout Mountain Valley Trail is a self-guided driving tour through the cultural and historic offerings in northwest Georgia counties, including Walker.
A New Main Street
Increased attention to U.S. 27 is also paying dividends for Rossville, which promotes itself as the "Gateway to Georgia." The city earlier this year completed a $1.7-million streetscape project similar to the one in Chickamauga. As the second busiest entrance to north Georgia – I-75 is number one – Rossville wants to position itself as a colorful alternative to the interstate.
"If you clean your town up, you start with your shoes on the ground level and work your way up," says Mayor Johnny Baker. "If we can see there is a beautification on the street, that says to business owners that Rossville is serious and it is time to invest."
Baker is blunt about the city he's called home his entire life: Industry won't be the driving force of Rossville's economy. A Chattanooga-based developer bought the former Peerless Woolen Mill for $1 million last July with plans for converting the 1-million-square-foot building to a mixed-use commercial and industrial site. Progress, he says, can also be seen in South Rossville Senior Village, a 70-unit development that remade South Rossville Elementary School in 2002. Earlier this year, the former county health department building on Suggs Street opened as a new primary care center.
"We need more restaurants and are trying to market those restaurants. I am constantly talking to developers and showing them around Rossville. You have to be in the trenches and be a salesman," Baker says.
Last year, LaFayette gained a Main Street City designation, from a Georgia Department of Community Affairs program that helps cities develop their core commercial areas. Long reliant on the textile industry, LaFayette officials knew they needed a fresh approach. With several historic buildings and the nearby battlefield, tourism became key and reinvigorating downtown a must.
Matching grants from the city's Downtown Development Authority helped businesses improve façades with new awnings, window repairs and fresh paint. Four grants totaling $8,600 have reimbursed business owners for 40 percent of the renovation costs, says Catherine Edgemon, LaFayette's Main Street and economic development director.
The city also boasts a renovated courthouse, a former restaurant converted to the Northwest Georgia Art Guild's Foothills Gallery that revitalized the local art community, and the former National Spinning textile mill that will soon house the offices of several city departments. The city council also is considering allowing residential above retail outlets, a move that could bring increased pedestrian activity downtown.
Walker County, as a whole, remains heavily residential, with its tax base tilted about three-to-one in favor of residential and agricultural over commercial. So the downturn in the housing industry may eventually take its toll on county finances. Some 493 building permits were issued last year, a drop from prior years, says David Ashburn, Walker's county coordinator.
For now, the county's most recent Special Purpose Local Option Sales Tax averages about $5 million a year to fund infrastructure improvements, renovations to county buildings, new public safety equipment, an animal shelter and projects at the industrial park, among others. County officials expect to ask voters this spring to approve a fifth consecutive, five-year SPLOST.
As the county struggles to add to its roster of large employers while diversifying its economic base, it faces a high school graduation rate of 55 percent, compared to 72 percent statewide. Melissa Mathis, superintendent of the 14-school system, knows the county's economic success rests with a qualified workforce. The district offers work-based and cooperative education programs and an Early College acceleration partnership with Northwestern Technical College; it's restructuring its education center.
The schools also enjoy a rich partnership with 250 local businesses, as well as civic and faith groups through the Walker County Partners for Educational Progress. The program's annual golf tournament raised $7,000 last year to support graduation coaches in the district's middle and high schools.
For Mathis, a LaFayette High School graduate, a revitalized local economy would show students that they could graduate high school, attend college and return to the county to work and build a future, as she has done. But now, she says, many students don't see opportunities waiting for them if they stay.
"I know many vital, young, highly capable students who have to go to urban centers and other places to find opportunity," Mathis says. "We want to grow them, train them and have them return home to give back to the community. A growing economy would bring that diversity."
Walker County At-A-Glance
Population (2007)
Walker County, 64,347; LaFayette, 7,069; Rossville, 3,558; Chickamauga, 2,421; Lookout Mountain, 1,603
Unemployment (Jan. 2008)
Walker County, 4.7 percent; Georgia, 5.2 percent
Per Capita Income (2007)
Walker County, $18,503; Lookout Mountain, $38,945; Chickamauga, $19,147; Rossville, $16,172; LaFayette, $15,840
Largest Employers
Roper, 1,800; Walker County Board of Education, 1,500; Hutcheson Medical Center, 1,400; Shaw Industries-SI
Plant, 1,250; Shaw Industries-LaFayette, 560; Blue Bird North Georgia, 400; Walker County Government, 350; Wal-Mart, 275; Yates Bleachery, 250; Color Spectrum, 170
Sources
Georgia Dept. of Labor, Northwest Georgia Joint Development Authority