Savannah: Intellectual Capital
Blending economic brains and brawn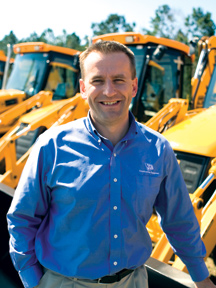 City boosters have long promoted Savannah's image as the romantic city by the sea, a colonial village of mossy oaks and fragrant magnolias that beckons visitors – and their dollars.
But Savannah was carved out of marsh and swamp almost 300 years ago as a port city, and long before modern tourists discovered its Southern charms, this town was a center of sea-borne commerce. Today, Savannah's promoters are working to shape their city's varied reputations in other ways, hoping to cast it as the intersection of brains and brawn.
Economic developers here are using the region's intellectual capital to make their town the intellectual capital. And there's a growing sense of Savannah as a coastal industrial center where things are forged from raw steel.
No one is more aware of the varied and changing facets of this storied city than Graeme Macdonald, a genial Scot with an almost theatrical highland burr. Macdonald is the president of JCB Inc., a U.K.-based manufacturer of farming and construction equipment that in 2000 moved its North American headquarters from Baltimore to Savannah and added a manufacturing plant.
"The reason we chose Savannah was access to I-95, access to the port, and it's a non-unionized area," Macdonald says. "There were lots of economic reasons we came to Georgia and Savannah and we certainly have not regretted it."
Since arriving in Savannah, the company has grown from 150 employees to more than 500 and expanded its product line from one to four. Last year the company was forced by happy circumstances to add 100 workers to begin filling an initial $140 million order for 365 backhoe loaders capable of reaching speeds of 60 miles per hour. Over the next four years, JCB will build more than 800 of the units under a U.S. Army contract. The backhoes will be sent to Iraq and Afghanistan; their high-speed capabilities will allow them to keep up with military convoys.
The Army contract is the largest in JCB's 62-year history, and it was won because this big international company acts like a small business. "In those 62 years, we've had only two chairmen, the founder of the company and his son, who is the chairman today," Macdonald says. "We are a global company, privately owned, with one shareholder, and that is the chairman. We don't have to answer to the stock market every quarter and we make decisions very quickly and based on the long term. There is no big committee. We really had a big advantage over our competitors, who are big corporations, especially in dealing with the U.S. military."
Creative Collaborations
And JCB has become one of the realities in the idea behind The Creative Coast Alliance (TCCa), an effort by Savannah's economic development community to grow high-paying knowledge-based jobs. "When I first moved to Savannah, I saw SCAD (Savannah College of Art and Design) as an art college," Macdonald says. "But actually they are far, far more than that. They have a huge, huge industrial design capability and we want to tap into that potential. We are driven constantly by product innovation."
So far JCB and SCAD have collaborated on two design projects that Macdonald calls, "very successful." This doesn't surprise Chuck Stallworth, vice president of the Savannah Economic Development Authority. "They have these young kids with very bright minds who are throwing off wonderful ideas," he says of SCAD. "They are actually throwing off more than ideas – they are throwing off product."
SCAD's rich, and often funky, intellectual atmosphere has become for Stallworth a business incubator that births ideas 24 hours a day. But the ideas of SCAD students bounce and zing around the campus like excited atoms. Stallworth wants to harness those ideas and turn them into jobs.
"We are working with SCAD to connect those students with ideas to the appropriate business talent in our community: our accountants, our lawyers, so forth," Stallworth says. "We're creating an environment through a program called Coastal Connect [a program of The Creative Coast Alliance] that allows us to take those ideas, vet those ideas, and our objective is to have those kids themselves, or their ideas, start or be part of a new company or a small business in our community."
But the ultimate test of a new business idea is getting the funding to launch it, and for that, Stallworth has some heaven-sent help. A group of about 60 wealthy men and women have formed a private investment group called the Ariel Savannah Angel Partners (ASAP) to look at and listen to ideas from SCAD students and others who might be on to something.
"We had a meeting [of ASAP] recently and had about 45 people in the room," Stallworth says. "They were presented with three different deals. They chose to pass on one and take the other two into the due diligence process."
There are no candle-lit ceremonies and secret handshakes at ASAP meetings. "These are businesspeople who are interested in making money," Stallworth says.
The Creative Coast Alliance's hunt for higher-paying jobs has been successful. "In the last three years we've generated over 200 jobs and $11 million in salaries," says Stallworth, who heads TCCa's efforts for the development authority. "These tend to be smaller companies, but they are knowledge-based."
Game On
Meanwhile at the idea wellspring, SCAD, students are taking advantage of Savannah's growing reputation as a center for the development of video and online gaming industry products. In a formal collaboration with gaming giant Electronic Arts (EA), students are using their talents, and getting paid, to help create the latest games so passionately played in arcades and on computers around the world. In the process, they're keeping jobs in America that once were outsourced to foreign lands.
"The Electronic Arts studio [at SCAD] is unique to any college in the scale of our program and its sophistication," says Peter Weishar, dean of Film and Digital Media. "In the same way Electronic Arts [once sent] artwork and assets to be produced in China or India or some of these other studios, they send it here to Savannah. Our students who are learning the game industry … are working like apprentices [and] are producing actual work in current games and titles that will be on the shelves in a few months."
Rick Winger, president of the Savannah Economic Development Authority, keeps a close eye on SCAD's ability to attract business prospects. "They seem to be in a stage of their evolution where they're more into industrial design," Winger says. "And that bodes well for our community. Right now there is a startup company called Carbon Motors, a group of former Ford executives, that is in capital formation [with ASAP investors], and Carbon has found a niche in the automotive industry that nobody has filled. And that is a designed purpose car for law enforcement, and SCAD is working with them on part of that design."
SCAD students have designed a seat that allows gun-wearing officers to more easily exit the vehicle during emergencies. "Police now wear out the seats where their guns and the other things they have to wear on their belts rub into the fabric," Winger says. "They also have a problem leaving the vehicle because when undoing the seat belt it catches on their equipment and often spins them off balance. SCAD has designed a seat where neither of those problems exists. And SCAD is collaborating with Carbon execs on other elements of the vehicle."
Changes Afoot
As perhaps the only licensed private detective in Georgia who also serves as a county commission chairman, Chatham's Pete Liakakis is constantly shadowing Savannah's economic progress. He's well aware of the brainpower that's fueling new entrepreneurship and business startups, but, he says, there are plenty of clues pointing to his community's industrial and trade muscle as a source of jobs.
"We have the fastest growing port in the entire country," says Liakakis, in a breathless rat-a-tat delivery. "And that port brings in some $15 billion to all of Georgia. We have the military (Army) in Fort Stewart just 30 miles up the road and in Hunter Field here in Savannah. And they bring about $1.5 billion a year, a good portion of that staying right here in the Savannah-Chatham County area. In 2006, we had 600,000 tourists that spent $1.4 billion in Chatham County. In addition, our industries, our manufacturers like JCB and Gulfstream, bring in about $8 billion to $9 billion a year. Because of those revenue generators we are in better shape than a lot of other places around the country. And we are protected from disaster if one part of the economy has a downturn."
Chatham County's diverse and growing economic base has produced the taxes to fund a massive infrastructure improvement program that will top $326 million when completed within the next three years. Some $100 million will be spent to build a new jail near I-16 on the city's western border. Meanwhile the old jail downtown is being converted to provide much needed office space. And the adjacent courthouse judicial building, built in the 1970s, is getting four new floors of space. Chatham County's original courthouse, a historic landmark, is used for administrative offices, giving Savannah two downtown courthouse buildings.
And the most dramatic change in the landscape of Savannah's downtown riverfront in the past 150 years was promised earlier this year when Valdosta-based Ambling Companies, Inc., announced plans for an $800 million mixed use development on 54 acres along the city's riverfront.
Savannah River Landing will add 280,000 square feet of retail space and the same amount of office space, as well as 365 new hotel rooms, 600 condos, 100 townhouses and 17 riverfront homes – all on land that once was used for rice paddies.
The project is located near the site where Gen. James Oglethorpe stood in 1773 to lay out the streets and squares for the city, and Ambling's first charge in the development was to maintain the integrity of Savannah's wealth of architectural treasures. "The scale and dimensions of the streets and the setbacks of the buildings are all following the historical profiles of Savannah," says Stephen Johnson, Ambling's vice president for sales and marketing. "When we are done, we will be dedicating back to the city 40 percent of the original 54 acres in the form of squares, streets and sidewalks. And we will be adding six new squares to the city."
Ambling has worked closely with city planners to ensure the compatibility of the project with the city's historic riverfront neighborhoods. Johnson says completion date for the development will be tied to presales and leases, which he estimates at five to seven years. The state already has put up $8.8 million to extend by 2,200 linear feet the popular Riverwalk along the Savannah River, an attraction that helps draw 6.5 million tourists to the city each year.
Not all the news coming from Savannah is good.
Residents were shocked and saddened by an explosion at the Imperial Sugar Company refinery that had claimed 12 lives at press time and left dozens injured, many of them seriously. The February tragedy occurred at the Port Wentworth facility Imperial had owned since 1997.
SavannahAt-A-Glance
Population (2005)
Chatham County, 238,410; Savannah (county seat),
128,483; Pooler, 10,019;
Garden City, 9,550; Tybee Island, 3,614; Port Wentworth, 3,238; Bloomingdale, 2,677; Thunderbolt, 2,467;
Vernonburg, 136
Unemployment (Jan. 2008)
Chatham County, 4.6 percent; Georgia, 5.2 percent
Per Capita Income (2004)
Chatham County, $31,691; Georgia, $29,782
Top 10 Manufacturing Employers
Gulfstream Aerospace, 5,400; Georgia-Pacific Savannah River Mill, 1,400; International Paper, 740; Great Dane Trailers, 545; Imperial Sugar, 450; JCB Americas, 500; Savannah Morning News, 380; Derst Baking Company, 308; Colonial Chemical Solutions, 285;
Tronox, 280
Sources
Chatham County Board of Commissioners, Savannah Economic Development Authority, Georgia Dept. of Labor, U.S. Census Bureau