Matching Supply To Demand
Georgia's technical colleges often turn on a dime to answer market needs. There's a new computer forensics program in macon, an expanded biotechnology program in athens and a home technology integration program in jasper. they're al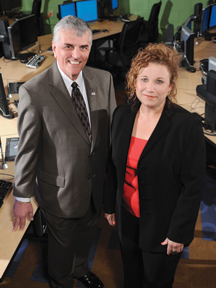 Just over a year ago, Jackie Turner began to notice a growing discussion on computer forensics in professional journals and online white papers. And it seemed to her the topic was growing hotter at seminars and other presentations she attended.
As department head for the Computer Information Systems program at Macon's Central Georgia Technical College (CGTC), Turner became intrigued with the possibilities of opening the field for students at her institution. "I started working with our criminal justice instructor about the need for computer forensics," she recalls. "From that we started to look into that field to see if there was anything we could provide."
After talking with an Atlanta-based GBI agent specializing in computer forensics, Turner found there was much CGTC could provide. Not only were crime labs stacked with computer-related cases, she learned, but also the business world was clamoring for more of the forensics skills in the workplace.
After designing a curriculum and getting it approved by her college's governing body, the Department of Technical and Adult Education, she had the program up and running in time for fall classes. Lapsed time from idea to reality: six months. Programs already in place, such as classes on computer repair and operating systems, have been added to criminal justice classes, and students will be trained as high-tech detectives.
"We're going to teach them how to go in and retrieve data that may be encrypted or hidden on hard drives but may have been deleted," Turner says. "And we're going to teach them how to preserve that data so that you can do the preservation of evidence in case it's needed in a court proceeding."
As Turner was making her comments, world business was still buzzing about the low-level French employee who lost $7.5 billion of his company's money in a computer trade scheme, something she could not have predicted, but something that will surely be discussed in classrooms.
"Corporations that once worried about hackers have new concerns," Turner says. "Today the importance has shifted to, 'What are my employees actually doing inside of my network and what are they trying to get away with?'"
A starting salary for a computer forensics grad can reach $75,000 a year. "These types of skills are in such demand now that people are willing to pay this," Turner says.
CGTC's computer forensics program is a perfect example of the state's tech schools' ability to react quickly to marketplace demands. "You do your needs analysis and find out if it is a workforce program where we can put people to work and is sustainable," says Dr. Ronald Natale, the school's president. "Then you go to work on the curriculum. When the idea is fully vetted, it can become reality very quickly. We train for what I would call emerging technologies, and computer forensics is one of those new ones. We have to look at what the employment patterns are going to be in Georgia over the next few years so that we're not training people for jobs that won't exist."
Biotech Demands
For Athens Technical College (ATC) president Flora Tydings, the development of a biotechnology program wasn't so much latching on to a new trend as it was the slow evolution of a course begun almost 40 years ago at her school. "We've been in that science a long time," she says. "What we've been doing is adjusting the science to meet the demands of industry."
Today that demand is for lab technicians with a two-year associate degree – a demand certain to increase with Athens Tech's anchoring the eastern tip of Georgia's newly designated Innovation Crescent, which stretches westward to Gwinnett Tech in the Atlanta suburbs.
"We have over 36 small companies conducting research in this area," Tydings says. "They are small, maybe five employees, so people don't realize how many people are doing this kind of research."
And with the University of Georgia as a neighbor, there's almost a guarantee of employment for those who complete the biotech courses.
"The biotechnology program came about in roughly the year 2000," says Dr. Jeff Rapp, program chair of the biotechnology department. "It was in response to the needs in local research and diagnostic labs. But there's a wide variety of career paths in that particular field [applied biotechnology and recombinant DNA]. A lot of research at UGA is based on molecular biology and DNA probes."
At least two recent ATC biotech graduates have gone to work at the GBI forensics lab, and others are working at the USDA in Athens. In addition, Rapp says, "There are companies that hire people to examine effluent and measure discharges into the air for government compliance."
Starting salaries for a biotech lab assistant range from $30,000 to $35,000 annually.
Most promising for future grads, as well as the state of Georgia, is the expanded biotech curriculum introduced this spring, with more courses designed to educate and train students for jobs in the manufacture of medicines and vaccines. Landing such companies is a chief goal of the Innovation Crescent.
Tydings says plans to place a Medical College of Georgia campus in Athens will further fuel the demand for lab workers, and also provide mentoring and apprenticeship programs while opening up space for required clinical study. In recent years, growth in the Athens Tech biotech program and in other health sciences has been hampered by an aging infrastructure and crowded classrooms.
"In 2003, of those who were qualified to enter a healthcare program, 683 could not get in," Tydings says. "In 2007, that number had risen to 1,700. Here were people ready to go, and I could not take them for lack of space. I felt it was criminal to turn people away when there was such a demand in healthcare."
But 2008 has begun with relief on the way. To make sure the flow of lab technicians can meet demand, construction will soon begin on a new 100,000-square-foot $23-million health sciences building at ATC, thanks to legislative funding and a $5 million private capital campaign.
"We have over 100 students in the [biotech] major right now," Tydings says. "And we have more in the pipeline trying to get in, but we are limited by space." The new building will allow ATC to add 1,000 new health science students, including those in the biotech program.
"Now we're going to have fresh new labs," Tydings says. "And they will be full the minute the doors are opened."
Home Technology
Communities from the north Georgia mountains to the north Atlanta suburbs were not immune to the recent downturn in housing construction; but they certainly have had a protective buffer provided by the steady flow of retirees and commuters building or buying existing homes there.
"You have a lot of affluent people moving into areas like Big Canoe and Bent Tree," says Ed Abrasley, an instructor at Appalachian Technical College in Jasper. "People are getting away from that Atlanta [traffic] hodgepodge; they're moving out to get a little elbow room. Those people are buying houses and they're remodeling houses."
As an instructor in the construction and remodeling trades, Abrasley has a professional interest in local real estate trends. What new landed residents want, he says, is a home with everything from garage doors and Jacuzzis to home entertainment centers and security systems completely automated, computer-driven and easy to use. He's helping them get what they want.
Abrasley teaches in a program called Home Technology Integration (HTI) at Appalachian Tech. He's charged with the responsibility of turning out graduates who know how to install the wiring and connect a computer to the appliances, systems and other comfort-providing devices de-manded by the modern homeowner.
"I start students with fundamental electricity," he says. "And then work them through telecommunications, home system automation, installing audio-visual systems, home entertainment networks, security systems, fire alarm systems, automated heating and air conditioning and automated lighting controls."
Students in Appalachian Tech labs build such electrical systems to be controlled by a central computer. "People want one control for everything," Abrasley says. "And they want to be able to access it when they are not at home."
With a passion for comfort and ease, new residents were demanding technical skills that were in short supply, says Roger Futch, executive vice president and COO of Ellijay Telephone Company (ETC), which was on the frontline of the trend.
ETC began as a small town telephone company that evolved into a cable television and internet provider for a multi-county north Georgia region. "We sell cable TV, and there's a lot of new flat screen TVs going in with surround sound and home theaters and all that," Futch says. "And we were having a bit of difficulty finding qualified people to install the home integration systems."
Futch didn't have to look far to find a solution to his problem. As a member of Appalachian Tech's board, he simply discussed his need for skilled workers with the college's president, Dr. Sanford Chandler. "I think I planted a seed," Futch says.
Twelve months later he was touring the new HTI lab at Appalachian Tech. "We knew that electronics had been integrated into everything," Chandler says. "We knew this was an up and coming technology, and so we talked with Roger Futch and others to determine what was needed. Technical colleges can turn on a dime."
Appalachian Tech currently has 20 students enrolled in the HTI program, and Abrasley says all should easily find employment. "And there is nothing to say that after they gain experience they can't go into business for themselves. The demand for them will continue."