Statesboro/Bulloch County
Focusing on higher education, tourism and industry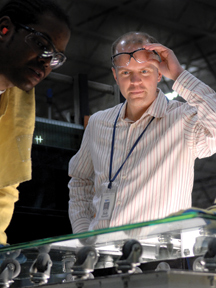 Back in 2006, Bob Randall was talking with a few faculty members from Georgia Southern University's (GSU) physics department when he got the idea they might be able to help fine-tune a manufacturing process at Viracon, a Statesboro glass fabrication plant where Randall serves as vice president of operations.
At issue was maintaining consistent quality in the shades of glass windows Viracon produced for large commercial projects, such as the 20,000 windows the company provided for the 90-story Trump Tower in Chicago. Tinting glass to make it energy efficient or decorative is a delicate process that involves the application of many layers of metals such as silver or titanium. A variation in the applications of just one angstrom (one-hundred millionth of a centimeter) can be a costly mistake – even if it's not readily apparent to the human eye.
"We may have 13 different layers of metal for one coating type," Randall says. "But every single one of those layers has to be on spec or we're going to have color uniformity problems when that window goes up on the building, and we just can't have that."
To assist with his quality control effort, Randall has formed a research and development partnership with GSU physicists. "We're pretty excited about it so far," he says. "We are very, very hopeful that some things we have in the works are going to pan out to be very fruitful for us. We didn't expect to have something in a week or two. These are longer-termed research-type projects."
The university relationship formed by Bob Randall is the latest product of a town and gown marriage that celebrates its 100th anniversary this year. In addition to providing assistance to local industries and businesses, GSU also is an important jobs and revenue generator.
In the 2006-2007 period, GSU spread an economic impact of $719 million into Bulloch and eight surrounding counties, while creating 10,300 jobs there, according to a study by the university's Bureau of Business Research and Economic Development (BBRED). During the same period, GSU spent $101 million on campus construction projects including a recreation center, library expansion and the newly built Center for Art and Theatre. The university's nearly 17,000 students spent more than $150 million in the community, with more than a third of the expenditures going for entertainment and food, according to the study.
The university has been busy developing housing for its growing number of students. "Two new [residential] complexes have been built at a bit under $200 million," says GSU president Bruce Grube (pronounced Grew-bee). "And in May we will start construction of another 1,100-bed residence."
Grube finds the university's partnerships with local businesses and industries to be both ingrained and calculated. "Economic development is part of our strategic plan," he says. "And we've been following that strategic plan for about eight years now and it is paying off. There is also a history here to go with this because the community went out and actively sought to bring the university to the community."
Diversified Economy
For Peggy Chapman, president of the Statesboro-Bulloch County Chamber of Commerce and executive director of its economic development authority, the university's presence adds bulk to her community's already muscular group of economic development assets.
"Georgia Southern University plays a major role in economic development here," she says. "And it's not only in the recruitment of industry but in the recruitment of retail stores and in retiree recruitment. People just want to live in a university town. And right now we've got the chemistry department involved with one of our prospects."
To make sure those prospects have all the space they want, Bulloch County's Gateway Industrial Park has added 300 acres to its site, bringing the park to 965 acres. Located at I-16 in the south end of the county, Gateway is an important economic development asset considering that space in the county's 125-acre Perimeter Center South Industrial Park has been filled.
"Our location has allowed us to attract businesses that can use the Port of Savannah for exporting and importing," Chapman says. "The port, coupled with the interstate and our secondary road network, combine to be strong assets for economic development here."
But Chapman says her community is interested in a particular kind of economic development.
"We have seen what happens when a community gets a dependence on one sector of industry and that industry takes a downturn," she says. "We are keenly focused on maintaining diversity in our economic base. We have the largest distribution center Wal-Mart ever built and we have Briggs & Stratton building engines here and we have Viracon's glass fabrication and we have vendors who serve them. In addition, we have smaller industries in widely diverse sectors. And we have a solid agriculture base. All of that is a good, healthy mix that can survive difficult times."
But Bulloch County has seen few difficult times in the past 15 years as its population grew by 30 percent in the 1990s and stood at 61,500 by 2005. Some forecasters predict the 2010 census will show a county population that tops 67,000.
And the county is at work improving quality of life for those new residents. Back in 1999, Bulloch was facing an aging infrastructure in an important quality of life element – its recreational program. "Over the years our aquatic facilities had become very dated," says Mike Rollins, the county's director of parks and recreation. "We had one pool that was built in 1946 and another one that was built in about 1950."
A Tourism Splash
Rather than redo the existing pools – "aquatic facilities in smaller communities are really hard to justify because typically they are very costly to operate and have very little attendance," Rollins says, the county commission hired consultants in 1999 to explore the possibility of building a water park. The report "projected about 70,000 visitors annually," Rollins recalls. That kind of attendance would cover the cost of the $4.5 million water park and its operation, so the green light was given.
Since opening in 2004, the four-acre Splash in the Boro Family Water Park has exceeded its most optimistic projections each year, with well over 100,000 visitors in the past two years. The park offers three water slides, an 800-foot "lazy river" and two leisure pools. It is located in the 160-acre Mill Creek Park, where there is plenty of room to expand, an idea that is in the works. "We have finished our master plan and are hopeful that the [county] commission will give approval for an expansion for the 2009 season," Rollins says.
Splash in the Boro's visitors are part of Bulloch County's lively tourism economic sector, which generated $84.5 million in 2006, according to data supplied by the Statesboro Convention and Visitors Bureau (CVB). In fact, the county ranks 15th among all Georgia counties in the value of tourism's economic impact, according to CVB figures.
CVB board member and hotel developer Doug Lambert finds a bit of historic humor in the strength of tourism in the local economy. "Back in 1986 when the CVB was formed we were the smallest town in Georgia to have a hotel/motel tax," he says. "In fact, that same year we weren't even on the map of places to visit in Georgia. And here we are today depending so much on those tourism dollars for our local economy. I guess you could say tourism put us on the map."
The CVB estimates the local tourism industry puts 950 people to work every year. That number will increase in 2008 as Statesboro welcomes two new hotels, one of them built by Lambert. "The Holiday Inn I am building will be the first full-service hotel in Statesboro," he says. "And we have another hotel, Springhill Suites, opening this year, and the two of those will add 206 rooms."
The new properties are needed, Lambert says, because the current lodging inventory of 806 rooms is growing older, and because States-boro's charms are drawing a wider audience. "We've always had great out-of-town attendance at GSU football games," he says. "And this year Statesboro is a stop on the Tour de Georgia [bicycle event], and we are hosting the Georgia Special Olym-pics. We have seen real growth in our tourism industry and that growth will continue. And the CVB is doing a great job of getting travelers to Savannah to stop in Statesboro and visit our winery (see story, page 134) or take a farm tour." Part of the taxes paid to hotels and motels by over-night visitors is being used to dress up the community's central business district.
Downtown Doings
A downtown Statesboro revitalization effort is turning historic buildings into cultural venues, while also creating new businesses. In 2004, using some $4 million from a voter approved Special Purpose Local Option Sales Tax, the 1911-era Statesboro Bank building was transformed into the David H. Averitt Center for the Arts. A downtown 1930s art deco movie house has become the Emma Kelly Theater, a performing arts center hosting concerts and plays. These two cultural assets anchor a vibrant downtown and are generating new jobs in an area that once was threatened with extinction.
"We have new businesses and loft apartments downtown," says States-boro's mayor, Bill Hatcher. "We have used the arts as generators of new restaurants and businesses that cater to the people drawn to cultural events. We have two or three art galleries that have opened and we have a new fine dining restaurant downtown. Downtown has been a magnet not just for retail but for professionals as well. But it hasn't always been so."
For decades, U.S. Highway 301 ran through the center of Statesboro, providing downtown merchants with a steady stream of tourists traveling from the Northeast to Florida. But the 1978 completion of Inters-tate 16 through Bulloch County and the rerouting of highway 301 traffic around Statesboro dried up the important tourist revenue for downtown businesses.
Today, however, the local 301 bypass is a commercial artery and I-16 brings some 16,000 vehicles a day through the county.
Local retailers just had to be patient, says Statesboro's mayor. "The 301 bypass at the southern edge of town is seeing retail growth, and two new hotels and a shopping center are opening in that part of town this year," Hatcher says.
Bulloch offers plenty of room to grow; it's the eighth largest county in Georgia, and the sixth largest in total road mileage, an attraction for developers who are contributing to a widening demographic – the commuter population. The county saw new residential building permits jump from 543 in 2005 to 915 in 2006, when the value of new homes topped the $100 million mark for the first time ever.
"We're seeing new residents in the southeast part of the county who are commuting to Savannah and Effingham County and Bryan County," says Bulloch County Manager, Tom Couch.
With growth being charted in just about every sector of the local population and economy, work is continuing on transportation up-grades. An open-ended transportation initiative is part of a three-year-old plan called Fast Forward Bulloch, which seeks to improve roads. Originally set to use $13 million over five years for road upgrades, the plan is being revised.
"We're optimistic we'll get a lot of state aid, perhaps as much as 40 percent of that $13 million," Couch says. "So I'm looking at $17 million to $18 million worth of road projects. We're bracing ourselves for an impending boom."
Statesboro/Bulloch County At-A-Glance
Population
(2005)
County, 61,454; Statesboro (county seat), 24,612; Brooklet, 1,176; Portal, 597; Register, 163
Unemployment
(Dec. 2007)
Bulloch County, 4.1 percent; Georgia, 4.6 percent
Per Capita Income
(2004)
Bulloch County, $19,981; Georgia, $29,782
Top 10 Employers
Briggs & Stratton, 690; Viracon, 615; Wal-Mart Distribution Center, 559; King America, 190; Statesboro Publishing, 130; Robbins Smokehouse, 120; Sheppard Lumber Co., 100; A.M. Braswell Food Company, 99; Loxcreen, 80; Pride Manufacturing, 21
Sources
Statesboro-Bulloch County Chamber of Commerce, Georgia Dept. of Labor, City of Statesboro, U.S. Census Bureau