Starting From Scratch
Georgia Gwinnett College, the state's first new four-year public college in a century, sees itself as the prototype for higher education for the 21st century, serving an increasingly populous county. With no tenured faculty and a nontraditional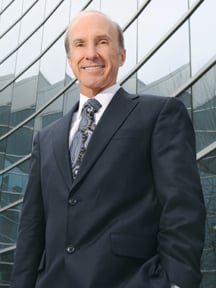 Dan Kaufman has a hard time sitting still. It takes just a few minutes during a conversation for him to stand and move to a wall map that's a master plan of the campus he's creating on a nearly 200-acre parcel of land on Ga. 316 in Lawrenceville, just a few miles east of the road's busy intersection with Interstate 85.
Banners emblazoned with the slogan "The Campus of Tomorrow" line the two winding entrance roads to the campus, leading visitors to its crown jewel, a three-story circular building that serves as a hub for students, faculty and administrators.
It's here, in a third-floor office suite in the B building that Kaufman, a decorated war veteran and experienced college administrator and academic, arrives each weekday by 8 a.m. to make "The Campus of Tomorrow" a reality today. Most nights, he won't return to his Duluth home until after 7:00 – later, if there's a community event or campus gathering to attend.
As president of Georgia Gwinnett College (GGC), Kaufman is overseeing creation of the state's first public four-year college in more than 100 years. The school grew out of the Gwinnett University Center, established in 1997 on land donated by Gwinnett County, to coordinate courses offered at the site by the University of Georgia and by Georgia Perimeter College. The Board of Regents (BOR) voted in 2004 to create the new educational entity.
Once Kaufman was tapped by the Board of Regents to become the inaugural president, in September 2005, he had less than a year to open the school.
When Kaufman stood with Gov. Sonny Perdue to cut the ribbon and officially open the school on Aug. 18, 2006, he had 120 students, 10 faculty members and three buildings. A year after that, the student body had grown to nearly 800, the faculty to 86 and the budget to $24 million.
The BOR projects 3,000 students by the end of this year and an enrollment of 8,000 by 2010 (revised from an earlier, more ambitious projection of 10,000); and GGC has plans for an impressive array of new facilities – a library, health and science building, student center, residence halls, parking decks and athletic fields – that will cost $218 million to construct.
"Nobody in the education business gets to start from scratch," Kaufman says. "This was an opportunity to reimagine higher education in the 21st century in an important place and with an important mission. It's been a labor of love."
The rapid run up from Kaufman's hiring to the first classes on campus was the culmination of more than 15 years of lobbying by community leaders convinced that the state's second-most populous county needed its own four-year school.
But now the Brunswick native, who retired as chief academic officer at the U.S. Military Academy at West Point a few months before being tapped for the GGC post, can't worry about history. Kaufman's too busy putting into a place a college campus that he hopes will stand apart from the University System of Georgia's 34 other institutions through a dynamic learning environment that educates students and prepares them for an ever-changing world via an intriguing mix of technological advances, practical opportunities, flexible scheduling, aggressive mentoring and faculty members who are engaging and available.
And he wants to be sure the college serves the population it was designed to educate.
"Access to higher education is going to be a key to success as Georgia grows," Kaufman says. "We are determined to demonstrate that all of the elements of a truly diverse population can have access to higher education and beyond that, can succeed and go on to be productive members of the workforce and ultimately, leaders in this community and the state and the nation, for that matter. We see ourselves as a prototype, not just for Georgia but for the nation."
In planning the school's launch, Kaufman often quipped to those around him that "when you design a college in the 21st century, you don't necessarily do it the way you did in the 17th." So when proposing a new idea, or looking to reinvent an old one, he pushes other campus planners to ask if that's the way something should be done now.
When the question of tenure for the faculty came up, the answer was no. Traditional academic departments? No to that, too, pushing professors to reach across academic disciplines. Although GGC didn't adopt tenure, making it the only school in the state university system not to do so, GGC received more than 1,800 applications for 80 faculty positions. The teaching positions come with either a three- or five-year contract.
Welcoming Diversity
Gwinnett County is home to an increasingly diverse population, with African Americans accounting for about 20 percent of its current 757,000 residents and Hispanics about 17 percent. Some 11 percent of GGC students are black, slightly more than 6 percent are Hispanic and 13 percent are Asian or Pacific Islander.
Rico Torres, a senior business major from Gwinnett who was among the school's original students, says the campus offers a welcoming atmosphere for Hispanic students. He helped establish the Student Government Association and serves as its treasurer; he's also a member of the Organization of Latin American Students.
"I see more Hispanic students on campus, and with the Organization of Latin American Students, all students on campus will be more aware of the Hispanic culture and not so much aware of it but tolerant," Torres says. "It is difficult for some people in the Hispanic community to come out and go to college because they feel like it is unattainable. It is totally not, it really isn't."
In some ways, Torres is typical of the school's current crop of nearly 800 students. He started his studies at the two-year Georgia Perimeter College (GPC) and was drawn to GGC by its proximity to his home and job as well as its startup status. He wants to pursue a graduate degree after he graduates in June, as a member of the school's first graduating class.
"From the beginning when I really started college to where I'm at now, I've grown a lot. With that growing, one of the biggest things I've learned is to manage my time. I really have to slice my time up and know when to dedicate things to work and school. Trying to find balance is a little tough, but I manage to make it happen," Torres says.
Billy Johnson, a senior business administration major, grew up in Gwinnett. After starting college at GPC, he looked forward to continuing on the new campus where he later became president of the Student Government Association while working full-time. Like Torres, he was one of the school's original 120 students.
"For so many of us in the charter class, we had similar backgrounds in that we weren't the best students before we came to this school," Johnson says. "We weren't used to their view of higher education and now, having experienced it, I think it changed a lot of us about what higher education should be. I'm a business major, but I have faculty that are in biology and psychology that stop me and ask how my classes are going and if there is anything we can do to help. That is unique. I don't know how many other places you get that."
Learning Community
Stas Preczewski, GGC's vice president of academic and student affairs, must overcome some daunting realities in recruiting students and faculty to campus. The school isn't accredited and won't be for a few years, which means students can't yet receive federal financial aid and that the first graduates will have a degree from an unaccredited institution. But the plainspoken, longtime college administrator and academic from West Point seems just the person to close the sale he calls an "impossible situation."
Preczewski speaks passionately about the mission of the new school and says that buying into that mission is an act of faith that will be rewarded.
"It is a risk," Preczewski says. "We don't know if this will work, how sustainable this is. It was really simple when you had no faculty, no students and no buildings. How large can this experiment go? So far, it is going pretty far and it is working. We are trying to do something bigger here."
In building an academic program from the ground up, Preczewski sought something different. Local business executives and community leaders told him that in addition to providing an academic knowledge base, GGC also needs to develop "whole students" with social and professional skills, team-building experience, leadership abilities and a civic-minded approach. So the school created a program that integrates academic goals with other, nonacademic outcomes.
The school currently offers degree programs in biology, business, psychology and information technology. Two others – education and nursing – are on hold until the campus gains accreditation from the Southern Association of Colleges and Schools Commission on Colleges. The process often takes up to four years to complete, though GGC school officials hope to push through their accreditation in about three years.
While pursuing accreditation, the school must graduate students and is prohibited from expanding its academic program or offering federal financial aid. GGC accepts Hope scholarships and the school's foundation offers need-based grants.
Once students step on campus, they become part of the school's student success strategy known as "Tomorrow's Learning Community" that offers a number of support programs, including a seminar for first-year students to learn study skills and organization techniques. The goal is to build a successful program that boosts PRG, academic lingo for increasing progression, retention and graduation rates. That's a tough charge given that the school is an access institution, which must accept any high school graduate with a 2.0 grade point average.
Students are assigned a faculty mentor who not only advises them on classes, but also engages them throughout their college career and into a job or graduate school, Preczewski says. In fact, faculty evaluations hinge on how well professors engage students, a GGC addition to the usual criteria of teaching, research and service used to judge faculty performance at other institutions.
Doug Johnson, an associate professor of management and business systems, put student engagement to the test during a class last fall. Students were charged with putting business theory to practice by organizing a service-learning project and then reporting back to class on what they learned in the process of running it. One group set up a blood drive with the American Red Cross, another ran a Toys for Tots donation program while a third held a bake sale to raise money during Breast Cancer Awareness Month.
"I was impressed with how it impacted them as individuals and contributed to the Gwinnett community," Johnson says. "From the theory standpoint, yes, they learned some things from class. But this will stick with them. They talked about how it helped them understand group decision making, teamwork, group dynamics and communication as well as social responsibility."
Gadgets And Gizmos
Visitors need an access card to reach Lonnie Harvel's offices on the third floor of the B building. Getting into most other administrative offices on campus is a simple matter of pushing open glass doors. But meeting the school's vice president for education technology takes a bit of doing. The nondescript entrance belies what's inside: the hub of what's becoming the most technologically gifted campus in the University System of Georgia.
Harvel, a theater major with a PhD in information and educational technology from Georgia Tech, is the gadget whiz who works to integrate technology with the learning process on campus.
"There is a lot of technology here," Harvel says. "When you look at the individual classrooms, we have the most technologically advanced campus in Georgia and one of the most technologically advanced in the country."
How thoroughly technology permeates the campus is easily seen on the first floor of the B building. Students gathered around tables and the few couches work on their laptops, taking advantage of a wireless network that will eventually migrate outdoors and across campus. Staff in nearby offices use Voice over Internet Protocol phones instead of traditional landlines. Faculty members carry cell phones provided by the school's foundation to stay in better touch with students through text messages and emails. Global positioning systems even help campus security pinpoint the location of students in trouble.
Every classroom on campus comes equipped with a technology suite that includes a computer, printer, overhead projector and a touch screen control panel with a stylus networked into the school's technology system. Faculty members can gauge how well students grasp a lecture using handheld clickers tied into software, while their lectures are captured electronically and later converted to podcasts so students can access them away from the classroom.
The school has formed a partnership with Rave Wireless and Sprint to allow students discounted rates for a video-capable, GPS-enabled phone that brings access to classroom content and grades, announcements for courses, the ability to pay some fees and even reminders of the balance on their Hope scholarship.
"I get to build a new campus. I don't have any legacy systems. That really is a lot of my job – making sure as we grow, we evolve with new technologies. I don't dictate to the faculty what they do in the classroom. We hired an incredibly innovative faculty and a lot of my job is to keep up with what they bring in and integrate that into the platform. The technology tools will not create effective teaching or learning. They support it," Harvel says.