2008 Georgia Excellence Awards
This year's top county honors go to Augusta/Richmond, Colquitt, DeKalb, Habersham, Lumpkin, Putnam and Wilkinson counties; Randolph, Clay, Quitman, Stewart and Calhoun share an award for a joint project.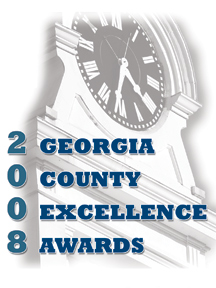 INNOVATION AND TRANSFERABILITY
Thanks to constitutional mandates, revenue constraints and public demand, Georgia's 159 county governments have been forced into an era of innovation and cooperation that is taking them far afield of their political boundaries in the delivery of services.
A look at the winners of this year's County Excellence competition, sponsored by the Association County Commissioners of Georgia (ACCG) and Georgia Trend, bears this out.
Awards for 2008 go to Augusta/Richmond, Colquitt, DeKalb, Habersham, Lumpkin, Putnam, Wilkinson and, in the regional category, jointly to Randolph, Clay, Quitman, Stewart and Calhoun.
In this, the competition's third year, projects ranged from using landfill gas as a renewable energy source in DeKalb to cross-training 911 call center dispatchers in Habersham.
"The beauty of the County Excellence Awards program to me is that in very large measure we are able to take a list of submittals, go through a vetting process with a public-private committee that is not associated with the ACCG staff or the board of managers, have them review the efficiencies of services and make their selections," says Ross King, ACCG deputy director. "And this year they were clearly looking at innovation and transferability."
The nine judges' selections came from 42 applications in three broad population groups and a regional category. Applicants were sharing a wide variety of approaches to delivering services in 10 categories ranging from financial management and healthcare to environmental stewardship and youth programs.
This year's judges were especially impressed by county governments that successfully matched growth needs with historic preservation and those that found new uses for old resources. In most cases, new partnerships were formed or existing ones strengthened in the effort to keep costs in check while giving taxpayers the services they – and the state's constitution – demand.
"There is a belief out there that if you just cut off the money, then government will shrink and we'll pay less taxes," says ACCG Executive Director Jerry Griffin. "But there are two-and-a-half pages in fine print on the responsibilities that the counties have under the constitution. We have got to do those things; so how do we do them in a more efficient manner? I think counties are out there looking for [innovations]."
The following eight stories show how successful this year's winning counties have been in seeking solutions.
Augusta/Richmond County
Lowering Health Costs
With the costs of indigent care rising every year, Georgia counties that allocate funds for such efforts have long been scouting possibilities for increasing care while lowering costs.
That was on Commissioner Jerry Brigham's mind when he happened to travel to North Carolina eight years ago for a meeting of the National Association of County Officers. There, he was struck by a presentation on Project Access, Inc., a program designed to provide better healthcare for citizens who "fall between the cracks."
Brigham thought Project Access would be a good fit for his county. As luck would have it, the program's creator, the city of Asheville, NC, had a grant to replicate the effort, which is a collaboration between local government and community physicians to provide basic medical services to low-income families who do not otherwise qualify for indigent healthcare.
Brigham jumped at the chance to bring the project to Augusta and Richmond County, but first he needed a couple hundred local doctors to volunteer their time to see patients they knew could not pay for their services and treatments.
Brigham says that task was not as difficult as one might imagine. "Doctors, I've found, are usually pretty giving people; most of them are already seeing people they're not paid to see," he says. "And if you can give them a little 'thank you' for seeing indigent patients, they volunteer regularly."
It didn't hurt that Richmond County, home of the Medical College of Georgia, was ranked number one in the total number of physicians in the state, providing a nice pool of prospects.
After forming a partnership between the Augusta-Richmond County Commission, a consolidated government, and the Richmond County Medical Society in 2002, Project Access was launched, with immediately visible benefits.
"By doing this program we are getting people in to see a doctor without going to the emergency room," Brigham says. "So we don't have that high cost of people showing up in the emergency room for treatment of, say, a cold. That saves the county on the cost of indigent care."
And those savings are dramatic. The county already had been working to cut indigent care costs since 1995 and, coupled with that effort, Project Access has helped reduced the county's contributions to such healthcare costs from $7 million to $450,000 in 2007, Brigham says.
"We have cut our cost of indigent care except for the cost of drugs we are providing," he says.
And there's a ripple effect, according to the awards application submitted by Brigham: "… this program benefits the entire community by reducing the demand on our area emergency departments, enabling hospital staff to concentrate their efforts on true emergencies rather than routine care." Reducing emergency room traffic means providing faster service for those in critical need, Brigham notes.
A new partner came aboard in 2006 when neighboring Columbia County joined Project Access by providing funding so its citizens could participate.
With the Richmond County Medical Society providing staffing and coordinating services among the more than 400 volunteer physicians, Project Access has delivered more than $5 million in physician, hospital and prescription drug benefits. Hundreds of local citizens have brought common health problems like hypertension and diabetes under control.
"This kind of gives them managed care," Brigham says. "They can see a doctor that specializes in their needs." To qualify for the Project Access program, participants must have lived in the participating county for at least six months and have a household income of no more than 150 percent of the poverty level. Participants cannot qualify for Medicare or any other group benefits, Brigham says.
Supporters believe Project Access is also making a difference in the workforce by making it healthier, but it's the budgetary effect that's most visible.
The dramatic cost savings in Richmond County stem from an effort to change the tune of a common lament among all the state's county commissioners. "We are always in a revenue bind," Brigham says, using a verse familiar to county commissioners across the state.
"We're either trying to find new revenues or trying to find ways of reducing costs using revenues we already have. We're having to constantly look for inventive ways to reduce costs, and Project Access has been an efficient workhorse for this community in doing that." – EL
Colquitt County
Economic Partners
Colquitt County's leaders may not hold parades to celebrate July 1, 2005, but they are sure to remember that date as an important turning point for their community. On that date Colquitt County Commissioners officially began a first-of-its-kind formal relationship with Archway, an outreach program of the University of Georgia (UGA) that puts university experts alongside locals in the economic development trenches for struggling counties.
The Colquitt County/UGA Archway Partnership Project already has had a profound effect on a county that, as this decade dawned, seemed to be mired knee-deep in unsolvable problems. Once plagued by high unemployment, dropout rates and job loss, Colquitt began a comeback in 2001 that has accelerated, due in large part to Archway's arrival. So widespread and penetrating has this unusual partnership been in Colquitt County that its Excellence Award application has seven of the 10 government services categories checked off for consideration, the most of any entry ever.
The July 1, 2005, date is important to UGA as well, for it marked the beginning of an experiment to further its land grant mission to "deliver a full range of University of Georgia resources to counties facing significant issues related to economic development," a kind, if oblique, description of Colquitt County at the time.
UGA's idea was to open up its considerable intellectual and talent pools to the target county to facilitate growth. In the process, UGA students and faculty are assisting locals in economic development projects. Archway also works with local leaders to bring in experts from an acronymic group of state institutions and agencies.
The original partnership between UGA and Colquitt County includes the city of Moultrie, the local board of education and the Colquitt Regional Medical Center, all of which anted up $10,000 each in seed money. Eight years ago the Archway project might have been used to help stimulate growth and revive a sputtering local economy, but the welcome arrival of new industries beginning in 2001 forced the focus onto dealing with an unprecedented growth that quickly brought in 2,000 new jobs, and with them increased stress on an aging infrastructure and demands for more housing.
When it appeared new residents and industries might overwhelm Moultrie's wastewater treatment plant, and cause difficulties in securing needed state permits, Archway brought in UGA experts to help the city move the project along. Permits were issued and citizens approved a $30 million special purpose local option sales tax (SPLOST), which included the funds for the new plant. In fact, citizen support has been at the center of the county's growth.
"Archway has helped us bring more citizens into the process," says John B. "Benny" Alderman, chairman of the Colquitt County Commission. "And that has helped us pass SPLOST issues which we use to fund some of these projects."
In a county that just a decade ago could measure its building permits at a "handful a year," a record number of new homes are going up. "Since 2006 we've had 2,046 new housing units and lots approved for development on 2,076 acres," says a proud Alderman. Such a home-building boom – and its attendant retail growth – can often create problems.
"The land use plan that the Archway folks helped us with has been a key to our success in [housing and retail] growth," Alderman says. "That put us on the growth path and has helped us with a more orderly approach because that's the kind of growth we could not have imagined before Archway."
Thanks to Archway facilitators provided by UGA, new roads programs are falling in place. "The local legislative delegation has assisted in securing $6.4 million federal and state funds for road improvements," Alderman says. In addition to infrastructure improvements and land-use planning, the Colquitt County/Archway Partnership has made progress in services related to public safety, childcare, tourism, the arts, entrepreneurship and economic development.
"It's hard to put into words just how Archway has changed our lives and our community," Alderman says. Archway is expected to expand into surrounding counties and an Archway Partnership Project has been announced for Washington County, with two more in other Georgia counties expected to be launched by year's end. – EL
DeKalb County
Trash To Cash
Historically, few counties welcome the return of a used-up landfill to their real estate inventory. But DeKalb County found a way to turn such a liability into a revenue-producing asset in what its CEO, Vernon Jones, calls a "trash to cash" project.
"Global warming is legitimate and it is real even if some people don't believe it," Jones says. "And we had a landfill that was going to close, and it was going to come back to the county's ownership. I directed the staff in advance [to] look at how we can do renewable energy and do something with our landfill that could be profitable rather than just lying dormant over there."
As a landfill's contents decompose, they give off methane gasses that must be burned off through torches before they rise into the atmosphere as pollution, Jones explains.
After putting out feelers to energy companies, exploring the idea of using the gas in a renewable energy project, Jones struck a deal with Georgia Power. The DeKalb landfill renewable energy project went online in October 2006 and appears to be gaining an energy of its own, generating interest and even another energy partner.
"Georgia Power and DeKalb County came up with a partnership where the county invested probably about $5 million and built this facility that will allow us to capture that methane gas and get it to Georgia Power," Jones says. "And Georgia Power in turn works with this process to convert the gas into renewable energy and turns around and sells it back to its customers."
Using an internal combustion engine fueled by converted methane gas, the once closed and useless landfill is generating a minimum annual output of 22,500 megawatts, which is in turn sold to Georgia Power.
The methane conversion generates enough power each year to meet the needs of 3,000 homes; and the county expects a full return on its investment in the project by the end of 2011. In addition, DeKalb is removing some .14 million metric tons of carbon dioxide equivalents from the atmosphere each year. All told, the project is equal to taking 27,000 vehicles off the road and planting 38,000 acres of forests, according to DeKalb's ACCG Excellence Award submission.
"So, instead of releasing that methane gas into the air, Georgia Power is paying us for it," Jones says. "We are taking a landfill that nobody wants to see or have in the community and turning trash into cash."
The DeKalb County renewable energy project won the 2007 Environmental Protection Agency Landfill Methane Outreach Program's Community Partner of the Year Award and, according to the county's application, "This project is transferable to other communities that have similar landfill gas resources resulting from their landfill operations."
In fact, the county and its design, construction and operations managers, SCS Energy, have been conducting seminars about the facility and its processes for more than a year. The landfill facility includes a full-circle mural depicting the trash-to-energy trip made by its contents, making the site a popular educational destination for school trips, according to DeKalb officials. Jones says some income from the power-generating project is being returned to the county treasury, "and we invest in our sanitation department and that offsets a lot of costs."
It didn't take long for DeKalb's reputation for generating energy and revenues to take off again. Less than a year after opening the Seminole Road Landfill for the mining of electricity, DeKalb entered an agreement with Jacoby Energy Group and Atlanta Gas Light to convert the methane produced by the county's huge but ancient Live Oak Landfill into natural gas.
That project carries a $25 million price tag, this time with Jacoby footing the bill. For Jones, renewable energy is part of an equation, including conservation, preservation and recycling, that equals profits for his county. "Our recycling program is helping us put less trash into the landfills, and thus extending their life spans," he says.
In the first year of the partnership with Georgia Power, the landfill energy project generated 17.2 million kilowatt hours of electricity with a value of more than $819,000. – EL
Habersham County
Cross-Training Dispatchers
Emergency 911 service often is the first point of contact in a crisis. Operators are expected to be calm, efficient and knowledgeable; but because of the long hours (most employees work 12-hour shifts) and the high stress component of the job, turnover in call centers is frequent.
"It's shift work, which appeals to younger workers when they're single, but when they start their families, their lives change. And usually when there's turnover it comes in threes," says Lynn Smith, director of Emergency Services for Habersham County. "In every public safety center I've worked at, turnover has been a problem."
Counties invest considerable time and financial resources to the extensive background checks required: E-911 applicants must file everything from birth certificates to military records to physicians' affidavits for verification. Applicants take part, too, in mandatory ride-along programs with law enforcement officers, firefighters and emergency medical personnel to gain a better understanding of what happens at an emergency scene.
Sitting in her office one day, Smith had a brainstorm. What if Habersham County dispatchers "cross trained" with dispatchers from nearby Banks County? Both sets of employees would have gone through the same background checks and training; and the dispatchers, already receiving benefits from their home counties, could be listed as part time employees on each other's books, cutting benefits costs.
"It was a whole pool of employees that would be available to us if we needed fill-in or part time help," Smith says. She called her counterpart in Banks County, Deidra Moore, who was intrigued by the possible solution to the same problem she experienced. And because the two counties use the same Computer Aided Dispatch (CAD) system, the same mapping and same phone system, any additional training would be cut to a minimum.
After running the idea past the Habersham county manager and receiving the go-ahead, Smith set up the cross training agreement.
"It's honestly one of the easiest things I've ever dealt with in E-911," Smith says. "We got the agreements between the counties signed and that was it. It didn't cost anyone any more. We just put them [dispatchers] on the part time books."
Rather than going through a separate six- to eight-week training period, dispatchers supplemented the training they had received in their home county with a review of standard operating procedures, often the same as the home county, and soon the part time dispatcher was answering calls. Results of the joint agreement were immediate. The shortage of qualified dispatchers was addressed. Turnover and burnout lessened as employees had the opportunity for time off without leaving the call center short-staffed.
"There's only one way to really learn how to be a 911 dispatcher and that's on the job training," Smith says. "Our dispatchers have learned a lot from each other, learning techniques and improving service to our community."
She adds that it's vital for emergency services to learn ways to work together in the wake of such natural and man-made disasters as the terrorist attacks on 9/11 and the devastation of Hurricane Katrina. The cross-training effort has generated buzz in other northern counties; Stephens, Franklin and Greene are interested in implementing the program. A key element in cross-training's success is compatibility – not just of equipment and procedures, but of the types and numbers of calls, as well as geographical familiarity.
County Commission Chairman Jim Butterworth sees another reason the effort works. "Good interpersonal relationships," he says. "People are approachable and willing to let go of their fiefdom. They realize that the call center and the dispatchers are a county resource and we have to use that resource wisely. Like so many things, solutions come from thinking outside the box. Lynn Smith deserves a lot of credit for coming up with a solution that not only made sense, but was fairly easy to implement."
The program has brought other, unlooked for, serendipities. Butterworth says communication among Habersham's seven municipalities has been enhanced. Stakeholders in municipal and county agencies and government meet quarterly to discuss what's going on and to share best practices. "Increased communication has been a definite side benefit," he says. "We've truly become Team Habersham." – PR
Lumpkin County
Fiscal Fitness
Imagine being a 33-year-old, newly-elected, sole county commissioner and learning you didn't just win an election, you also inherited a whopping fiscal crisis. That's what happened to Steve Gooch in 2000 when, just a month after his victory, the scope of the county's financial woes came to light.
"We'd known there were problems," Gooch says. "When we'd ask for financial records via the open records law, our requests were ignored."
Gooch left town for a series of meetings in early December and by the end of the week, he learned the county was in a $15.75 million cash flow crisis. More than $4 million worth of checks was bouncing, including some written to the Internal Revenue Service for employee withholdings.
Vendors began demanding payment. Some $86,000 in overdraft fees alone were owed to banks. "I'd been involved in disasters before, and this situation felt similar to that," Gooch says. "This was Crisis Management 101."
First he prioritized the emergency and reached out to trusted advisors. "We had to take care of emergency services and make sure we could handle fire, police, emergency medical situations," he says. "We knew we were all in this together; and I really relied on people in the community, experts and resources who were available to us."
Restoring public confidence in local government was essential to moving forward. "We wanted to make sure they knew we wouldn't let this happen again," Gooch says. He assembled a public finance committee made up of rank and file citizens who provided feedback, advice and oversight.
"We even gave them the task of finding our county auditors," he says. They interviewed candidates and made recommendations. It helped bring our county together."
As sole commissioner, Gooch was able to make decisions quickly and with little second guessing. The committee created a public building authority to take on debt on behalf of the county without calling for a referendum; there wasn't time for one. The authority was able to secure a 15-year loan for almost $16 million based on full faith credit, collateralization of county owned buildings and the county's taxing ability.
The community rallied to support the sometimes stringent measures Gooch was compelled to install. He recalls a board meeting in 2001 where a higher millage rate was set in order to make up the budget shortfall. "I actually had a couple of people come to me and ask if it was high enough," he says. "What are the odds of that ever happening?"
After two years of strict financial controls, the tide began to turn and Gooch put forth a proposal – actually a campaign promise – asking citizens to vote to change from a one-person to a five-person board of commissioners. This move was an essential step in solidifying public trust and in maintaining the process of checks and balances crucial to financial accountability. The vote was overwhelmingly positive; and a board of five commissioners was elected in 2005, with Gooch taking the chairmanship.
Another major step in the county's financial restoration of came in October 2007 when Lumpkin received an A-1 rating by Moody's Investors Service – the highest Moody's rating in Georgia for a county with fewer than 27,000 residents. Not only was the rating a huge gold star, but it also ensured an exceptionally low interest rate on a $10-million bond financing the county's new judicial center.
The remarkable turnaround in Lumpkin County's financial fortunes wouldn't have happened without strong leadership and an astonishing display of community spirit. In six years the county went from near ruin to an example of practical fiscal responsibility.
"We don't like to talk about the past too much," says Gooch, who has traveled throughout the state to share Lumpkin County's story at the invitation of other county and city governments. "It's easy for anyone, any family, business or government to get into financial trouble if they aren't watching the details and making the necessary adjustments. But it's important to know that it's reversible if people are willing to work really hard."
Gooch is often asked which type of board he thinks works best, a one-person or multi-person board of commissioners. His answer is always the same. "The moral of our story," he says, "is that it doesn't matter how many you have, it's who you elect." – PR
Putnam County
The Water Team
In 1967, Howard McMichael was a member of the Putnam County High School state championship football team. He learned something that season, 40 years ago, that stuck with him all his life, "Accomplishing anything takes a team effort," McMichael says. "When everybody is working together, there's no telling what you can get done."
That life lesson was put into practice over the past decade as McMichael, now chairman of the Putnam County Board of Commissioners, his fellow commissioners and other municipal officers began considering the notion of developing a joint water and sewer authority along with neighboring Baldwin County to provide a safe, adequate water supply for the residents of unincorporated Putnam County and those in the city of Eatonton.
And it wasn't just residents who needed water. Economic development stifles without water and sewer infrastructure. "Having a water system in place is a huge step for any type of growth," McMichael says. "The first thing a company asks when they're looking at moving is, 'Do you have adequate water?'"
It took a few years, but in 2001, the two counties created the Sinclair Water Authority. And construction on a water treatment plant using state-of-the-art reverse-osmosis filtration technology began in early 2007.
Reverse-osmosis technology has been around for years in home water filtration units, but municipal treatment plants are rare; only three others are in use in the United States. Total cost of the plant is $14.4 million and it is projected to commence operations in late May 2008. The Sinclair Water Authority will provide water for the two counties and Eatonton, drawing and treating 4 million gallons of water each day from Lake Sinclair.
Funding for the plant and the 110 miles of water lines was also a study in cooperation. A variety of financial sources was employed, including a Special Purpose Local Option Sales Tax (SPLOST), customer tap fees, a grant from the OneGeorgia Regional Assistance Program from the Georgia Department of Community Affairs, and loans and grants from the U.S. Department of Agriculture. The project's total cost is close to $30 million – a huge financial undertaking on the part of the municipalities involved, and one unlikely to have been attempted without joint county/city support.
The city of Milledgeville agreed to sell water to Baldwin County for resale to Putnam County until the new water plant was up and running, giving Putnam County time to develop its customer base – 5,000 customers were required to meet the economic viability standard.
"We had so many town hall meetings," McMichael says. "We even went door to door for some of our initial sign-ups."
Customers were required to agree to purchase water from the newly formed authority and to put down a $375 tap fee toward a water system that didn't even exist. It wasn't always the easiest sell, but in the end, civic trust won out. "We have great citizens in middle Georgia who understood we were doing this for the greater good," McMichael says.
The 5,000-customer baseline was met and in 2005 the Georgia General Assembly passed House Bill 611 officially creating the Eatonton Putnam Water and Sewer Authority (EPWSA).
Ironically, Georgia's devastating drought produced a positive side benefit for the construction process. Water lines are being laid at a much faster pace than expected and the project is currently $2 million under budget.
"Developing the water plant and joint water system is the best thing that has happened for Putnam County and Eatonton in years," McMichael says. "You know, water doesn't make news, until you don't have it. We're ensuring our water for the next 50 to 100 years."
McMichael quickly points out that nothing would have been accomplished if municipalities hadn't worked together as a team. Though he sat in the leadership chair for many of the years the water project developed, McMichael proudly credits his community, Putnam and Baldwin counties, and the city of Eatonton with the effort's success.
"It takes a lot of pieces to fill in the puzzle," McMichael says. "There were a lot of people along the way who worked together and didn't allow themselves to get divided. It really is a heck of an accomplishment and shows that regionalism is the way we're going to get things done." – PR
Wilkinson County
Courting Success
Wilkinson County has a long, hot history with its courthouses, losing three of them to fires in 1828, 1854 and 1924.
"I don't know if politics got hot and set them on fire or what," says Wilkinson County's Commission Chairman Dennis Holder, who was elected in 1999. "But we didn't have a good track record."
Soon after he took office in 1999, Holder learned courthouse workers faced a variety of problems produced by the march of technology through the then 75-year-old building.
"Years ago in the clerk of court's office, for instance, you had one person sitting there with a telephone, a desk and a light, and that was about it," Holder says. "Today, that same office has two or three people in there and they have computers and printers and copiers and all kinds of stuff." And that, he notes puts a strain on the fragile, decades old wiring.
"Sometimes they would call and say, 'We don't have any power,'" Holder says. "And you'd have to go upstairs and reset the breaker." Even the modest growth of Wilkinson County was putting pressure on space.
"Records were stuck everywhere," Holder recalls. "People were crowded into one office. The magistrate court had a vault where the records were kept and sometimes they'd have to go in there to have room for a meeting. The wiring and plumbing were antiquated. We needed to do something before the courthouse did what it did in 1924, which is burn down."
And there was that interesting ride on the elevator, one that required four stops in a two-story building due to an annex added in 1974 that sat four feet below the original structure. "And that was clearly not in sync with the architecture of the courthouse," Holder adds.
One of the beauties of living in a small county – Wilkinson has just over 10,000 citizens – is that an elected official doesn't need a poll to test public opinion. That's given freely throughout each day.
"People wanted to preserve our courthouse and our history and they knew what had to be done," Holder says. Faced with the need to double the size of the courthouse and its annex, and without the funds or the desire to buy land and build a new courthouse, the county commission decided to ask the voters to approve $4 million as part of a Special Purpose Local Option Sales Tax (SPLOST) for a renovation and construction project to take the existing courthouse from 15,000 square feet to almost 30,000 square feet.
After a round of public hearings, the voters endorsed the idea of modernizing their courthouse and preserving its historic look, approving the SPLOST referendum countywide, including the voters in the county's seven municipalities. Then came the budget management process.
"I didn't want to take a $4 million project and turn it into a $7 million or $8 million project," Holder says. "We had some heated discussions at times, but we ended by building a new part of the courthouse and moving everyone to that while we renovated the old courthouse. "
When the old furniture was moved into the new wing, human nature kicked in. "When you move into a new building people want new furniture," Holder says. "I said fine, if the $4 million budget would hold it." When more land was needed for the courthouse additions, the county commission negotiated a land swap with the city of Irwinton, the county seat.
What Wilkinson County has now is a historically preserved central courthouse building with additional space built around it. The centerpiece is a restored winding oak staircase. The original seven doors in the building have been replaced by just two, a bow to modern security concerns. Day-to-day project management was guided by the county manager, with advice from the architectural firm and other professionals.
When completed, the new courthouse complex fell within budget and included the much hoped-for new furnishings. The additional space is projected to serve the needs of the county for the next 50 years.
"We are all very proud of it," Holder says. "We wanted to preserve our history, fix our security and make the old and the new tie in together. We have done that." – EL
Regional Award
Randolph, Clay, Quitman, Stewart and Calhoun Counties
Consolidating Services
The five southwest Georgia counties of Calhoun, Clay, Quitman, Randolph and Stewart have a combined population of only 24,000, and they lie in the heart of a region long plagued by persistent poverty and all its ills. For decades, economic development here consisted of an occasional new convenience store or perhaps a rare small manufacturing plant.
With a tax base heavily dependent on agriculture, the five counties struggled to deliver basic services to their citizens. But after years of halting attempts to consolidate those services, the region is on course to make historic breakthroughs in inter-county cooperation by collectively offering long-denied services and infrastructure improvements ranging from new communications technology and road upgrades to a cost-effective regional jail and airport that can meet the needs of modern aviation.
All of this is occurring in a poor and sparsely populated area of the state, born in the development of regional authorities approved by the legislature and funded through a number of federal and state agencies.
This is a watershed moment in the region's history says its chief architect, Randolph County Commission Chairman C. Evans Simmons. "These are some of the poorest counties in the state," he says. "But it became apparent to us that each one of us possessed strategic strengths."
To capitalize on those strengths, in 2005 leaders in the five counties asked for and received legislative approval to create a number of regional authorities to overcome obstacles to improved service delivery. After creating the Lower Chattahoochee Regional Airport Authority from the old Randolph/Cuthbert Airport Authority, the new authority secured $700,000 from the Georgia Department of Transportation to expand the existing airport, a step of particular importance to the region, says Simmons, who has a folksy approach to economic development.
"When major business concerns come to prospect for a building or to relocate, most of them do not ride the bus," he says. "If you look at what's going on in the general aviation business, this is the first time you have seen jet aircraft sales exceed piston aircraft sales. The advent of light jets of less than a million dollars a copy is going to put jet aviation in the hands of small and medium-sized businesses."
all and medium-sized businesses."
Smaller jets also are used by hunters to get to regions of the state with plentiful woodlands and fields, a perfect description of the five counties to be served by the newly improved airport. "If you look at the recreation opportunities in these counties, you begin to realize an airport is a major need," Simmons says.
The Southwest Georgia Technical Authority was created in 2006 and a pilot project begun using a $45,000 funding award from the USDA to test radio communications and video surveillance technology in the city of Shellman in Randolph County. Transmission towers have been erected in the region using revenues from the counties' general funds and contributions from the Georgia Forestry Commission. Applications for the $2.5 million needed to complete the technology improvement project are being sought through the Georgia Emergency Management Agency.
The five-county Regional Transportation Program was started using a 2005 $800,000 federal line-item appropriation, and a $400,000 OneGeorgia grant launched the Lower Chattahoochee Joint 911 Authority, which began delivering that critical service to the entire region at the end of 2007. Four of the five counties have committed to the creation of a $4 million regional jail to house 148 inmates under the auspices of the Southwest Regional Jail Authority. That authority already has acquired land for the jail, and water, sewage and communications towers are in place. More than $38 million in federal and state funds have been spent improving the region's most important roads under the U.S. Highway 27 Development Organization.
The combined effect of all these new service delivery initiatives is offering citizens of the five counties an improved quality of life and new hopes for the economic development opportunities long denied. In the process, the counties have acquired another partner: the state of Georgia. "The state has to be ready to step forward and fund these proposals," Simmons says. "And I think the state is recognizing that fact." – EL