The Economy's "R" Word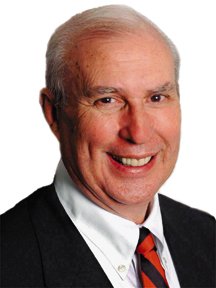 The "R" word, recession, has been used to characterize the U.S. economy for 2008. Yet for Georgia, two economic forecasters, Robert Sumichrast and Albert Niemi, predict sub-par growth rather than an outright recession.
Before we get to their observations, I would like to share some of my own recommendations.
First is for the rest of the state to stop bashing the Atlanta region on water and traffic issues. We all are in this together. The two largest users of water are industry and agriculture, not homeowners.
As for traffic – other parts of Georgia will soon get the same traffic that is choking Atlanta. On a recent trip to St. Simons, I found that I-95 had just as much congestion as I-285 in Atlanta at 5 p.m. Let's pull together, not against each other.
We should stop all the talk about freezing zoning and development. Growth is coming; let's plan for it. Good zoning and building practices will pay big dividends for the future.
Lastly, the Georgia General Assembly should quit the infighting and name calling that tarnished the 2007 session, which was basically a do-nothing legislature.
Three important issues desperately need attention: transportation, including traffic and congestion; water and the drought; and education. How well our legislature works or doesn't work to solve these problems could be a major election issue in the years just ahead.
Economists Sumichrast and Niemi both predict, with some caveats, that Georgia's above average population growth and other factors will help shield our state from a major downturn.
Robert T. Sumichrast (see story, page 52) is the new dean of the University of Georgia's Terry College of Business. In the university's annual Georgia Economic Outlook, published in December, he projects that our state will experience a slowing beginning the first quarter. Georgia could be on the cusp of a major slowdown because of a serious decline in agriculture due to the drought and because of the deepening housing recession.
Dr. Albert Niemi, dean of Southern Methodist University's business school and former UGA business dean, predicts Georgia will survive 2008 relatively unharmed. Niemi, in his annual lecture last December at the Cobb Galleria, also agreed that Georgia's fast-growing population will help it weather the storm.
Niemi predicts that by the end of 2020, Georgia will have more than 13 million people, making it the sixth largest state in the union.
Both Sumichrast and Niemi agree on several points that should give us all hope now and for the future.
Our housing market is not as bad as Florida's (down 20 percent), Southern California's or Arizona's. Speculators are not the issue in Georgia that they are in Florida, where they have driven down prices. North Georgia is still a good market and has not experienced a long term drop in prices. Prices have stayed relatively flat in Atlanta, and south Georgia is experiencing growth from retirees moving away from Florida's weather and taxes.
The cost of doing business is lower in Georgia than in the rest of the United States. A recent nationwide study found Atlanta and Georgia to be the least costly large-state place in the U.S. for doing business. Other factors make our state an attractive place for corporate headquarters: recent tort reform, deep pools of talent, a diverse workforce, great colleges and expansive logistics and infrastructure.
UGA's Economic Outlook gives high marks to all parts of the state. The Port of Savannah has overtaken New Orleans in freight tonnage, and Brunswick's port is one of the largest automotive import locations. Columbus' prospects are excellent, with the expansion of Fort Benning projected to add at least 11,000 jobs over the next five years. The new Kia plant in Troup County should add 2,500 workers by 2009.
As Atlanta's congestion grows, sites in Macon and Augusta will become attractive for private industry and state government. Albany, Valdosta and Athens will continue to grow because of the low cost of doing business and their reputations as good places to raise a family.
Both economists hedge their bets by saying the Georgia housing market will have to pull out of its chill by fall, and that we need rain, rain and more rain. If the drought continues throughout 2008, we are all going to suffer. Let us continue to pray for rain.