Recruiting Retirees
Georgia's college towns are luring seniors who want access to cultural events and quality healthcare.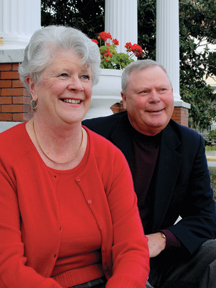 For decades the only retirees found on or near Georgia's college and university campuses were rumpled professors shuffling into the library or graying, but still diehard, alumni and sports fans.
Today there's a new – and in some ways energizing – force among modern retirees striding across the state's campuses on their way to classes or concerts they will share with other students many years their junior.
These new retirees are changing the communities where they live in dramatic ways. They are affluent, active and curious, and in most cases are undetected except to those who track them. Economic developers who ignore them do so at their peril, experts say.
Few people considering where to retire have more carefully examined the American landscape than Rome's Dr. Michael Jackson, who spent 25 years in the Washington, DC, area as a medical school professor of physiology and a researcher. As they approached retirement, Jackson and wife, Beryl, devised a plan for the next phase of their lives that called for first retiring somewhere on the coast, then trying a mountain community.
The two pored over brochures, news accounts, internet enticements and spent weeks of vacation time visiting prospective sites before landing on the North Carolina coast, where they stayed for seven years.
For their mountain experience the couple arrived in Rome in 2006. The area's large and varied medical community could nurture Michael's interest in physiology, and his lifelong appetite for studying the mysteries of the universe could be satisfied on any of four college campuses. Like most retirees, however, the Jacksons were most concerned with their health.
"In making the move to Rome as we were getting older, we wanted to make sure we had access to adequate healthcare," says the 69-year-old Jackson. "And we were very impressed with the variety and qualifications of the healthcare professionals here."
Then there was Jackson's lifelong passion for learning. "Two of the colleges here, Berry and Shorter, were of particular interest to us."
After settling in at a new active adult retirement center, the Village at Maplewood, Jackson is ready to continue his longtime interest in cosmology. "I fully intend to go back [to college] to reacquaint myself with some of the things that interested me at the time I decided to go into science, and I'll audit programs at Berry College and possibly Shorter College," he says. "And I saw recently where the Atlanta Symphony is going to be putting on a concert here at Berry College. That sort of thing is important to us."
It's also important to Al Hodge, president and CEO of the Greater Rome Chamber of Commerce.
"A few years ago we were ranked by a national magazine as the number one small city in America for healthcare," Hodge says. "And we have the oldest symphony in the South."
With the largest private multi-specialty clinic in the state, two major hospitals and one of the best doctor-patient ratios around, coupled with a college town atmosphere, Rome is becoming a magnet for retirees.
"Our first active adult retirement community has entered the market," Hodge says. "And we have an aging population that is in good shape physically and fiscally."
Hodge's chamber of commerce has begun constructing a marketing plan to lure retirees, making Rome one of the latest Georgia cities to throw out the welcome mat to generations flush with cash and promise. In the process, Georgia is belatedly cashing in on the same economic phenomenon that made Florida fast growing and wealthy decades ago.
Rick Duke, director of Georgia Tech's Center for Healthy Aging in the Built Environment has been watching retirees flow into the state for years and has helped research the impact of their arrival.
"Retirees typically bring in $400,000 in assets and $45,000 a year in income," Duke says.
"These are empty nesters so there are no children to put in school, no economic or fiscal impact [on local governments] there. And there is something not as well known but, anecdotally, I suspect … very impactful: We are importing a skilled workforce. Most of the retirees moving to Georgia, I suspect, want to continue working. These are well-educated, highly skilled people that are a source of entrepreneurial talent as well. And these people are attracted to university towns. And you don't have to buy a full-page ad in The New York Times that says, 'Come to Athens,' because word is out that college towns are a cool place to retire."
Active In Athens
For many retirees living in Athens the word has been out for years. Seven years ago when John Rudy and his wife Barbara were looking for a retirement site they visited their daughter in Atlanta. At her suggestion, they drove over to Athens. After John's career in international finance, during which the couple lived in Europe and New York, the Rudys had formed their own profile of the community in which they would retire.
"We decided we'd go someplace that is a university town and not a big city," John Rudy says. That spur-of-the-moment trip to Athens seemed providential. "We were really charmed with the look of the place," he says.
And there was a chapter of the Beta Theta Pi fraternity at the University of Georgia. "I've been a Beta for 50-something years," says the 78-year-old Rudy, who now serves as the fraternity's oldest advisor.
Rudy also leads a yearly classroom discussion called "The United States in the Changing World," one of about 40 courses offered by UGA's Learning in Retirement (LIR) program.
LIR has some 400 members, and Rudy says the organization is girding for the wave of baby boomers expected during the next decade. "We're recruiting baby boomers in Learning in Retirement to keep ourselves young in both spirit and in fact," he says.
Like most modern retirees, Janet Stratton had a checklist to determine where she would retire after ending her career in higher education 10 years ago as director of continuing education at the University of Missouri. "I moved to the Athens area primarily to be near family," says Stratton, current president of UGA's Learning in Retirement organization. "And then there was the general climate and the still semi-rural atmosphere."
Stratton, who lives in Oconee County, says her next priority was "to be within about 10 to 20 miles of a university." All these conditions had to be met so Stratton could pursue her two passions – learning and horses.
"I spent 22 years in the learning environment and that was a familiar thing, moving to an entirely different part of the country," Stratton says. "And most of my life I have owned horses and my family here is in the horse industry."
Stratton, who says she was "60-something" when she retired in 1998, has a lighthearted take on the culture's fascination with the rising tide of baby boomers predicted to fill the retiree demographic. "People think the era of active retirees is in the future, but it's already here," she says, pointing to a blurb in the LIR newsletter suggesting the group form a bicycling interest group. "We had 34 people sign up. We're riding all over Athens. We have people in their 70s and 60s and several of them brought their bicycles down from the attic and they hadn't ridden them since they were 12 years old. And the ones who are riding are not spring chickens."
The Athens area's popularity as a destination for retirees has generated plans for a new multi-faceted retirement community called Presbyterian Village Athens/Oconee. The community is being developed by Presbyterian Homes of Georgia, a Quitman-based organization already operating two retirement developments in the state.
"We have thought for a number of years that some relationship with the University of Georgia and a retirement community would be an awesome thing," says Presbyterian Homes COO Tom Rockenbach. "There is a trend in the industry for lifelong learning, and the proximity and relationships with a university is an attraction … "
Presbyterian Village also is forging a relationship with Georgia Tech to create technology that helps seniors stay in independent residences longer. Rockenbach is working with both schools to create formal ties with Presbyterian Village in which retirees there could volunteer as subjects in aging studies and other research projects.
Phyliss Isley, director of Georgia Southern University's Bureau of business Research and Economic Development, has spent years tracking retirees' movements.
"I believe the next census will indeed show that Georgia has moved up the list as a retiree destination," Isley says. "I don't have direct evidence yet, but it appears that in the last five years Georgia has been discovered by leading developers who specialize in the retiree market."
North To Valdosta
Four years ago, retirees Sandy and Bill Prentiss found Florida not at all to their liking and began searching the web and retirement magazines for a place to relocate. "We were being driven out of Florida by increases in taxes, homeowners insurance and auto insurance," Sandy recalls.
While looking around south Georgia the Prentisses came upon Valdosta. They liked what they saw. "When we got back to Florida, we contacted the chamber of commerce and they sent us a package of information about the community, including a personal letter from the mayor, with which we were most impres-sed," she says. "When we came for our visit it took us just one day to decide this was it for us."
Critical to Sandy and Bill Prentiss was proximity to Interstate 75. "We travel both north and south to see friends and we wanted to be able to jump on the interstate and be on our way," she says. "Other big draws for us were the South Georgia Medical Center, which offers us complete care without having to go anywhere else, and the university and the technical college campuses."
The Prentisses had planned to take advantage of Valdosta State University and Valdosta Technical College, but Sandy quickly jumped into volunteer work at a local arts center. Both now have part-time jobs, Bill as marshal at a local golf course and Sandy at the Valdosta-Lowndes County Chamber of Commerce.
"We know we'll get around to taking more advantage of the campuses here when things settle down a bit," Sandy says. "But too, I think retirees recognize – I know we did – that those campuses give this community an intellectual atmosphere that perhaps might not be found elsewhere. And their presence has attracted excellent restaurants downtown and the kind of unique retail stores that are drawn to a college town."
Since 2000, according to figures kept by the local chamber of commerce based on personal contacts, 210 new retired residents have directly created 420 new jobs and brought $88.2 million in new liquid assets to the area. Valdosta State's retiree course enrollment has quadrupled, while the number of courses has increased seven-fold since 2000.
"We realize many of those early retirees were coming from Florida, attracted by our similar climate," says Valdosta-Lowndes County Chamber President Myrna Ballard. "Today our retirees from Florida account for only 50 percent of new retirees. The rest are from other states. And our first active adult retirement community is up and going. We will see more of that."
A 2007 survey of 100 recently arrived Valdosta retirees found that hospitality, safety, healthcare, low cost of living, climate and educational and cultural opportunities topped the list of deciding factors in retirement site selection.
"Georgia has many communities that fit that bill," Ballard says. "But we need some help with that. The state of Georgia needs to start looking at retiree attraction as serious economic development and help communities size up their assets and then join with them in national advertising. We've been talking about that for seven years. Now we need some action. This is too good an opportunity to let slip by."