Franklin County: Fishing For Business
A Mega Boat Ramp And 1-85 Access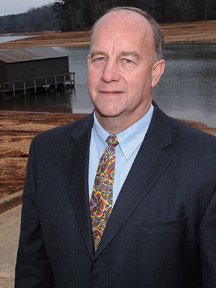 When banker Bruce Knighton looks south from Lavonia, he sees change coming up Interstate 85. In counties to the south, subdivisions and big box stores are spreading, changing what was once rural and isolated into something entirely new and different.
That presents some choices for this still largely undeveloped county.
"We can emphasize the important things about our county and what the good things are that we want to keep as they are and what we don't mind losing in the changeover," says Knighton, who recently became president of the Franklin County Chamber of Commerce.
These days change is very much on the minds of people here. Franklin is in a perfect location with an interstate bisecting the county on its way from Atlanta to South Carolina.
Manufacturing plants, such as those supplying parts for the automotive industry, already have found Franklin a good place to put down stakes. Out-of-towners are flocking to this area of north Georgia to enjoy the waters of nearby Lake Hartwell, and more are deciding to stay fulltime.
"The obvious driver is the I-85 corridor and as the Jackson County market begins to fill up, developers are going to be looking at Franklin County," says Lyn Allen, director of the Franklin County Industrial Building Authority.
Most of those new industries are drawn to Lavonia on the north side of Franklin. The city offers infrastructure and convenient industrial parks near I-85.
"We're sitting on the hottest growth corridor on the East Coast," declares Gary Fesperman, Lavonia city manager. "We're right at the intersection of Highway 17, which is also a major artery for the eastern part of the state and the western parts of the state. This is the beginning of the Appalachian Foothills Parkway and we are sitting right here on Lake Hartwell, which draws 11 to 12 million visitors a year here."
Having an easily accessible highway system makes it more appealing to relocate to what some once called the hinterlands. The county also is strategically located near several auto manufacturing plants, including Mercedes-Benz and Honda in Alabama and BMW in South Carolina.
"We have suppliers here that are serving both ends of that I-85 corridor," Allen says.
The county is home to Kautex-Textron, a manufacturer of auto fuel tanks and Bosal Industries, which builds muffler and exhaust systems. Franklin's largest industrial employer is the Auto Zone Regional Distribution Center.
Several new firms have located in the Gerrard Road Industrial Park near Lavonia. A few years ago, the development authority partnered with developer John W. Rooker and Associates to construct several spec buildings geared toward companies that needed a relatively small 100,000 square feet or so of space. The first tenant was Latexco, LLC, a Belgium based manufacturer of latex mattress products. It started with about 40 employees and plans to increase to 100 within five years.
The development authority sold another building to Alliance Supply and Piping, a maker of HVAC duct piping and ductwork for the heating and air conditioning industry.
"[The park has] proven to be a really good public/private partnership between [Rooker] and the industrial authority," Allen says. "We are working on our third building – just completed it and it's on the market – and we have at least two to three more buildings that will be going into that park that Rooker is going to be building out."
Franklin was once dominated by textile mills. When the cut and sew industry abandoned the state for low cost labor in other countries, the county decided diversification was the way to future prosperity. Today, officials want to attract as many different kinds of businesses as possible. High tech companies are among those that fill the bill, particularly with Athens and the University of Georgia a straight shot away down U.S. 29.
"These companies may want to be a little closer to a metro center, but I think they are very quickly looking at this area as a really good location to serve a real diverse group of industries up and down the corridor," Allen explains.
The county and cities have been working together to present a united front in hopes of attracting that growth. The mayors of all five towns, along with representatives from the county, serve on the development authority's board. The result: All are involved and on the same track when it comes to economic development.
The county needs that kind of concerted effort. While its industrial base is growing, Franklin never stops looking over its shoulder at the competition across the state line in South Carolina. Areas such as Anderson and Greenville can dangle richer incentives in front of businesses.
"The incentives offered by South Carolina are structured quite differently than the incentives offered by Georgia," Allen says. "South Carolina has been more aggressive in what they offer to industries and so that has made it tough."
Retirees And Recreation
One good indicator of the business to come can be found in the quickening pace of new residents moving to the county. While there are yet to be any large subdivisions constructed on old farmsteads, there are a growing number of smaller ones.
"We're seeing … homes and small farms," Knighton says. "People are buying small tracts of land – 10 to 20 acres – and building a home. Then they're commuting back to other places to work."
Those commuters often shift into another new growth area for the county – retirees. Local officials say they're seeing more and more new residents who have visited here, liked the small town charm and decided to stay.
And small town charm is available in abundance among the county's five small cities. Carnesville, the county seat, sports a stately courthouse on its town square. Historic buildings and homes spread outward, creating a picturesque reminder of an earlier era. On the county's east side are Canon, Franklin Springs, Lavonia and Royston.
Lacking one significant metropolitan area has made it tough for Franklin to attract the kinds of retail and restaurants that exist across the line in Jackson and other nearby counties. There's no Wal-Mart, but rumor has it that a national chain of family restaurants is looking at locating here.
Businesses will have a new reason to locate here within the next year – an influx of fishermen. Franklin, in conjunction with neighboring Stephens County, is in the process of constructing a so-called Mega Ramp on 55,590-acre Lake Hartwell inside Tugaloo State Park. The ramp will serve as a launch for fishing boats and a staging area for fishing tournaments that could involve hundreds of boats at a time.
The ramp will become a prime tourist attraction as the county taps into the booming fishing tournament market. Locals like the "clean" dollars this particular industry offers.
"The great thing about that is that the people come in for the weekend and they are gone," says Cindy Smith, executive director of the Franklin County Chamber of Commerce. "It's not like 500 people moving into your county and you need more roads, police and fire. They come in, they spend money and then they leave."
Funded by an environmental settlement over PCBs dumping by a South Carolina plant, the facility could draw thousands of visitors to the lake.
"Lavonia is going to see the major impact from it," Knighton says. "We've done an impact [and] feasibility study and it showed that we would not only fill our hotels and motels in Lavonia, but also extend out into Hart, Stephens and our surrounding towns in Franklin County."
The project started as a joint effort with Hart County. The two secured grant money to fund a study, which determined that Lake Hartwell could indeed support two ramps. At that point, each county set about finding and securing funding for its own ramp. Franklin partnered with Stephens County and quickly found a location.
Perhaps in anticipation of this expansion, Lavonia already has two new hotels on tap. One is a Hampton Inn; construction of a new Holiday Inn Express should be getting under way soon.
Another project on the horizon has the potential to bring even more change to Franklin. Plans are taking shape for a sprawling multi-use sports complex on 1,000 acres in the southern part of the county, just off I-85.
Franklin commissioners signed off on rezoning the property involved, clearing the way for SportsTech USA to begin submitting final plans for a series of venues it says will eventually include 48 ball fields, three indoor arenas, a 20,000-seat stadium for a minor league baseball team, along with hotels and restaurants for visitors. The fields will cater to youth sports and cheerleading from across the Southeast.
This virtual city is planned for an area that is currently rural. While a number of local land owners banded together to provide the land for sale, others have been cool to the project and the disruption it's likely to bring. The opposition also has raised concern among local officials, who generally support the idea.
"We were very cautious in the way that we structured the rezoning request and the proposal that they made to us," explains Franklin County Manager Frank Ginn. "It will have a definite change in the area. One of the things that we wanted to do was make sure that it was self-supporting, that it wouldn't be a burden to the taxpayers in the county; and, as a matter of fact, in their proposal they are supposed to fund a new fire station and EMS station."
SportsTech USA will also provide its own infrastructure and even plans to erect barriers to cut down on light and noise from the sports fields. The complex's impact could be to swell the number of people here to "more than the population of Franklin County," Ginn concedes.
While it's likely to be a decade before the facility is complete, locals are hoping it will spur more local development. Land prices along the I-85 corridor are already rising and the prospect of development and more people is likely to prove attractive to new business.
Supporting Small Business
In the meantime, small business still is the norm here and a prime focus for the local chambers. There are two here – the Franklin County Chamber and one in Lavonia – and they often work together to host programs to help foster business. The Franklin chamber was recently designated "entrepreneur friendly" in recognition of its efforts.
"We probably had about one third of our businesses that are planning to expand to some degree," says chamber director Smith. "We really haven't seen a whole lot of additional small businesses. Most of our newer chamber members have just been businesses that have already been established, but want to join."
Locals hope growth will be a boon to the whole county, not just towns closest to the interstate. South of Lavonia, GA 17 meanders along the county's eastern edge, at one point dipping into Hart County, before linking the communities of Canon, Royston and Franklin Springs. Like many area towns, they sprang up along rail lines.
In recent years Canon has struggled. Today, its main business district – a single block off 17 – is mostly boarded up.
Farther south, Royston has been more successful in attracting people and business. It's home to the Ty Cobb Healthcare System – a legacy of the great baseball player and Franklin County native who helped fund the original hospital. Today the system's two facilities have attracted a cadre of physicians to serve the local population.
The hospitals also have drawn the kind of medical specialists residents once had to drive long distances to see. Royston Diagnostic Center opened about four years ago and in addition to providing mammograms, CT, bone scans and X-rays, offers one of the few open MRI units in the state. It also maintains offices and examining rooms where cardiologists, oncologists and other specialists from Athens and Atlanta can see patients.
"If [a patient] goes to a physician in Athens, and they say 'you need to have a CT or X-rays,' they can bring that business back into the county," says Nancy Lord, marketing director for the center.
Situated in the southeastern corner of the county, Franklin Springs has endured more than its share of adversity. Once a resort famed for its healing mineral springs, fires and changing tastes left the community a little known small town on GA 17. Yet the old hotels became what is today Emmanuel College, a thriving private school.
Three years ago, a violent tornado decimated the aging city hall "in about 30 seconds," recalls City Manager Bobby Shores.
Because of its close proximity to the highway, the building couldn't be reconstructed. The city engaged in a land swap with Life Springs, a nearby religious publishing company. That set the stage for construction of a new $1.5 million municipal facility and public safety complex, which officials hope will become the focus for a kind of renaissance in the town.
Across the street, a local developer is attempting to line up business and residential development on a 16-acre parcel that could form what Franklin Springs has long lacked – a town center.
"We would like some retail stores and we also would like some service oriented [businesses], food services and things of that nature," Shores says.
Here and throughout Franklin, hope runs high that this county's time is about to arrive.
Franklin County
At-A-Glance
Population
(2006)
21,691
Municipalities
Royston, 2,700; Lavonia, 2,012; Canon, 811; Franklin Springs, 786; Carnesville, 651
Per Capita Income
(2006)
$15,767
Unemployment
(Nov. 2007)
Franklin County, 4.7 percent; Georgia, 4.2 percent
Major Private Sector Employers
Auto Zone Regional Auto
Parts Distribution Center, 540; Wellstone Mills, 430; Carry-On Trailer, 320; Kautex-Textron, 305; Beaulieu of America, 250; Bosal Industries, 177
Sources
U.S. Census Bureau, Georgia Dept. of Labor, Franklin County Industrial Building Authority